'Days for Girls Team Responds to Local and Global Needs
By Greta Bolger
Current Contributor

In Volume VI Issue 7, published August 10, 2017, we featured Benzie County's Days for Girls (DfG), a local chapter of an international organization that provides sustainable feminine-hygiene kits and education to girls and women in more than 100 countries. Here in Benzie County, the team has included 15 to 20 volunteers—led by Katherine Ross, a retired teacher—working together a few times a week at the sewing studio at Grow Benzie.

The standard DfG kit is made up of eight washable flannel liners; two moisture-barrier shields; two pairs of underpants (a first for many girls); a washcloth; and a small bar of soap, for personal hygiene. The completed kits are packaged in drawstring bags, so they can be carried to school or work as an attractive accessory that maintains the privacy of the girls.

In countries where adequate menstrual options are not available—especially to impoverished families—girls and women are often restricted to their homes or outdoor huts during their menstrual cycles. This forces them to miss school and work, causing them to fall behind educationally and economically. The high-quality, washable, sustainable hygiene kits help these girls and women to maintain their dignity, productivity, and self-value, helping them to reach their full potential. Each DfG kit is designed to last three years, during which a girl can regain up to 180 days—a full six months—of active life.

Back when we first reported on this almost five years ago, the international organization's long-term vision was to provide every girl and woman in the world with access to quality, sustainable hygiene kits and health education by 2022—and they have succeeded in more than doubling their efforts since we last reported, from 300,000 girls impacted by their work in 2017 to more than 640,000 today. The Benzie County team alone has produced and shipped more than 4,000 menstrual kits to more than a dozen countries.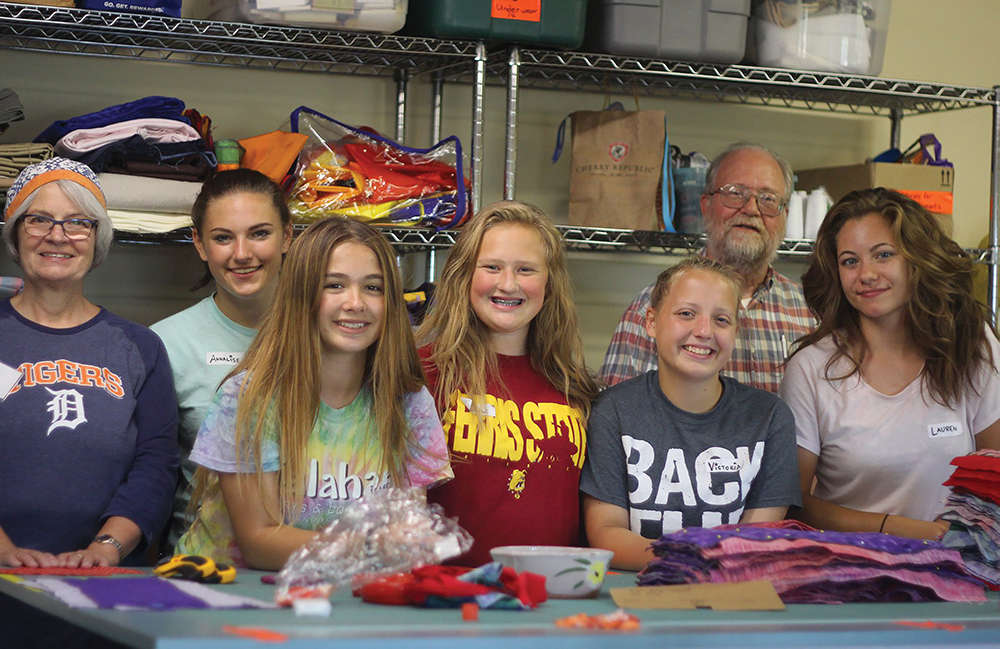 As with virtually every other human activity, however, the COVID-19 pandemic had a major impact on Days for Girls, both at the local and the international levels.

With travel drastically curtailed, the representatives who provided the essential health and hygiene education that accompanies delivery of the menstrual kits were no longer able to fill those roles. Also, local teams of sewists were not able to gather in indoor sewing studios, especially before vaccinations were available.

These obstacles were further exacerbated by a change in the international business model that set up area leaders and enterprise teams to make and supply kits within several countries, thereby limiting where teams like ours in Benzie could send kits—in other words, there are local leaders in Madagascar, for instance, that are beginning to establish an in-country program, so they will no longer need kits sent to them from volunteers sewists in the United States. Additionally, the international organization began encouraging local volunteers to take on a greater role in fundraising for the overall organization, which many chapters were unwilling to do.

Yet, despite these challenges, the Benzie Days for Girls team has continued to apply their skills to make a major contribution to health and quality of life, both here at home and around the world.

DfG Masks Make Thousands Safer
In the early days of the pandemic, panic reigned. People simply did not know what to do. But Kathy Ross and her DfG team knew exactly what to do. They started sewing masks: first for family and friends, and then—as the need became apparent—they expanded their efforts to include literally thousands of people, such as local business owners; healthcare workers; Benzie County Central Schools student-athletes, teachers, and staff; and Benzie Food Partners, as well as people in the Cass Corridor of Detroit; Michigan migrant workers; and citizens of Africa and Brazil. (Editor's Note: In our April 2022 issue, we profiled Jessica Carland, current interim director of Benzie Bus, and she discussed how Benzie Bus helped to distribute the home-made DfG masks throughout our region.)

"We had several volunteers working from home, making hundreds of masks," Ross says. "The more we made and gave away, the more requests we received from all over. It felt good to be doing something that helped people to stay safe in such an uncertain time."

Another need that the Benzie Days for Girls group has met over the last several months are menstrual kits and components especially tailored for the conditions faced by women and girls in war zones, such as Lebanon, South Sudan, Afghanistan, Somalia, and now Ukraine. These kits are sent to a central location, where they are then forwarded on to war-torn locations.

Closer to home, the team also creates baby quilts that are distributed by St. Phillips Episcopal Church of Beulah as part of its Baby Pantry program.

What Is Next?
Ross says that the DfG group has continued to fill orders for menstrual supplies during the pandemic downturn, sending needed items to countries such as Haiti and Zambia. And though the sewists continue to work mostly from home, she plans to reorganize and ramp up work sessions in the sewing studio at Grow Benzie soon.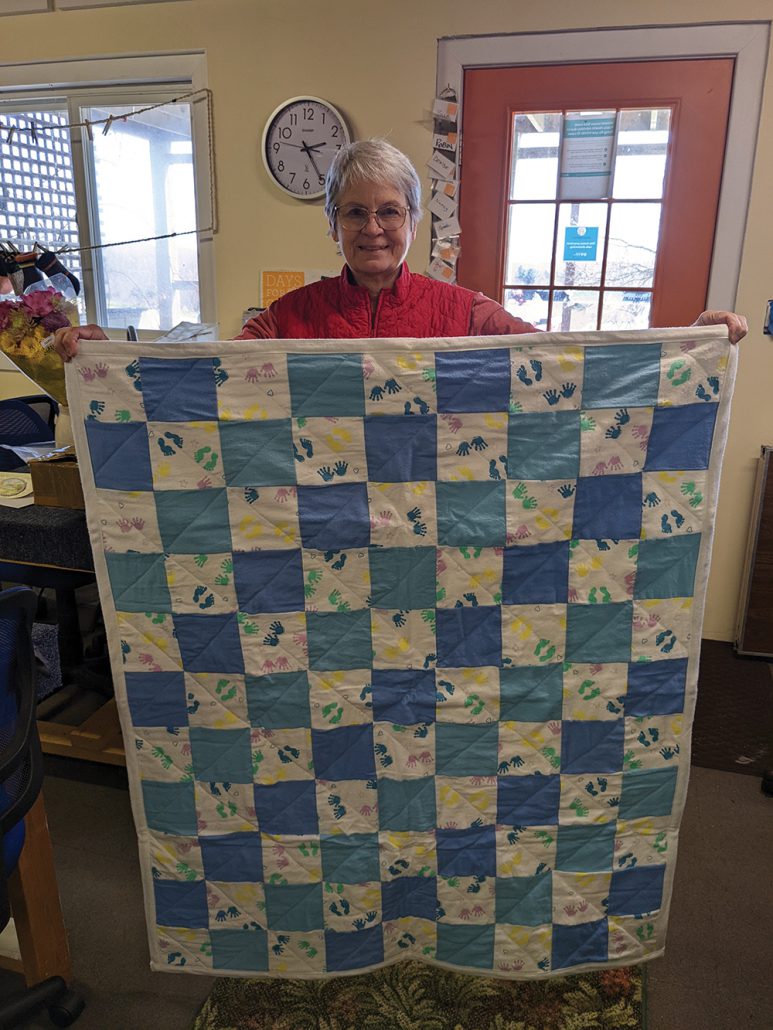 "Now that the pandemic is no longer as uncontrolled and most people are vaccinated, I expect that our orders will start to increase. My plan is to contact everyone who has volunteered with us in the past, as well as reach out to new members, and put together a team to continue to do the essential work of providing women and girls with menstrual products and health education," Ross says.

Over the past five years, the group has had dozens of additional volunteers who show up to help just once or twice; for instance, the Benzie Central Girls Varsity Soccer and Volleyball teams have each come in for a two-hour session; no sewing experience is necessary, as the regular volunteers can teach, and there is always lots of cutting, sorting, and packing to be done.

"Our other strong need is for someone to take the lead on fundraising and P.R. for Benzie Days for Girls. I'd love to see that kind of expertise and energy be a part of how we go forward with this project," Ross adds. "We have a lot of fun and welcome others to join in this worthwhile project. And don't worry—you don't have to know how to sew!"

Benzie County Days for Girls is a part of Days for Girls International, which is a 501(c)3 nonprofit organization. All donations are tax deductible, and a receipt will be provided. All in-kind donations must be valued by the donor for tax purposes. For more information or to make a donation, email BenzieCountyMI@DaysForGirls.org or check out "Days For Girls Benzie County MI team" on Facebook.
FiberShed at Grow Benzie Continues to Instruct and Inspire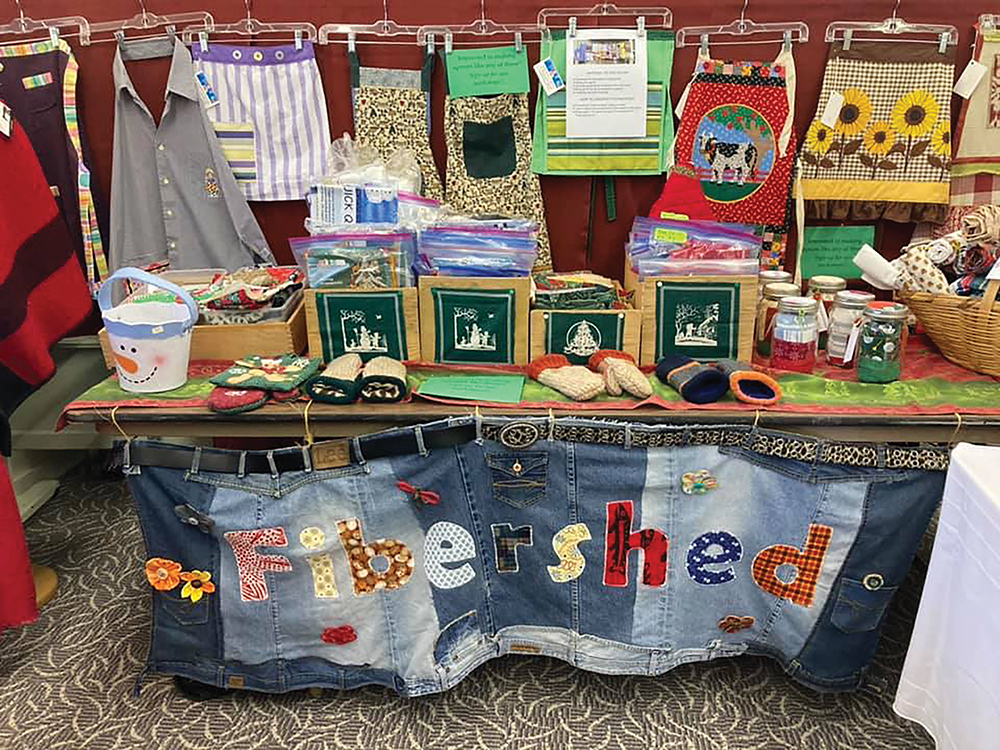 In Volume VI Issue 5, published July 13, 2017, we profiled Grow Benzie's Fibershed, the vision of a local fiber cooperative that Emily Votuba (49) transformed into reality which continues to pursue its initial mission five years later: keeping textile waste out of landfills. Now led by Karen Earl along with a team of dedicated makers and teachers, the FiberShed continues to evolve—sparking creativity, reducing textile waste, and building community in Benzie and beyond.

A lot of time and energy has gone into the "local" idea when it comes to our food-production cycle—there is increasing awareness that food is fresher, tastes better, and has a lower carbon footprint when it comes from nearby. Over the past few years, though, there has been added interest in creating local economies around clothing, garments, and textiles, as well. The invisible circle that we can draw around where our garments come from has been coined the "fibershed" concept; similar to the concept of a "watershed," a fibershed is a geographical destination. At the center of this land-based idea is the core belief that keeping things as local as possible—from growth to production to distribution of fiber goods—is key to creating sustainable communities.

The idea of sustainable clothing is a bit different than a sustainable food cycle, however. With food, the entire process can begin and end in the same area, without any outside influence. In the fiber cycle, much of the material will enter the area from another outside source, but the hope is that those materials will be reused in the local area, rather than be thrown away.

That is because textile waste is a big environmental problem. It is shocking to realize the impact that "fast fashion"—poor-quality apparel that uses lots of chemicals and water in its production and is discarded quickly after only a few uses—has such a negative impact on the environment. In the United States alone, 25 billion pounds of textile waste are sent to landfills every year, according to the Environmental Center at the University of Colorado, Boulder.

Moreover, it is estimated that, if the life of our garments was extended by just three months, we could reduce the carbon footprint and water usage by 5 to 10 percent. It becomes easier to understand how huge this is when you consider that almost 900 gallons of water are used just to make just one t-shirt. Around the globe, almost 80 billion pieces of new clothing are purchased each year, according to the documentary film The True Cost, and about 82 pounds per person ends up in the landfill.

Those are the hard, unpleasant realities that give the FiberShed its driving purpose. But along with that comes a whole lot of fun and fulfillment for all involved—and over the course of the first few years of the FiberShed, around 150 people had helped to divert almost a literal ton (2,000 pounds) of materials from the landfill.

Changing Leadership and Focus
Karen Earl shares her own early experience with the FiberShed:

"About four years ago, I saw an announcement on the Grow Benzie marquee about a workshop to make fabric gift bags. I was going through a difficult time back then—both my parents had died—and it was just what I needed to get motivated and engaged again. The workshop, taught by Emily Votruba, really unleashed my creativity, and the opportunity to work alongside others really made a difference in my life."

Earl started coming to the FiberShed on a regular basis, attending workshops, and working on projects of her own. She loved socializing, sharing inspiration, and creating upcycled and repurposed items.

Then came the pandemic. The FiberShed shut down. Emily Votruba—who had volunteered so much of her time and energy to the project—was feeling the need to move on. When summer of 2020 rolled around and people could safely be outside, the new goal was to get rid of the enormous amount of clothing that had been donated. "Come and get it" was the general theme, and over the summer, much of the clothing was off to new homes. Because many other organizations do resale clothing, the new FiberShed leadership wanted to shift its emphasis to the materials of fiber craft, including fabrics, notions, yarn, ribbon, and other goods that a sewist or maker would use to create.

By October 2020, Votruba had officially left the position; Karen Earl and a team—made up of Pat Parkhurst of Platte Lake, Heidi Eliot of Cadillac, and Kathy Ross of Beulah—had taken over. They had their work cut out for them, completing the transition from clothing to materials and organizing the fabric and other goods into labeled bins, which is an ongoing effort.

"It's a very lengthy process," Karen Earl says. "That's why we are so selective about any donations we take now. We have gotten rid of 98 percent of the clothing but retained some quality items. If anyone has fabric or other fiber-related items they think we might want, we ask that they first contact us, as space is limited, and we are not always able to accept donations. Any items considered for donation must be clean, folded, and organized, and you must stay while we determine what we will accept. No drop-offs. We also ask you to stay to help us put everything away."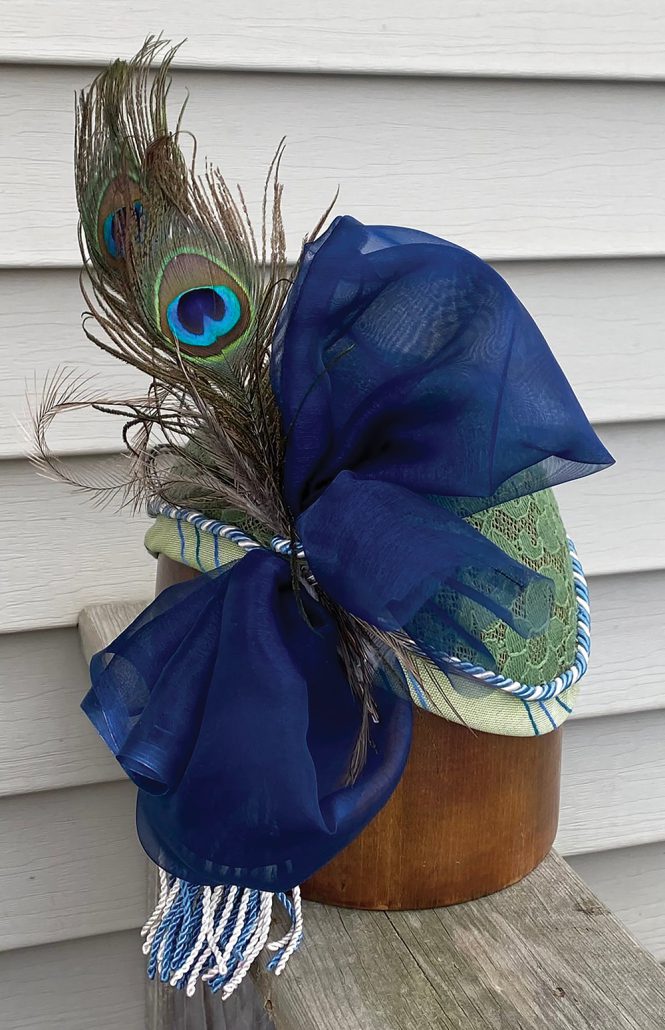 Workshops a Growing Part of the Mix
It was not until April 2021 that Karen Earl felt it was safe enough to have an event outdoors. The FiberShed team celebrated "Zipper Day," an actual holiday where makers were encouraged to reuse zippers in creative ways to make jewelry and other items. In the months that followed, all events were held outdoors or in the pole barn at Grow Benzie, with a more robust schedule of workshops beginning in Fall 2021.    

At this point in the pandemic, the FiberShed is offering several workshops each month, many of which are taught by Betty Scott of Arcadia. Workshops include using FiberShed materials to make tunic tops/beach cover-ups, tie-dyed items, zipper brooches, and—earlier in May—hats and fascinators for Derby Day. Earl does a short video each month to showcase the workshops for that month, and these are shared via an email list and on the FiberShed Facebook page.

A new series will begin soon for basic sewing, taught by Lynne Keber, a retired teacher, of Interlochen. Her own experience with FiberShed workshops made her realize that many people need to learn beginning sewing skills, so she stepped up to help.

"That's what I love so much about this," Karen Earl says. "We are all volunteers, and we learn so much from each other and inspire each other. People have been so willing to teach and share their skills, and our network of makers continues to grow. Our workshops are very affordable and accessible to everyone. We even offer scholarships for those who need them. We're now doing about four workshops a month. We keep them small, and people come from near and far—Grand Rapids, Traverse City, Leelanau. It's a great way to spend time with a friend, meet new people, and explore your creative side."

In addition to workshops, the FiberShed is a treasure trove for makers of all kinds: quilters, knitters, sewists, costume designers, and others. For instance, the theatrical production of James and the Giant Peach last month by Frankfort High School students benefited from fabric donated by the FiberShed, as did a new after-school crochet club at Benzie County Central Schools, for which yarn and crochet hooks were donated.  

Most everything in the FiberShed is available for just a dollar per pound, with some items priced higher. The group also sells finished projects of various kinds: masks, aprons, mittens, etc.  

To learn more about the FiberShed and upcoming workshops, visit GrowBenzie.org/MIFiberShed or "FiberShed at Grow Benzie" on Facebook. The FiberShed will be open during the Community Market at Grow Benzie from 2-6 p.m. starting on Wednesdays in June and from 2-4 p.m. on Saturdays for shopping and inspiration. Please send any inquiries to FiberShed@GrowBenzie.org or call 231-882-9510 to leave a message with Grow Benzie.

Both of these updates were provided by Greta Bolger, who wrote the original Days for Girls article; the original FiberShed article was written by Nicole L. Bates.