'Cottonseed Apparel' Opening Second Location in Frankfort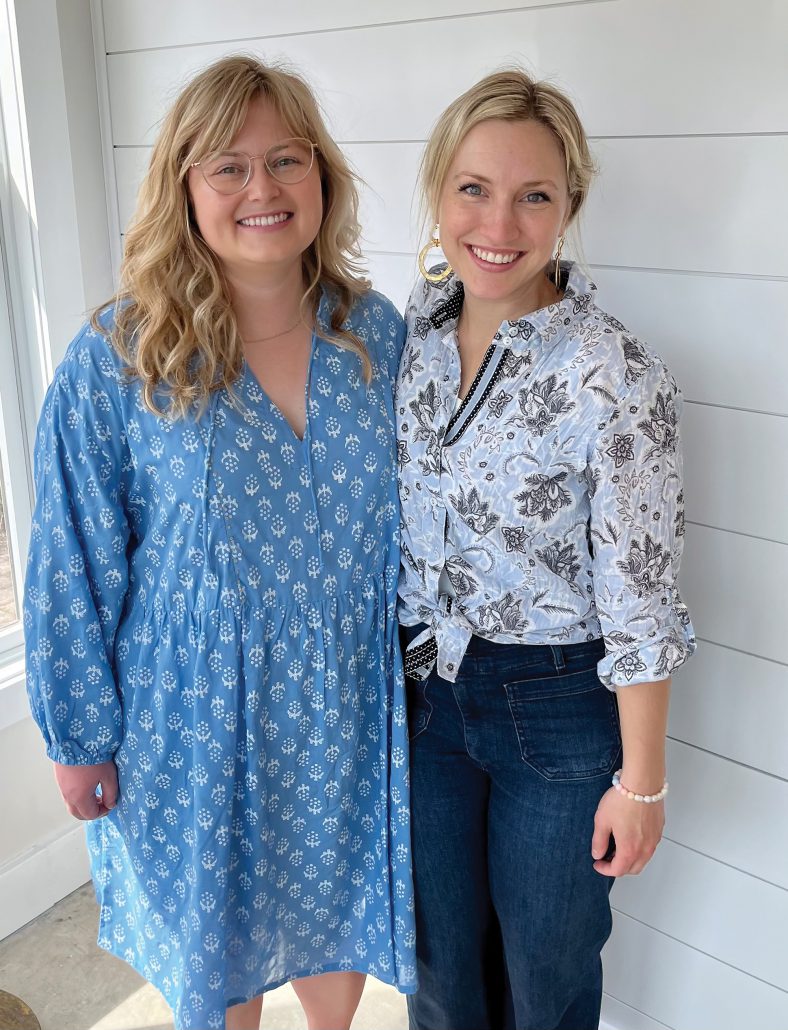 In Volume VI Issue 8, published August 24, 2017, we featured Laurenn Rudd (33), a millennial who boomeranged back to Northern Michigan from New York state. Rudd had begun working at Cottonseed Apparel in Glen Arbor back in high school, when she was 16, and the Lake Ann native never thought that the job would introduce her to what would become her career—business and fashion. Like much of the Cottonseed's staff, she returned every summer throughout high school and college.

After finishing her business management degree at Hope College in 2011, Rudd knew that her heart lay in the fashion industry. She followed her passion—and embraced the travel bug that had bitten her during a semester abroad in England—by taking a leap and moving to the suburbs of New York, where she lived for two years before recognizing that it was time to return to her "true home" of Northern Michigan.

After returning to work at the Cottonseed, Rudd was offered a full-time position in the fall of 2015 by the Obershultes, the owners back then; she was now working full-time during the spring, summer, and fall, with the Cottonseed closing for part of the winter.

Then last year, on the 30th anniversary of the Cottonseed, the ownership changed hands: Marc and Diana Oberschulte opened Cottonseed Apparel in 1991, and in May 2021, Laurenn Rudd and Elizabeth Gray (28)—both managers for several years—became the new owners.

Now, in May 2022, Rudd and Gray are opening a second location, this time in downtown Frankfort at the former location of the Benzie County Record Patriot publication. Cottonseed Apparel in Glen Arbor is known for offering unique accessories and quality natural fiber apparel, and that same line will be offered in Frankfort at the pop-up shop, which will last through the 2022 season.

"Laurenn and I have always talked about opening a second location of Cottonseed," Elizabeth Gray says. "We have always thought Frankfort would be a great location for us. When a storefront—the old Record Patriot office—became available, we decided to give it a try. We are very excited to open the Frankfort location! It is coming along nicely. We made a few updates to the space to make it more functional as a store and not an office space. There will be a lot of the same brands we carry in our Glen Arbor location, along with some new brands we think customers will love. People have been asking for a long time if we would ever open a second location, and we are very excited to reach new customers and give our Benzie County customers a place to shop that is closer to home. We can't wait to see what this summer brings in Frankfort!"

Cottonseed Apparel at 417 Main Street in Frankfort will open May 27 for the 2022 season; the Glen Arbor location at 6501 Western Avenue opened on April 23 and is open at 10 a.m. daily. Call 231-334-7377 to reach the Glen Arbor store; email CS@CottonseedApparel.com for more information. Check out CottonseedApparel.com online, @CottonseedApparel on Instagram, and "Cottonseed Apparel" on Facebook.
New Farmstand for Lost Lake Farm in Honor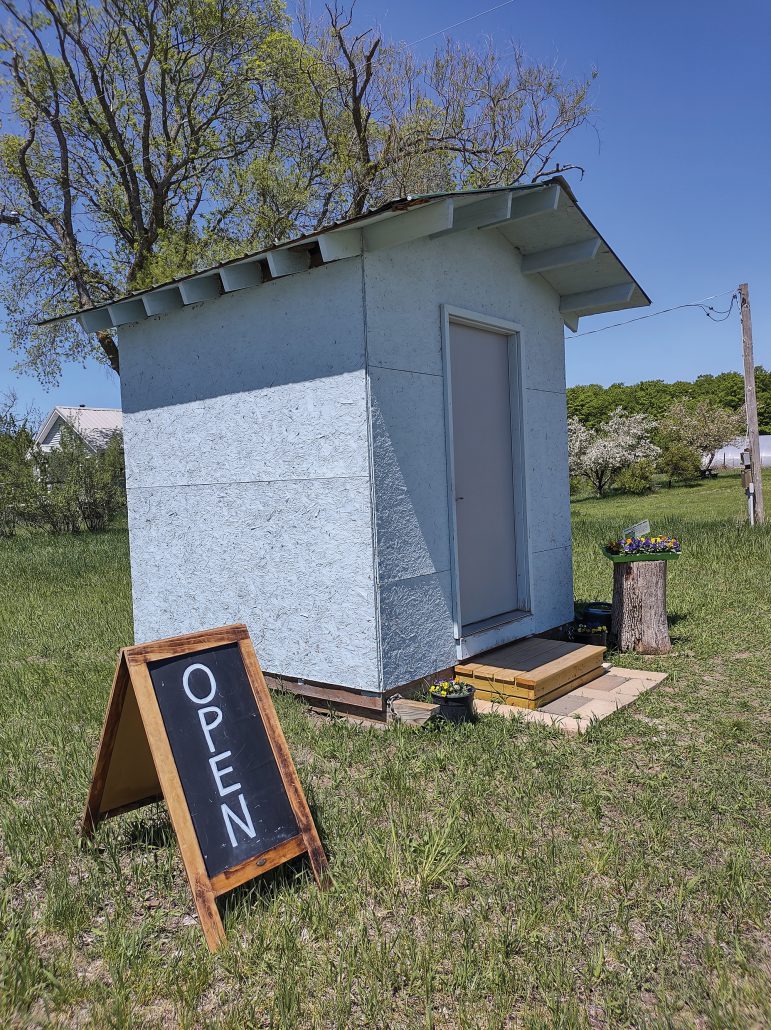 In Volume VII Issue 5, published July 19, 2018, we featured Lost Lake Farm, a small farmstead with large open fields of tidy green rows, hoop houses, and 60 heritage-breed pastured pigs. Carissa Savage (36) and Nathan Cornell (46) originally began their farming adventures back in 2013 on Cornell's family property in Kalkaska County, which included a small pond, named "Lost Lake," which explains the farm's namesake. But even when they moved to Honor in 2017, they kept the name, especially, as Savage admits, since they actually did "lose the lake."

Growing up in Kalkaska County, Cornell noticed many local farms were moving to more mechanized, chemicalized, and commoditized ways. With a rich culinary background—he attended the Culinary Institute of New York and spent a decade traveling the country as a cook at a wide variety of restaurants—this was not his idea of how food should be cultivated.  

"As I increasingly became interested in the quality of ingredients that I was cooking with, and where those ingredients came from, I decided to switch gears to farming," Cornell told The Betsie Current back in 2018.

The average workday is 15 hours, with a break for lunch, and they follow organic growing practices, improving their soil with compost and minerals, never with synthetic chemicals. In all, depending on the season, they have 90 different varieties of naturally grown vegetables, including heirlooms: basil, beets, broccoli, carrots, cucumbers, eggplant, fennel, garlic, green beans, herbs, kale, lettuce, microgreens, onions, potatoes, radishes, rutabagas, scallions, snap peas, sweet and hot peppers, spinach, squash, tomatoes, turnips, zucchinis, and more.

Cornell is straight to business most mornings, meaning he goes out to irrigate in pajamas; Savage generally starts her day with computer work before heading outside to enjoy a quiet sunrise—she is also the one you see most often at the Elberta and Frankfort farmers' markets (on Thursdays and Saturdays, respectively).  

Now, however, there is another way to get your fresh produce from Lost Lake Farm on non-market days: Tuesdays through Saturdays, from dawn until dusk, you can visit the new self-serve farmstand, located at the front of the driveway. (The rest of the farm is private.) Cash, check, or credit cards accepted.

"Although we're still attending Elberta and Frankfort farmers' markets, the farmstand is a great way for our closer neighbors and those who can't make it to markets to access our produce at their convenience," Savage says. "The stand is stocked with whatever produce we have available at the time: microgreens, various salad greens, and seasonal vegetables. We also have a selection of our pasture-raised pork to choose from, including bacon, chops, and sausage."

Lost Lake Farm is located at 11664 Fewins Road, just outside of Honor. The farm also offers order-based Community-Supported Agriculture (CSA) shares, with pick-ups happening at the farm on Tuesday afternoons. Email LostLakeFarmers@gmail.com if interested; visit LostLakeFarm.net to learn more, and follow along via @LostLakeFarm on Instagram and "Lost Lake Farm" on Facebook.
Ethan Przekaza and Meg Doby Open 'Coastline Cycles' in Frankfort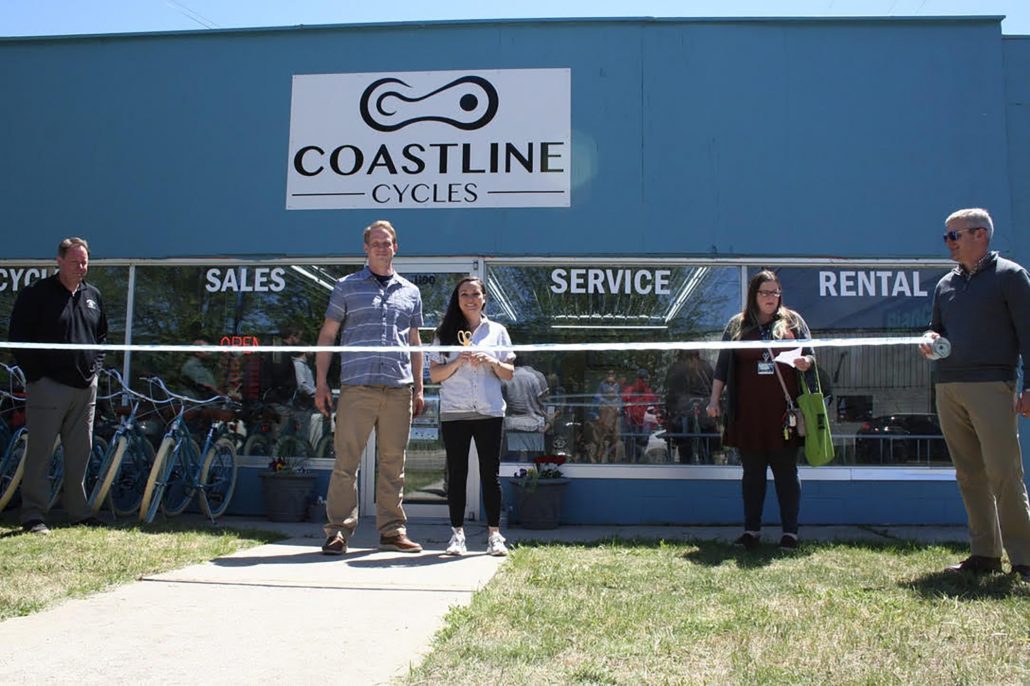 In Volume V Issue 4, published July 7, 2016, we featured a Q&A with Ethan Przekaza and Meg Doby, a young couple who had boomeranged back to Benzie County after living out West. Benzie County native Przekaza (35) graduated from The Leelanau School in 2004 and met Doby (36) while both were studying at Northern Michigan University in Marquette; the pair left the Upper Peninsula in May 2010, staying in Benzie for a couple of weeks before departing to hike the Appalachian Trail, finally heading west and ending their journey in late July 2010 in Denver, where they lived for the next six years.

When we first interviewed this couple nearly six years ago, they had just moved back from Colorado, bought a house in Beulah, and landed work within the recreation industry in Traverse City and Glen Arbor.

Now—after many years of dreaming up their own business—the couple is opening a new Benzie County bicycle shop, Coastline Cycles, in downtown Frankfort at the site of the former Beachnut Surf Shop alongside the Betsie Valley Trail.

"I wrote the first draft of a bicycle shop business plan in 2018," Doby says. "The final draft was approved and funded in February 2022 by Venture North Funding. It was a long road, but I can't say enough good things about Venture North; they really got us to where we are today."

Coastline Cycles will offer full-service repairs on all bikes, including e-bikes. They will also have a brand-new rental fleet that will be maintained by a professional, and there will be select options for retail purchase. Coastline Cycles will carry several brands, including but not limited to: Bianchi, Electra, GT, Retrospec, Schwinn, and Trek.

"Our goal is to be well-rounded, grounded, and focused on health and happiness," Doby says.

A soft open and ribbon-cutting took place on May 17; after that, the shop will be open for business Tuesdays through Saturdays from 9 a.m. to 6 p.m. Attend the Grand Opening Party on Saturday, May 28, 2022, at 1100 Main Street in Frankfort; there will be hot dogs, snacks, and give-aways.. Visit Coastline-Cycles.com to learn more about products and services; call 231-882-6082 or email CoastlineCyclesLLC@gmail.com for more information. Coastline Cycles plans to be open most of the year, possibly closing for the months of January and February.
New Housing and Park in Honor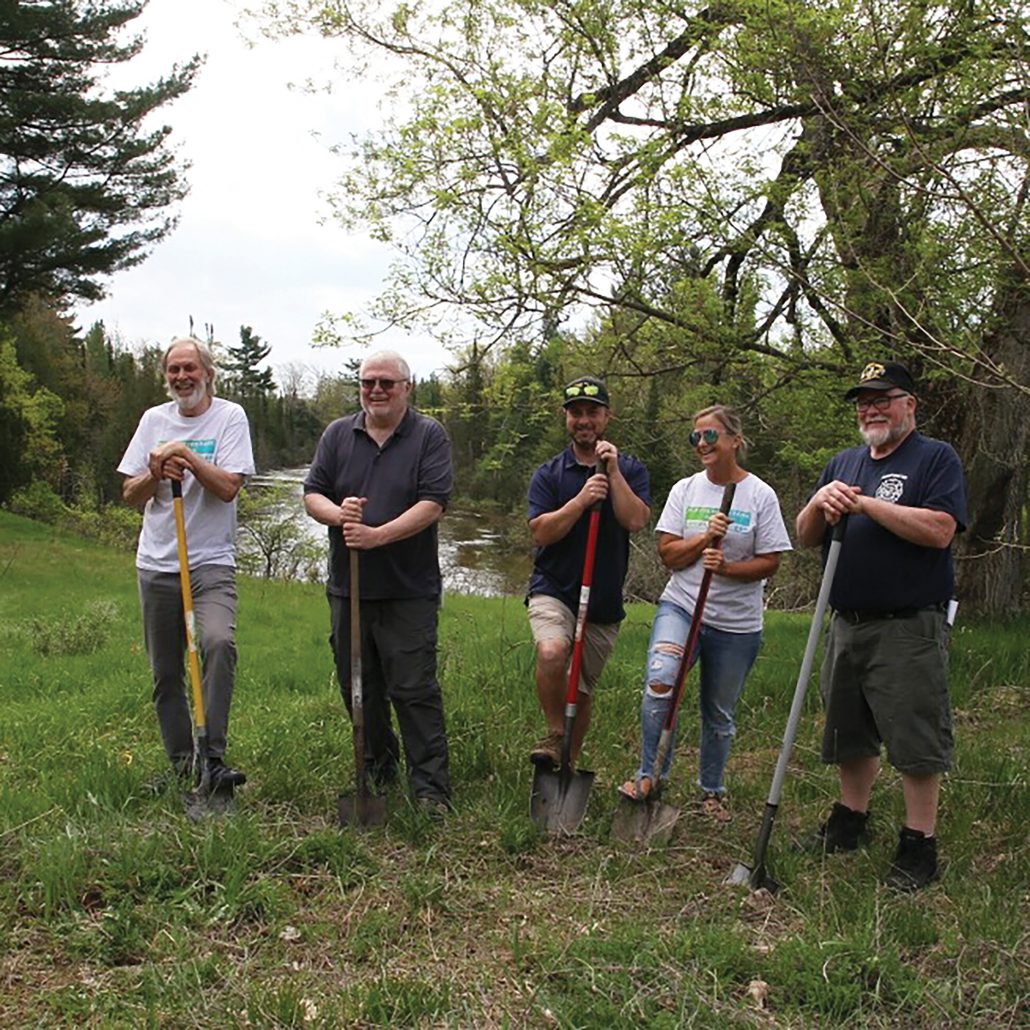 In Volume III Issue 3, published June 12, 2014, we featured a Q&A with Ingemar Johansson, who was then and is now the president of Honor Area Restoration Project (HARP).

Quite a bit has happened in the little village of Honor over the past eight years since we last spoke with Johansson: the "Question Mark" building has come down, and in its place, affordable housing is currently going up. Additionally, a park is being created just west of the village on 52 acres along the east/north bank of the Platte River.

Both of these projects, in fact, were the "two things primarly" being worked on by HARP back in 2014, and both are now coming to fruition.

The housing units are expected to be move-in ready by September, according to village officials; likewise, the ground-breaking for Platte River Park was recently celebrated on Saturday, May 14. The celebration—attended by about 75 people—included a blessing of the land and water by members of the Anishinaabe community and a tour of the property. Construction will begin soon; this phase will see a paved driveway down to the kayak launch, parking spaces, restrooms, a paved non-motorized pathway to the blueberry patch, and a fishing ramp upstream from Indian Hill Road.

Want to get involved with HARP? Email contact@RestoreHonor.org or visit "Honor Area Restoration Project" on Facebook.