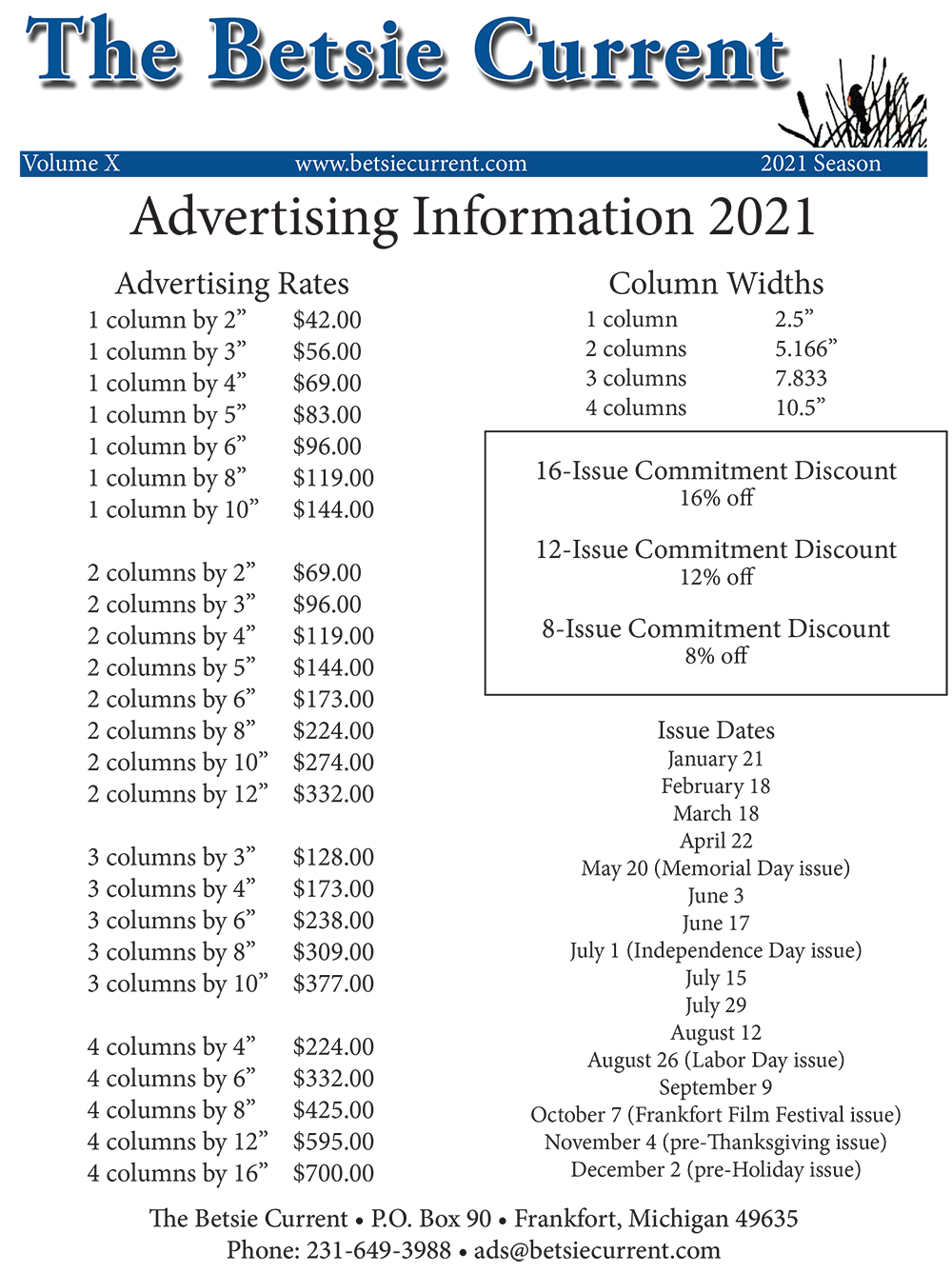 The Betsie Current is a free tabloid, published 16 times this year and distributed throughout Benzie County and neighboring towns.
This full-color community newspaper is published roughly every other week throughout the summer, from Memorial Day through Labor Day, and once per month in the fall, winter, and spring seasons.
Advertising inquiries, comments, suggestions, critiques, articles, photos, poems, and letters are welcome.  View the archived issues here (2005-06, 2014-21).
2021 Issue Schedule

#
Date
Description
1
January 28
 
2
February 18
 
3
March 18
 
4
April 22
 
5
May 20
Memorial Day Weekend issue
6
June 3
 
7
June 17
 
8
July 1
Independence Day issue (handed out at Frankfort & Beulah parades)
9
July 15
 
10
July 29
 
11
August 12
 
12
August 26
Labor Day Issue
13
September 9
 
14
October 7
Frankfort Film Festival issue
15
November 4
pre-Thanksgiving issue
16
December 2
pre-Holiday issue
The Betsie Current has published newspapers for nine years — 2005-06, 2014-20. To celebrate that feat, in addition to our 16-issue newspaper run in 2021, we will also be publishing a glossy magazine to mark our 10th year.
Distribution
The Betsie Current is distributed in high-traffic restaurants, coffee shops, libraries, retail corridors, grocers, hotels, farm stands, salons, office waiting rooms, and institutions throughout Benzie County and bordering towns — 4,000 to 7,000 copies of each newspaper issue; there will be 20,000 to 40,000 copies of the 10-year anniversary magazine.
contact us to schedule your advertisements
CONTACT US BY EMAIL (preferred)
 
Department
Email Address
Contact
 
Advertising
ads@betsiecurrent.com
Aubrey Ann Parker
 
CONTACT US BY PHONE (less preferred)
 
Title
Phone Number
Contact
 
Editor
231/649-3988
Aubrey Ann Parker
 
Design / Layout
231/651-0900
Jordan Bates
 
CONTACT US BY MAIL (least preferred, unless you're sending a check! Just kidding… but kinda for realz.)
The Betsie Current
    P.O. Box 90
    Frankfort, Michigan, 49635
advertising specifications
Color photos must be in CMYK format.
All photos and artwork should be 300 DPI, saved in TIFF format.
Digitally processed ads can be in PageMaker, InDesign, Photoshop, Illustrator, or PDF; either PC or Mac; on CD, DVD, or USB drive.
Media will not be returned!
Microsoft Publisher and other formats cannot be accepted!

© 2021, The Betsie Current, all rights reserved.