Northern Michigan's heartfelt storyteller
By Kelly Ottinger
Current Contributor 

We know him in these parts as the writer, director, and producer of the Dogman movies. But when folks came to The Garden Theater in Frankfort recently to hear Rich Brauer speak, they not only learned some of the numerous details behind making a feature film, they also learned that storytelling is the passion that drives a Brauer Productions project—and that Dogman is only one of many stories that Brauer has told through his lens.  

"In our world of film and television, Rich is a special breed," says Kimberly Guerrero, star of six of Brauer's projects. "Ego and ambition often drive [people] in this industry. But what drives Rich is his heart, his love for the community, an insatiable curiosity, and a sense of adventure in telling stories that he himself wants to watch."

The Dogman films actually reside in the more recent years of Brauer's expansive career. Breaking the mold by establishing his filmmaking company in Northern Michigan nearly a half-century ago, his success has been anchored through dedication to his solid sense of community. 

Deciding during a summer vacation in his youth that he would pursue filmmaking as his career, Brauer saw no reason to leave his family and roots to realize his dream. 

"I had just finished 6th grade and was in Beulah for the summer," he recalls. "I watched a great movie, The Blue Max, at the Crystal Theater [now a vacant lot] and was inspired to become a filmmaker right then and there."

Building Blocks of a Diverse Career
After graduating with a Bachelor of Arts degree in motion picture production and undersea photographic technology from Brooks Institute in Santa Barbara, California, Brauer decided to come back to Michigan, moving to Traverse City and founding Brauer Productions, Inc. in 1977. Thus began a diverse career of creating hundreds of nonprofit, commercial, and educational projects. Some of his notable clients included Twentieth Century Fox, Pure Michigan, The History Channel, Animal Planet, the U.S. Coast Guard, National Park Service, MTV, Eastman Kodak, Chrysler, and Subway Sandwiches. 

And the work kept coming. 

"I suppose, like any craft—painting, writing, music, etc.—there comes a point that the collection of failures and successes settle down and turn into confidence," Brauer reflects. 

That confidence caught the eye of actor Jeff Daniels, who hired Brauer as director of photography and interim producer of the 2001 comedy feature Escanaba in da Moonlight. Brauer was also the director of photography for Daniels' film Super Sucker, which won the 2002 HBO Audience Award for "Comedy Arts Film Feature." 

It was during the filming of Escanaba in da Moonlight that Brauer met Guerrero, cast as the character Wolf Moon Dance Soady. That meeting sparked a professional partnership, which has led to Guerrero's roles in many of Brauer's films. Guerrero, of Native American ancestry, says: 

"Rich has always written such interesting characters for me. And what I love about each of them is they happen to be Native American. They are all vibrant, living, breathing members of their community—not stereotypes. These are interesting human beings, who just happen to have this uniquely wonderful heritage and world view."

Brauer's dedication to storyline and community helped him to earn Michigan Filmmaker of the Year at the 2009 Traverse City Film Festival, where he joined the ranks of other esteemed recipients including actor Jeff Daniels, writer Kurt Luedtke, and actress Christine Lahti. 

Feature Films
Fascination with Northern Michigan's maritime culture and history led not only to storytelling opportunities through film but also local philanthropic ventures. 

Brauer co-founded the nonprofit Maritime Heritage Alliance in 1982, and he helped to establish the Inland Seas Education Association in 1989. One of his first films was The Wreck and Rescue of the Schooner J. H. Hartzell, a 1988 re-enactment of the true story of a 19th-century shipwreck just outside Frankfort. 

"This was an educational, classroom type of film, only 43 minutes long, telling one of the tales of Great Lakes maritime history," Brauer says. (Editor's Note: The Betsie Current published an article on the Hartzell back in 2005, which is accessible through our online archives.)

Brauer's first full-length feature, Sleeping Bear in 1999, taught him a very important lesson. Although he had lined up very talented actors and friends from Northern Michigan, without a named actor frontlining the project, the film's audience was simply not as large as it should have been. So Brauer vowed to never make another film without an actor who had a certain level of name recognition. 

To that end, Brauer was able to hire academy award-winning Ernest Borgnine for his next film; in fact, Borgnine starred in four of Brauer's productions back-to-back, making film distributors happy enough to take on the projects and to offer them to wider audiences. 

Brauer jokes that, after he and Borgnine became friends, the actor once asked, "Why do you kill me off so fast in your films?" Brauer says he had to honestly answer, "I can't afford the fee to keep you around longer."

Funding Challenges in Michigan
Raising the funds for feature films in Michigan is no small task these days. In 2008, then-Governor Jennifer Granholm (D) signed legislation for Michigan to begin offering up to 42 percent filmmaking tax credits, and we quickly became one of the more lucrative states for filmmaking. These incentives brought stars like Clint Eastwood, Faye Dunaway, and Ben Affleck to Michigan to make big ticket movies. Gran Torino? Filmed in Michigan. The Transformers series, Batman v Superman: Dawn of Justice, Red Dawn, Robocop, Scream 4: all filmed in Michigan during this period. But in 2015, then-Governor Rick Snyder (R) penned a bill that ended film incentives in Michigan, effectively ending the state's film industry. 

However, a current push in Michigan's state capital to bring back the incentives is being led by Detroit's Senator Adam Hollier (D-2nd District), who told WXYZ of Detroit: "Either we are going to be competitive or we're not. We've invested in the auto industry. We should be doing the same in the film industry." Hollier further pointed out that the pandemic showed an economic shift to the service sector and that movies never stopped production during that time. 

Currently, 39 states offer film incentives—but Michigan does not, putting us at a distinct disadvantage. 

"This is actually quite short-sighted," Brauer says. "The film industry produces many blue-collar jobs and supports the local community at each location." 

Despite the lack of incentives, Brauer has chosen to keep making his films here, raising funds as he goes. He has been in the business long enough to have worked with incentives for some of his projects. He laughs and says: 

"I've made a few films with incentives, and many now without. And let me tell you—it's much easier with!"

How does he decide if a story needs to be told?

"There is a different underlying message shared within the story that each project tells," Brauer says. "For example, in Barn Red, the motivation for the screenplay and the movie was clearly land stewardship. The viewpoint was skewed to what the multi-generation farmer would feel if threatened by urban sprawl. In Mr. Art Critic, the main character was inspired by a real life critic who went after my sister's show of pastel paintings in Grand Rapids; he also went after one of my films. I realized that these 'critics' sometimes have the last word. I ended up writing a review of his review, and it was published in The Grand Rapids Press. I heard the critic was a frustrated artist himself and no longer works there. Not sure if my review did him in, but it could have!"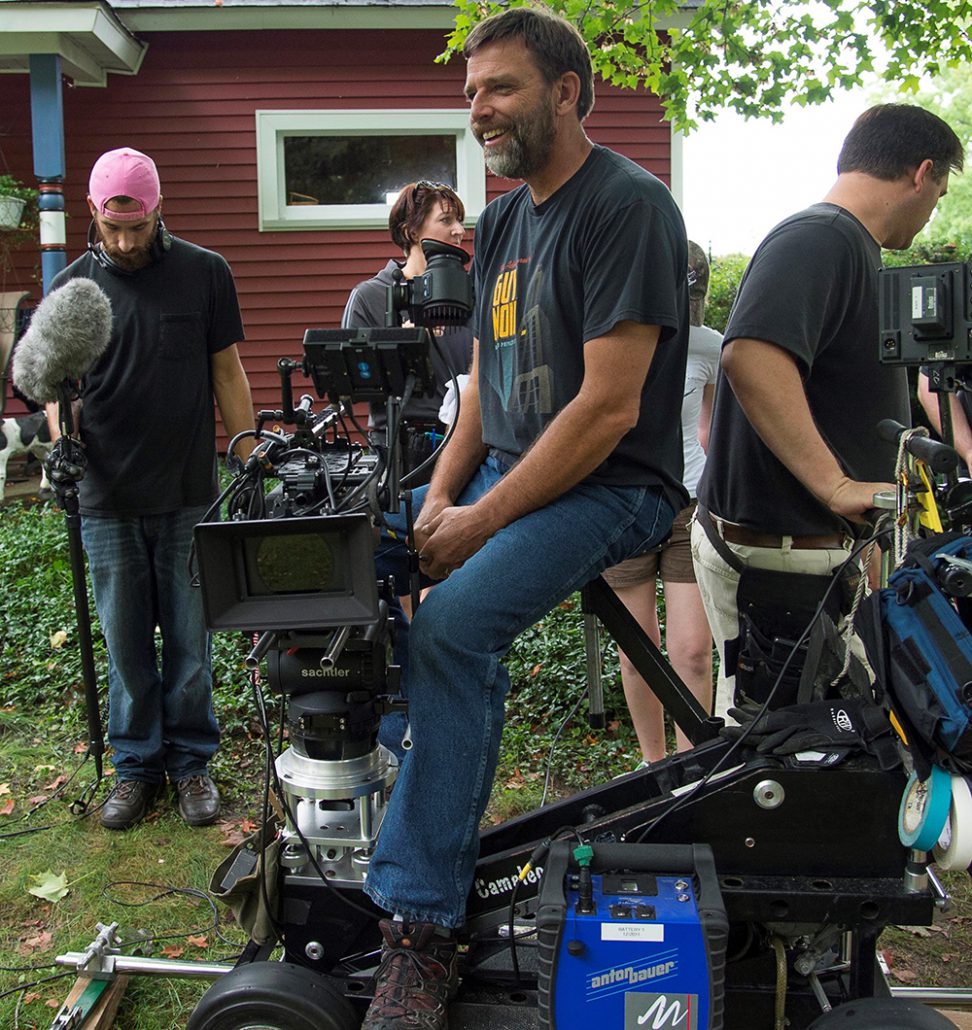 Inspiration for Dogman
The Dogman series was originally born from Brauer's amusement after hearing DJ Steve Cook's 1987 song, "The Legend of the Dogman," played on Traverse City's WTCM Radio. The song gives tongue-in-cheek details of encounters along the Lake Michigan shoreline of the Dogman, a human-like dog beast who supposedly appears in Northern Michigan during the seventh year of each decade.

"I heard that song, and thought, What a story! I had to know more," Brauer says. "I started asking around and found that Dogman is something that inspires honest belief. I ran into school teachers, sheriffs—people who normally don't subscribe to these sorts of things—who truly believe they have seen Dogman or had actual encounters."

The first and second Dogman movies were both shot in Benzie County about a decade ago, with full cooperation of area businesses and the local sheriff's department. The movies showcase recognizable Benzie businesses and landmarks. Brauer, who owns property here, was able to close portions of Narrow Gage Road—just outside of Beulah—down for shooting, as needed. Of shooting, he says:

"We were very careful. For example, when the school bus needed to get through, we were careful to cover up the actors lying in the road [who had been "attacked" by Dogman, complete with the associated blood]."

Two hallmarks of a Brauer production are camaraderie on the set and community engagement.

For instance, the Dogman cast and crew enjoyed breakfast together each day at the Hungry Tummy Restaurant before shooting commenced. Everyone involved in the production was seen as equally important to the project and treated as such.

"I've been on a number of films, and the camaraderie level we achieved is rare," Brauer says. "For a while, we had a Hollywood actor who chose to eat alone, because he wanted the separation. Then after a couple days, he realized we don't swing that way, and he started to feel left out. He began joining us for all the meals, and we remain friends still today."

Dogman 3: Fight to the Finish is slated to film in Benzie County beginning in September 2022. The original cast will return, excepting the sad absence of legendary Broadway actress Mariann Mayberry—who played the character of Hank's spunky wife, Dorothy—who died of cancer in 2017.

"Rich's heart and love of community is what has so many of us willing to drop everything in L.A. or New York to come back to beautiful Michigan and work with him," Guerrero says.

Future Plans
Brauer has several screenplays for other productions ready to go. There are two he is particularly passionate about.

"One tells the story of my brother, who drowned in Lake Michigan while sailing alone in 1985. His last contact with terra firma was Frankfort. There's a bench and three red maple trees next to the [Benzie Shores District] Library in his memory, placed there by my dad and me. The film focuses on his enviably adventurous life," Brauer says. "The other film follows an older man placed in a retirement center by his well-meaning daughter. He promptly sneaks out nightly to rebuild a threatened vintage railroad engine. The adventure takes him westward, joined by a teenage runaway. Together they discover that, although they are three generations apart, they share a passion for adventure and a sense of purpose."

A love of the communities where he works drives the momentum of a Brauer production. Of shooting in Benzie County, he says:

"People in Benzie are some of the most resourceful I've had the pleasure of knowing. Dogman 3 will be the fifth film I've made in Benzie—and at every turn, our crew has done what we've said we would do and taken care to try to leave it better than we found it."

When asked to complete the sentence, "A Brauer production will always…" he pauses to choose his words carefully and then finishes:

"Make friends with the community we get to work in."

The final funding is currently being raised for Dogman 3. Those supporting this classic indie film will see their names as the credits roll. To help raise the final few dollars, visit GoFundMe.com/f/Dogman3fight-to-the-finish online.

Featured Photo Caption: A few of the Dogmen. The actors needed to wear stilts and learn to run through the woods in them, plus get velcroed into all of that fur. Photo courtesy of Brauer Productions, Inc.
SIDEBAR
Rich Brauer's Feature Films
Sleeping Bear (1993)
The Lost Treasure of Sawtooth Island (1999)
Barn Red (2003)
That One Summer (2005)
Mr. Art Critic (2007)
Frozen Stupid (2008)
Dogman (2012)
Dogman 2: The Wrath of the Litter (2014)
Fitful, the Lost Director's Cut (2016)
Frozen Stupid 2: Open Water (2020)
Dogman 3: Fight to the Finish (Filming in 2022)