Every girl. Everywhere. Period.
By Greta Bolger
"When girls and women do better, everyone does better," says Katherine Ross of Beulah. "Whatever we can do to raise up girls and women directly contributes to the welfare of families and communities."
These are the values that have motivated Ross—along with tens of thousands of other volunteers all over the world, and about 15 to 20 at Grow Benzie—to organize and work for Days for Girls (DfG), an international organization that currently provides sustainable feminine-hygiene kits and education to more than 300,000 girls in more than 100 countries. The organization's long-term vision is to increase their impact by providing every girl and woman in the world with access to quality, sustainable hygiene kits and health education by 2022.
Ross, a Benzie County native, first learned about Days for Girls from an article in the Detroit Free Press featuring the work being done by a DfG team in Livonia. In late August, Katherine Ross and her husband, Mike Ross—both retired educators—visited the Livonia group and worked with them as they cut, pinned, sewed, ironed, and assembled the DfG kits.
"When we came home, I was confident that we could launch a similar effort in Benzie County," Katherine Ross says. By October, the group was up and running, with work sessions each Thursday afternoon at Grow Benzie.
Mike became his wife's co-leader—and not in name only. Mike attends all the DfG work sessions and is an expert at cutting the various sizes of fabric that go into making the kits.
Each Days for Girls kit is made up of eight washable, soft, flannel liners; two moisture-barrier shields; two pairs of underpants (a first for many girls); a washcloth; a small bar of soap; and two gallon-size Ziploc® freezer bags to transport soiled items, as well as to wash items in a small amount of soap and water.
Katherine Ross calls these bags "the world's smallest washing machines." After they are laundered, the dark-colored, printed shields and liners can be hung in the sun to dry and be sanitized without embarrassment. The completed kits are packaged in drawstring bags, made of pretty cotton, so they can be carried to school or work as an attractive accessory that maintains the privacy of the girls.
180 Days
The slogan of Days for Girls International is: "Every girl. Everywhere. Period." The driving forces behind the nonprofit's vision go way beyond personal hygiene and convenience, though.
In countries where adequate feminine hygiene options are not available—especially to impoverished families—girls and women are often restricted to their homes during their menstrual cycles. This forces them to miss school and work, causing them to fall behind educationally and economically. Moreover, the girls can be further disadvantaged by taboos and cultural beliefs about basic female biology, isolating them and causing them to feel tainted or "less than." This, combined with the prevalence of early marriage and early motherhood, puts girls in situations that compromise their long-term health and severely limit their options.
The high-quality, washable, and sustainable hygiene kits provided by Days for Girls can help these girls and women to maintain their dignity, productivity, and self-value, allowing them to reach their full potential.
The kits are designed to last three years, during which a girl can regain up to 180 days—a full six months—of active life. All components of the kits are made according to strict standards and are carefully quality-controlled to ensure that they will work well and hold up for their intended life span.
The kits are made by concerned, caring people—like those at Grow Benzie or down in Livonia—and are then sent to DfG headquarters in Washington state. They are then delivered to women in the developing world via international NGOs or other organizations that request the kits and pay the shipping from DfG headquarters.
No kits are distributed without the presence of a qualified teacher, who explains how to care for the kits over their three-year life cycle, along with information about personal hygiene, ovulation, sexual safety, and related topics that help give girls control of their lives and the ability to be equal participants in their communities.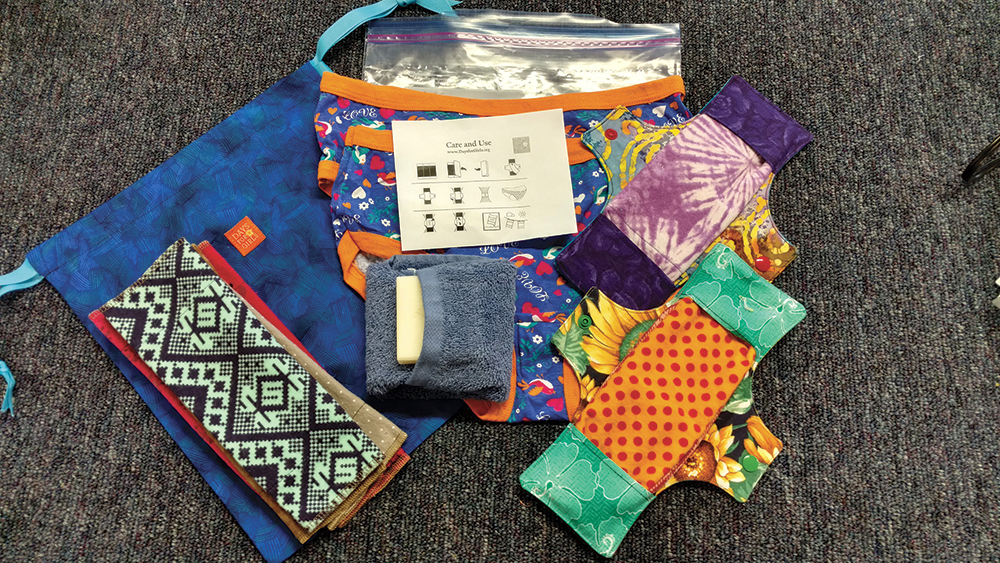 Ross shared a secret to producing the high-quality Days for Girls kits.
"If you add 'for her' to your thinking, you are motivated to aim for the very best product that you can produce," Ross says. "There is a girl or a woman waiting for each of these kits, and it will make a big difference in her life."
Here At Home
Ross and her team have been very fortunate to be able to use the sewing studio at Grow Benzie, which has sewing machines, a cutting table, and other amenities that allow several people to work on various components of the kits at the same time.
"I am so grateful to Josh Stoltz for letting us use the studio," Ross says. "It has helped us to get up and running quickly and to make the best use of our volunteers' time and talents. Our relationship with Grow Benzie reflects our shared goals and is very much in line with their mission. I'm also very grateful to Mary Ann Hendricks—one of the founders of Grow Benzie—and Therese Zielinski, who both worked closely with me to organize the studio and get it ready for our project. We are very fortunate to have such a great facility and wonderful people, willing to contribute to this effort."
The current Benzie County Days for Girls team has 15 to 20 members, some of whom will be gone during the winter months, so additional volunteers are needed. A working knowledge of machine sewing is helpful. Ross says that she would like to add another day and time, in addition to the current Thursday afternoon session; during this second session, volunteers would focus on perfecting a specific step in the process of creating the kits.
For those who would like to support the project, but are not able to volunteer, Ross welcomes the donation of materials that meet the requirements of Days for Girls International:
New 100% cotton flannel or 100% woven cotton in dark, pretty patterns that help toconceal stains.
Patterns must not include animals, words, or anything with eyes, as these are taboo in some cultures. The best choices are florals and botanicals, as well as abstract patterns.
One-gallon Ziploc® freezer bags.
Small bars of soap (from hotel stays).
One-inch-wide grosgrain ribbon, any color.
Polyurethane laminate (PUL) for waterproof shield layers (contact Ross for details).
Cash or check donations to allow the team to purchase their own supplies (which can often be acquired more economically in bulk).
Benzie County Days for Girls is a part of Days for Girls International, which is a 501(c)3 nonprofit organization. All donations are tax deductible, and a receipt will be provided. All in-kind donations must be valued by the donor for tax purposes. For more information, contact Kathy Ross at BenzieCountyMI@DaysForGirls.org or visit DaysForGirls.org.