Missing for 32 years, found just weeks apart
By Aubrey Ann Parker
Current Editor

On Tuesday, July 27, at around 2pm, Paul Emling posted photos of a found ring on Facebook. It was a class ring from 1991 with the names "Matt" and "Frankfort" engraved on it, along with a shiny blue stone in the center, as well as a basketball and a football engraved on the side. Emling was asking for help locating the owner—apparently there were only three graduates of the Class of 1991 at Frankfort High School with that first name: Matt Erickson, Matt Garber, and Matt Smith.

Within 24 hours, the Facebook post had more than 80 "likes," more than 60 "comments," and more than 1,200 "shares." More than that, the ring's rightful owner had been found.

Matt Garber says that he lost the ring 32 years ago, when he was a sophomore in high school.

"I actually lost two class rings, and this was the first one," Garber admits. "My birthstone is pink for October, but I thought that I'd get made fun of, so I chose to go with a blue stone."

As far as Garber can remember, he has always thought that he lost the ring at the Frankfort beach while playing volleyball. Moreover, he has always blamed the loss on his "parachute pants."

Shortly after losing his first class ring, Garber somehow conned his father into buying a second one—this time opting for his pink birthstone—but he ultimately lost that one, too.

And though the second pink ring has never since been recovered, the first blue one is soon to be back in his hands.

Garber, who now lives in Manistee, has been in touch with Emling about meeting up to get the ring back, and he plans to do something nice for him, "like buy him a case of beer or something." Though he is still very confused about where the ring was found.

"Paul told me that somebody found it on a job site where he was working on Frankfort Avenue in Elberta, but I swear that the last place I remember having that ring was at the Frankfort beach playing volleyball, so I have no idea how or why it would have been found at my house," Garber says, puzzled. "I'm still trying to work that one out. I wonder if my sisters had something to do with it, as they were probably around eight and 10 back then."

This is not the first time that social media has aided in a found ring getting back to its original owner, often after years and years of being lost.

However, this is not the end of the story.

The novelty, in this case, is that two almost identical rings, save for being from rival schools, which were lost the same year, 1989, were then found within just weeks of each other in July 2021.

Earlier this month, Alex Brydges—a Beulah resident originally from downstate—was metal detecting in Crystal Lake at Second Street beach in Beulah when he came across a class ring from 1989 that bears a striking similarity to Garber's 1991 ring. Both have a bright blue stone at the center, but instead of having a panther face on the side, the ring that was found in Crystal Lake has a husky head.

This class ring once belonged to Eric L. Burns, who says it has been missing for 32 years.

"I lost the ring during my senior year, before we even walked at graduation," Burns says. "I had it for a month maybe. I used to work at the Cherry Hut, baking pies in the kitchen, and it would get so hot in there. After work, I used to go to Second Street beach across the road to jump in after work. I think it must have been a combination of the hot kitchen and the cold water—whatever it was, the ring came off my finger, and I never saw it again."

That is, until he received a message on Facebook from a complete stranger; one which he almost completely ignored.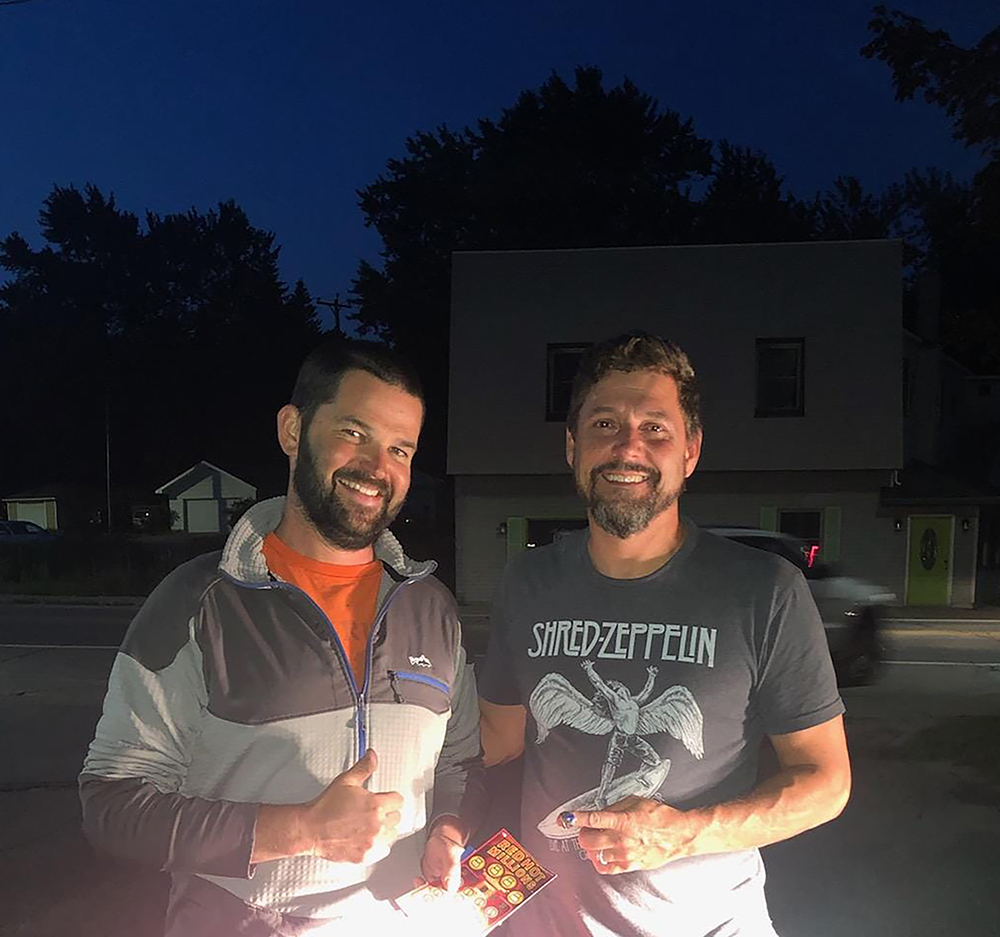 "I thought, 'What kind of scam is this? I'm not even responding to this'," says Burns, who now resides in St. Joseph. "Everybody lost their class ring somehow, so I just thought it had to be someone running a scam, trying to get gullible people."

Complicating the story even further, it was not Alex Brydges—the person who had found the ring—who reached out to Burns, because Brydges does not have a Facebook account; instead, he asked a friend, Matt Wooten, to send the message for him. Since Burns' full name was inscribed on the inside of the ring, it was easy to track him down on social media. And as it happens, Burns had a Facebook friend in common with Wooten.

"I asked him if that person was legit, and to my surprise, [my friend] said he was," Burns says. "After making sure that it wasn't a hacker or a scam, we came Up North to camp out with other graduates from my class at the beginning of July. I met up with Alex [Brydges] at the Shell in Honor [on Saturday, July 10] to get my ring from him."

As a way of passing on the luck, Burns bought Brydges a scratch-off lottery ticket and a gas card, as thanks.

"It was a dud," Brydges says. "But it didn't matter. He didn't need to get me anything. It was cool to be able to return his ring to him."

Brydges notes that this was not what would be considered "normal" metal detecting: he was underwater, out over his head.

"That's probably why it had never been found, until now," Brydges explains.

When The Betsie Current asked each of the ring owners if he knew the other, it turns out—rather unsurprisingly, given only two years between them and two rival schools—that they did.

Garber had actually attended Benzie County Central Schools until the summer between 8th and 9th grade, when he transferred from Benzie to Frankfort. Both men played basketball, as their rings showcased, so there had been some overlap there, too, as well as mutual friends.

When Garber told a friend that his ring had been found on July 27, that friend told him how Burns' ring had been found just a few weeks previously.

"I was like, 'I know Eric Burns, I remember him'," Garber says.

Meanwhile, Burns, who just turned 50, says that having his ring back after all this time is "like opening a time capsule."

"After I lost my first ring, my dad was mad, but he got me another. Then, when I lost that second one, he was like, 'Nope, we're done,'" Garber says. "He passed away in June 2019; he would be ecstatic to know it came back."

As for Garber's second pink ring that is still missing, he believes that one was lost on the Frankfort Elementary school grounds, somewhere near the basketball courts in the back.

"I remember taking it off to play basketball, because there were those horror stories of going to slam dunk and getting a ring caught and losing your finger," Garber says. "So I took it off and never found it."

Garber says that if his second missing ring ever came back to him, he would buy a lottery ticket that day. Maybe Alex Brydges can find it with his metal detector.

Alex Brydges says that he is willing to attempt to find your lost jewelry. Contact him by emailing bigbrother527@yahoo.com.

Featured Photo Caption: Eric L. Burns was a senior at Benzie Central High School in 1989. But before he could even walk at graduation, he lost his class ring while swimming in Crystal Lake. Meanwhile, Matt Garber was a sophomore at Frankfort High School that same year, and he lost his class ring. Both rings have basketballs on them, both have blue stones. But one ring has a husky head, while the other has a panther face. Both rings were missing for 32 years; both were found in July and returned to their original owners, thanks in large part to the power of social media. Photos courtesy of Paul Emling (top) and Eric L. Burns (bottom).