From Buckley to Lake Michigan
By Annis Pratt
Current Contributor

Almost exactly two years after their intrepid kayak journey down the entire 55 miles of the Betsie River, my grandsons—now 26 and 19—returned in late June for a kayak adventure down 67 miles of the Manistee River.* 

The two rivers are quite different. The Betsie is so narrow that its twists and turns caused quite a few capsizes last time; the Manistee—which is wider and flows even faster than the Betsie—has broad, looping oxbows that are easier to navigate and provide a smoother ride.  

The Manistee River, sometimes referred to as the Big Manistee River, runs 190 miles in total, beginning in southeastern Antrim County, on the border with Otsego County. My grandchildren put in at Harvey Bridge, which is in Buckley; it was built in 1906 and is the only truss bridge left in Wexford County.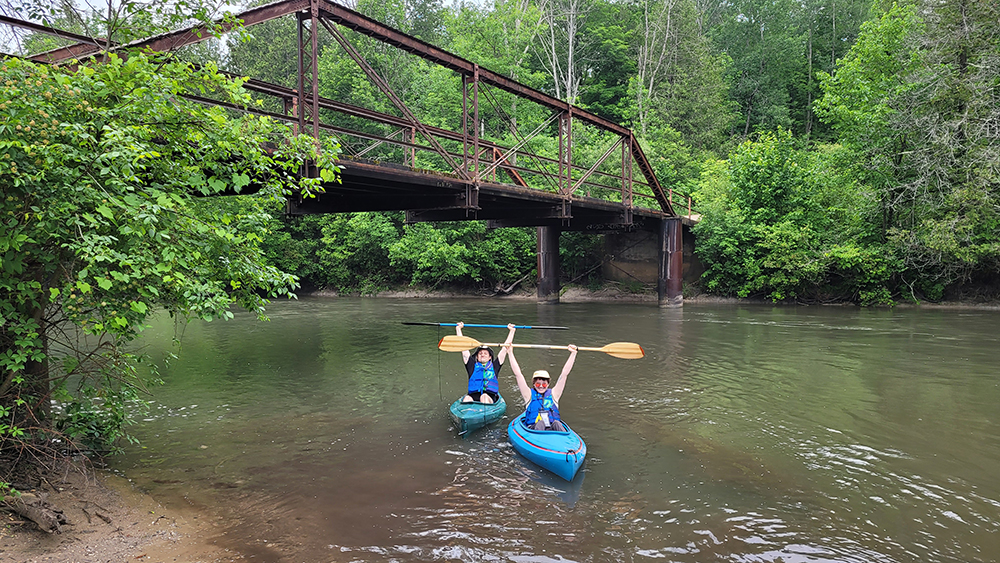 After four long days of rain, they took out in Manistee, having made it, once again, all of the way to Lake Michigan. 

It was fascinating to watch them pack my two little kayaks—a wide-beamed LL Bean plastic Keowa and a slim Kevlar Old Town—waterproofing and tying down everything on board. It is astonishing what they cram in; this is only a partial list:

Large dry bags x2
Small dry bags x3
Small mesh bags x5
Fold up chair
Hammock with bug net x2
Hammock strap x4
Hammock fly x2
Hammock underquilt x2
Sleeping bag x2

The sleeping equipment was tremendously helpful when it poured down rain! Their hammocks had soft underquilts for their sleeping bags, and the tented mosquito nets were topped by waterproof tarps. The arrangement is so warm that my younger grandson sleeps outside on Colorado winter nights. On the Manistee, however, he made an error in the knots that he tied to attach the tarp to his guy line, so that it slid around in the wind all night long.

It is always a mistake to spend time on your cell phone when navigating a river in a kayak: that was the only time one of my grandsons capsized on the Manistee. 

On the Betsie River trip, they had lost a cell phone overboard and had run out of battery charge for the other phone on a very long stretch, leaving (nervous) Granny and (undaunted) Mom out of touch. This time, they had a solar power bank, charging cords, and a waterproof speaker, but—even more crucially—waterproof cell phones in phone-specific dry bags with phone-specific dry bag floats attached to them.

They used purification tablets to rely on river water for the entire journey, and they drank from plastic water bags strapped to their backs with a tube for drinking. 

Good equipment, of course, is just the practical basis for enjoying the beauty of the river. 

My grandsons found the Manistee River to be an entirely different ecosystem than the Betsie had been, and they saw much more wildlife: mergansers with large families of ducklings, bald eagles (nine of them), turtles everywhere, goldfinches, cedar waxwings, vultures, deer, and chipmunks. Unlike their Betsie trip, there were no signs of bears; for the first two nights, however, the trees were infested with gypsy moth caterpillars, which fell down on them all night long (as did their poop).

There were two dam portages that were a challenge: they had to carry their heavily packed kayaks half a mile at Tippy Dam and down slippery stairs—they used ropes to do this—at Hodenpyl Dam. 
Most of the trip was through the Manistee National Forest, which permits you to choose your own camping site along the way. My grandsons mainly camped on their own, enjoying the good supply of food they had packed. They spent one night in a designated campground, getting to meet other people who shared their own Manistee adventures.

What river is next for these two? Stay tuned, as even Granny does not know yet—however, with each trip, I get a little less nervous.

*Annis Pratt has a cottage on the Betsie River. In the August 15, 2019, issue of The Betsie Current, we published a story titled, "A Betsie River Adventure: From Green Lake to Lake Michigan," in which she chronicled the first multi-day river trip that her grandchildren made down the Betsie.

Pratt has been a bird watcher since 1947 and finds the banks of the Betsie an absolute bird paradise. She is author of The Infinite Games Series of adventure novels about a marshland folk who are threatened by the draining of their homeland and of three non-fiction books about the way that myths are used in literature. She is a nature writer, a columnist for the international e-magazine Impakter.com, and was an early contributor to The Betsie Current, back in the 2005-06 days. Visit AnnisPratt.com to learn more or look for her books on Amazon.

Featured Photo Caption: Two years ago, these two paddled the entire length of the Betsie River. Last month, they spent four days paddling about one-third the length of the Manistee River. Their grandmother is quite proud. Photo courtesy of the Pratt family.

SIDEBAR
The Manistee River
The name "Manistee" is from an Ojibwe word whose derivation is uncertain, however, it may be from "ministigweyaa," which  means "river with islands at its mouth." The Ojibwe and Ottawa peoples lived along the river, with the Ottawa having a reservation on the river from 1836. The federally recognized Little River Band of Ottawa Indians continues to occupy its reservation in Manistee County, as well as lands in Mason County.

The river rises in the sand hills in southeastern Antrim County, on the border with Otsego County, about six miles southeast of the town of Alba. These deep glacial sands provide it with a remarkably stable year-round flow of clean, cold water, making it a popular river for fishing, as well as canoeing. Over the course of its length, it drops in elevation from around 1,250 to 579 feet, with an average stream gradient of about 2.9 feet per mile.

The Manistee River has undergone considerable physical and biological alterations over the past century. 

Historically, the upper river was renowned for its outstanding Arctic grayling fishery (Thymallus arcticus, now extinct), among the finest in the world and at the extreme southern limit of the range of this salmonid. Catches in excess of 1,000 fish per weekend outing were commonly reported up until the 1880s, when extensive logging in the area ruined the streams and habitat. 

Logging in the area commenced in earnest by European-American settlers between 1880 and 1910, with peak production occurring in the 1890s. Logging denuded habitat areas, with silt runoff and logging debris degrading the water quality of the river. The river's relatively large size, stable flows, and dearth of cataracts or other difficult passages made it ideal for the transportation of lumber. 

During this period, huge numbers of white pine logs—some as large as six feet in diameter—were floated down the river to the port at Manistee and eventually on to the lumber markets of Grand Rapids, Milwaukee, and Chicago. The wood was used to build the cities and towns of the Midwestern United States. Some of these logs became trapped at various points on the river and can be seen today along the river bottom.

Having been restored since the ravages of the logging era, the river is again considered among the finest trout and salmon rivers in the country, though some problems still persist. In addition to extensive past logging in the region, two hydroelectric dams act as barriers to migration. Native fish species also suffer from competition or predation by non-native introduced salmonids, including brown trout (Salmo trutta), steelhead/rainbow trout (Oncorhynchus mykiss), coho salmon (Oncorhynchus kisutch), and Chinook salmon (Oncorhynchus tshawytscha). An interest in reestablishing Arctic grayling in the river by the Little River Band of Ottawa Indians led to a recent analysis of habitat suitability for Arctic grayling in Big Manistee River tributaries and some regions of the main stem; this was conducted from 2011 to 2013. 

Today, the river is used extensively for other forms of recreation besides fishing, as well, including canoeing and  boating. 

Commercial navigation is possible in the lower stretches of the river, below the Tippy Dam, built in 1918 and operated for hydroelectricity by Consumers Energy. (The original name of the dam was Junction Hydro, but it was renamed to honor a Consumers board of directors member, Charles W. Tippy.) The dam spans the Manistee River about 170 miles from its headwaters, or about 25 miles from Lake Manistee.

The Manistee River State Game Area is located upstream of Lake Manistee, and consists of areas of bayous and meandering marshlands, located adjacent to the main river channel. This state game area is managed by the Michigan Department of Natural Resources (DNR) and contains a total area of 3,920 acres which overlay the Manistee River to the west of the City of Manistee. The adjacent hunting and fishing areas include Tatches Bayou, Claybanks Bayou, and Anderson Bayou. Duck hunting and northern pike fishing are popular activities within the managed marshland.

Source: Wikipedia