Questions & Answers with community faces
Melanie (Krempa) Griffith, 44, grew up downstate in Berkley. Her main interests in school were art and science classes, so she went on to study art at Wayne State University after high school. Some time later, a friend gave her a tulip bulb catalog which began her interest in gardening—where the science comes in—and that continues today. It also helped to fuel her passion for food, but that came later.

Melanie went on to achieve an Associate's degree in landscape horticulture from Oakland Community College in 2009, and she is a Master Gardener via training from Michigan State University. Melanie worked as a server at some of the Detroit metro area's fine dining restaurants, like Sweet Lorraine's in Livonia, and she worked her way up to dining room manager at Beverly Hills Grill.

Meanwhile, Timothy Griffith, 49, grew up just 20 minutes away in nearby Farmington, as the oldest of three brothers; he played saxophone in the marching band and played a lot of hockey, as a goalie. Tim achieved an Associate's degree in culinary arts from Oakland Community College in 1993. He immediately began working in fine dining establishments such as Diamond Jim Brady's in Novi, The Golden Mushroom in Southfield, and, as luck—or fate—would have it, Beverly Hills Grill, where he was a sous chef.

It was at BHG that Mel and Tim first met while working in 2003: she was always asking him cooking questions, and when she first came to his apartment and saw his vegetable garden, she was definitely interested. In the time that they spent at BHG, the restaurant received the "Restaurant of the Year" distinction from the Detroit Free Press in 2007, while she was running the front of the house and he was helping to run the back. The award brought on a tidal wave of guests from all over the country to challenge the couple with an even higher volume of business. Mel and Tim ran the day-to-day operations side by side until 2010, when they left to try life Up North.

They were first located in Traverse City: Mel was serving at Trattoria Stella, and Tim was cooking at Amical. Mel tried her hand at several side jobs in the agricultural field—farm-hand on both hydroponic and conventional farms, flower farming, and landscape maintenance. In 2017, she took a job in Glen Arbor with the Leelanau Coffee Roasting Company, which brought the Griffiths to their current apartment in Empire, back to where it all had begun, really.

Mel had been one of those lucky kids whose grandparents owned a cabin in Empire, so she had grown up coming Up North every summer. The cabin is still in the family, and Mel and Tim continue to do upgrades; it is a very meaningful place to Mel's family and now to Tim, too.

Shortly after the couple moved to Empire, Tim started cooking at Stormcloud Brewing Company in Frankfort, and he went on to run the kitchen at The Broomstack Kitchen and Taphouse in Maple City when it opened in 2019.

The couple started "Mel & Fell," their own business, in 2018 at the Empire Asparagus Festival; they also did the Northport Uncaged Festival and the Empire Hops Festival that same year, while starting to do small catered events.

In 2019, they joined their friend Mae Stier when she opened The Blue Heron Mercantile in Empire. Mel & Fell provided food—like sandwiches, salads, sides, and baked goods—that were ready to eat and take to the beach. However, the mercantile closed in early 2020; still, the interest in what Mel & Fell had to offer had been piqued by the locals. So, Mel and Tim acted on an idea that combined a personal chef service with meal delivery.

The timing was right—when the pandemic locked most of us down, the Griffiths continued to provide weekly meals to neighbors and friends. The meal delivery has grown from two clients at the start to an email list of more than 300, though they typically have about 40 deliveries each week.

Each menu has a choice of three entrees, soups, salads, and baked goods. They are delivered ready to heat and serve. The magic all happens at Grow Benzie in Benzonia. The Griffiths first heard about the facility when they moved up here and Mel was looking for a community garden. The couple has been using the commercial kitchen space weekly for almost three years now.

Continuing with our interview series on impactful Benzie County characters, The Betsie Current caught up with the Griffiths as they were preparing the week's meal deliveries.

The Betsie Current: What made you want to work in food? What do you enjoy about this line of work?

Melanie Griffith: We have both been working in restaurants our whole careers. We can both say it started as a job that we knew would always be there. For me, I really enjoy the regular customers, who I develop friendships with. They're the reasons to keep coming back to it. Also, we came up in restaurants that changed their menus seasonally. There were always special dishes, as well as the normal menu. We've continued this farm-to-table cooking, because it's important to us to support local farmers, and we are very inspired by the local produce. We get so excited when the first asparagus and ramps come to farmstands. Then fruits like rhubarb and strawberries cover our menu in sweet and savory ways. Right now, fresh tomatoes and zucchini are at every meal, and we couldn't be happier. We try to support as many local farms as possible and currently rotate between Lost Lake Farm, Lakeview Hill, Lively Farm, and TLC tomatoes. We had a share in the MI Farm Co-op throughout last year, and it was a lifesaver during the lockdown. Now, we arrange pick-up with each farm, and we have an account with Cherry Capital Foods, where we source local chicken and pork. It's an important part of building a community. We definitely learned that in this last year—many small businesses struggled; we have to look out for each other.

Timothy Griffith: We enjoy sharing our love of cooking and trying new dishes and cuisines with people.

Current: Where does the name for your business come from? Can you explain for our readers?

Melanie: When we met at Beverly Hills Grill, Tim's nickname by the chef was "Big Fella." He is 6 foot 5 inches. It got shortened over time to "Fell," because it's easier to say when you're busy. Once another cook realized "Mel and Fell" rhymed, it was stuck. We like to say that I'm Mel, and this is my Fella.

Current: What does a typical day of work look like for you? Who is your typical clientele?

Melanie: For the meal delivery part of the business, our week starts on Monday, when we shop for the orders that are placed. We try to locate as much local product as possible, using local produce and meats. Tuesday is prep day at Grow Benzie. On Wednesday, we pack all the orders and then deliver. We go from Frankfort to Maple City, Glen Arbor, and Empire, currently. Right now, we believe we have a fair amount of single retired people and retired couples—we see they are the largest group to benefit from our service. We would love to add families and haven't figured out how to market to them. An average delivery is $40 to $50, so a couple of entrees, a salad, and a dessert. We do have people ordering several meals for the week ahead, too. Our last delivery week was our highest yet, with 50 deliveries and more than 130 entrees made.

Timothy: When we have special events on the weekends, we start the process over and begin shopping and prep for Friday and/or Saturday events. We are trying to reserve Sundays off. We specialize in small catered events. We have done as little as a dinner for eight people and have weddings booked that are 50 to 75 guests. We can prepare the food and bring it for someone to reheat, or stay and cook and serve in your home. Clients often include "locavores" hosting a private party, a winery in need of some harmonized pairings, or a small business trying to make a big impression.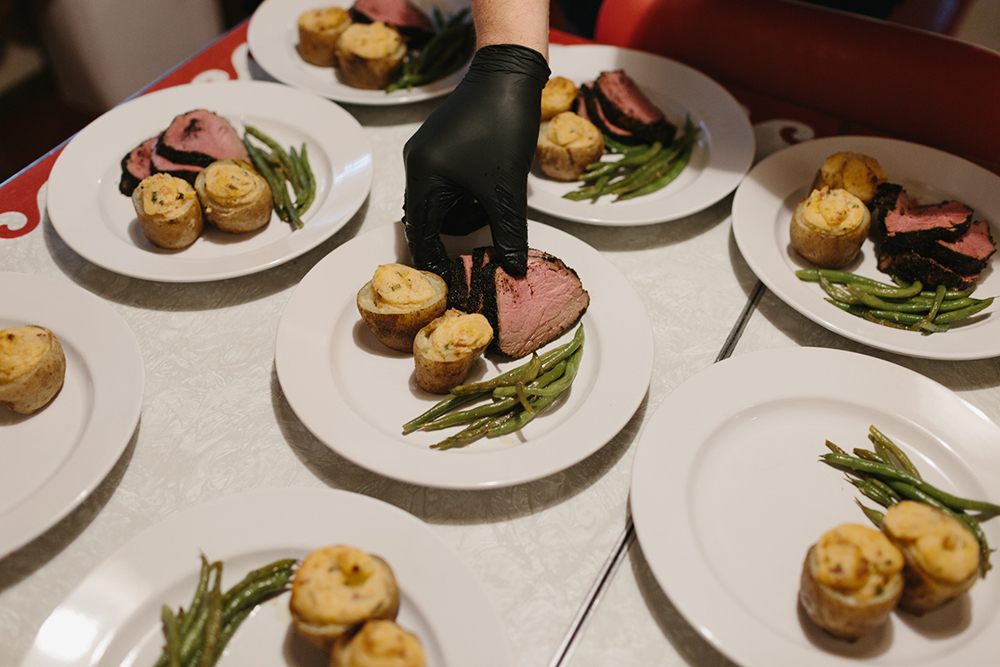 Current: How has your business model changed since the COVID-19 pandemic hit Northern Michigan last March?

Melanie: We really only got started with the meal delivery as COVID happened. It has honestly helped this business grow.

Timothy: We were both working other jobs full time, and now we are doing our own business full time.

Current: How have you seen your work grow and change? How do you hope that it will continue to grow? What is next? Have you had any collaborations?

Melanie: We have had really consistent business with the meal delivery. We're in a rural area, and there isn't enough business or population to sustain a "door dash" type company, so we kind of have a corner on that right now. While we want our own space to possibly sell food "to go" and be able to do small events, this is working for now. As far as collaborations, as mentioned, we like to work with local farmers as much as possible. We have also joined with some wineries in Leelanau County to add wine to the menu, and we added tulip bouquets from Leelanau Specialty Cut Flowers to the delivery last spring.

Timothy: We have seen feedback from clients wanting more local products, meats mainly. We have more knowledge and experience with food allergies than we did before. For instance, we have catered an event that needed to be corn-free—corn starch, corn syrup, it's in everything. We just catered a completely gluten-free event, as well. We make sure that we label our weekly menus when they contain gluten, dairy, and soy.

Current: What are the top three sellers? Your three favorite dishes?

Melanie: As much as we like to do different cuisines, the most popular are always the comfort classics. People love comfort food. We just did chicken alfredo and sold about 70 entrees. Pulled pork and shrimp pasta are other big ones. I do the baked goods each week. My favorite so far has been the copycat Little Debbie oatmeal cream pie recipe. I also love making pies with crusts from scratch. Side note: I brought an apple pie to dinner the first time that I met Tim's folks, and it went well. The rhubarb lemon bars are so special each spring, but they're seasonal.

Timothy: I love the creative freedom of the meal delivery. We change the menu each week. I have enjoyed making Persian fesenjan, Vietnamese pho, and Asian stir fries and curries. Growing up in the Detroit area, we had access to many different cuisines. We lost a little of that when we moved here. We're kind of addicted to food and travel shows, and when we can't get that certain dish—well, we try to make it. That's a big inspiration for our menus.

Current: What kinds of things do you do for fun, when you are not working? What other things are you involved with? How did you get involved with them, and why are you passionate about these causes?

Melanie: We live in close proximity to Empire's public beach, so you can find us there most evenings catching the sunset. The snacks that we bring have inspired many menu items, because we are food nerds; always watching cooking shows, following trends we see. We love the local hikes in the area—more so when they're not so busy, in the spring and fall. We like doing some upgrades at the family cabin. A plan to re-do flooring is slated for fall.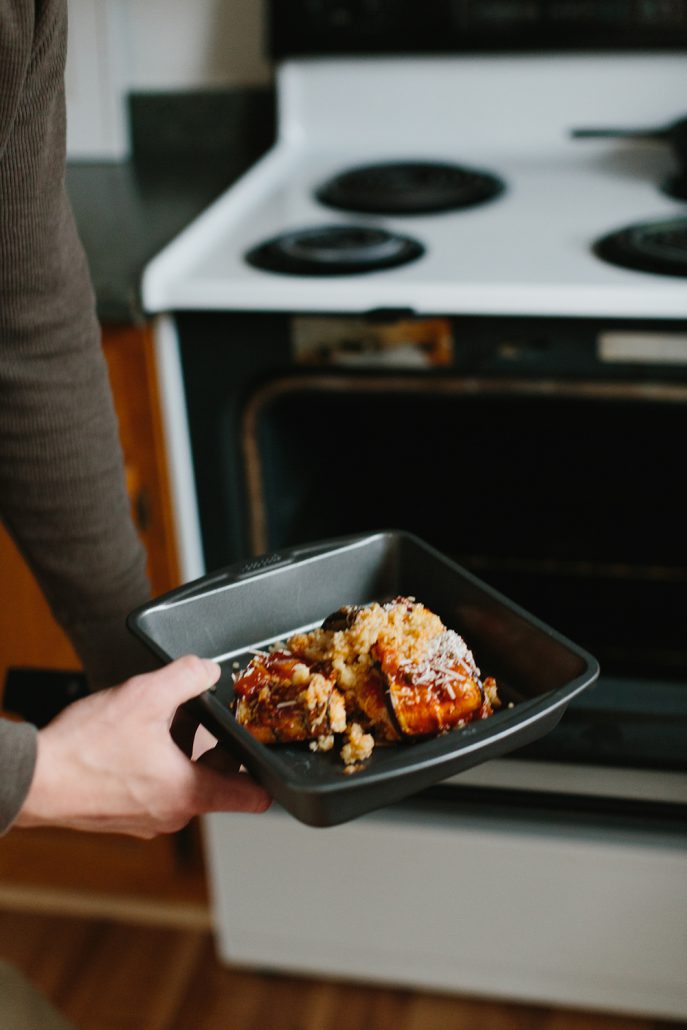 Current: How have you seen Northern Michigan change since you started coming up here as a kid, Melanie? What are your hopes for the area in the future?

Melanie: Many years of memories were formed with my brothers fishing—though all we caught were turtles—making sand castles, venturing up to Leland to enjoy smoked fish and jerky from Carlson's Fishery. When I was coming up here as a kid, we barely left Empire. Drives up to Leland for fish and a walk through the shopping district were about it. It's lovely to see the preservation of Fishtown happening. It's amazing to watch how they are raising the shanties and updating them. It's been interesting to learn more about local politics as we have moved into the village of Empire. We're definitely excited for what Jody and D.C. of Grocer's Daughter [Chocolate] are doing. The expansion at Joe's Friendly Tavern has been fun to watch, into the space that used to be the grocery store. It's nice to see new life breathed into a sleepy village. Although we love the "off season," when there's less traffic and we can actually find a parking spot at the beach.

Current: What are the biggest challenges and rewards of living/working in Benzie County and in Northern Michigan, in general? What is the best or most rewarding part of your job?

Timothy: Biggest challenge is living in a rural area, like Empire, with no substantial grocery store. When we're cooking at Grow Benzie, it's great to be close to Shop and Save in Benzonia. But some specialty ingredients are difficult to come by. When we shop in Traverse City, we frequent the Asian and Latin markets. Oryana has a great selection of locally sourced products: honey, milk, jams, fruits, and vegetables. It's really rewarding when we deliver to our clients and get a moment to chat with them. One of our clients called us "Gourmet Meals on Wheels." We are aware that the population in this area is more retired. So when we deliver food and save them the time of shopping and cooking, they are very appreciative. We have been donating meals each week; our clients can add into that fund and recommend someone for a meal. We also give excess from deliveries and events to the Empire food pantry.

Current: What else does Northern Michigan/Benzie County need?

Melanie: We can't really speak to that. Housing, daycare—we know these are issues, but we don't pretend to have the solutions. We will just stay in the kitchen.

Current: What are your favorite local events and activities? Any favorite dining, recreation, hiking spots?

Melanie: Since moving out to Empire, and back when I was working in Glen Arbor, I became very aware of the hikes in the Leelanau Conservancy—Hatlem Creek and Clay Cliffs being a couple of favorites. In the spring, you can't beat Empire Bluff. We have done some snowshoeing and winter hiking and hope to do more.

Timothy: Favorite restaurant is, hands down, Red Ginger in Traverse City. For a fine dining establishment, they hit all the marks—excellent food, service, the decor and feeling when you're there. Before living in Empire, we loved coming to the Asparagus Festival. It's such a fun celebration of spring, of surviving winter. All the asparagus food, even asparagus beer. When we first came to it, 10 years ago, Stella and La Becasse had booths. It was amazing. 

Current: What does your perfect summer day look like in Benzie County? How would you spend it?

Melanie: Maybe squeeze in a sunset at Frankfort beach before a movie at The Garden Theater. We're excited about their renovations!

Timothy: It would start with grabbing some beers and lunch from Stormcloud. Heading to the beach. If it's the right day, we would add summer fruits and veggies from the farmers' market. We have to get dinner on the patio in the summer at the Roadhouse in Benzonia. Then get in line for our spot at the Cherry Bowl Drive-in.

Visit "Mel & Fell" on Facebook, or MelAndFell.com to learn more. Email melandfellg@gmail.com for more information.

Featured Photo Caption:  Melanie and Timothy Griffith, owners of "Mel & Fell," specialize in small catered events: they have cooked an in-home dinner for as few as eight people and have booked weddings with up to 75 guests. When the COVID-19 pandemic hit, the timing was right for the Griffiths to act on an idea that combined a personal chef service with meal delivery—this side of their business has grown from two clients at the start to an email list of more than 300, though they typically have about 40 deliveries each week. Photo courtesy of Mae Stier Photography.