Michigan Shores turns 25
By Susan Koenig
Current Contributor
John Vinkemulder ("Vink") and his wife Lynn, the newest residents at Michigan Shores, recently experienced the neighborliness that has become a hallmark of the cooperative living facility, located less than a mile from downtown Frankfort—Vink found his Traverse City Record-Eagle delivered to his front door. Apparently many residents receive the daily paper, and someone gets up very early and has taken it upon himself to bring the papers, quietly, door to door.
The Vinkemulders moved to Michigan Shores from their Elberta home on Lake Michigan, Vink says, because Baby Boomers are starting to look at another lifestyle that is "more relaxed and less married to home maintenance," for use as a pied-a-terre or with an eye towards the future.
"We thought we'd better get it while we can, now that the Recession is over and people are able to sell their homes," Vink says. "There are so many well-liked and respected people who live at the Shores… all gentle people—that is, ladies and gentlemen of the old school—polite and welcoming."
How It Works
Michigan Shores Cooperative is a self-governing, diverse community of engaged and congenial adults. Constructed in 1991, the facility celebrates its 25th anniversary on Saturday, June 25, with a gala for the residents and food provided by Jim Barnes's Crystal Lake Catering Company.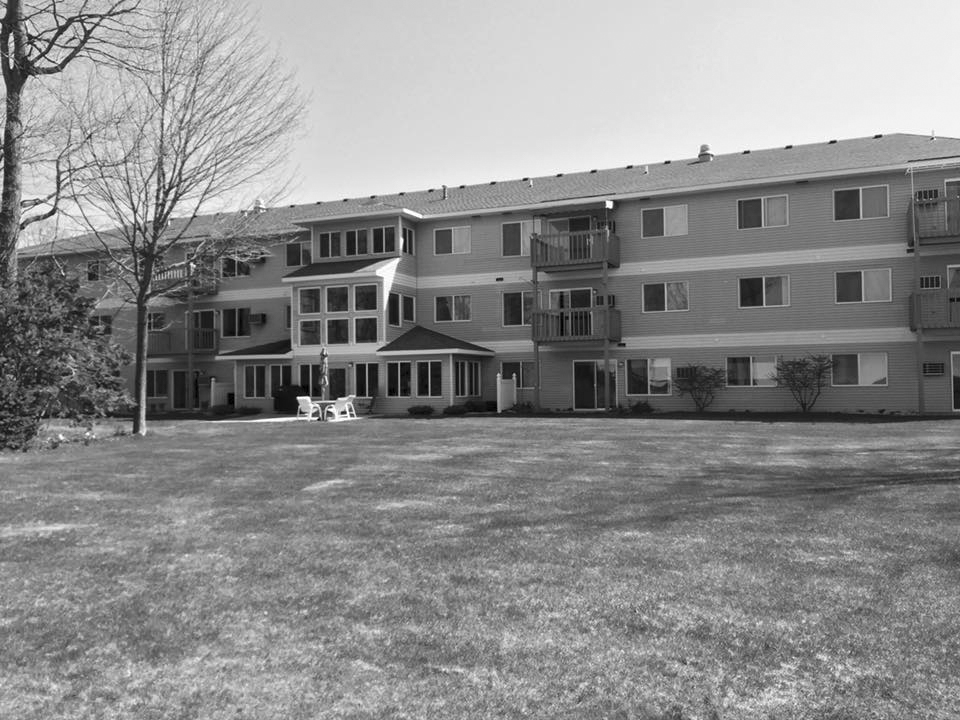 You don't have to be "old" to live here, nor is retirement a requisite. Several residents go to work each day, while many others are part-timers, using their unit as a "getaway." Here, according to residents Joan Wolfe and Dan Remahl, you can "be whatever you want to be, participate in whatever interests you, socialize or not, but where privacy is cherished."
The Shores offers independent living in a comfortable, safe, and affordable environment—this is not a place where people come to expect care, nor is it a typical retirement home. It is an independent, not-assisted-living establishment. However, should one need live-in or other medical care, it is quite acceptable to receive it and pay for it, just as you would in your own home.
The attractive three-story building on the hill is surrounded by 19 acres of woods, including hiking, biking, and ski trails, a pond, and splendid views of Lake Michigan.
Memberships are available to those aged 55 and older, and housing options include 54 one- or two-bedroom apartments, varying in size from 676 to 1,448 square feet. Membership begins with a one-time payment that purchases a "share" in the cooperative. The price of the share varies based on the apartment type and size. Also based on type and size is the monthly "carrying fee," covering all expenses related to the co-op's operation, including the mortgage, real estate taxes (deductible), heat, cable, trash removal, snowplowing, gardening, and other outdoor maintenance. In addition, there is a free shuttle service. All members have call buttons for emergencies, and the building is locked at all times.
The units are furnished with appliances, window treatments, and floor coverings, and each contains generous closet space and either a private patio or a balcony. Members may remodel and decorate as they wish. You buy or sell a membership, as you would in any real estate transaction, and prices vary according to the unit's size and the market—today probably between $35,000 and $60,000, with monthly fees varying, accordingly, between $800 and $1,600. Other amenities include indoor storage spaces, parking garages, lounges with fireplaces, a fitness center, overnight guest rooms, and a workshop.
The Residents of the Residence
The Betsie Current managed to interview several residents in this lively environment—not an easy task, since everyone seems to be on the go; the front doors, which are not revolving, should be. When you visit, you will feel as if you're in a festive hotel atmosphere or a bustling apartment house. The walls throughout the building are beautifully decorated with artwork, either by residents or from their personal collections. People might be having coffee or enjoying Happy Hour, playing bridge or walking their dogs, going to exercise class or heading to or from work. These are not the "old people on the bluff" that some might envision.
We spoke with Al and Gerry Hyams, the longest residents at the Shores, who moved here in 1991 when, according to Al, "the doors weren't on yet." Sports enthusiasts and veterans of American Youth Hostels, the couple was intrigued by an article that they had read about the newly established co-op, and when they retired—he from teaching science, she from teaching and serving as a librarian—they came to Frankfort to investigate.
"The view really got us," Gerry says. "And a certain kind of creative people [who were moving in.]"
Al notes that, at the time, many new residents needed help personalizing their apartments. He and his "crew" of other helpful denizens (mostly guys) got so busy that they dubbed themselves the "Beavers," and, using the shop available, went to work.
"We formed a real camaraderie," he muses.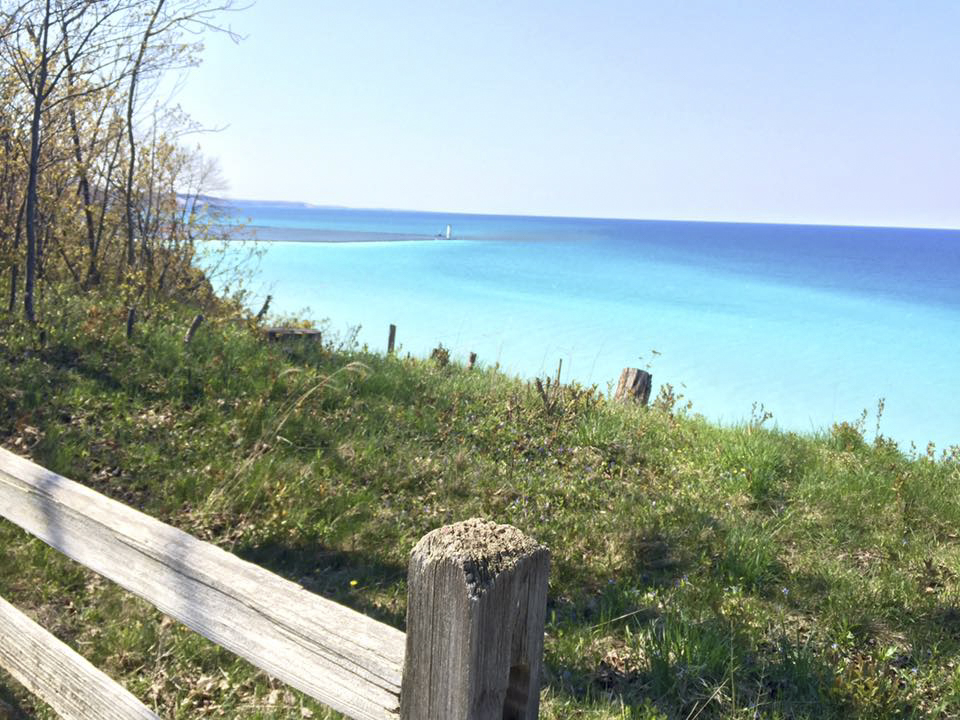 Al now plays with a group called the "Betsie Bay Minstrels" (formerly the "Harmonica Hobos") and is renowned for his beautiful photographs, while Gerry, owner of a mere three Kindles, raises orchids in their apartment and participates in countless activities. The Hyams know everyone at the Shores and offer a wealth of information and enthusiasm for residential life.
"This is a place where exciting, well-traveled people live and exchange their many interesting life experiences," remarks Bob Istnik, one of the part-time residents.
"Living here is a real bargain," notes Jay Peregrine, who hails from Chicago and is the co-op's present board president. "We are so well-situated, close to so much, yet we can't even hear the traffic on M-22. The easy walk to and from town is a pleasure."
Many far younger, less-in-shape folks might disagree with this fit sexagenarian, considering the steep slope of Heffron Hill on the route home from town.
Long-term Frankfort resident Alice Hollenbeck moved to the Shores after her husband died, and she knew that she couldn't—or wouldn't—manage winters alone in their big house outside of town.
"I think of my move as the first step in downsizing," she remarks wryly. Still attractive and sharp in her nineties, Alice "wouldn't live anywhere else," nor would Jim Miner, recently retired, whose wife still works.
"This is an awesome place to live," he says.
The Staff
The cooperative is governed by a seven-member board, elected by the residents, but at the heart of Michigan Shores is the symbiotic staff of two—one mostly in the office, the other on the grounds—who work independently yet in sync with each other, above and beyond their respective job descriptions. The duo knows everything about the co-op and shares a fondness and empathy with the residents, "the most energetic group of older people I've ever seen," says Dave Baker.
Baker has been at Michigan Shores since the groundbreaking in September 1990, first as a construction worker, then as night watchman. When the previously hired maintenance man walked off the job (it was "too demanding"), Baker stepped in and has remained invaluable for 25 years. He is proud of Michigan Shores, and how it has grown and improved over the years. He loves to receive compliments about the surrounding beauty of the grounds, for which he is responsible. Jack-of-all-trades, grounds manager, handyman, shuttle driver, and person with the longest history at the Shores, Baker is a 1980s graduate of Frankfort High School and grandson of the inimitable Byron ("By") Baker, founder of the iconic Baker's Bar (now Dinghy's).
Shirley Robert, corporate manager and a long way from her roots, moved to this area from Zimbabwe 18 years ago. She began her career in this country in real estate administration, but eventually found her niche in Benzie County and has been at Michigan Shores for 11 years. She lives in Honor with her husband, Edgar, and runs the hospitable office at the Shores with grace and efficiency.
We recommend a visit to this spirited atmosphere, especially if you have an image of a so-called "nursing home." Far from it! Enjoy a tour of the grounds and the building interior, and meet some of the residents—if you can find them at home.
Want to learn more? Visit Michigan Shores online at MichiganShores.net or call 231-352-7217. Read "History of Michigan Shores, from a Ruthven's Point of View: Frankfort's U-of-M, Maize-and-Blue connection," The Betsie Current's historical account of how Michigan Shores came to be here. Written by Beatrice Nesbitt Ruthven, who passed away away on May 20, 2016, two weeks after writing this story for us and just shy of her 99th birthday. We're so grateful to have been able to capture this history from her before she died.
Featured photo caption: The attractive three-story building on the hill is surrounded by 19 acres of woods, including hiking, biking, and ski trails, a pond, and splendid views of Lake Michigan. Photo courtesy of Michigan Shores.