Yes, you read that correctly
By Aubrey Ann Parker
Current Editor

Typically, this publication is not in the habit of printing birth announcements or obituaries, just as we do not have op-ed contributors or a classified section, nor do we highlight the outcomes of local elections or athletic events. These are simply not the kind of things that we run, given that there is already a newspaper in town doing just that—the Benzie County Record Patriot. Rather, our pages are filled with what we consider to be (mostly) uplifting feature stories about the interesting people, places, and events of Benzie County.

However, one recent birth caught our attention—a baby boy who was born at 9:21 p.m. on August 10, 2021, in an apartment above The Cabbage Shed restaurant in Elberta.

Although running birth announcements is not commonplace for The Betsie Current, we, the editors, believe that there is value in updating previously published articles for our readers, and this happy story does that four times over.

We first profiled the baby's parents, Betsy Mas and Frederik Stig-Nielsen, back in August 2014, when they ditched the Peace Corps and boomeranged back to Benzie, and we highlighted them again in November 2018, when we published an article about the Benzonia-based law office where the couple worked.

Additionally, we have written on several occasions about The Cabbage Shed: we ran an article back in 2006 on the many local couples who "found love" at The Shed. Then, when Jim Clapp, the restaurant's original owner, decided to sell this Benzie County landmark, we ran an ode to its history, and then we wrote about "Cabbage Shed 2.0" the following spring, in May 2016; we profiled the new owners, Beth and Tony Roethler, in addition to a Q&A with Jim Clapp on how he spent his first winter as a retiree.

And we wrote another birth announcement—eerily similar to this one—about Francisca Feierskov Stig-Nielsen, who also was born at The Cabbage Shed at 5:08pm on July 16, 2019, almost exactly two years before her little brother. Weighing seven pounds and 14 ounces, Little Francisca was born at home via delivery by a midwife on the full moon, during the partial lunar eclipse; her birth took about 22 hours.

However, weighing eight pounds and 10 ounces, Little Boy Stig-Nielsen came in a flurry amidst a thunderstorm that roared across the county.
 
This time around, everything went so quickly that the family's midwife, Kathi Mulder, did not arrive in time, so the father, Stig-Nielsen, got the experience of delivering; Mulder urged them to call the local EMS to come check everyone out afterward, and everything was deemed good. (Notably, over the past decade, an average of six babies have been born at home each year in Benzie County, according to Interlochen Public Radio.)

Now, the family has had two home births in two years at their apartment above The Cabbage Shed, which is quickly becoming a Cabbage Patch, of sorts.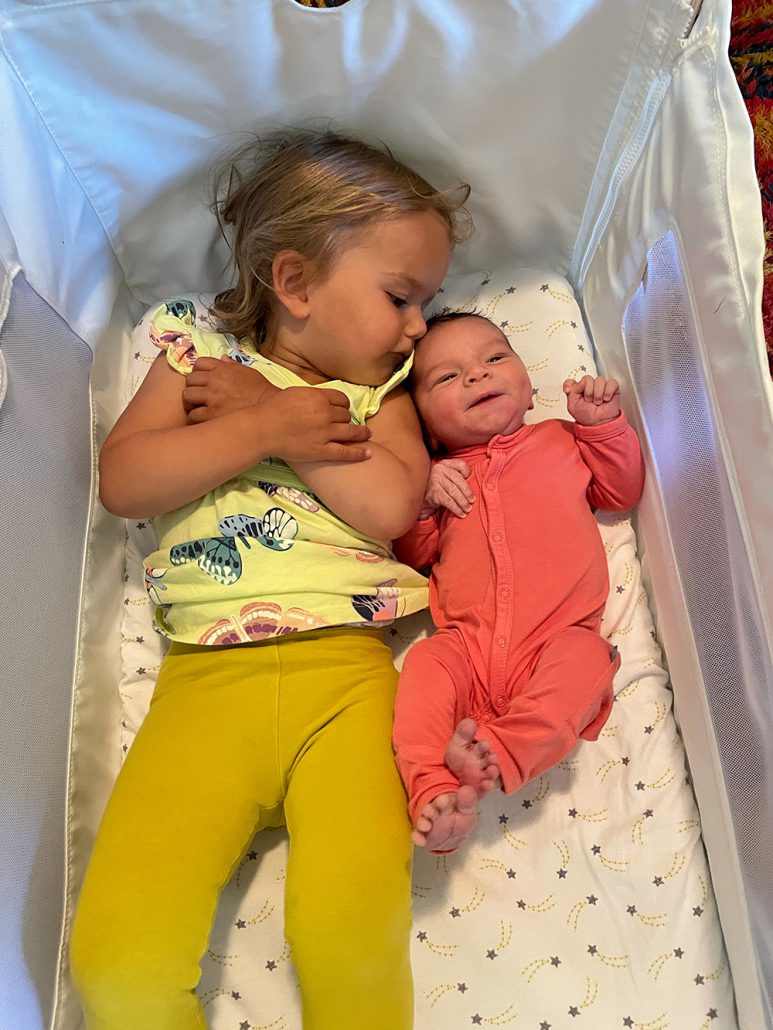 "I was more than a week past my due date," Mas says. "I started having some cramping, but I wouldn't call them full contractions. We went swimming, we went to my mom's for dinner. Eventually I sort of realized that they were actually contractions, but Frankie's birth had taken 22 hours, so it didn't feel like this was imminent. We got home around 7:30, and I thought I was going into labor maybe the next day. We're going about our routine, Fred is getting ready to put Frankie to bed."

Mas says that they called the midwife around 8:40, just to let her know that Mas was having contractions.

"But I didn't think anything was happening soon," Mas continues. "But Kathi was like, 'These are coming pretty quick, and I feel like I need to leave [for your home].' We called my mom to come pick up Frankie, that was around 9 p.m."

Stig-Nielsen started getting things ready, like the tub that they had used for home birth the last time.

"We were still taking our time, thinking this might happen in the early morning hours at the earliest," Mas explains. "And then at 9:10, I was trying to get in the shower, and it all of a sudden hit me. 'Oh my gosh, this is happening.' It went from zero to 100 in my mind. There's actually a medical name for it; it's called precipitous labor. Who the heck knows how, but Fred kept his composure and delivered our baby."

He had some help.

"Betsy said I needed to call Kathi, it was time. The adrenaline was coming on, so I could barely get the phone unlocked," Stig-Nielsen says. "Betsy was saying that she felt like she needed to start pushing, and Kathi was like, 'I'm not gonna make it. Fred, you're going to have to catch the baby.' So we got her down to the bedroom, and within 10 minutes, he was born. Kathi was on the phone the whole time, coaching, talking to us."

The only reason that EMS came was that the midwife was still 30 minutes out, and the couple did not know how to assess the situation on their own.

"They came and chilled out, but they were non-intrusive," Stig-Nielsen says. "I don't know if they were shocked. They never took the baby away from Betsy."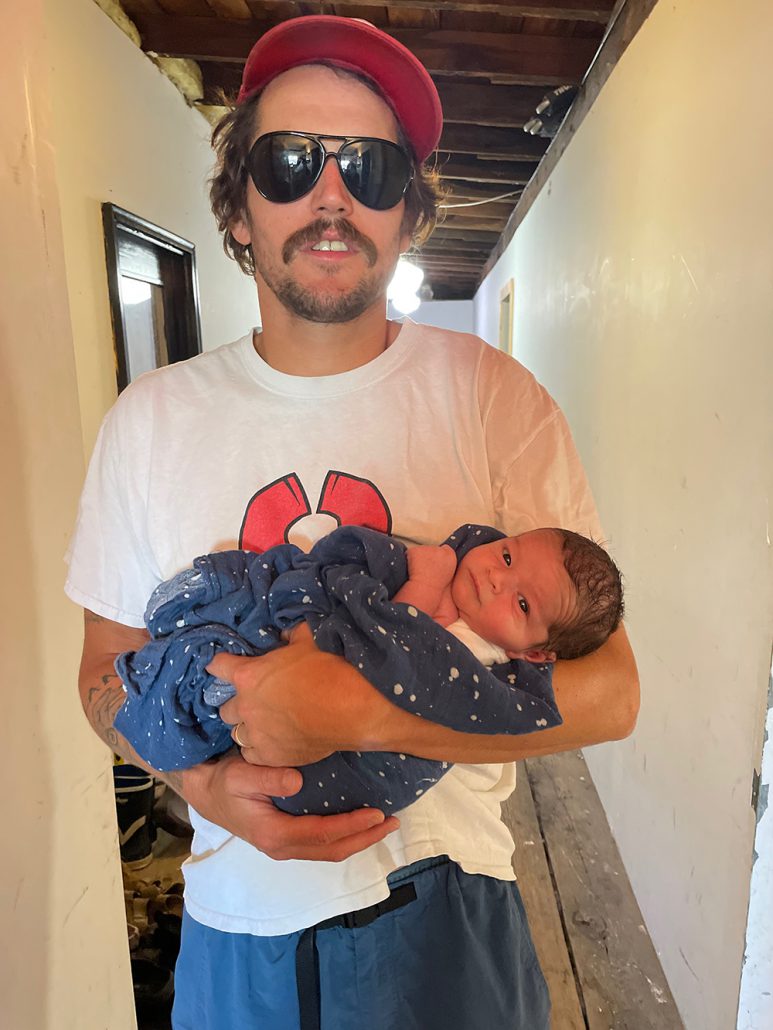 Mas chimes in:

"I have nothing but wonderful things to say. When you do a home birth, you are looking for a route with minimal traditional medical intervention. They were here within five minutes, they were so fast. They monitored my bleeding, checked him out, checked my blood pressure, and just hung out as support until Kathi got here. We asked if they felt like I needed to go to the hospital, and they said, 'That's a decision that we'll leave up to your midwife, but you are fine right now.' Which was pretty cool. It was the traditional medical world with the home birth world working together and coming together in that way; it's pretty incredible actually."

Stig-Nielsen says that they were getting texts during and after. Unexpectedly, since everything had happened so fast.

"Obviously our neighbors knew what was going on and were texting," he says. "But we were getting texts from other people, and it was like, 'How would they know?' But, of course, when EMS is responding to a birth at Frankfort Avenue in Elberta, there's really only one family that would be. This was a little more of a home birth than we had signed up for, though."

Welcome, little one, from all of us at The Betsie Current.

Friends and family have spent the weeks since the birth of Baby Boy Stig-Nielsen delivering dinner for Mama, Papa, and Older Sister via Meal Train, an online website for coordinating meals for a friend after birth, surgery, or illness.

Featured Photo Caption: Weighing eight pounds and 10 ounces, Little Boy Stig-Nielsen was born in a hurried flurry on a stormy night. Photo courtesy of Frederik Stig-Nielsen.