According to Allen L. Blacklock's book, History of Elberta, and records from the Benzie Area Historical Museum, the site where The Cabbage Shed now sits, on Waterfront Lots 16 and 17, was first occupied by a general merchandise store, built in 1867 by George A. Douglas. It was the first commercial building in Elberta, which was called "South Frankfort" until 1912. Douglas was the town's first postmaster, and he operated the post office out of the building, too.
In 1887, Douglas sold the business to Nils Glarum and Leonard Classens. (Glarum's decedents still come to The Shed to order the "Glarum Grill"—sliced prime rib, sautéed onions, green peppers, horse ground mustard, and melted cheese on a piece of open-faced Shed bread.)
They didn't change the operation much until 1892, when the railroad came to town and they removed the front part of the building to allow the tracks though to the rail yard. The remaining section of the building was used as a warehouse, and they purchased the Crandall building across the street to use it as their store. Glarum and Classens ran a general merchandise store but also incorporated tan bark into the business—hemlock bark was purchased from loggers and was shipped to tanneries, where the bark was processed and used for tanning hides.
The Shed was in a busy location between 1870 and 1910. Large sawmills operated near the location. The mill of the Frankfort Lumber Company was within a block, and the Crane "Island" Mill was located at a similar location. (Crane's sawmill was called the "Island" because it could reach boats, called "hookers," that shipped out lumber. The pilings for the Crane mill are still visible from the deck of The Shed.) The Fuller Hotel/Commercial Hotel, The Brick saloon, and Temperance Hall (used by the Red Ribbon Society) were located across the street and all within a block's distance. The level of activity on this stretch of Frankfort Avenue far exceeded what Elberta hosts today—it was a hootin' and hollerin' area.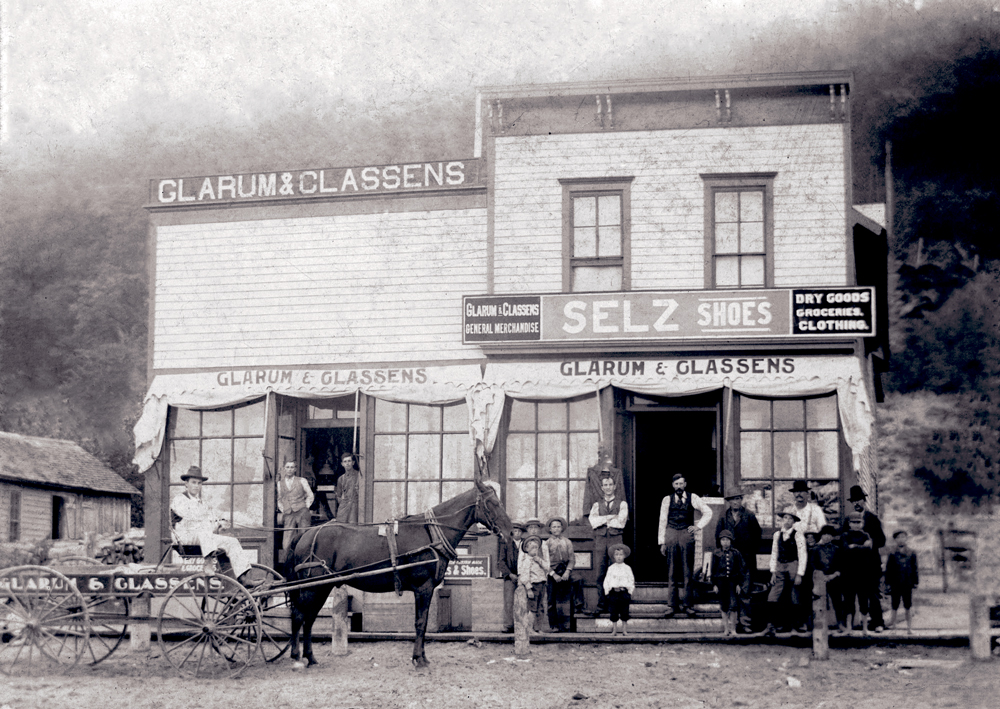 Beginning in 1919, the Benzie Fruit Exchange used the building, and the fruit co-op operated until the 1930s, when it was utilized as a warehouse for cabbage—thus, a Cabbage Shed. In 1947, the building then passed into the hands of Martin Trapp & Sons, who stored onions in the warehouse. The Elberta Packing Company purchased the building in the 1950s, and the warehouse remained in its ownership until July 21, 1969, when the Elberta Packing Company was sold.
Jim and Ellen Clapp purchased the building in 1972. When they moved from the east coast in 1978, they renovated the upstairs first and used it as their living quarters. The Clapps operated a flea market out of the building starting in 1979, and they opened the building as The Cabbage Shed on August 31, 1985.
Andy Bolander and Kimm Jayne contributed to this report.