Where is the snow?
By Ross Boissoneau
Current Contributor

It is winter, but it does not necessarily look or feel like it. And that is not likely to change for a while—maybe not at all this year.

"It's milder than normal. It may turn colder toward the end of the month [of January]" says Jeff Zoltowski, a meteorologist with the National Weather Service (NWS).

But there's "colder," and then there's "cold." Where you need coats, hats, gloves, boots, and maybe a couple of layers underneath. Where the snow crunches or squeaks under your feet, and the occasional peek from the sun sets the snow-diamonds sparkling.

Other than the Christmastime blizzard, there has been little evidence during this 2022-23 season of the wintry weather that we have come to expect in Northern Michigan.

Freezing
Retired meteorologist Dave Barrons—a familiar face on local television for many years who lives in neighboring Leelanau County—still keeps a finger on the pulse of the weather. He says climate change is making expectations based on previous years less reliable.

"We've added more carbon dioxide to the air. Carbon dioxide holds more heat," he says, going on to explain how increased carbon dioxide levels are affecting the planet. "When I first started in weather, for a very long time, there were 280 parts per million [ppm] of carbon dioxide [in the atmosphere]. Now it's over 400."

That increase acts as insulation, Barrons says:

"It's like a blanket that holds heat."

Barrons says that historical records indicate colder weather was more common here going back 150-plus years. As an example, he points out that 1851 was the first year in which there is a written record of whether West Grand Traverse Bay froze or not. It was noted that year that the bay "did not freeze," and he says such a distinction indicates that it was more likely at that time that the bay would freeze than it would not.

This year? The water temperature for the bay on January 18 was 39 degrees Fahrenheit, near the all-time high of 39.4 degrees, set in 2021. While expected to drop to 36 degrees in the following 10 days, that is a far cry from the bay freezing.

"My sense is we won't see it freeze," Barrons says.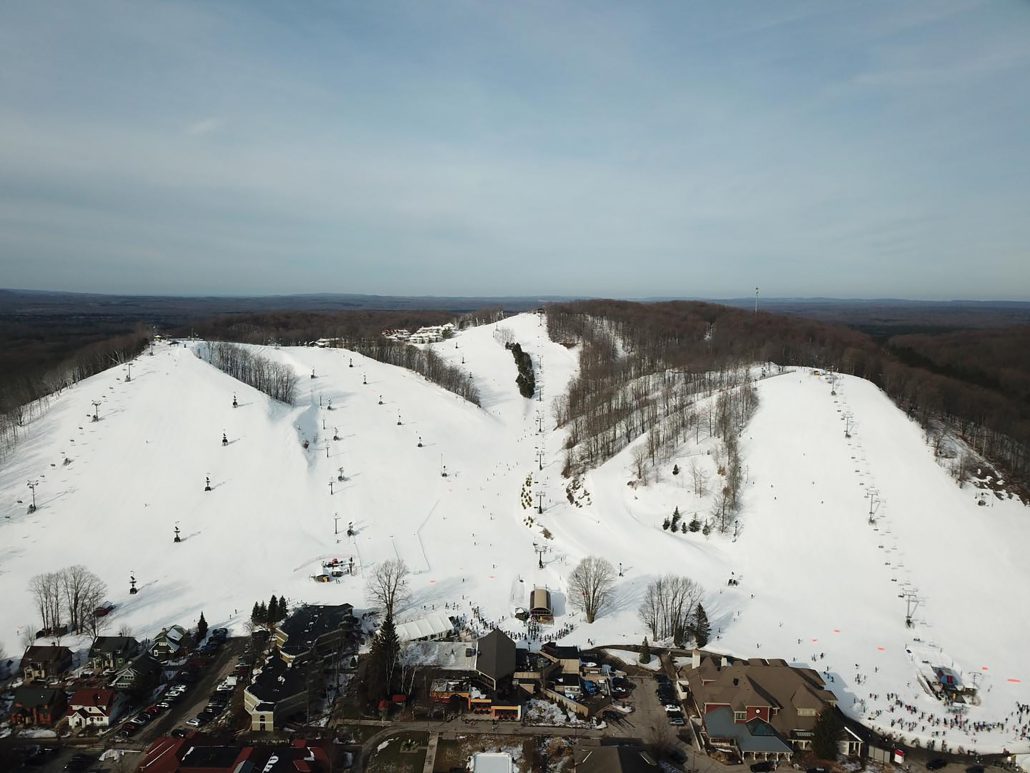 Snowing
In Benzie County, the snowfall totals—as recorded by the Benzie County Road Commission since the winter of 1944-45—show an up-and-down pattern for the past two decades. Snowfall peaked in 2013-14 at 230 inches, but the last three winters have seen 93.3, 68.3, and 86.0 inches, respectively. The lowest total ever was 33.5 inches in 1973-74, while the lowest recent total was 69 inches in 2011-12. Moreover, the total so far this year stands at a paltry 47 inches.

So what is this weather doing for outdoor winter recreation? Nothing good, that's for sure.  

As the gray, gloomy days continue, those hoping to schuss through the woods or slide down a hill are increasingly downbeat about their chances to do so.  

Still, there is some hope. A storm was expected to move in January 19, after this article went to press. And at Crystal Mountain in Thompsonville, despite the lack of cooperation from Mother Nature, the slopes are still open. The base is 36 to 44 inches, and seven of eight lifts are open, along with 48 of the 59 trails. The resort has been able to make its own snow, thanks to its inland location keeping temperatures cooler.

"Luckily, we had enough cold weather early on, so we were able to build a very solid base—up to 56 inches in some spots—before this recent stint of warmer weather and rain," says Brittney Buti Primeau, public relations manager at Crystal Mountain. "Man-made snow is about four times more durable than natural snow, so while it appeared to vanish on the ground [elsewhere], we were able to maintain a solid base on the slopes and have been skiing and riding on more than 40 slopes since Christmas Eve."

In contrast, The Homestead Resort—located on the Lake Michigan shore in Glen Arbor—has seen temperatures too warm to make snow.  

Alec Clarke, the food and beverage director at The Homestead, says there are still options—things like hiking the trails, beach walks, and bonfires. Which is all well and good. But it would be nice to be able to ski, snowboard, or ice skate, right? Clarke undoubtedly agrees with that sentiment, but it is not happening anytime soon.

For those who would typically hit The Homestead and other local ski resorts that have not been able to stay open, Crystal Mountain has been a lifeline.  

"Unfortunately, not all ski areas were able to stay open, which means there were a few ski teams and clubs looking for places to go, and we happily welcomed them to our slopes to train," Primeau says. "The activities that suffered the most were cross-country skiing and snowshoeing, but even then, we were able to find some base area on the back of the slopes where the Crystal Community Ski Club could practice Nordic [skiing]."

Precipitating
What is causing this?  

Zoltowski says that, while there is a La Niña effect in the Pacific Ocean—currently causing abnormally large amounts of rainfall in California—that has not corresponded with the typical La Niña impact in this area, which would mean cooler temperatures and increased precipitation, usually. Here, the weather pattern is more along the lines of an El Niño year, with milder temperatures and precipitation at or below typical levels.  

While the mild weather is likely to continue, Zoltowski says there is a potential benefit for those longing for a frosty coating of white.  

By this time in a more typical year, there is usually ice cover on at least a portion of Lake Michigan. The more ice, the less lake effect snow.  

"We are still in play for lake effect snow," he notes.  

Will it come to be? Only time will tell.

Impact on Lake Levels
Meanwhile, Barrons says that, over the years, he has observed there is typically a period during which the temperature is constantly below freezing, with highs generally in the 20s and lows in the teens or lower, and the occasional below-zero reading. It is what he calls "core winter." But he is unsure whether that will happen this year.  

"I thought that [Christmas blizzard] would be the beginning of the 'core of winter'," he says.

Nope. Instead, it was the last real accumulation this region has seen. Coupled with above-average temperatures, the combination may also portend a further drop in lake levels later this coming summer. 
 
According to the Mackinac Center for Public Policy, Lake Michigan can average a loss of 10 trillion gallons of water each year. Barrons says Lake Michigan has already lost 7 trillion gallons this winter, due to what he says is extensive evaporation.

So is there any hope for snow and colder temperatures yet this year? Maybe, but it is far from a sure bet. The long-range forecast through March from the National Weather Service suggests above-average temperatures are likely, as is above-average precipitation—whether that precipitation is in the form of rain or snow thus remains to be seen.  

Clarke, for one, hopes it is the latter.  

"If or when, the plan is to have the ski hill open as soon as it can," he says. 

A version of this article first published in the Glen Arbor Sun, a Leelanau County-based semi-sister publication to The Betsie Current. 

Featured Photo Caption: On Sunday, January 15, members of the Crystal Community Ski Club's middle-/high school-aged Nordic ski team had a "dryland" practice, in which they performed agility training, such as jumping over cones, while patches of snow taunted them. The team has been able to do some training on actual skis on the man-made snow on the back slopes of Crystal Mountain, but they are hopeful for natural snow soon at their usual location of the cross-country ski trails, headquartered near the Michigan Legacy Art Park at Crystal Mountain. Photos courtesy of CCSC Nordic Ski Team.