Iconic band celebrates 40 years
By Norm Wheeler
Current Contributor

"Oh Lake Michigan, beautiful pearl of America, thank you for finding me a home…" sings Ingemar Johansson, the transplanted songwriting Swede who wrote his anthem to the big lake in the 1980s. Along with his wife, flutist Lisa Johansson, and multi-instrumentalist and singer/songwriter Michael Sullivan, the band Song of the Lakes is about to complete 40 years of celebrating the "sweetwater seas," the region's maritime culture, and the magical beauty of the lake-blessed center of the United States.

"We are still on a mission," Lisa Johansson declares. "We are reclaiming our self-appointment as ambassadors of the Great Lakes!"

Now without popular percussionist and one-of-a-kind hippie artist Rick Jones—who passed away in May of 2020 and was profiled in The Betsie Current (see our online archives)—the trio is back on the tall ship Manitou for their traditional Wednesday night sails through August, and they are also back in the current of local musical events.

It all started in 1982, when curator Jed Jaworski filled a shack on Betsie Bay in Frankfort with his flotsam and jetsam collection of maritime memorabilia, named it the Northwest Michigan Maritime Museum, and got his friends who had been "fireside jamming" at Michael and Joan Sullivan's house in Interlochen to go public. They called themselves Song of the Lakes, and with that impromptu show, they were launched. Their high-energy, interactive, sing-along style was infectious.

"We started playing around Traverse City at restaurants and pubs like Conley's, eventually landing a weekly sailing gig on the tall ship Malabar," Ingemar Johansson says. "When that boat was sold, we started playing on the tall ship Manitou."

With a blend of sea shanties, ballads, shipwreck songs, Swedish folk music, Irish jigs, reels, and originals that are based on local places, the quartet quickly got popular—and then they got really busy.

Additionally, Song of the Lakes was hired by the state of Michigan to perform as part of the Chautauqua series for several summers all over the state, always singing about the Great Lakes.

"In 1998, we were hired to play in the Montreux Jazz Festival in Switzerland," Ingemar recalls. "We travelled there and performed for three years running—playing outside for thousands of people. We also made some great memories hanging out in the green room with the big headliners."

Then in 2002, a grant sent them to play in Michigan State Park Campgrounds.

"It was a pretty big contrast," Ingemar explains. "In one week, we went from playing for thousands in Switzerland to playing for six senior citizens with hearing aids in a park in the woods in Michigan!"

"And they loved us just as much!" Michael Sullivan chimes in. "Another important part of those first 20 years was the annual St. Patrick's Day show at Dill's in Traverse City. We got tight with the Irish community, the Ancient Order of Hibernians, and we have continued to play on that holiday for them somewhere around town for nearly 40 years."

Ultimately, Song of the Lakes played in Mystic Seaport, Connecticut, at the Mystic Sea Music Festival as representatives of the Great Lakes, as well as at Riverfest in Cleveland, Ohio; at the Chicago Maritime Festival; at the Chicago Celtic Festival; and in Milwaukee, as well as in Lund, Sweden. Their 25th-anniversary show at Corson Auditorium in Interlochen in 2007 drew a full house.

"We performed at least 100 times a year for about 10 years," Sullivan figures.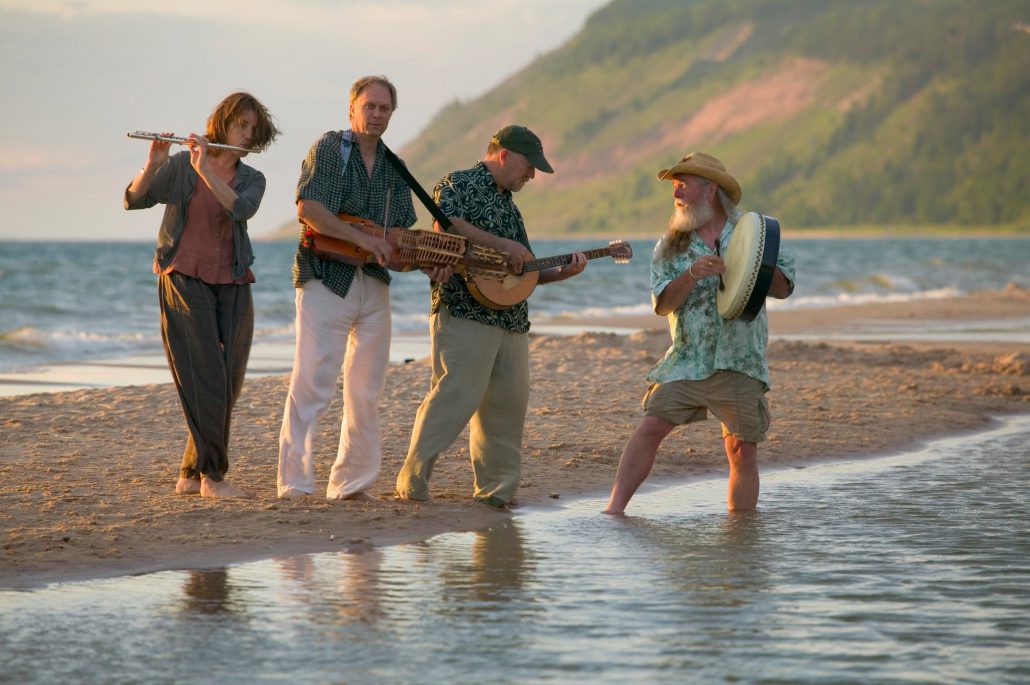 Song of the Lakes has played more than 1,500 concerts during their 40-year run, and they have shared the stage with the likes of The Indigo Girls, Loudon Wainwright III, Sally Rogers and Claudia Schmidt, and John Hartford. 

As the band expanded their sound palette with piccolo, mandolin, bouzouki, concertina, harmonica, and nyckelharpa, they produced seven albums: Pearl of America, Walkin' the Plank, Live Bait, Horndance, Poets Say, Song of the Lakes 25th Anniversary DVD, and a brilliant musical retelling of the Holling C. Holling classic book Paddle to the Sea.

"And our music has been scored for orchestra," Ingemar adds. "So we have played with the Traverse Symphony Orchestra, the Benzie Area Symphony Orchestra, and the Grand Rapids Symphony." 

During their run, the group has crafted many original songs. 

"It should be noted," Ingemar explains, "that we sing a lot about and get our inspiration from the Benzie/Leelanau area." 

The late Rick Jones used to say: "We end every show singin' the praises of the sweetwater seas!"
 
For instance, "Benzie Rover" is usually their big finisher. Ingemar's song "Pearl of America" was born on Platte Bay. "Me and the Sea" is about Otter Creek beach. His song "White Bird" was written on the 17th floor of the Holiday Inn in Chicago. 

Meanwhile, Michael Sullivan's songs tend to be about people and relationships, though he does have a song called "Montreux." "Michigan Farmer" is about Sullivan's neighbor in Interlochen, Charlie Bertch. "Poets Say" is a wedding song for Sullivan's niece, and because of the size of his Detroit family, he has written "about 10 wedding songs," he says. "The Dancer" is about traveling to Green Bay, Wisconsin. "Sailboats on the Water" came to him when son Ryan wrote a homesick letter from Camp Hayo-Went-Ha years ago that reminded Sullivan of his boyhood times at camp. (The family of percussionist Rob Mulligan of Northport loved that song so much that it became their family song, and the siblings sang it for their father as he was dying in 2015.)

The journey of Song of the Lakes has endured some rough seas. 

Rick Jones' wife, Carol, a victim of bipolar disorder and depression, took her own life back in 1995. Ingemar's song "Fire in the Western Sky" commemorates that day. Michael Sullivan also wrote a song about it entitled "Old Testament Sky." 

"We were just trying to make sense of her death, how sudden it was and how painfully tragic," Sullivan says. "[My song] starts the same as 'Winter Waltz,' so it shows how grief can take the same images and make them dark and lonely."

Rick Jones also struggled physically in recent years before his death in 2020. His exposure to Agent Orange in Vietnam resulted in a host of physical ailments, and so he was on a veteran's disability. He called it "the war that keeps on giving." 

Jones was the loud, brash member of the band with his big voice, loose tongue, and outsized personality; he played bodhran or bones or rattled deer antlers together. His recitation of "The Three Sisters," the Great Lakes legend from the Steven Dietz play Ten November about the disappearance of the Edmund Fitzgerald ship, was unforgettable.

Lisa explains: 

"He was the wild card, and that's why people enjoyed watching him. He was Mr. Inappropriate!"

"He was the original Benzie Rover," Ingemar says.

"Rick had an unvarnished honesty that people respected, even if they didn't agree with it," Michael Sullivan declares.

The Song of the Lakes trio is keeping the wind in the shoulder of their sail. They have collaborated over the years with local musicians like cellist Crispin Campbell, bassist/singer Frank Youngman, and yours truly on cornet/spoken word, and you can expect to see any number of local musicians relishing the opportunity to perform with Song of the Lakes as they sail onward. Check them out on Wednesday nights in August on the tall ship Manitou or with the Benzie Area Symphony Orchestra at the Benzie Central High School auditorium on August 22, 20221, as they continue to celebrate and sing the praises of the sweetwater seas. For more information and to see their schedule visit, SongOfTheLakes.com online.

A version of this article first published in the Glen Arbor Sun, a Leelanau County-based semi-sister publication to The Betsie Current. 

Featured Photo Caption: Lisa Johansson (left), Michael Sullivan, and Ingemar Johansson perform at the Old Art Building's annual fundraiser on July 24, 2021, in Leland. Image courtesy of the Glen Arbor Sun newspaper.