Village of Honor has added four new businesses and revitalized some of the older ones.
By Susan Koenig
Current Contributor

From car repair to art, the Village of Honor has added four new businesses and revitalized some of the older ones.
It is easy to zip through this small town on your way to Traverse City and points beyond, but it is more advisable to stop and have a look. With just over half of a square mile in total area, Honor has long been known as the "home of the Coho salmon." In fact, this year marks the 50th anniversary of the annual Coho Festival, which takes place at the end of August. The village of 328 souls was incorporated in 1895 and named for an early (white) settler, Honor Griffin.
Honor has drawn anglers from around the world to fish the clear waters of the Platte River and Lake Michigan in pursuit of the big fish. In recent years, however, the vagaries of economics have not been good to the area, and the town has appeared a bit run down, with old decrepit buildings in full view and not much going on. All that is changing, however, and the town seems to be entering into a kind of Renaissance.
"I am so pleased to see people coming in with creative [business] ideas and making something work," says Bill Ward, president of the Village of Honor.
New In The Village
On a recent visit to Honor to check out the new enterprises—all located on the north side of the street, between the Honor Bank and the Post Office—here is what I found, to my surprise.
I parked on the side street (Henry), across from the bank, and noticed flowers and benches on the corner, attractively lining the block in front of the Iron Horse Auto and Small Engine Repair shop—an outdoor landscape that seemed a bit unusual for that kind of business, so I walked in and found the owner, Gary Taylor.
Taylor came to Honor from Traverse City two years ago, and, he admits, it was not so hard for him to start a business here, because most of his customers followed him from Grand Traverse County to Benzie. Ladies, as well as gentlemen, will love this place, because it is not "just" a repair shop. Imagine waiting for your vehicle, while surrounded by flowers and watching the world outside go by, but here is the other surprise: Gary's wife has added a charmingly eclectic, ruggedly feminine room, including an array of chic T-shirts, a wall of stylish hats, and even jewelry, for wearing while you are riding your Harley or just going out. The space makes it fun to shop while you wait!
Gary Taylor is really busy, so make sure to call ahead for an appointment 231-735-3774, but do not hesitate to drop in and see what else is going on.
Around the corner, on Main Street, I walked into Jim's Joint BBQ and was greeted enthusiastically by the owners, Jim and Susan Johnson, the kind of people who make you feel at home immediately. This lively, brand-new "joint" has, according to Susan, a "fast casual" eat-in or to-go style, and by the time that you have ordered and taken your drinks from the cooler, you are ready to go. Unpretentious, clean, and inviting, the restaurant boasts excellent pork, beef, and chicken barbecue, Philly steaks, grilled flatbread sandwiches (including veggie), salads, and soups. It is open Monday through Saturday from 11 a.m. to 9 p.m. and closed Sundays.
The Johnsons hail from the Holt, Michigan, area but have been coming to their cottage in Honor for 33 years.
"We worked downstate," Jim remarks. "But we always felt that we lived here… now work is a lot easier, because when we go home, we are where we want to be. We feel honored to be in Honor!"
How is the barbecue? I chatted with customer Chris Mills, a barbecue entrepreneur himself, who happened to drop by to check out the Joint's fare, which he pronounced "delicious." And he would know, being the nephew of Memphis, Tennessee's "barbecue legend," Mike Mills.
Then, in walked in the energetic and dedicated Honor Village president, Bill Ward. I asked him how he felt about the recent new endeavors.
"This positive vibe feeds itself and enhances the quality of our village life," Ward explains. "Even older businesses such as Platte River Inn and Lumberjack's have rejuvenated."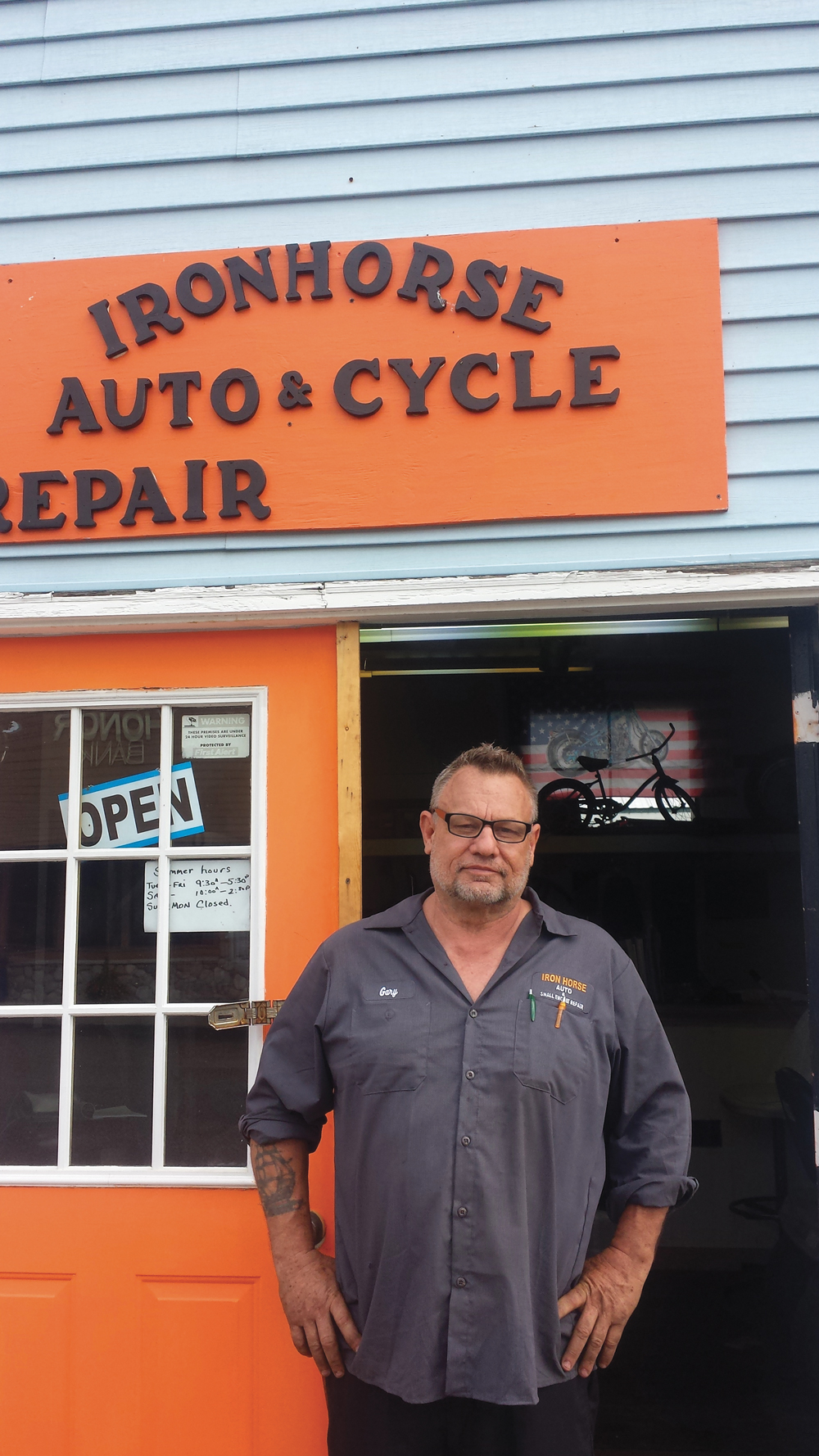 Ward added that the town has been busy on maintenance and upkeep, getting ready for the big Coho Festival celebration in August. Additionally, there are a lot of ideas being presented to the Village Council lately, including a much-needed crosswalk (that will slow down the traffic, and potentially bring in more patrons), and more landscaping, not to mention suggestions and hopes for the former site of the Question Mark building, now demolished.
Ward's order was ready, when in walked Mike Watters, who recently opened Natural Brushstrokes, art inspired in nature, the green building on the corner at 10966 Main Street, just up the street, near the Post Office. Watters was coming in to retrieve his barbecue, so I bid my farewells to the Joint and followed him to his art/crafts/jewelry/gifts/souvenirs gallery, where I met his wife, Beverly (Harris) Watters, born and bred in Benzie County. The couple met downstate, and after Mike retired from the Sheriff's Department, eager to develop his art, they bought 10 acres near the north shore of Crystal Lake and decided to take a chance on opening their own business.
He paints and makes bird feeders, plus a plethora of other craft items, while she creates jewelry and solar lamps, among other projects. Her daughter, a photographer, exhibits some of her work at Natural Brushstrokes, and there is a separate room for an art gallery, where Mike displays his oeuvre and accepts works on consignment from outside vendors. When you visit, allow some time—it takes a while to see everything—and ask Mike Watters to play you a tune while you are wandering around (or find him at Open Mic Night at St. Ambrose Cellars on Thursdays). Hours are Tuesday through Friday from 10 a.m. to 6 p.m., Saturday 12-5 p.m., closed Sunday and Monday. For more information, call 517-962-3131.
Last but certainly not least, visit 10960 Main Street at the lovely, completely renovated A Love of Hair and—if you are lucky—find the inimitable owner, Carrie Corey, in her office. (The only reason that I was able to corner her is because she is temporarily slowed down, due to a broken ankle. An amazing entrepreneurial spirit resides in this lady, so keep an eye on her! She even has plans for a store, to be located next to the salon, that would sell "real/good food," as in, fresh vegetables, items for tourists, such as sunglasses and hats, but this plan is still in the works.) In addition to adding tanning rooms to this space, Corey has hired two employees, Scott Strong and Anita Scribner, who provide professional hair styling, waxing, and nails in a colorful, comfortable atmosphere. Call 231-227-5683 to make an appointment.
"People kept telling me that Honor needed a salon," says Corey, who opened the salon in early January after renovating the building.
Additionally, Corey and her family also own Corey's Big Dog Towing and Recovery in Benzonia, and they recently purchased the former Bud's gas station in Honor. When I found Corey in her salon office, she was looking at plans for the renovation/revival of Bud's. She is hoping to break ground in the fall on "Corey's Convenience," which will include not only gas (and diesel) but a also convenience store with an expanded deli section.
All of the Honor business owners whom I spoke to conveyed a similar sentiment: they want more businesses to come to Honor and not compete, but coalesce together. There is a real feeling of togetherness in this Renaissance era, and it is something special.
We know that our readers use the amenities of the Honor Shopping Center, so take a few minutes to drive or walk into the village, as well. There is plenty of easy parking, and you might be surprised at what you find!