Questions & Answers with community faces
Having first visited Michigan in 1986, Georgia-based author James K. Evans has a long-distance love affair with the mitten state that manifests itself through his writing. Evans grew up in northern Indiana and studied art and creative writing at the University of Kentucky, then moved to Georgia for employment.
Evans has been a graphic designer for 25 years, primarily creating scientific graphics for the U.S. Environmental Protection Agency. For 40 years, Evans wrote poetry and a few short stories, but nothing of considerable length. That is, until May 2015, when he published his first novel, My Zombie Honeymoon, "a sweet, sensual tale of love and survival amidst chaos, despair, and zombies." The story takes place in Ann Arbor, with flashbacks to Benzie County, and the protagonist, Kevin Williams, is well prepared for the zombie apocalypse with a stockpile of food, water, and alcohol, in addition to solar panels and a hydroponic garden. What he is not prepared for: falling in love with his neighbor, Michelle, who has moved in since the apocalypse.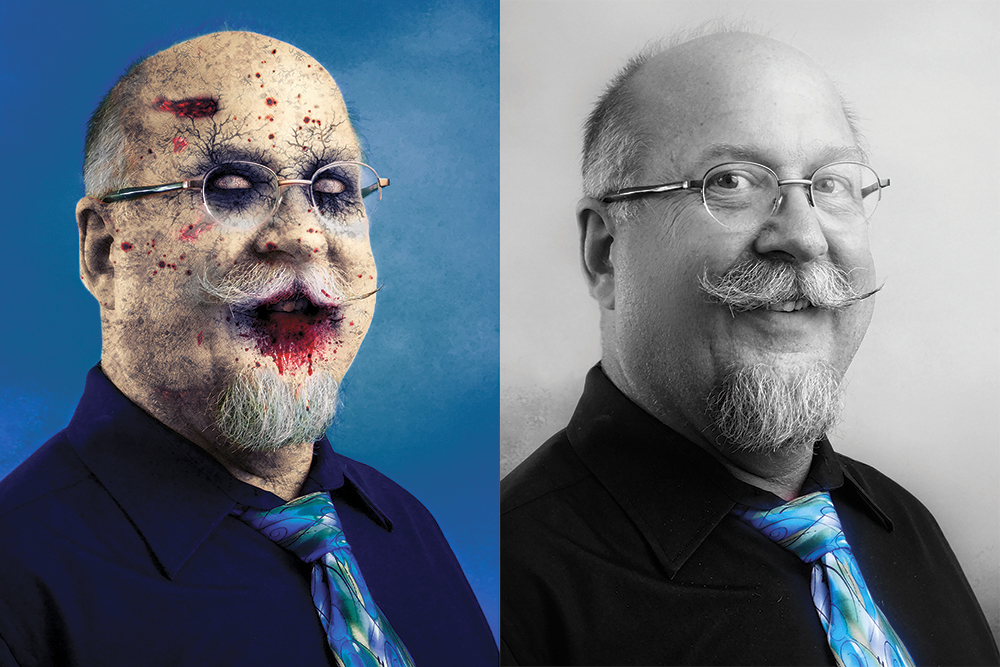 This past summer, in August, Evans published the second book of this trilogy, Zombies in Paradise, in which Kevin undertakes the perilous journey from Ann Arbor to Frankfort to find medical help for his now-pregnant wife, Michelle.
And later this month—just in time for Halloween—the third book of the trilogy, Zombie Destruction, will be published. Readers can expect more zombies, but the heart of the book is the relationship between Kevin and his wife.
Continuing with our interview series on impactful Benzie County characters, The Betsie Current caught up with Evans and asked about his new book.
The Betsie Current: So, do you really believe in zombies?
James K. Evans: As defined in my books, no. The dead do not usually rise, moaning, desperate for human flesh. However, some mornings, I have been known to rise, moaning, desperate for a mug of coffee. I've also seen my share of people who manage to perambulate without brains, and avoid them when possible, especially when driving.
Current: How do you ward off, or fight, a zombie?
Evans: It's a little known fact that zombies detest disco music. One chorus of Stayin' Alive has been known to repel zombies for hours. Maybe it's the refrain: "Ah-ah-ah-ah, stayin' alive, stayin' alive!"
Current: In all seriousness, what inspired you to write these books?
Evans: Initially, I wrote a story about a man in Frankfort who falls in love with a nurse who just moved from Georgia (my wife is, coincidentally, a Georgian nurse). At the same time, I was reading the book One Second After and began to wonder how to prepare for an apocalypse. Those thoughts seeped into the plot, and changed the course of the books. Zombies in my books are a plot element; the books are not about zombies, they are about the people who survive, and learn to love, despite the ZA [zombie apocalypse]. Zombies are a metaphor for any difficulty seemingly beyond our control. As a writer who loves Benzie County from afar, the books also give me the chance to visit, in my imagination, a place I have come to love.
Current: Since you visit Benzie County often, what are the spookiest or scariest places here?
Evans: The Lower Herring Lake outlet comes to mind. In The History of Herring Lake, published in 1929—available for free on my website JamesKEvans.com—John Howard mentions three mysterious events: first, the disappearance of Arequipah, an Ottawa maiden, shortly after having given birth. Her husband found her canoe, floating empty, near the outlet. Their daughter was found, unharmed, in the couple's wigwam near the beach. Supposedly, the mother's ghost has been seen many times in the early spring as she walks from the outlet to the shore, where she stands looking out over the expanse of Lake Michigan. The second story tells of a man named Happy Mack, who inexplicably disappeared from a hunting camp near Elberta. His campmates searched for him for four days without finding a trace of their companion. Since then, hikers on the way to Old Baldy, south of Watervale, have reported seeing a ghostly figure stumbling through the underbrush, usually during the late fall. And lastly, a German couple attempted to cross the frozen Lower Herring Lake outlet by automobile. At that time, the outlet was much deeper and wider than it is now, having been dredged to transport logs from the little lake to the now-vanished pier on Lake Michigan. The couples' car broke through the ice, and they drowned. Each year, people report seeing tire tracks from the north leading to the edge of the outlet, but no tracks have been reported emerging on the other side.
Current: What Frankfort or Benzie settings have appeared, either real or fiction, in your three zombie books?
Evans: I describe a lumber-town-turned-resort named Lake Menekaunee, south of Elberta, which was based on Watervale. I had a great time writing those scenes. Much of the second and third books takes place on the Elberta Bluffs—and I hope they can forgive me for the liberties I was compelled to take—in Stormcloud, and at the Paul Oliver Hospital. The Frankfort Marina, the Betsie River, Betsie Bay, and breakwater all play roles, of course. I gave a passing nod to the Crescent Bakery, and Arcadia's The Big Apple, one of my favorite low-key haunts when I'm lucky enough to be in the area.
Current: How did you know that you had "made it" in the book industry?
Evans: Well, I knew I'd written well when I found my wife crying her eyes out after reading one poignant passage. I'm excited about Zombies in Paradise, and I am looking forward to the release of Zombie Destruction later this month. I wasn't able to visit Benzie this year, but I look forward to visiting sometime in 2017 and finding more inspiration—and Petoskey stones!
Current: I assume that you write most frequently from your home in Georgia. When writing about Benzie settings, how do you transport your writer-self here?
Evans: Transporting my characters, settings, and imagination from Athens, Georgia, to Frankfort is easy. It's almost like having a lucid dream. It's a mental margarita. Waking from that dream and returning home are the more difficult tasks. Those are the instances when I rise, moaning, seeking coffee.
Current: What would the Frankfort area be like after a zombie apocalypse? Would one still be able to get a beer at Stormcloud or swim in Lake Michigan?
Evans: In my zombie universe, zombies do not cross even small bodies of water. Frankfort has the Betsie Bay and Betsie River to the south and east, Crystal Lake to the north and east, and of course the Big Lake to the west. Frankfort is able to create a safe haven from zombies by erecting fences between the Betsie River and Crystal Lake, and also from Crystal Lake to Lake Michigan. The first post-apocalypse winter was difficult for Frankfort residents, but they managed to survive and create a working government with a viable economic system. Stormcloud was not only able to survive but became the main hub for social activity in the area. There's not much swimming in my stories, because they take place mostly in winter and early spring, but the water is safe and the fish population is rebounding, now that there's no credible fishing industry. Rick [Schmitt] and Brian [Confer], owners of Stormcloud Brewing Company, gave me permission to use their names and the Stormcloud name, and, from what I understand, they were happy to hear that yes, you can still get a beer after the ZA—I recommend "Another Day, Another Apocalypse."
Current: Any costume tips for Halloween this year?
Evans: If you feel compelled to dress as a political figure, make it a zombie presidential candidate. Rumor has it that one of them really is a zombie, although I can't for the life of me figure out which one! And here's a great tip: If, in the course of revelry, you somehow get real blood on your clothes, wash the cloth in cold water to prevent the blood from permanently staining the costume.
Current: What are you writing next, if I dare?
Evans: I have several stories percolating in my mind, but the one I'm most excited about is a prequel to my Love in the Age of Zombies trilogy. I'm not quite ready to emancipate my characters. I have several scenarios demanding to be written—the story of the elementary school child zombies in Ann Arbor, the story of Frankfort during the early days of the ZA, and Doc's adventures in the remote area near Atlanta, Michigan. I also have an interesting idea about Lake Menekaunee's last days, before the resort was overtaken by zombies. My long-term project is an historical reenactment of the sinking of the Marinette, a ship lost just off the Watervale beach in November of 1886, in which six of seven crew members drowned, including the cook and her 13-year-old daughter. The sole survivor, who had both feet amputated as a result of his exposure, described the ordeal to the local paper. It has all the elements of a great story, and any time I see the remains of the ship off the beach, I pause and take note of the loss of life. I've plucked a few beach stones from amidst the sodden oak, but my dream is to find a Petoskey stone hidden among the waterlogged timbers.
Kevin and Michelle in this frightening, sweet, erotic tale of love, romance, and survival following the zombie apocalypse. Find the Love in the Age of Zombies trilogy books on Amazon.