Skatepark breaks ground next month in Frankfort
Jeff Hessler began lobbying way back in 1976 for a skatepark in Frankfort. The now 53-year-old co-owner of Betsie Bay Furniture has skated these streets since he was 14 years old.
"I've been skating since the polyurethane wheel came out," he says.
Nearly 40 years later, he and his 14-year-old daughter Annie may soon get their wish.
A fund drive to raise money for a skatepark at Market Square Park—across M-22 from Frankfort Elementary School—has attracted $11,000 from the Grand Traverse Band of Ottawa and Chippewa Indians. Additionally, an anonymous donor has promised to cover the remaining cost of the estimated $125,000 needed. After a couple years of planning and fundraising, the park is scheduled to break ground in July, confirmed by Frankfort superintendent Josh Mills.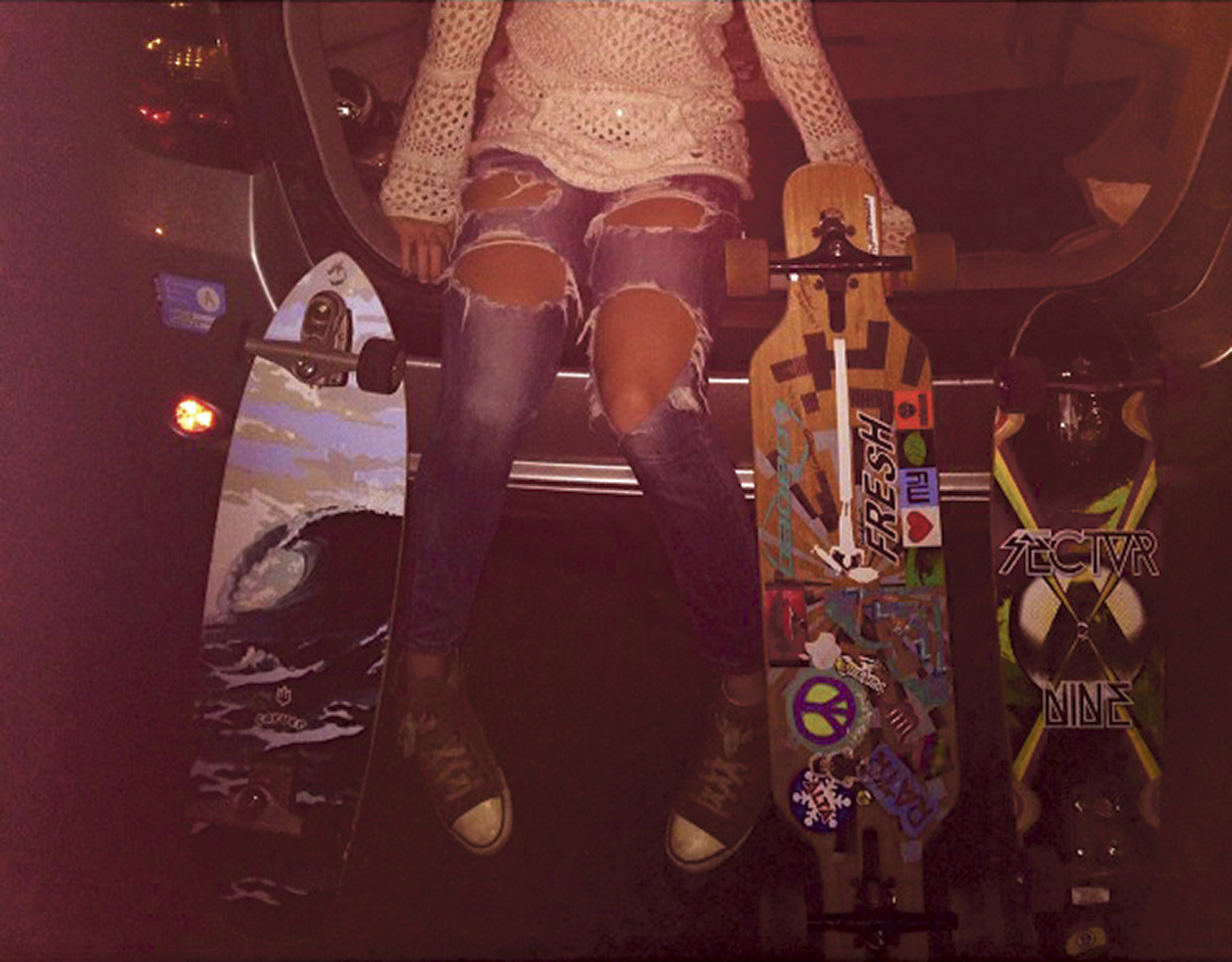 "This is kind of a dream come true," says Hessler, who claims that, in his day, he won skateboard competitions in Frankfort, Onekama, and Traverse City.
But Hessler's recent push for a skatepark is more inspired by his daughter and her friends, who love to skate around town on longboards—three- to five-foot boards with larger wheels that are capable of greater speeds than a traditional skateboard. Longboards are especially popular with the millennial generation.
Annie Hessler and her friends, Helen Erginkara and Reagan Fombro, all 14, say they skate in the streets, on sidewalks, in alleys, or at the beach turnaround late in the evening, when fewer cars are present. However, they would prefer to have a skatepark that could also be used by any non-motorized wheels, such as trick bikes and rollerblades.
"It would be nice to have a place to go," Fombro says. "The cars don't always stop for us, and sometimes they get really mad at us. This would be a nice area for kids to play."
Scoping Out Skateparks
Jeff Hessler took the girls to visit existing skateparks in Michigan so they could determine what kind of park would be suitable for Frankfort. They were particularly impressed by a skatepark in Belding, near Grand Rapids, and how friendly it was for longboarding. The Belding skatepark was designed by the Evergreen Skateparks company, based in Portland, Oregon. Evergreen will reportedly break ground on the Frankfort skatepark in July.
"Skating is an excellent activity for kids of any age," Hessler says. "Kids in skateparks are in great shape. With health issues looming for today's youth in this country, skating offers amazing health impacts."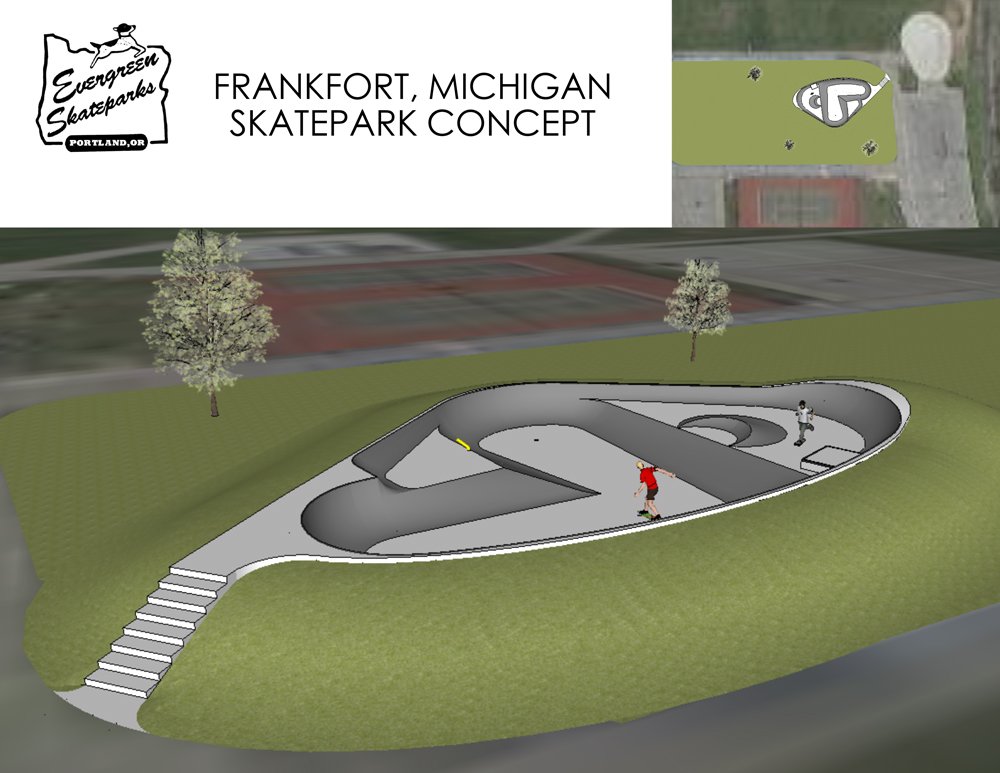 Download the complete skatepark design here (Adobe PDF).
Plus, Hessler says, parents can sleep more easily at night knowing that their kids aren't skateboarding in the streets.
"This isn't a sport that requires a lot of money to participate," Hessler points out. "Skateparks are free. You just buy the board, and we always recommend a helmet and pads. It's not like with skiing or golf—you don't need to come from big-income families."
Beachnut Surf Shop—located on the east side of Frankfort's Main Street—has also been involved in coordinating plans, doing groundwork, and fundraising for the new skatepark.
"We've sent staff with Jeff to skateparks around the state to gather ideas," says Nancy Bordine, co-owner of Beachnut Surf Shop. "We've had two different fundraisers, put on by kids who are excited about the skatepark. We had one event where we did a skate clinic, conducted by Annie Hessler and others, that raised a few hundred dollars."
Additionally, Bordine says, Beachnut Surf Shop has increased its line of equipment, including pads for knees and elbows, high-end socks that are built specifically for skateboarding, as well as a new line of downhill boards.
"Frankfort kids come into the store every day and beeline for the skateboard section," she says. "They pick up the boards and 'ooh' and 'ahh' over them. They're excited."
She adds that it's not just kids, though—there are a lot of people with a surprisingly wide range of ages who enjoy skateboarding, especially when Frankfort's population surges in the summer.
And although it is notable that there is currently a skatepark in Beulah, constructed more than a decade ago, Bordine has heard from customers that it's "just not enough."
"The park we're working to bring to Frankfort would be somewhere between what Beulah has and what Traverse City has," Bordine says of the future park's size and style.
Adding Value
The dimensions of the skatepark coming to Market Square Park will be determined on June 6 during a meeting with Evergreen. Hessler envisions a 2,500- to 3,000-square-foot concrete park with a pedestrian path around its perimeter. The park will feature smooth, fast ramps with coping steel at the top that allows boards to slide on it. The vertical ramps will be less steep than some parks, says Hessler, so it won't be dangerous. He wants to add lights so that kids can skate at night and to prevent random passersby from accidentally stumbling onto the ramp.
"Skateboarding is a fun thing to do, and the park would help keep kids out of the street," Bordine says. "It's a sport where kids encourage each other doing tricks and such. It's a healthy, socializing opportunity."
Market Square Park is already a destination for kids of all ages who are on break from school in the summer—it features a picnic area, playground equipment, tennis courts, and a basketball court that is also lit at night. Drive by on any cool summer evening and you're sure to see a half dozen people using it, but Hessler hopes the addition of a skatepark will add a new dimension. City superintendent Mills agrees.
"The primary benefit that we hope a skatepark may bring to the community is to provide our youth a safe place to congregate that will promote and benefit mental and physical well-being," he says. "The Frankfort community provides many wonderful amenities, and the addition of a skatepark should prove to be beneficial in many aspects to the overall health of the community."
Moreover, the skatepark should not compete with events that go on in Market Square Park like the Port City Art & Crafts Fair on July 18 or the 39th annual Frankfort Art Fair on August 14 and15, because art booths are set up around the perimeter of the park.
An added benefit, Annie Hessler and her friends point out, is that the skatepark could make Frankfort a hotspot destination for area teenagers. Towns up and down the west coast of Michigan cater to beachgoing or boating tourists, shoppers, diners, wine- and beer-drinkers, but too seldom offer activities for action-starved 14-year-olds. Annie Hessler estimates that dozens of Frankfort High School students skateboard and that the skatepark would also draw kids from Beulah, Empire, Manistee, and beyond.
"This is a $2.5 billion industry in this country, and it's only going up and up," Jeff Hessler offers. "I think we're ready for a skatepark in Frankfort."
To watch a video of skate action at an Evergreen skatepark, visit EvergreenSkateparks.com online. Stay tuned to FrankfortMich.com for a posting of when a public meeting on the skatepark will be scheduled.
Short Skating Videos
Additional Links: