Polishing a new gem in Frankfort
Michigan was once covered in shallow tropical seas, until the continental plates moved and shifted our region up from the equator towards the 45th parallel. The seas dried, and the sealife died. The coral fossilized and lay buried for about 350 million years (plus or minus a few million), when the glaciers came, tore up the fossilized sea floor, and ground the fossils into boulders and rocks. When the glaciers retreated and left behind the Great Lakes, they also left behind the fossilized coral, now imprinted onto rock. When dry, they are invisible to the untrained eye; when wet, a delightful treasure to be found — Petoskey stones.
Also to be found along the shoreline in this region, another accidental "gem." Leftover from the days when Northern Michigan was a hub of industry, slag is a by-product of the smelting process. Iron ore must be heated to high temperatures to separate the iron from impurities such as silicon dioxide (found in nature as quartz) and other oxides. After cooling, slag — which has a glass-like consistency and sometimes bits of iron — will vary in color, based on the oxides that are present. During the 1800s, South Frankfort's iron foundry produced slag in shades of green, purple, and gray. The iron was melted, cooled, and shipped to modernize the American Midwest with new buildings and railroads made of steel; the slag, meanwhile, was unceremoniously buried, dumped in Betsie Bay, or used alongside the railroad tracks as stabilizer.
Glacier-crushed fossilized coral and industrial waste from a by-gone era do not sound like they belong together. Though seemingly dissimilar, both can be found by someone who puts in enough effort. Both can be polished up with the right equipment. Both can be cut by a talented hand. They even compliment one another when set in a ring or a necklace.
From the rubble, both have found new life and purpose; worth and value.
Andy Higgins, of the new rock shop Sunbeams of Promise in downtown Frankfort, understands this parable as more than one of extinction and industrial waste. In his own life, it is a story of addiction and loss that has brought him to this point.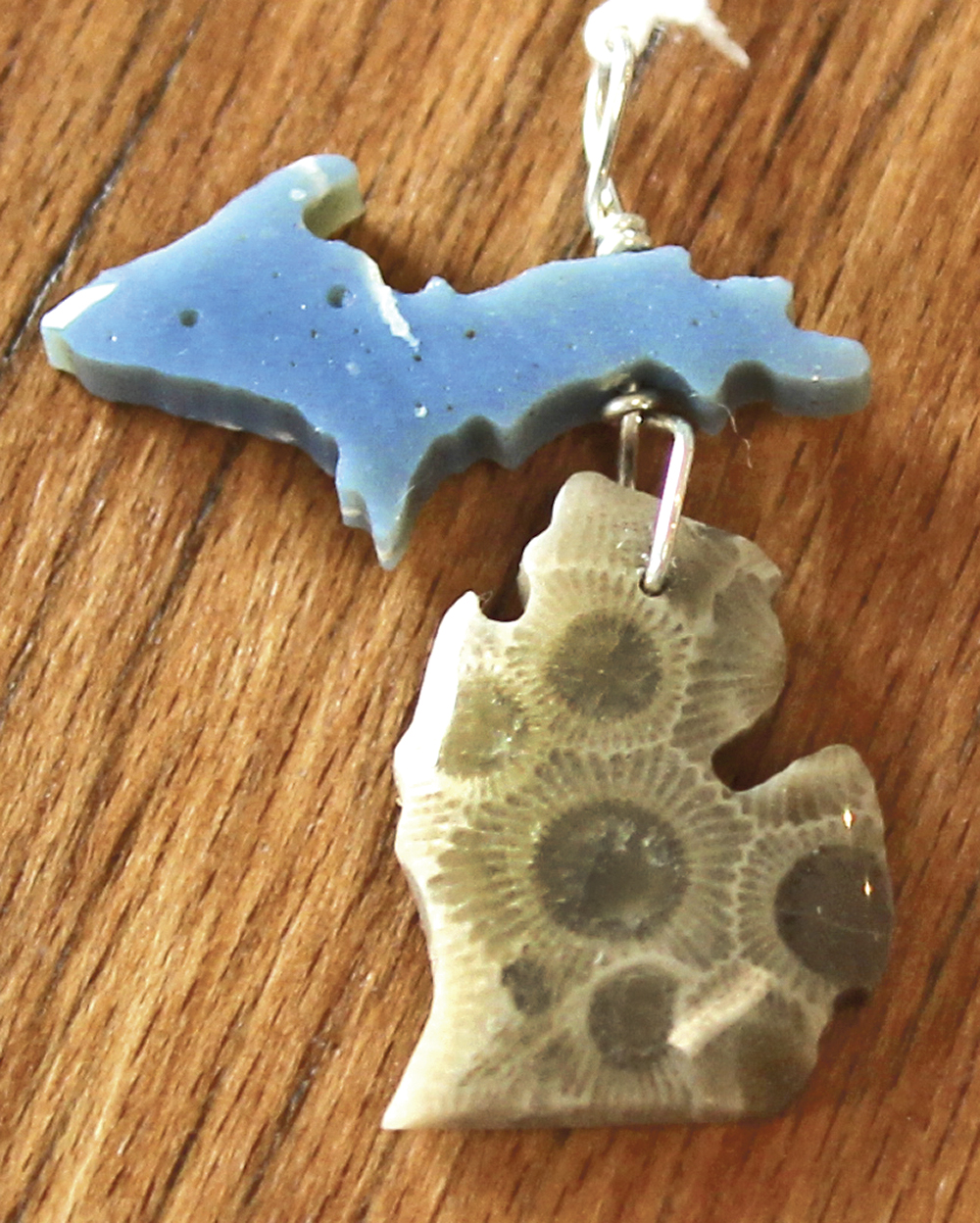 "Things that you think you can't live through? Turns out, you can get through them," says Higgins, who now, with perspective, sees his hard times as gifts. "It took awhile. Even this slag. It might have taken 140 years. But in time, it turns into something beautiful. And that applies to everything in my life."
A Tectonic Shift
Seven years ago, Higgins was drowning in the seas of success. Pushing hard against his own internal pressures, he reached for happiness but found addiction. His marriage failed. He lost his children. He tried to dry out but failed over and over again. Until he didn't. He picked up the pieces of his life and manufactured a new one, free of the impurities that had plagued him.
In 2011, Higgins moved from Indiana to Benzie County, a place with childhood memories of crystal clear lakes, rock hunting, and peacefulness at his family's cottage. He found a meaningful job at an adult foster care facility, humbling work after being quite successful in the real estate market. He was working long weekends and some weeknights. It was during the days off that he quieted his internal stirrings with the loud and abrasive hobby of cutting and polishing rocks.
Two years later, he found a partner in Paula Gala, a transplant from downstate who had escaped to the slower pace of Northern Michigan. Higgins cut a heart-shaped pendant out of a Petoskey. He polished it and gave it to her as a birthday gift.
It was clear to Gala that his talent was way beyond the hobby level. Discussions ensued about starting a shop where they would sell stones and jewelry. A decision had to be made between his steady employment or his entrepreneurial aspirations.
"I knew I had to choose one or the other, and it was choose the safety and security of my current job or choose doing what I love and trusting that it would  be okay," says Higgins, who admits to being worried about starting a new venture that was sure to be less stable and more stressful. But with Gala's support, he took the leap.
Two weeks later, in June of 2014, they opened a shop. Now two months into the summer season, Higgins —and Gala, too — are keeping quite busy.
As it turns out, Gala is an expert at cutting rocks, also, though the couple didn't know it when she first started. Gala is reluctant to admit her own talent, and it also seems difficult for her to sit and chat with a reporter while there are stones to be cut and orders to be filled.
"I started cutting and kind of took to it. It comes naturally to me for some reason. I don't try to do it," Gala says."I could do it all day. It doesn't even occur to me to get tired of it."
"It is not about making money," Higgins says. "It is about giving customers a memory of Benzie County that they can take back with them to their busy lives in the city."
This line, and every other line from Higgins, could be straight out of a Public Relations handbook. Having worked in the real estate industry, Higgins knows a cheesy line when he hears one — even when he is the one saying it.
"I know that sounds like a whole bunch of bull," he adds. "But that is what we do. It is the driving force behind what we do."
These are not just lines from a manual. They are a philosophy polished by a difficult life.
"We want to share the warmth of this community with everyone that comes into the store," Higgins says. "It's a lot more about relationships than it is about Petoskey stone jewelry."
A few days prior, a couple had come in with their young daughter. The girl was looking at a rock, and — as kids do — she accidently dropped it on the floor. The rock broke. The parents were embarrassed. Higgins and Gala didn't mind.
"We had a clumsy daughter, and they were very kind to her," says Denise Short, of Whitehall, Michigan. She goes on to say that this kindness, understanding, and patience was a huge part of why the family returned a few days later, becoming repeat customers.
Higgins admits that the little girl's broken rock can't be put back together, but the pieces will be re-shaped, tumbled, polished, and made again into something new.
From the rubble, new life and purpose; worth and value.
The Sunbeams of Promise rock shop is located on Main Street in downtown Frankfort above the Frankfort Deli. It is open Monday through Saturday from 9 a.m. to 5 p.m. You can see their creations online at sunbeamsofpromise.etsy.com and on Facebook at https://www.facebook.com/PetoskeyStones.