By Nancy Bissonnette Bordine
They gathered on the shore of Frankfort Harbor, all eyes on the horizon. The breeze ruffling their hair was subtly chilled from traveling over the yet cold waters of Lake Michigan. The white silhouettes of three boats approaching the shore gave them great relief, for those boats were the guardians escorting their sons on an epic journey.
Just 27 hours earlier, their sons had set forth from Algoma, Wisconsin, on 14-foot standup paddleboards—oversized surfboards, like those used by the Hawaiian kings of old to travel between the islands of their kingdom. This sunny June 24th morning, a crowd awaited their arrival, poised to give them a royal welcome to Lake Michigan's eastern shore.
For their sons—Nicholas Darga, Jeff Guy, Joe Lorenz, Kwin Morris, and J. Mueller, all Traverse City residents—this was the second attempt to cross Lake Michigan on standup paddleboards. The five young men had tried to make a similar crossing in late August 2014, an event which The Betsie Current reported on last year, but they were thwarted by late-summer conditions.
"They waited too long [in the season], and their window of opportunity wasn't good because the waters of the lake had warmed up," Morris's father explains. "Even though the water is colder now, it's calmer. They had Coast Guard-certified boat captains select the timing and route for them based on water temperature, available daylight, and shipping lanes to maximize their safety and minimize their risk."
Stand Up For Great Lakes, as the guys called their 60-mile journey across Lake Michigan, featured a bold and dramatic athletic event, but its real purpose was to bring in $10,000 for the Chicago-based nonprofit Alliance for the Great Lakes, which raises awareness about the threats facing the largest freshwater source in the world.
"My son Nicholas is one of the paddlers out there," Becky Darga says. "They've been paddling across Lake Michigan all night. They're all guys who grew up in Traverse City and just love this Great Lake. They are young men who understand the importance of the freshwater Great Lakes, and they're making this trip to raise awareness."
Gary Guy, father of Jeff, admits that he and his wife didn't always support this effort.
"When Jeff first started talking about it last year, we were really kinda against it," Gary says. "We asked 'Why would you want to try something like this?' But the more we thought about it, we realized he's a strong young man, and it's a great cause."
Gary explained that he and his wife wanted to make sure that the guys were really well prepared and had thought about all of the possible situations that might happen. In the end, he said that they were relieved to have three support boats rather than just one.
"It was really good to get up this morning and see the boats within sight," Gary goes on. "We were pretty concerned about the guys, paddling through the night. The water is still pretty cold, in the 30s. It's really a relief to see them. I'm excited to see them finish up; I'm really proud of my son and all the young men making this trip."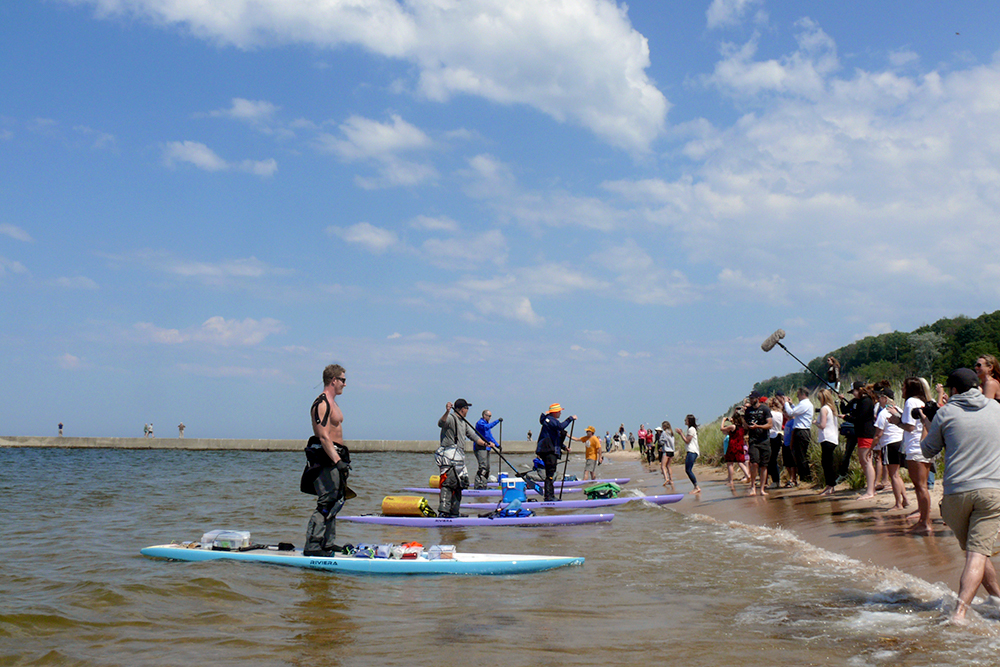 "Seeing my son come over the horizon makes me feel pride and relief," adds a beaming Greg Morris. "I think they're doing a great job all the way around. They've done a lot to try and raise awareness for a good cause. I'm pretty proud of all of them, but my son Kwin especially."
It wasn't just parents who were waiting on the shore—other family members, television news crews, local dignitaries, vacationing visitors, and Frankfort residents all stood peering at the boats that were growing larger and larger as they came toward the harbor. Dan Guy from Traverse City could barely hold the leash of his excited dog, Heli.
"My brother Jeff is paddling out there," Dan says. "We've been here on the Frankfort beach waiting to see the boats, watching them get bigger. Hopefully the paddlers are all healthy and doing well out there. When they first started talking about doing this, I told them that they were crazy, especially paddling at night. Over the past couple of years, they've trained really hard for this; they've taken it very seriously. They've tested all different kinds of gear and set-ups on their boards. It's been pretty cool to see the transformation—I'm really proud of them. I'd compare their accomplishment to doing two to three marathons in a row."
In addition to the crew aboard the three-boat entourage, a video production crew from Ford Motor Company sponsored the trip and documented it as part of the company's "Go Further" campaign, according to The Ticker.
Kathleen Alexander, movie producer for the Ford Foundation's "Go Further" series, documented every stroke of the way.
"After being on this lake for 27 hours with these guys, I felt their amazing love for this body of water; their passion about where they live and what this lake means to them," she says. "As a producer and a filmmaker, it was just a delight and a treat to be involved with these men. It took them a long time to put this together. It took them a lot of training. They just kept on it, thinking, 'How do we go about this?' and 'How do we go about that?' They were determined to make it all the way to the end, together. They set the rhythm of stopping every hour to take a rest, but basically they would get next to each other and talk with each other, to ask, 'Hey, how are you doing?'"
She continued that the team was constantly checking on the men from the boat.
"The nighttime was especially hard; it was really cold and really hard to see," she continues. "They had a great group mindset—lots of jokes and bets between them, like 'Who is going to fall off first?' They all went into it with their own personal goals and a group goal, so they should be so proud of themselves. It was a great privilege to be a part of it."
The participants were all experienced paddleboarders who wanted to take on a challenge that had a high profile in order to garner a lot of attention for the Great Lakes—a feat certainly accomplished, based on the size of the group waiting for them on shore and the press that the story has received since.
At age 83, Sue Luedtke may have been the most seasoned person waiting at the harbor for the paddlers.
"The Great Lakes are important to me because my husband made his living putting in docks and breakwaters as an engineer on the Great Lakes," she says. "His family came from Wisconsin in the 1930s to get work dredging in the lake. The Great Lakes are perfect. They're wonderful; they're so clean and available. They need to be protected, so we keep the lake like it is forever."
Adrian Reed, Sue's attendant, gestured toward the vast expanse of the sparkling lake.
"The Lakes are so pure and so rare," Reed says. "We can build things like amusement parks, but you can't build this."
Jeff Guy's co-worker, Patrick Kolody voiced admiration as he saw the paddlers appear in the harbor.
"The sport has exploded," Patrick says. "And [Jeff] and his friends have taken this to the next level to raise money for the Great Lakes because they have a passion for the environment and for the water. We live in a very special area."
Among the throng of spectators was Joshua Mills, superintendent for the City of Frankfort, and JoAnn Holwerda, Frankfort Mayor Pro-Temps.
"We're here to greet the paddlers on behalf of the city," Holwerda says. "It's awesome to see all of these people here."
"It's a wonderful feat that these men are trying to accomplish," Mills adds. "Their passion is exactly aligned with our passion, which is to preserve this natural asset. This beach is not just for this community but for all to enjoy. Together we have to be proactive to allow this to be available for future generations."
David Lyden from 9&10 News stood perched on the dunes above the beach to capture the group's arrival.
"We're here because this is a positive story about some people in Northern Michigan doing something really cool today," Lyden says. "It's not every day that you hear about people paddling through the night from Wisconsin to cross Lake Michigan—I think these five guys are prime examples of what makes Northern Michigan special."
For 27 hours, the paddlers had battled the frigid water and stiff crosswind to reach Michigan from Wisconsin. Though the men all had worn dry suits and protective footgear, post-sunset air temperatures had been in the 40s and the water temperature had hovered around 38, according to The Ticker.
Around noon, the three support boats remained outside the harbor as the five exhausted paddlers rounded the Frankfort lighthouse. They entered the harbor in a staggered line, but then lined themselves up five-abreast to make their landing in a unified wave as the waiting crowd brought them ashore with wild cheering and hooting. The paddlers jumped off their boards and ran into the arms of loved ones. Relief, pride, gratitude, and happiness reverberated in the air.
"I feel amazing, accomplishing something that we've been planning for such a long time," says paddler Kwin Morris, who couldn't stop smiling. "That was tough, that was really tough. Cold weather; we were freezing, close to hypothermia. We warded it off by keeping moving. The weather wasn't what was forecasted. We needed west wind, but there was a lot of headwind—it was awesome."
"I'll remember this forever," says an emotional J. Mueller. "I'm glad I did this with my good friends."
"We made the crossing without ever touching the support boats," exclaims a proud Joe Lorenz. "Except for the one time when one of the guys got seasick, and we had to hand some nausea medicine to him up on the boat."
Joe went on to explain how the paddlers kept themselves fueled to maintain body heat and to fight the constant exertion, taking 10-minute breaks every hour to eat and drink warm tea.
"I'd eat a little bit, wait for my stomach to stop being upset from eating while working so hard, then eat a little more," he says. "We were burning about 3,000 calories an hour."
Yvonne Lorenz says of her son, Joe, and his comrades, "He's a warrior; they're all warriors."
Perhaps exactly the sort of warriors our precious Great Lakes need.
Alliance for the Great Lakes works with scientists, policymakers, businesses, community groups, and everyday citizens to protect and restore the world's largest freshwater resource. More than 80 percent of the organization's funds go toward programs that safeguard the lakes. For more information, visit GreatLakes.org. Though the event has passed, you can still donate money to the cause at bit.ly/1LuZKlU, and you can get updates by visiting StandUpforGreatLakes.com and Facebook.com/StandUpforGreatLakes.
Feature photo by Nancy Bissonnette Bordine.