A truly local celebration
By Aubrey Ann Parker
Current Editor
The Traverse City Film Festival commands international headlines, but our own Frankfort Film Festival—which celebrates its eighth anniversary at the renovated Garden Theater later this month—also brings world-renowned films and directors to our town. And you do not have to drive an hour each way to partake in this cultural highlight. Furthermore, the Frankfort Film Festival takes place after the major tourist season has ended (so it caters particularly to year-round locals) but not before the majestic fall colors fade into the foliage.
This summer marked the 12th annual Traverse City Film Festival, which—for those of you not in the know—was started by Michael Moore and some other movers and shakers in our region. There is no question that TCFF has done really great things for our local economy, and it is a hit with both tourists and locals alike, which is sometimes hard for festivals to achieve. (For instance, my family has always avoided the Cherry Festival like the plague!)
Every year, TCFF takes place during the last week of July and the first week of August. From Tuesday through Sunday, you can watch "just great films" at 10 different venues around Traverse City, including the beautifully renovated State Theatre, City Opera House, and Bijou by the Bay theater, most of which were renovated largely because of and thanks to TCFF. Additional venues include the Lars Hockstad Auditorium at Central Grade School and the Milliken Auditorium at Northwestern Michigan College (NMC). All in all, pretty awesome, but also pretty spread out, if you know your T.C. geography. (Fortunately, they have shuttle services that are dedicated to running people around the city to get to movies on time.)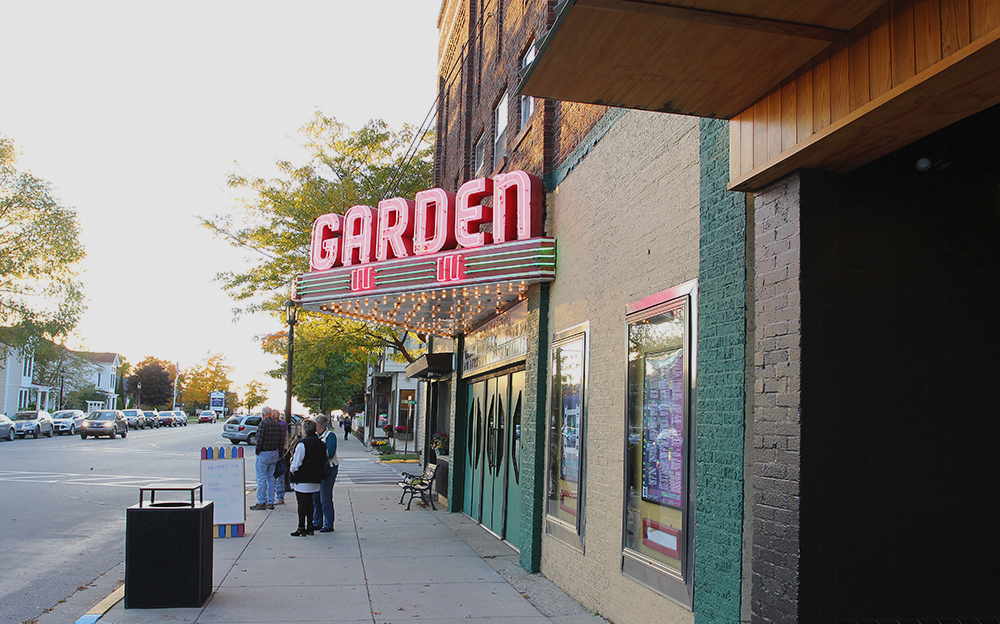 For four years straight, from the 6th TCFF of 2010 to the 9th festival of 2013, we went religiously. Mostly that was because we got a ton of tickets for the work that Jordan Bates—my partner in life and in the running of this newspaper—had done for our friend Andy McFarlane's web-publishing company, Leelanau Communications Inc. Every year, Jordan, Andy, and the LCI team would build the TCFF website, thus they were considered "sponsors" of the film fest. This meant lots and lots of tickets. We would get first dibs on whatever we wanted to see, before the tickets even went on sale to "friends of the film festival," let alone the mass general public.
Some years, we tried to pack it all into two to three days, watching movie after movie, sometimes as many as four or five in one day, from 10 a.m. to the end of the midnight showing—gah, long day! Other years, we tried spreading it out, with only one to three movies per day, but then we would be driving close to an hour one way, with traffic to Traverse City, every single day for six days straight. That got old, too.
I think part of what people love about TCFF is the fact that it is close to home. At least, that is what the folks who live, work, and play in Traverse City like about it. And/or it is what the people who go up for only one or two days like about it. But if you are going to be a die-hard movie geek (not to be confused with a Die Hard movie geek) for a whole week, you really gotta reside in the town where the festival is going on.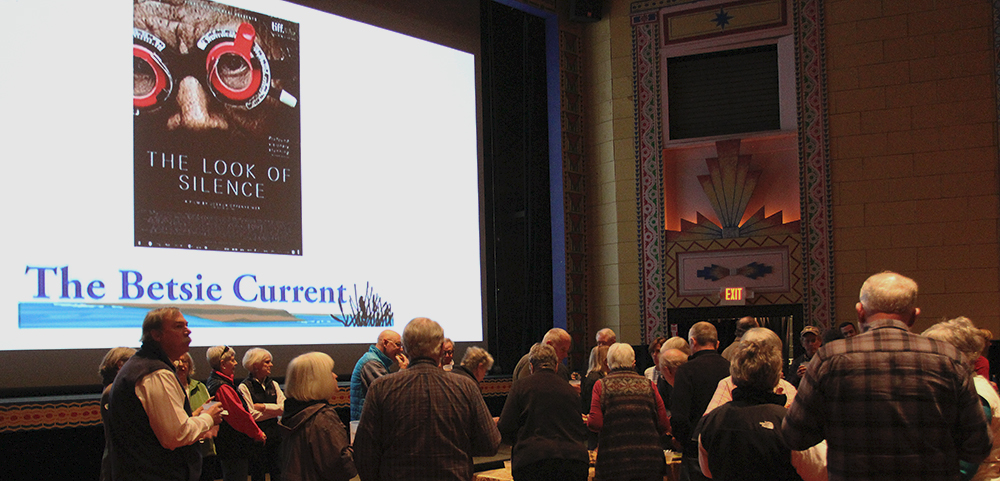 Sponsoring the F3
For the past two years since we restarted The Betsie Current, we have been sponsors of the Frankfort Film Festival. In our 10th issue from 2014 and our 10th issue from 2015—and now in this, the 10th issue of 2016—we have dedicated two whole pages in the center of the paper to the movie titles, times, descriptions, and awards. (I've written before about my love for The Betsie Current here.)
Two years ago, I attended something like seven or eight movies over the course of four days. Last year, I saw 10 films in three days (I skipped one entire day of the festival, because we already had other plans). And this year, there are many films on the list that look interesting to me; not quite sure yet how many I will make, but it will be as many as my rear end will allow me to sit for!
For our family life—and for our business life, for that matter—F3 is so much better than TCFF for so many reasons! Let me count the ways:
Proximity: We live just six blocks from The Garden Theater. This means I can leave my house at the time that the movie is supposed to begin and walk to the theater, getting there just three minutes into the film. (Note: Being three minutes late is not recommended; I am just making a point.) Additionally, I can come home between movies, grab a snack for myself, feed the dog, let her out, and be back before the next movie begins. Even check my email. Compared to our experience up at TCFF, we spend less time and money on food, travel, and doggy daycare during F3.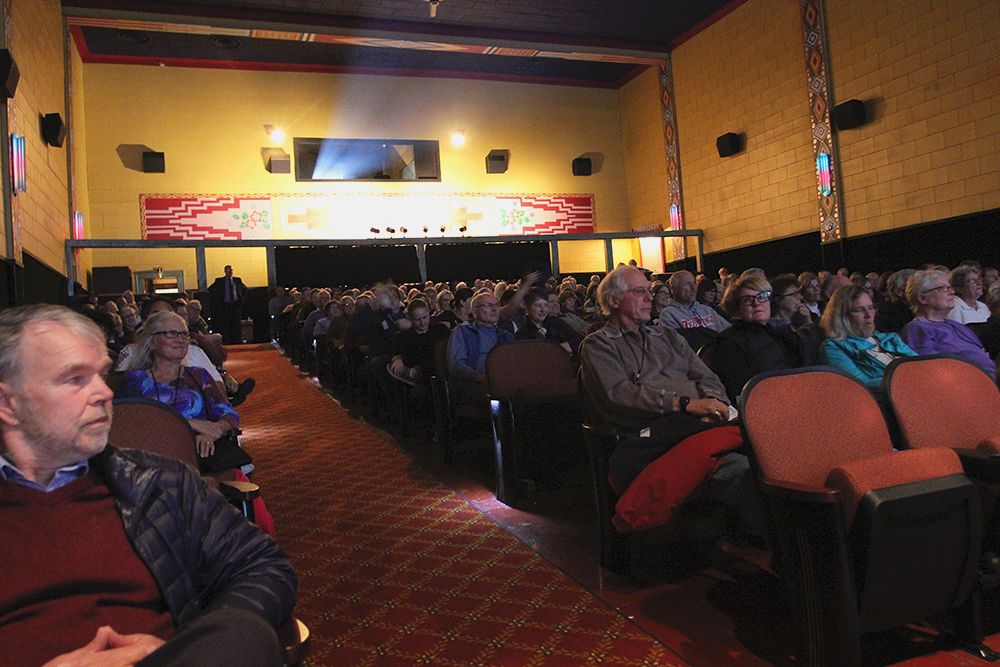 Venue (singular): There is only one venue, which not only means less travel time but also absolutely no time is spent trying to schedule what to see and when to see it and then getting disappointed when two good films are being shown at the same time; this just does not happen at F3! And if I want to watch four movies in a row, I just stay right in my seat and do not move a muscle. Moreover, if you do not know, our beautiful Garden Theater was originally built in 1923, but it has been slowly renovated since 2008. A new projector, then a new screen. A new sound system, then a new bathroom. And most recently, as of last year, backlit movie posters. Many of these renovations have come from private citizens, either donating their time or their money or both. The theater is technically owned by Rick and Jennie Schmitt and Blake and Marci Brooks, plus a couple dozen investors who are residents of the community. Rick Schmitt says that the theater operates more or less like a nonprofit, though it does not have that tax delegation. "Virtually every cent goes back into the theater," he says. "And the community really feels like they have ownership of this theater. They call it 'our theater' as if they are the owners, because they really are."
Community: One great example of this is the art deco paint restoration on the walls and the ceiling, work that was performed by volunteers. Another example is the John P. Vinkemulder Audience Award, dedicated to my friend Vink who has donated countless hours to helping with everything from fundraising to installing light bulbs. Throughout the film festival weekend, patrons vote on each movie that they watch, and the winner gets its name on Vink's plaque, complete with a hand-drawn caricature of Vink, drawn by another friend and local resident, Chris Bigelow. (Of note: The Garden Theater received a $5,000 grant from a program to restore Michigan theaters, a grant that was presented at the 2012 TCFF, when I was blogging. Michael Moore also donated $5,000 of his own money to the theater last summer, an event which I was asked to photograph for The Betsie Current.)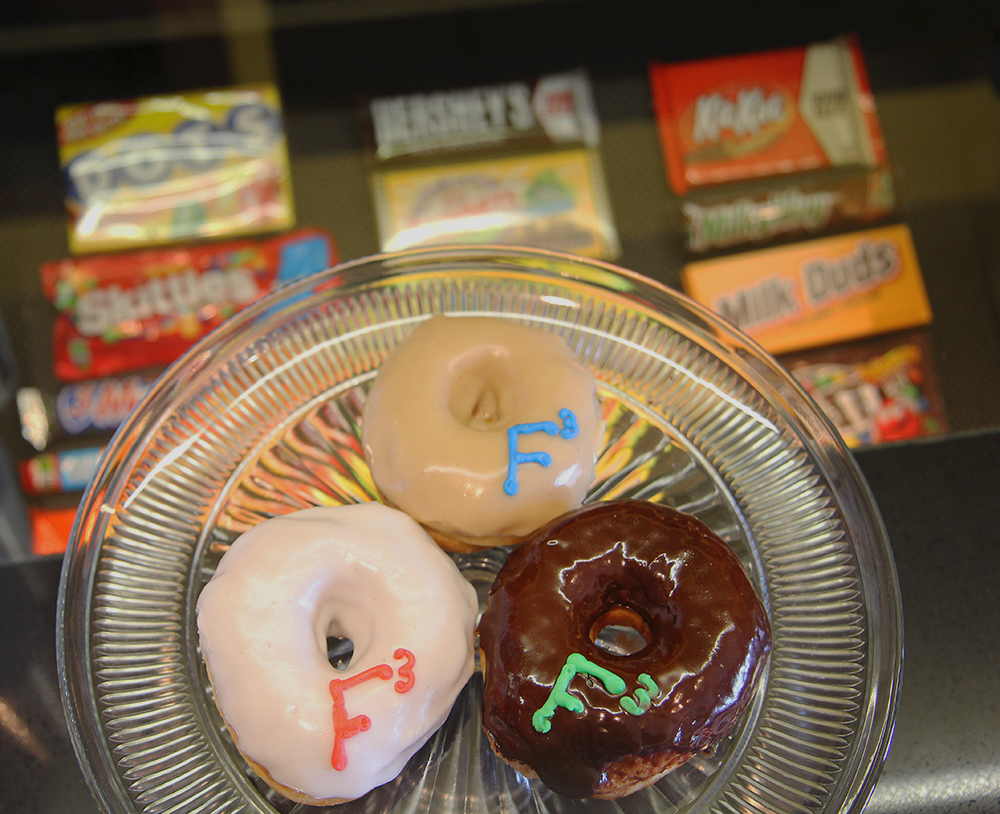 Local Foods: There is a pre-party in September and an opening night party, both are for sponsors and both are catered with local food and wine, as well as beer from Stormcloud Brewing Company next door. But not only that—in addition to the normal popcorn and candy fare at the concession stand, the general public can buy a Stormcloud charcuterie plate or a hummus and veggie plate or even a custom F3 doughnut (made down the street by Crescent Bakery) all weekend long! (They also will give you a free cup for free tap water from the drinking fountain, if you ask politely.)
Small-Town Feel: As mentioned earlier, since the festival is in the fall, it is catered more toward locals. However, every year they give a prize to the person who traveled the farthest distance to get to the festival; last year, that person came all the way from North Carolina. F3 is able to do this because the announcer literally asks everyone who is in the theater just before the film, "Who has traveled more than 100 miles to get here? Put your hand up if you traveled more than 200 miles… keep your hand up if you traveled more than 250 miles," etc. until we find a "winner."
Movie Makers: There are not a whole lot of movie directors that show up at our small, off-season festival, but every effort is made to try to get at least one or two each year. This includes—new as of last year—Facetiming with Michigan native Mo Scarpelli, one of the directors of the documentary Frame by Frame. Scarpelli's face showed up on the big screen from her hotel room at another film festival in Missouri. (It took a little while to figure out how to get her audio to come through the speaker system, but then it worked out great! She could see and hear us, we could see and hear her. Neat.)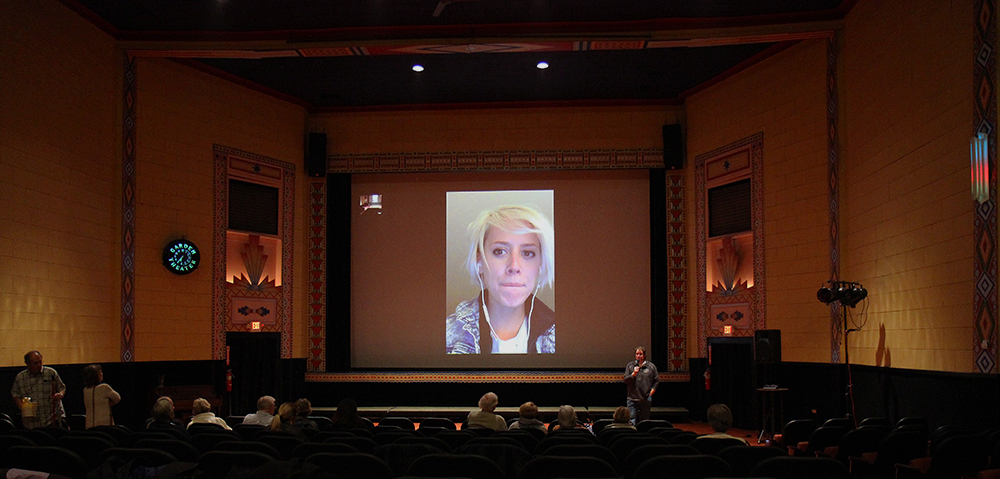 More Small-Town Feel: Speaking of tech-y advances, it is humbling when the tech fails. No, I am serious. It reminds us just how much goes into the film festival weekend as a whole when we get a chance to see behind the curtain, to have a few small hiccups that—in the end—do not dramatically alter the overall experience. To have the mic batteries go out when a film is being presented and then have new batteries brought promptly up to the announcer by the staff. To have the lights flicker and the movie screen go out for a second when the 'gales of November come early' to our small city on the coast of Lake Michigan, and then to have a voice call from the projector room that he will have it back on in a jiffy. "You think this kind of thing happens at Sundance?" Rick Schmitt asked the crowd in jest. "Oh, it does," responded someone from the crowd. I know not if this is true, but both of these instances last year made me smile and appreciate every single person who has a hand, big or small, in putting on F3.
Local Moviemakers: Every year, they play several short films from the Interlochen Arts Academy. These films are written, directed, filmed, edited, produced, and acted by talented kids just half an hour away—what a great way to make the big world feel small, by putting up these small films alongside the big ones! And new this year: OB & Co, a local film production studio by Frankfort siblings Liv Buzzell (19) and Sam Buzzell (15), created 15-second video commercials for each of the sponsors! Watch for The Betsie Current's commercial before Weiner, the documentary film that followed Anthony Weiner's 2013 campaign for New York City mayor, on Friday at 4:45 p.m. (Note: You may remember that we ran a Q&A on Liv's "Gap Year" back in Volume IV Issue 8 from August 2015.) Again, supporting the local community is so integral to the heart of F3, and I love that they find ways to involve young local moviemakers.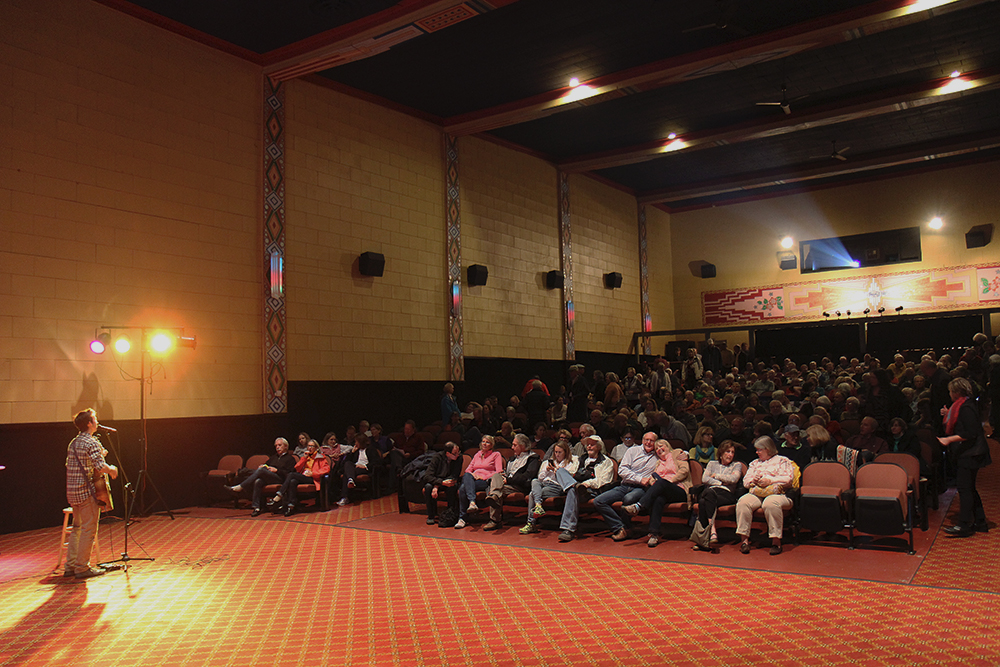 Perks of a Business Sponsor: When it comes to being a business sponsor, we are not just names on a screen. In addition to the short commercials that OB & Co created, each of us is assigned a film that we are sponsoring, and we then get the opportunity to introduce that film. Last year, we sponsored Joshua Oppenheimer's The Look of Silence, which was named one of the top 15 movies of 2015. Just before the film began, I got to stand up in front and introduce the film to a theater full of people, but I also got to introduce The Betsie Current, to talk a little about what it is that we do, why we do it, where people can find copies of the paper, and why we feel adamant about sponsoring F3 and helping to get the word out through our publication. This is an incredible opportunity for us as business owners, and it is also fun to hear from the other business owners, as well! This year, as mentioned above, we are sponsoring another documentary film, Weiner.
Even YOU Can Sponsor: For $85, you can buy a weekend pass to all of the movies (as compared with $10 per ticket). But for just a little bit more ($115 for a single, or $200 for a double), you can become a "directing sponsor." Last year, there were 176 directing sponsors of the F3. Depending on how many films that these individuals see, they may or may not get their money's worth. However, this is crucial to making these individuals feel as though they are an integral part of the festival—unlike with TCFF, there is no need to spend $25 each year to "become a member" of the festival, with the only advantage being that you get to buy tickets before the mass general public, but even then you still have to wait in line, and you are not assured that you will get tickets to what you want to see, and you still have to pay full price for each ticket. Moreover, with F3 sponsorship, there is not a $50 cover to get into the opening night party. There is no hassle of waiting in will-call to pick up tickets. Nope, nothing like that. You just buy your weekend pass, which is a laminated card on a lanyard, and then you show up with it around your neck. And on top of that, you get your name on the sponsor list that plays before the films. Wahoo!
Local, Local, Local: Not only is the festival good for us sponsors, it is also good for the local businesses that stay open for it. And that is, in turn, good for the (local) people who wish to patronize these businesses in the off-season. You see, in our breezy coastal town, many of the storefronts close up after the majority of the summer tourists have left and the cheap workforce (high school and college kids) dries up. It used to be that most places would close up just after Labor Day, and many still do. But having the Frankfort Film Festival in mid-October means that many more businesses are staying open later in the year, getting us closer to being a real year-round place to live—something we will all be grateful for if and when it ever happens.
I do hope that you will join us at F3 this year… one thing that we do need to work on is getting a younger audience through the doors!
The eighth annual Frankfort Film Festival will show 20 award-winning films from Thursday, October 20, at 12 p.m. until the end of the 8 p.m. showing on Sunday, October 23. Learn more at FrankfortGardenTheater.com/Film-Festival/