An endemic issue, exacerbated by the pandemic
By Kelly Ottinger
Current Contributor

On April 22, 2020, a Benzie woman—who asked to remain anonymous—was reviewing her current situation and becoming more concerned by the minute. She had held the same year-round retail job for nearly four years, but the business had closed during the early weeks of the COVID-19 pandemic.

She could not get through on the website or phone to apply for unemployment. When she called the local Department of Health and Human Services, she says she was told that her income—based on recent historical activity—was too high to receive help.

Her small savings were already exhausted. Her elementary-age daughter was not in school, and her toddler's daycare had closed. They were all hungry, down to a partial box of cereal and some peanut butter.

"It was hard enough to ask for help. I've never had to. I've always struggled financially, but was able to make it work," the woman says. "This time, I was out of options and scared. I had moved up here to be near my dad, but he had passed away. I finally found a local pantry that would help me twice each month, and they told me of a few other area resources I could also visit each month. That night, I was only able to sleep because I knew at least we would have food."

It has been almost a year since the looming COVID-19 pandemic began to affect life in Northern Michigan. We did our best to adapt as new information about the virus became available. We scrubbed our hands, stayed home, ventured back out, closed businesses and then reopened some. Kids stayed home from school, as parents became teachers and wondered if they would ever go back to their own jobs.

While the data continues to trickle in regarding the pandemic's effect on our economy and collective mental and physical health, one of the constant issues remains food: where to find it, who will keep selling it, how to safely get it to our homes, and how to pay for it as household incomes dwindle.

Even before the pandemic, one in seven Benzie County residents did not know where their next meal was coming from. Hunger is one of our endemic issues that continues to be exacerbated by the pandemic.

Defining Food Insecurity
Before March 2020, about 1.3 million Michigan residents were facing food insecurity; that is up to 1.9 million now, and most of those are children. So, back in August, Governor Gretchen Whitmer signed an executive order to create the Food Security Council within the Michigan Department of Health and Human Services. The group filed an extensive report back in October, with recommendations released to the public last month. Among the findings, it was noted that there had been a 38 percent increase in food-insecure individuals across the state during the pandemic, with a 67 percent spike among children.

The United States Department of Agriculture's Committee on National Statistics (CNSTAT) defines food insecurity as: "The economic and social condition of a household leading to limited or uncertain access to adequate food." The committee goes on to define hunger as: "The individualized physiological condition which may result from food insecurity."

In plain terms, food insecurity is when a household does not have consistent access to enough affordable and nutritious food.

Though the United States is considered a land of plenty—in fact, the world's top food exporter—many of its own citizens struggle with food security and did so even before the pandemic. In 2012, Feeding America, the nation's leading domestic hunger-relief organization, found that one in seven American households had experienced food insecurity at some point during that year. Moreover, the years between 2009 and 2014 saw the demand for federal food assistance climb by more than 50 percent.

Was Northern Michigan experiencing the same increase in demand?

To find out, the Benzie Sunrise Rotary Club invested in an substantial study of food insecurity in our five-county region of Antrim, Benzie, Grand Traverse, Kalkaska, and Leelanau. In 2014, they surveyed 52 of 57 pantries and emergency meal sites then belonging to the Northwest Food Coalition. The study found up to 72 percent of the residents who were visiting the pantries and meals sites did not consistently know where they would find their next meal.

Since the COVID crisis began, information gathered by Feeding America from emergency food sites in our five-county region has led to projected 2020 poverty rates of 17 to 23 percent for adults and 24 to 30 percent for children, a sharp increase over the 2018 figures of 10.5 percent for adults and 11.1 percent for children.

Considering that a lack of financial resources is directly tied to food insecurity, any increase in people living in poverty is of grave concern.

A Difficult Time to Need Help
COVID-19's impact on those needing help with food has been palpable in Benzie County.

"Oh my goodness, yes, the pandemic has had a huge effect on our numbers," says Joy Foster, director of the Baby Pantry at St. Philip's Episcopal Church of Beulah. "We've seen a 197 percent increase in visits for food and clothing, compared to the time prior to COVID. Families who were maybe just getting formula and cereal before are taking everything we can provide—first and second infant foods and graduate toddler foods. In addition, we've been doing what we can to also assist the household caregivers, which includes providing protein. While we used to give some salmon and trout, provided by local fishers, we've started adding ground beef, chicken quarters, sausage, and ground turkey. Some people have found us through our Facebook page, but the need is so great, most come by word of mouth."

Request forms are filled out, either ahead of time or on site, and items are picked up in the parking lot, due to COVID precautions.

Another local food-providing organization that changed its service model to a drive-through operation is Benzie Area Christian Neighbors (BACN). Since mid-March, those receiving food do so by first calling and placing an order for the number of "staple" bags available to their household. These staple bags contain items such as canned fruits and vegetables, soups, beans, brown rice, peanut butter, pasta and sauce, oatmeal, tuna, toilet paper, and paper towels.

Beyond the initial staple bags, orders are customized by letting the recipient choose from additional items in stock that week—everything from fresh produce, milk, and eggs to other proteins, plus toiletries and special items, such as sanitization supplies and Christmas treats.

The State of Michigan and the federal government have introduced programs that are designed to reduce the impact of COVID-related insecurity. The Coronavirus Aid, Relief, and Economic Security (CARES) Act provided expanded unemployment benefits, stimulus checks, a temporary moratorium on evictions, and an interest-free payment deferral for student loans. Schools were given funding to continue providing the breakfasts, lunches, and extra food that families counted on during the school year while classes were out last spring and over the summer. Recently, the Supplemental Nutrition Assistance Program (SNAP) increased benefits to 115 percent of the normal amount, and the increase has been extended through June 2021.

Even with these initiatives in place, with more businesses reopening, and with "help wanted" signs seemingly everywhere, food insecurity continues to be an issue in Benzie County and the northwest Michigan corridor.

"Things weren't fixed quite so simply for some of our neighbors," says Michelle Northrup, BACN's operations director. "For example, in Michigan, many seeking help [from the government] were forced to wait for retroactive pay, because technology hiccups prevented their claims from being processed for months. There was a period when many people literally could not buy food. Even with all the [government] help available, BACN began serving 138 new households during 2020."

Although some people feel that offering additional unemployment benefits is detrimental and lowers incentive to seek employment, this can be another example of things not always being as simple as they seem. Our anonymous single mother shares her own experience:

"Of course I'd like to go back to work. I'd like to go back to things like they were. But even with my one child back in school, I still need to find replacement, affordable childcare for the younger one. I have a high school diploma, but most jobs I qualify for are part-time. Between transportation to a job 10 miles away and the childcare issue, I simply cannot afford to return to work. I know this time will pass, and I'll be working again, but this is my reality at this moment."

The suspected seasonality of coronavirus is not helping, with more cases appearing as we all headed inside for winter. On top of the uncertainties of the ongoing pandemic and relief efforts, winter is typically a time when food insecurity grows—household resources going toward food can be reduced by seasonal layoffs, higher heating bills, and car repairs, for instance.

Cindee McLaughlin, of the Lake Ann Methodist Church food pantry, allows that sometimes it is a struggle to reach people who might need food assistance.
"I hope this [article] helps get the word out," she says. "We are part of [Goodwill's Food Rescue of Northwest Michigan program] and have plenty of food available. We have been extraordinarily lucky, in particular with meat donations, and have two freezers full of meat."

She admits that the Lake Ann United Methodist food pantry has not seen a huge uptick in numbers since COVID, as some other local pantries have.

"In fact, we were down a bit in the beginning," McLaughlin explains. "But then the numbers grew again over the holidays. We don't have the numbers of the larger pantries, but for our little church, we are doing well here."

Community Generosity Feeding Souls and Stomachs
In addition to existing food pantries and emergency food sites, other local organizations worked to become part of the solution to the growing food-security issue.

Thanks to state funding, both Benzie County Central Schools and Frankfort-Elberta Area Schools made free home deliveries via bus to more than 1,000 children from March through June, after the school year ended early, and both continued to provide pick-up service throughout the summer. As both schools have had to periodically close this fall and winter, due to COVID-related precautions, the pick-up services resumed again.

Additionally, not long into the growing season, food-focused organizations realized that farms which traditionally sold their fresh produce to local restaurants would find themselves with excess product literally rotting in the fields, since dine-in service was stopped and/or limited for an undetermined amount of time. In another stunning example of generosity, Traverse City's Groundwork Center for Resilient Communities launched a fundraising effort in April with the hope of raising $30,000 to purchase this food from local farms.

An amazing $185,000 was raised, allowing Food Rescue of Northwest Michigan—a program of Goodwill Northern Michigan that works to increase healthy food access to people experiencing food insecurity, while reducing food waste—to pick up and deliver thousands of pounds of this food to regional pantries and meal sites. Typically, Food Rescue trucks run routes twice weekly, picking up food from area groceries, restaurants, and farms that would otherwise be discarded and delivering it to the pantries and meal sites in the Northwest Food Coalition.

During the same time period, the Grand Traverse Regional Community Foundation created an Urgent Needs Fund, which gave more than $700,000 in grants to area service organizations to help individuals and families access needed help during the pandemic, including the acquisition of emergency food. The Foundation experienced one of the largest growth years in its 30-year history, directly empowering their community partners to help those in need.

A little closer to home, during the early months of COVID, Crescent Bakery in Frankfort established a community bread bank and stocked a shelf of fresh-baked artisan bread that people could slip in and take, no questions asked. The demand was high at first, but tapered off as the tourist season blossomed, despite the pandemic.

"We're not sure exactly why people started taking less," says co-owner Heather Kiplinger, who had the idea for the bread bank. "We think, perhaps as the store became more crowded, it was just too embarrassing to be seen coming in for bread."

A Difficult Time to Give Help
Despite the influx of much-needed short-term solutions to help with the urgency at the beginning of the pandemic, some of our area's long-standing food resources have struggled to provide their traditional help.

Father Christian Baron and Mother Jodi Baron, co-rectors of St. Philip's Episcopal Church of Beulah, have spent several years bringing quality protein to residents through the Order of Naucratis – West Michigan, of which St. Philip's is an outpost. The Order provides fresh fish and professionally processed game to local food pantries and meal sites.

However, nearly all of the tournaments that typically have provided fish through the Order were cancelled during 2020.

"Jodi and I were still able to personally supply BACN and Fresh Wind [Christian Community's food pantry] with 40 processed lake trout and king salmon," Christian Baron says. "We were not able to distribute any venison this past season, both because it's a big operation for just two people, and also we were not able to use the [licensed] church kitchen."

He is hopeful, however, that the fishing tournaments will carry on as planned for 2021.

Even when people had money to purchase food, the food supply chain and trucking industry experienced disruptions that made getting certain items unpredictable at best.

"It's just crazy sometimes, the things we struggle to get in," says Robert, an employee of Meijer in Manistee. "Of course, in the beginning, it was the toilet paper and cleaning products. Over the summer, it was pancake syrup. Lately, it's canned mushrooms. We never know what is going to present a challenge."

Jenna Noffsinger, food services director for the Frankfort-Elberta Area Schools, has struggled with supply, as well.

"They are coming out with more products that are pre-packaged already, which makes it easier, but a lot of them are hard to come by," Noffsinger told the FEAS school board at its January meeting, explaining that since most schools have returned to in-person status, food service companies are no longer able to project accurate numbers, resulting in low and variable supply levels.

School meal preparation is not without its current share of frustrations, too: instead of a salad bar filled with local produce and a vat of homemade soup, Noffsinger's team prepares 50 pre-made salads with packaged condiments daily, and the time-consuming endeavour means that she would not have time to make soup, even if she could find a way to package it individually.

Thanks to the return this year of the state's 10-cents-a-meal program—in which schools get a funding match for up to 10 cents per meal when they purchase Michigan-grown foods—Noffsinger has been able to once again take advantage of local food providers. The catch, however, is that she worries for when COVID precautions will cause the school to close, and food will sit on shelves going to waste.

"I've been getting a lot of [local] frozen fruits and vegetables that I know will last," she said at the January FEAS meeting.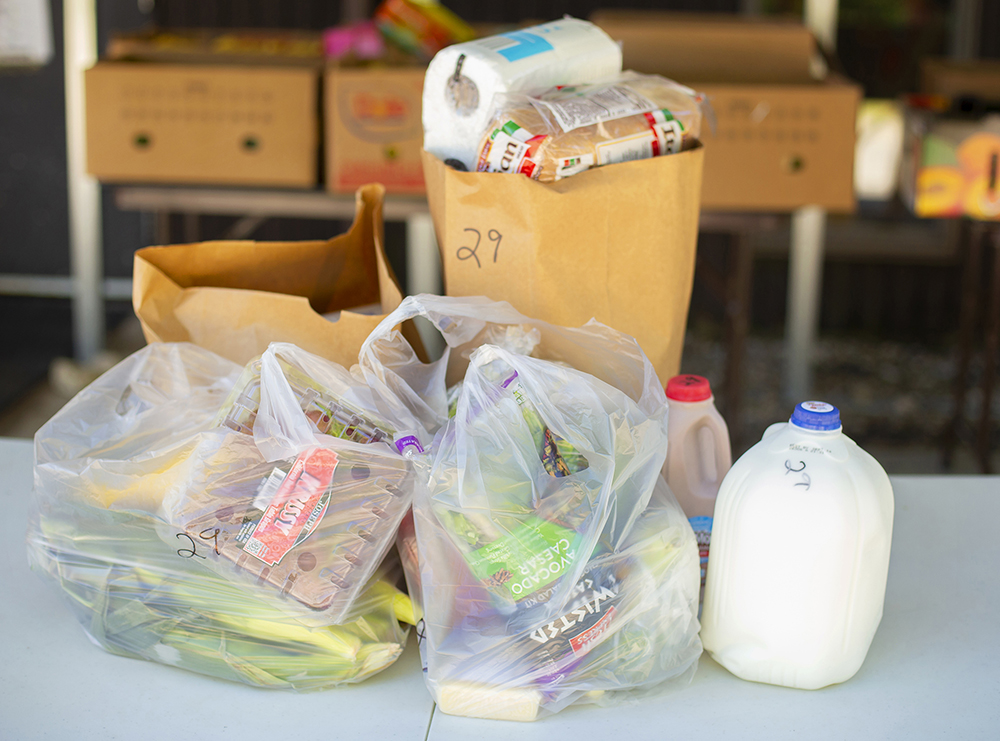 Meanwhile, Goodwill's Food Rescue program was a big help for the Fresh Wind Christian Community's amped-up food-relief efforts, especially when it came to offering fresh local produce: Fresh Wind opened twice a week with a drive-thru pantry at the Cherry Bowl Drive-In movie theater in Honor from the beginning of the pandemic through May, when they were able to move the pantry to their church's location between Honor and Interlochen. Katie Osborn, ministry coordinator, says that they could not have been able to do what they did without Food Rescue, and that they continue to be supported.

"It has been a wave effect," Osborn explains. "It was crazy, then things settled a bit by May, and then numbers were really low. We think that equates to both changing locations and people were kind of a little more financially stable; they had gotten the stimulus at that point, unemployment benefits were good, seasonal summer employment was going on. But now, we're again seeing an increase, and our numbers have been larger than normal for the year."

According to Taylor Moore, manager of Food Rescue, that program has delivered about 17 percent more fresh produce and 10 percent more food overall during 2020 than most years. Fortunately, their supply was also up, thanks to initiatives like Groundwork's purchase of local farm produce and the Northern Food Coalition's Farm2Neighbor program. At the same time, they saw a 5 percent drop overall in food that they were able to rescue from grocery stores, and in the case of meat, that figure dropped by 30 percent. Although the program was able to rescue some food from restaurants that had closed or went into a hiatus, Moore says his hope is that that number does not increase.

"We want everyone to continue supporting our local restaurants," he says. "It's better news when we are not picking up from them."

Full Disclosure: Kelly Ottinger is director of development for BACN.

Featured Photo Caption: In the Benzie Area Christian Neighbors (BACN) food pantry, volunteer Julie Walton packs "staple" bags that contain shelf-stable items. Beyond the initial staple bags, orders are customized by letting the recipient choose from additional items in stock that week—everything from fresh produce, milk, and eggs to other proteins. Since the pandemic began, BACN has not allowed people to shop inside the food pantry, instead opting for a pre-order and drive-up system. BACN began serving 138 new households during 2020. Photo by Aubrey Ann Parker.

—————————————————

SIDEBAR
Benzie County—Where To Find Help Today?

Baby Pantry of St. Philip's Episcopal Church
785 Beulah Highway/US-31, Beulah
1st and 3rd Saturdays of each month
10 a.m. – 2 p.m.

Benzie Area Christian Neighbors (BACN)
2804 Benzie Highway/US-31, Benzonia
Mondays – Thursdays
10 a.m. – 2 p.m.
*Twice monthly visits for residents of Benzie and northern Manistee counties.

Benzie Food Partners, Inc.
10907 Main Street/US-31, Honor
1st and 3rd Saturdays each month
10 a.m. – 3 p.m.
*Twice monthly visits.

Benzie Friends Resource Food Pantry
1034 Michigan Avenue, Benzonia
Tuesdays – Fridays 10:30 a.m. – 4:40 p.m.
Also Tuesdays from 5-6:30 p.m.
*Once weekly visits.

Crescent Bakery Bread Pantry
404 Main Street, Frankfort
Wednesdays – Saturdays
7 a.m. – 3 p.m.

Fresh Wind Christian Community Food Pantry
18201 Honor Highway/US-31, between Honor and Interlochen
2nd and 4th Fridays of each month
10 a.m. – noon

Outpost: Grand Traverse Band of Ottawa and Chippewa Indians
7282 Hoadly Road, Benzonia
Currently closed.

Lake Ann United Methodist Church Food Pantry
6583 1st Street, Lake Ann
Tuesdays and Thursdays, 9 a.m. – 12 p.m.
Wednesdays, 4:30 – 6:30 p.m.

Government-based food help:
•How do I apply for SNAP Benefits?
Visit the MI Bridges website or call 1-888-642-7434

•How do I apply for the Women, Infants, and Children (WIC) program?
Visit fns.usda.gov/wic online.

For more information:
The Food Security Summit is a six-part virtual series to address regional food insecurity and hunger in the greater Grand Traverse region; it began in December and runs through the beginning of March. Registration for the remaining sessions is still available on the Northwest Food Coalition's website: NorthwestMIFoodCoalition.org