Benzie and Frankfort schools continue meal services through June, despite COVID-19 closure
By Aubrey Ann Parker
Current Editor
Fluorescent lights reflect off of stainless steel surfaces. A half-dozen sleepy-eyed adults mill about, waiting for the caffeine to kick in. They chat, keeping their distance from each other while also avoiding several cardboard-box towers that are filled to the brim with paper grocery bags located atop two-wheeled dollies near the doorway.
Every few minutes, someone leans to look out the nearest window; nothing but chunky snowflakes and anticipation. Until a sky-blue semi-truck with the face of a black-and-white dairy cow pulls slowly into the driveway.
"We're on—milk delivery's here," a voice calls.
The languid moment is over. There is a flurry of movement, as people go to and fro, buzzing around like honeybees on a mission. One holds the door open as another pushes a cardboard-box tower outside to a bright yellow school bus that is idling noisily.
Other than the driver, the bus is empty—as are the school's hallways, classrooms, and lockers, ajar for cleaning. Only the kitchen is bustling with activity.
Despite it being 9 a.m. on a weekday, the school is eerily empty. Any vestiges of children are long gone: the artwork has come down from the walls, there is not a crumpled gum wrapper or a speck of trash anywhere to be seen, desks are stacked at the end of a hallway.
By order of the governor, Friday, March 13, 2020, was the last day that K-12 students were permitted to attend Michigan schools due to the COVID-19 pandemic.
In Benzie County, there are roughly 17,500 year-round residents, according to estimates from the U.S. Census. About 18 percent are children under the age of 19.
There are two public schools serving this population: roughly 1,500 students at Benzie County Central Schools and 500 at Frankfort-Elberta Area Schools. More than 50 percent are considered "economically disadvantaged," meaning that, when school is in-session, they receive two free or reduced-price meals per day.
When Governor Gretchen Whitmer (D) first made her announcement, the immediate thought running through many people's minds was: What will happen to these children?
Even if the schools continued to provide two meals per day on location, Benzie County is a very rural area, and worries included that the children who were most at risk of going hungry would come from families who might not have a way to pick the meals up. Furthermore, with economic strains affecting more than just the "most-at-risk" households, there may be additional families who typically do not qualify for free/reduced meals which might now be in need—and now they might not have gas money to receive proper nutrition for their children.
Fortunately, government and school leaders quickly jumped into action.
During the school closure, both schools are continuing to serve meals to students. Bus drivers are continuing to drive their normal routes twice a week.
Instead of picking up students, they are dropping off food.
The Women Behind The Meals
Jenna Noffsinger, Food Service Director, Frankfort-Elberta Area Schools
Jenna Noffsinger is the food service director for Frankfort-Elberta Area Schools, where she has worked for the past eight years.
A 2006 graduate of Frankfort High School, Noffsinger returned to Frankfort in 2012 to put her degree in food science from Michigan State University to use—she started off as a part-time worker in the school kitchens, before taking the full-time director job for the 2015-16 school year. (See our Q&A with Noffsinger from June 2016 here, including information on her use of local produce whenever possible.)
Noffsinger has seen all kinds of changes during her tenure—budget cuts; rising food costs; halving of the kitchen staff; implementation of a 10-cent "matching funds" program for schools to buy local foods, only to have it taken away by the state earlier this year—but the ramifications of the COVID-19 school closure have presented new challenges.
There are roughly 225 students at Frankfort Elementary School, and around 250 at the junior high/high school building. Noffsinger's team of three staffers—full-timers Sharon Ward and Jenny Townsend, part-timer Laura Franklin—typically serve about 100 breakfasts and 220 lunches at the elementary and about 100 breakfasts and 150 lunches at the junior high/high school. Meals are prepared at the JH/HS building, where there is sufficient kitchen space and equipment, and about half are then shuttled in a pick-up truck to the elementary by Frank Ikens, FEAS maintenance director.
"We have developed our own routine that works for us," Noffsinger says of typical daily operations. "We truly are a team, and we have to help each other every day to get different things ready for lunch. So we do the best we can, and we are very busy and work very hard."
Now, FEAS is producing two meals per day for around 100 students twice per week: that equates to 600 meals going out the door on Tuesdays and 800 on Fridays. The whole process from start to finish has about 20 people involved at FEAS.
"I've had three teachers help… they came in and helped us just stuff bags," Noffsinger says. "We have three bus drivers and an elementary aide riding each bus, helping deliver the meals… Our superintendent has been delivering meals, and our transportation director has been delivering meals, and our principal, and Carrie [Aldrich], that's been in charge of the lists."
Lisa Purchase, Food Service Director, Benzie County Central Schools
Lisa Purchase has been the food service director for Benzie County Central Schools for the past six years, since they privatized, and she worked in the school kitchen prior to that, as well.
Not only has Purchase been involved in the BCCS community as a staffer, but also as a parent: she watched her six adult children go through the school system.
In all, there are about 600 students at three elementary schools—Betsie Valley, Crystal Lake, and Lake Ann—and about 700 at the Middle School/High School building. Purchase's team of five full-time and seven part-time staffers typically processes about 100 to 150 hot lunches per day at each elementary school and about 400 to 500 at the MS/HS building.
But now, BCCS is making two meals per day for about 900 children twice per week: 5,400 meals are going out on Mondays and 7,200 on Thursdays.
"Since this started, my staff has been absolutely fabulous," Purchase says. "For the most part, I've had them all here [at the HS/MS building]. They've all been here, putting in these huge hours, long days, making sure that these kids are fed."
Additionally, there are about 50 non-kitchen staff helping: 16 bus drivers, 16 para-pros riding the buses to deliver the meals, plus about 20 assisting with bagging up meals on preparation day and a dozen or so getting meals onto buses on delivery days—these "volunteers" consist mostly of teachers, coaches, custodians, administrators, and other school staff.
Putting Together A Plan
On Friday, March 13, when it was announced that schools were closing, both Noffsinger and Purchase immediately went about making a plan for what each school would do to continue feeding students.
Noffsinger arranged a telemeeting on Friday to figure out what her team would need to do to put her plan in place. She filled out the necessary paperwork, and then the group met in-person.
"I was literally sending text messages with our administration over the weekend," laughs Noffsinger, whose team began building meals on that first Monday for Tuesday delivery. "We had no idea really the numbers, so it was kind of a guess."
They started with 100 breakfasts and 100 lunches for Tuesday, Wednesday, and Thursday, so 600 total meals.
"We built them all, and then we kind of said, 'Okay, go. Let's see what's going to happen, and then we can build more if we need to… we can always throw something together [for pick-up at the high school] if we run out'," Noffsinger says. So far, this method has worked out for FEAS.
Meanwhile, at Benzie on that fateful Friday, Purchase was checking in her freezers to see what she had available enmasse between the four school locations, plus what she could possibly order on such short notice.
"When the shutdown first came into play, we were scrambling pretty hard on Friday," Purchase recalls. "We were trying to figure out: 'How do we get this turned around? We need to get food out to these kids.'"
Ultimately, just like in nearby Frankfort, BCCS also began handing out meals on Tuesday, but their numbers were much higher: about 650 total students, with each receiving two meals per day for three days, so that was about 2,000 breakfasts and 2,000 lunches.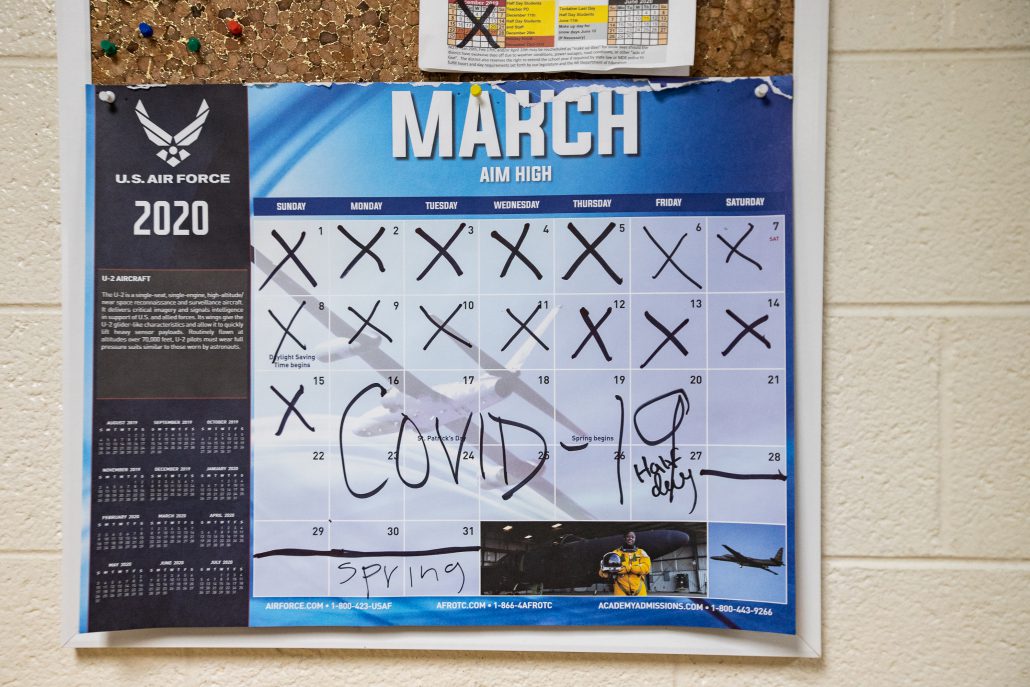 "We had 16 bus routes that we had to run, with 120 breakfasts and 120 lunches on each bus," Purchase says. "We went through everything. We needed more, and we didn't have enough, so people came up here [to the high school] later in the day, and we were able to get some more meals out."
Based on that inaugural run, they upped the meal count.
"And we've had to up the meals again," Purchase says. "We've had that much participation, that much need."
Adjusting The Plan
Currently, BCCS is making meals for about 900 students. Every student gets two meals per day for several days, since the deliveries come twice a week. For the first meal delivery, Purchase notes, that they had only bus drivers, the para-pros that were riding the buses to help deliver the meals, and the kitchen staff who were working on the project, since they were not sure what to expect or how they were going to mass-produce the meals.
"We found out very quickly that we were going to need more help," Purchase concedes. "So Matt [Olson, BCCS superintendent] put together a letter to his staff, put it out there. They've been fabulous; we've had so many join in… everybody has just pitched in to make this work. It's a huge, huge process, and it takes more than my staff to do it, so it's been great."
For the production days: Sarah [Stapleton] Ross—a 1988 Benzie alumna who sent her three children to her alma mater, where she has been coaching girls basketball for 16 years—has been coordinating the volunteers. Depending on the day, there are 18 or 23 volunteers working in different groups that help to bag and box the meals in the MS/HS cafeteria and get them ready for delivery, while Purchase's staffers do the prep and cooking in the kitchen, along with unloading food deliveries off of the trucks and into the kitchen. Referring to the volunteers, Purchase says:
"We get the food out into the cafeteria for them. They grab it and just start bagging. We give them a menu for that day; there's three separate days. We tell them how many total meals we need. [On Friday, March 20], it was 800 per table that had to be done; in an hour and 45 minutes, they had it all done. It was unbelievable, phenomenal. Very cool."
For the delivery days: there are about eight to 10 "loaders," getting food onto the buses, with 16 bus drivers and 16 para-pros, one for each bus, to assist with deliveries. Purchase coordinates the workers, humming around like bees, with the help of Guy Sauer and Matt Olson, BCCS transportation director and superintendent, respectively.
"The drivers and para-pros stay on the buses, to minimize interactions," Olson explains.
The first few delivery days were a bit chaotic, he concedes, but the team has figured out a system: buses are now loaded with between 5,000 and 7,000 meals—always including food and milk, often including donated snacks, coloring books, and games—within 15 minutes. Each bus has designated jobs associated with it: Day One meals, Day Two meals, Day Three meals, and milk. There are two workers assigned to each job, and three buses are loaded at a time; then the loaded buses take off for their routes, while the next set of three buses moves into the queue for the loading process to begin all over again.
"We've been trying to keep enough variety in the meals, not just doing sandwiches, for instance," Noffsinger says of the FEAS program, known regionally for trying to include as many fresh, local fruits and vegetables as possible. "There's a lot of packaged products going out there now—which I hate to serve—but we're doing a lot more of that right now, like processed waffles, pancakes. We did a nacho day, so we had the cheese and the chips. We did a make-your-own-pizza kit, with flatbreads and sauce and cheese, with a few pepperonis. We've done sub buns with turkey and ham; then we did regular sandwiches. And then we have to have a vegetable, a fruit, and a milk, so those are all going in the meals."
Noffsinger says that fresh produce has been the hardest thing to keep in stock.
"The fruit and the vegetables are probably the hardest, because my supplier, Gordon's [Food Service], is having trouble keeping stock up," Noffsinger explains. "I had eight things pop back that I couldn't get in when I tried to place my order [that first week], so it's frustrating. And then it's like, 'Okay there's something else we can do'."
Carrie Aldrich, FEAS administrative assistant, has been organizing an online spreadsheet when someone calls to request to be added to the delivery program. The school has sent out email blasts to parents, and information has been put on the school's social media sites, like Facebook and Twitter.
After getting that first week under their belts, both schools are now operating on a twice-a-week model:
BCCS:
Mondays, through June 8—breakfast and lunch bags for Monday, Tuesday, and Wednesday.
Thursdays, through June 4—breakfast and lunch bags for Thursday, Friday, Saturday, and Sunday.
FEAS:
Tuesdays, through June 9—breakfast and lunch bags for Tuesday, Wednesday, and Thursday.
Fridays, through June 5—breakfast and lunch bags for Friday, Saturday, Sunday, and Monday.
Meals at BCCS are prepared on Fridays and Wednesdays; at FEAS on Mondays and Thursdays. Delivery days begin early.
"We have three buses taking meals out to families right now," Noffsinger says of the FEAS delivery model. "Leaving at 8:30 a.m., they are driving their normal routes, but amended a little to tailor where the kids are who are requiring meals."
At Benzie, the buses leave at 9 a.m.
"We tell them, 'Be at your bus stops'," Purchase says. "If you can't make it to a bus stop, we have meals at Lake Ann, Betsie Valley [elementary schools], and here at the high school from 11 to 11:30 a.m."
Essential Need
According to state data for the 2019-20 school year, FEAS had 58 percent of students qualifying for free or reduced-price meals; 62 percent at BCCS. As soon as the school closures were first announced, one of the biggest issues was not only how students were going to keep learning while at home, but how were they going to be fed?
"On a daily, normal basis, I hear from kids, 'I haven't eaten all weekend.' Or, 'I don't know when I'm going to eat this weekend.' It makes you just fall apart, because you feel so sad for those families," Noffsinger says. "So I feel like this is a really important program right now."
Indeed, Purchase agrees:
"We see them on a daily basis, and so you get to know the kids. The ones that need that little extra: you know, an extra hug, an extra, 'Hi,' hot meals that they get here. They need those things, and so I think that helps drive the need to help, because we know our kids. It's a personal thing to us. We want to help as much as we can."
Even after Governor Whitmer's "Stay Home, Stay Safe" executive order that shut down all "non-essential" work places on March 24, the schools continued to serve meals.
"We are considered an 'essential need' for the community, so we are going to continue running," Noffsinger says. "We might have to tailor the bus routes, depending if the drivers feel comfortable continuing. But my ladies and I are planning on it; if we have to deliver, we'll deliver food."
So far, everyone who began with the program has continued working.
"The hours have been challenging—they're different, and they're longer, and they're much harder than you would put in a normal day [when school is in session]," Purchase says. "I mean, you're processing 400 or 500 meals a day, and now we're processing thousands of meals. It's a lot, but it's bigger than us. It's important that we get these kids fed, that there's stuff for them to eat."
Want to sign up for meals to be delivered from a school to your home? Call 231-882-9653 for Benzie County Central Schools; call 231-352-7601 for Frankfort-Elberta Area Schools.
This is the first in a series of stories that The Betsie Current intends to tell about Benzie County during the COVID-19 pandemic: "good news" stories about resiliency, adaptation, ingenuity, compassion, and shared humanity. Video production by Emma J. Kelly, with Aubrey Ann Parker serving as Supervising Producer. See the accompanying photo essay by Mackenna Kelly here.
Full Disclosure: Aubrey Ann Parker is an FEAS school board member and a BCCS soccer coach.