Sixth generation of Lindgrens raise bovine in Benzie County
By Nicole L. Bates
Current Contributor

Pulling up in the dirt driveway, it is immediately evident that this is no hobby farm. Although nearby is a goat pen, where five pet goats run to the fence for head scratches, and two horses enjoy home-grown hay in another large run, there are also 50 laying hens roaming the yard. An additional 60 new baby chicks, waiting for their feathers to grow, are kept warm in a section of the coop; they will join the free-ranging flock later this summer.

Though this sizable brood may be an indicator, the tell-tale sign that this is a working farm comes from closer inspection. Several barns, some dating back to the 1800s, surround the original farmhouse. Many hold tractors and various implements for maintaining the land.

With agricultural roots that go back more than a century here in Benzie County, three generations of the Lindgren family all work together now during the spring, summer, and fall to grow, harvest, and store their own hay to feed their cattle throughout the winter. One of the old barns currently houses the herd, during the months before they go to pasture for the season.

Every tub of water, bale of hay, bag of chicken feed, egg collected, fence repaired, and pasture transition is handled by a member of the family. The Lindgren Family Farm, located in Benzie County's southern Joyfield Township, is the definition of a working family farm and is now on its sixth generation. Larry and Deb (Rineer) Lindgren, 67 and 65, respectively, are the current owners; they run the farm with their two daughters, Mindy and Jodi (42 and 40, respectively), their sons-in-law, and their 13-year-old granddaughter, Elsa.

"Farming is not a job. It is a lifestyle," explains Larry Lindgren. "Farmers do it to continue the family heritage that brings them pride, to be good stewards of the land, and to feed their communities. It is about making sure those before you are remembered well and those after you are provided for."

Farm History
Nowadays, the farm specializes in grass-fed beef, free-range heritage chicken eggs, and hay, but that was not always the case.

Larry Lindgren's great-grandfather, Gustav, grew up on a homestead farm in Sweden and spent his early years working on fishing boats. He and several friends originally came to the United States in the late 1800s, when Gustav was around 20 years old. He moved around the country mining and logging before settling in Manistee—at the time, a booming town for both industries. Once he had raised enough money for the trip, Gustav Lindgren sent for his fiance, Caroline, back in Sweden.

The couple was married in 1888 in Manistee and then, shortly thereafter, bought the original Lindgren farmstead, located on what is now US-31, just north of the Benzie-Manistee county line—the State of Michigan had started a program to provide a statewide system of roads in 1859 with an act passed by the Michigan legislature which created the Swamp Land State Road Commission. Locally, two roads that ran through Benzie County were created by the commission: the Manistee and Leland State Road (now M-22) and the Allegan, Muskegon, and Traverse Bay Road (M-11/US-31), though neither was completed until the mid-1870s. These roads brought homestead farmers to the area, like the Lindgrens.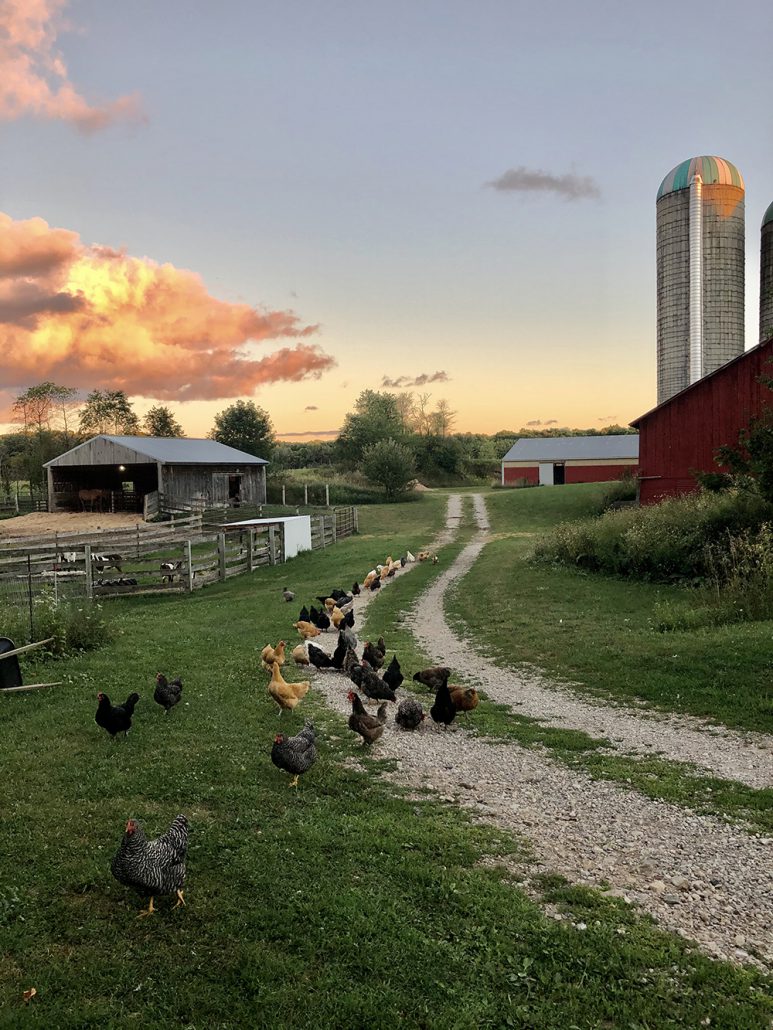 Gustav and Caroline's family was quite successful at farming, particularly in the dairy industry; the Lindgrens maintained a well-known, high-quality dairy herd for almost a century. Notably, Gustav had many farm dealings with the Traverse City State Hospital—called the "Northern Michigan Asylum" when it first opened in 1885—which had its own self-sufficient farm at that time and even boasted a "world champion" dairy cow, Traverse Colantha Walker, who produced more than 22,000 pounds of milk in 1926, more than five times the state average that year. (For reference, this is slightly higher than even the modern-day average of around 20,000 pounds per year.)

In 1931, Gustav and Caroline's son Theodore "Tede," and his wife, Alice, decided to make a fresh start. They left the original farmstead and bought what is now the 302-acre family farm on Mick Road, just a short jaunt up US-31. Staying in the family business, Tede and Alice started a grade B dairy farm that eventually became a grade A with 60 dairy cows, and the dairy passed to their son, Nelson, who then passed it to Larry.

Farm Now
Larry and Deb decided to make the transition from a dairy farm to a beef cattle farm in 1985, when their daughters were school-aged. From 1985 to 2018, the family finished and sold beef cattle—but 2018-19 marked another year of big change.

Larry and Deb's daughters, Mindy Carter and Jodi Lindgren, had returned to the farm. Larry often told his family: "I won't die a happy man unless I turn this place green." It was his wish, for his later years, to get away from the intensive tilling and replanting of seasonal crops; to instead have perennial fields of green.

So, in a joint decision to move to more sustainable farming methods, the family made the transition from raising several hundred head of corn-grown cattle to raising around 20 grass-fed cattle. Big farming equipment was sold. Corn fields became pasture and hay fields. Grass-fed starter calves were purchased. The current herd is a mix of Angus and British White-Angus crosses, and the family grows 113 acres of alfalfa-grass-mix hay.

In the winter, the herd has room to roam in a pen that is connected to one of the many barns on the property. They are fed hay that is harvested from the nearby fields and have a warm shelter from the elements during Michigan's coldest months. In the spring, once the ground is firm and the grass is lush, the herd grazes on 38 acres of rolling green pasture.

In the spring and early summer months, the Lindgrens take orders for beef—selling cattle by the quarter, half, or whole—that is processed at Ebels General Store, located about 90 minutes away in Falmouth, in discussion with the customer as to what specific kind of cuts are desired.

The Lindgrens use rotational pasture methods, in which the pasture is fenced off in large sections: once the herd grazes a section down, it is ushered onto greener pastures. Water tubs and a portable shade screen also make the move with the herd.

A large reason for the switch to grass-fed methods was to keep things sustainable for the land and the environment, but also for the younger family members, who are still juggling other "day jobs." Now a few years into the switch, the family is happy with the results.

"I've been farming since I was old enough to ride a tractor," Larry Lindgren told the Benzie County Record Patriot back in March 2021. "I'm 67 now, and I'm done climbing everything. I like doing things myself, but I can't do everything myself, so we asked our daughters what they wanted to do. We could have sold the whole thing and walked away, but we wanted to keep the farm, and I want to live here."

His wife, Deb, expanded:

"We really wanted to keep the farm and land, but it would be hard to justify keeping it and paying taxes if we weren't using it. This helps us keep the land and income coming in. It all worked out. We did a lot of research before we made this shift. In spite of farming all these years, we had a lot of stuff to learn."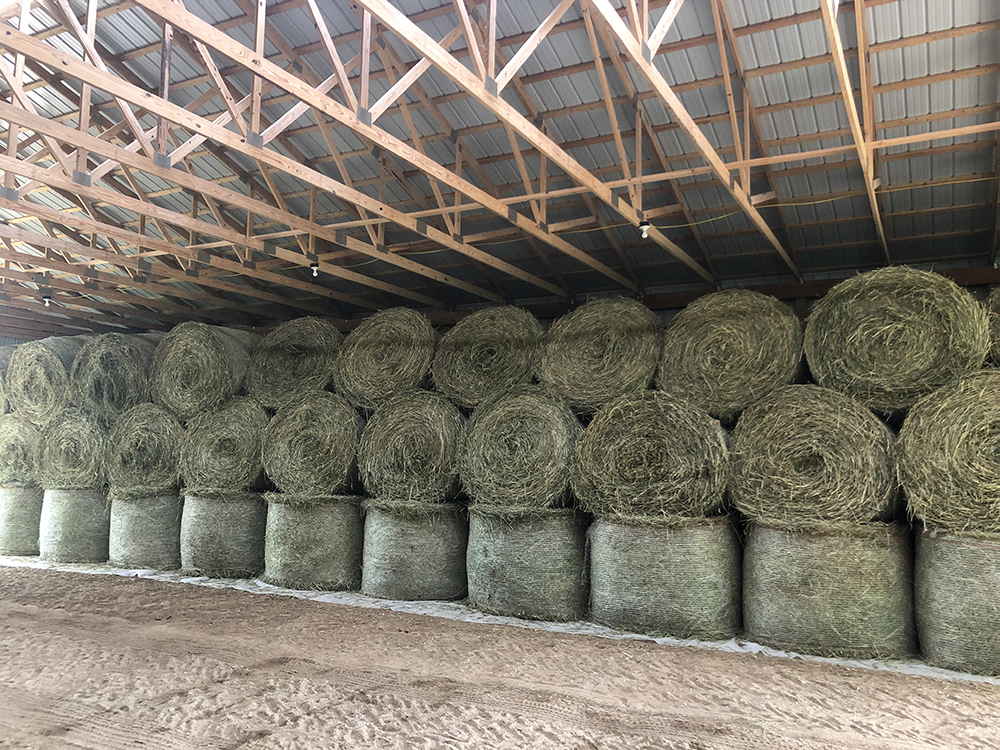 Younger daughter Jodi Lindgren adds about the working women of the farm's history:

"Tede's wife, Alice, was a Putney, so she had always lived the farming life style. My father's mother, Helen, [Nelson's wife] also had a heritage of farming. My mother [Deb], however, did not. Yet she embraced it. She even helped milk the dairy every single day while she was pregnant and when my sister and I were infants. I think that's very impressive."

Farm Legacy
Though three generations live on the farm, the farm does not support all three families financially. Deb and Larry's oldest daughter, Mindy Carter, runs a landscaping business with her husband, Matt. Northern Landscaping and Maintenance is their primary job, but they work on the farm on a daily basis, as well. Younger daughter Jodi Lindgren and her husband, Nate Juett, live in another house on the farm's vast acreage. They also help with running the farm, while maintaining separate "day jobs": she is an engineer with the Michigan Department of Environment, Great Lakes, and Energy (EGLE, formerly DEQ) in the Air Quality Division (AQD); he and his father have a landscaping business, Terra Bella Landscape, out of Traverse City.

Larry and Deb hope to pass the land—and the farm—on to their daughters and grandchildren. They hope to maintain a place where their grandchildren can grow up collecting eggs, painting old barns, and learning responsibility through hard work.

To do that, what is raised on the farm needs to help to sustain the farm—the money raised from beef, egg, and hay sales goes back into caring for animals and buying new calves, as well as maintaining the equipment and the land. They have dreams of expanding but have to do it at a pace that the family can manage while working other jobs; the daughters remain dedicated to the farm and its ideals.

"Generations of farmers have had a hand in maintaining this farm, even long before our family bought the land," Mindy Carter says. "I'm hoping, by returning this farm to a more sustainable and smaller scale operation, like the farms of old, we can find success in keeping this a working farm for generations to come."

Generational family farms are a rarity these days. Though more people are becoming interested in farming and knowing where their food comes from, many are not aware of the time, work, and commitment that is required to raise and grow your own food. When you buy from a local family farm, like the Lindgrens, you are supporting a local family.

To learn more, follow "Lindgren Family Farm" on Facebook, check out LindgrenGrassfedBeef.com, or call 231-882-4532 to schedule a pick-up time and take a look for yourself at the 7033 Mick Road location. They are currently selling eggs at the farm on a daily basis; customers can also drive up, pick up, and pay for eggs at a convenient road-side stand. The farm is also accepting orders for quarter, half, and whole sections of beef right now; orders placed now will be ready by this coming winter. Additionally, beef by the pound and hay bales are sold on the farm, when available; the on-site freezers will be full in July, for those who wish to come and buy smaller portions to sample. Deb and Larry Lindgren are almost always at the farm and love to have people visit, but they are also always hard at work. For orders or on-site visits, it is best to utilize the website or call ahead to make sure that someone is near the main house to greet you.

Featured Photo Caption: The Lindgren family has been farming in Benzie County since the late 1800s, but they made the switch from dairy to beef in 1985. Another big change came in 2018-19, when the family farmers decided to switch from raising several hundred head of corn-grown cattle to raising around 20 grass-fed cattle. Rotational grazing is praised for creating green pastures, like those seen here. Photo courtesy of the Lindgren Family Farm.
SIDEBAR
Why Grass-Fed?
"When done properly, pasture rotation can prevent overgrazing, aid optimal regrowth of plants, and allow the same piece of ground to be grazed several times during the growing season." –Heather Smith Thomas, Beef Magazine

Not only is grass-fed beef arguably a healthier alternative for the environment, but it is also healthier for human consumption, as it contains less fat, since the cows are only eating what they are supposed to eat, which is grass. Moreover, even the fat that it does contain is more nutritious—with higher content of omega-3 fatty acids, linoleic acid, and antioxidant vitamins like Vitamin E—than traditional feedlot beef.

Most Americans eat beef two to three times per week, according to QSR Magazine, and the demand for grass-fed beef is growing quickly.

Back in 2017, the National Restaurant Association reported that 61 percent of chefs described grass-fed beef as a hot trend and more than one-third of consumers would pay more for grass-fed beef at that time—and the demand has only gone up since, as health- and environment-conscious consumers continue to redefine market trends.