Meet the public health workers protecting our community from COVID-19
By Jacob Wheeler
Current Contributor

In prosperous, care-free times, public health workers seem almost invisible. Because their job is to prevent health crises from happening, they remain in the background. Few people learn about their true impact.

But when the COVID-19 global pandemic officially hit Michigan just over a year ago, the public health department, nurses, doctors, and hospital workers suddenly played an outsized role in coaching us on how to survive this deadly pathogen, which as of April 22, 2021, has infected 1,144 residents in Benzie County and has claimed 31 lives.

Thirteen months ago, we had no vaccines and precious few coronavirus tests. We scrambled to sew homemade masks and procure personal protective equipment (PPE) for emergency rooms as we waited for the invisible onslaught to arrive. Scenes flashed on television news broadcasts of New York City streets, eerily empty of people; the silence interrupted by lonesome ambulance sirens. Closer it crept—Detroit, Chicago, Grand Rapids, and finally into Northern Michigan. No community in America would escape this, no matter how rural.

Through the dizzying year of 2020 and into 2021, our public health workers stepped forward and guided us.

"Socially distance yourselves … Flatten the curve," they told us. "Wash hands frequently … Wear masks … Stick to your pod of people …Together we can weather this global crisis … but we have to be patient."

Last spring, we honored our essential workers and took steps to protect them. Plastic shields were installed in grocery store checkout aisles, fire stations and ambulances were decked with PPE, and diners opted for take-out meals curbside, so they would not put waiters and cooks at risk. Families and friends were separated; the elderly living in nursing homes and assisted care facilities interacted with loved ones through glass windows. When school resumed last fall, teachers kept their masked students in classroom "pods" during lunchtime.

A summer surge of COVID cases frightened us. We felt helpless during a second wave in the fall, with a long Northern Michigan winter looming ahead and the foreboding that many families would travel during the Thanksgiving and Christmas holidays and unwittingly spread the disease. But every day, news headlines promised that the vaccines were getting closer.

On December 11, 2020, the U.S. Food and Drug Administration (FDA) approved emergency use of the Pfizer vaccine, which was manufactured in Kalamazoo, Michigan, and shipped out days later. Those unforgettable days in mid-December offered sweet relief for public health workers who had worked the front lines, day in and day out, for nine hard months.

Our battle with COVID was far from over. But the weapons to fight back had finally arrived. The vaccination campaign, unprecedented in human history, was ramping up and would soon include other vaccines, such as Moderna, Johnson & Johnson, that would become household names. If we all rolled up our sleeves and took these shots—to protect ourselves, our loved ones, our community, and our nation—we would eventually win this war.

Here are the stories of a few local public health workers who have led our community response to the COVID-19 pandemic. We asked them: why they chose a career in public health; how has their job changed as the public health response to the pandemic has evolved; to describe toughest moments and also points of optimism during these frenetic 13 months; to describe meaningful interactions they have had with people impacted by the massive public health effort; and how they think Americans will see public health differently in the future.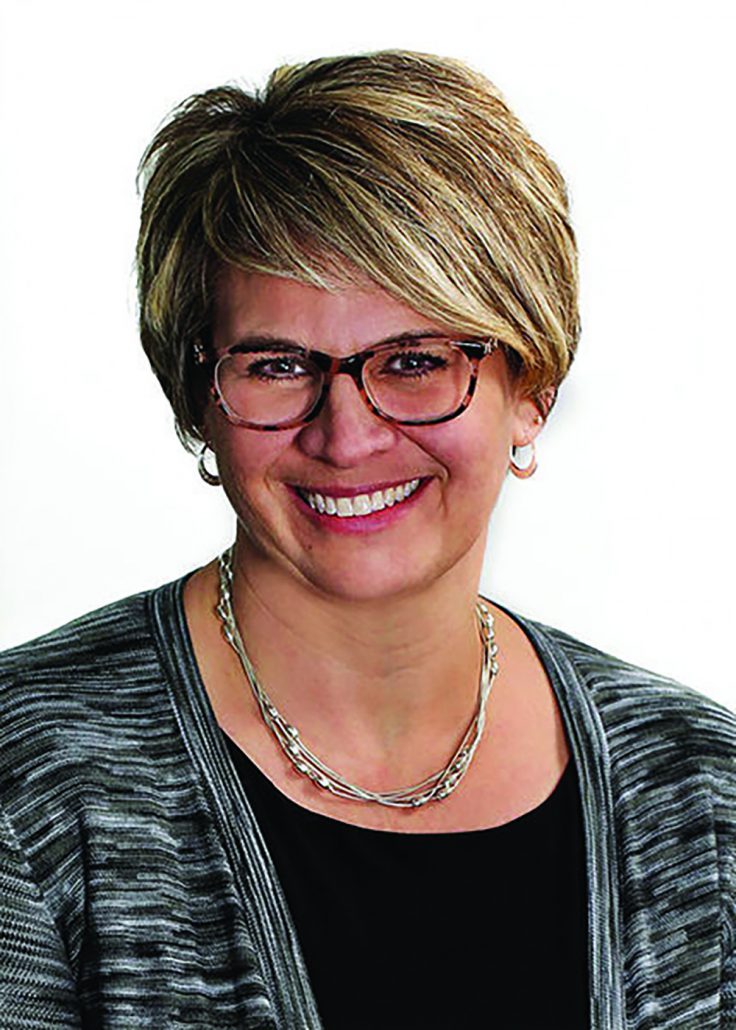 Lisa Peacock: health officer for Health Department of Northwest Michigan and Benzie-Leelanau District Health Department (BLDHD)
Lisa Peacock grew up in public health. Her mother was a health department administrator in Sault Ste. Marie in Michigan's Upper Peninsula, and Peacock remembers watching her mother attend board of health meetings and make home visits. That impacted Peacock's decision to attend nursing school at Grand Valley State University; this spring, she will receive her Master's degree in Public Health from Michigan State University.

"I was drawn to public health, because our patients include the whole community," Peacock says. "I have a deep passion for the underserved. We can't leave anyone behind."

Peacock compares running the Health Department of Northwest Michigan to being the CEO of a private corporation. She has 200 employees and covers six counties—including Benzie and Leelanau—and works with six different boards of commissioners.

"We always prepare for public health emergencies, so I knew what my role as incident commander might look like," she says. "Throughout the pandemic, I've needed to keep our teams moving forward, no matter what."

Peacock's anxious moments included April 2020, when the pandemic was surging through southeast Michigan and she worried there would not be enough nurses and PPE to care for the sick. The state surged, then flattened the curve, got more supplies and COVID tests, and public health workers adjusted on the fly.

"The next time I felt that moment of panic was when cases started surging again in the fall. I remember feeling like I wasn't sure what to tell my team," she says. But the vaccine's arrival brought tears of joy and relief. "I remember that weekend when we held our first vaccine clinics. I came home afterwards and was just overjoyed. I felt, for the first time in a long time, like 'We're gonna get there'."

When Michigan opened eligibility for anyone aged 65 or older to get vaccinated, demand skyrocketed, though health departments did not yet have enough shots. Peacock's phone number and email were published online, as she was one of several officials to contact. On most days, her voicemail and her inbox filled with hundreds of messages—mostly from frightened older people who did not know what to do. She spent each Saturday this winter calling those people back.

"I wanted to assure them, give them some hope, and tell them where they needed to go to sign up," she explains.

One man in his 80s who slipped and fell at a vaccine clinic later received a courtesy, check-in call from Peacock.

"Are you the Lisa who put together that clinic?" he asked her. "That was the nicest clinic… I don't understand news reports saying it's hard to get the vaccine."

Peacock hopes that Americans will see public health through a new lens in the future:

"I hope it's not so invisible, and people understand how important it is. I hope we can build trust."

Michelle Klein: director of personal health for BLDHD
"Our mantra at the health department is: 'We're always pivoting'," says Michelle Klein, who leads operations for Benzie and Leelanau counties. "There have been new challenges and priorities every week. Sometimes drastic changes are needed."

Klein's job includes overseeing the local vaccine clinics, case management and contact tracing, and training new staff. The Benzie-Leelanau District Health Department has hired 23 temporary staff during the pandemic and approximately 60 volunteers for the vaccine clinics.

"People have really stepped up in our community," she says. "We couldn't do this without them."

Early in the pandemic, Klein and one other nurse were doing the bulk of the contact tracing, which meant calling people who may have come into close contact with someone who tested positive for COVID; they, too, would have to quarantine.

"When you're diagnosed, you're fearful for your own health and fearful for those around you," Klein says. "There's guilt involved, because maybe you passed it onto others. There are financial concerns: you have to be off work, and your family will have to be quarantined. There's a gamut of emotions that go along with these phone calls. Sometimes, there's even anger directed at us, like people saying, 'You can't make me quarantine.' By far, though, most people are wonderful and concerned and want to do the right thing."

Klein lost sleep over record-high case counts in November and December, when the vaccine was not yet available.

"We were dealing with people dying. Our case management teams had to call families who were anxious about their loved ones in the hospital. There were outbreaks happening in businesses, schools, and within families," Klein says. But the vaccine rollout in mid-December represented a "light at the end of the tunnel. We're seeing another big increase in cases right now, but we know that we have vaccines… I can see that, in three months, it'll be a different picture. Before, we had so many seniors getting sick. Now, we're seeing a pivot to younger folks. That tells us the vaccines are working. If we can get the rest of the crew vaccinated, we'll be in a good place."

As of print time, almost 80 percent of Benzie and Leelanau County residents 65 and older have received their first dose of vaccine; nearly 60 percent of residents 16 and older have had their first dose, but most experts agree it will take at least 70 percent to reach "herd immunity."

Klein hopes that, in the future, the community will know who public health workers are.

"Public health is a hidden profession, because it's so much about prevention," she explains. "We do all kinds of important work, but we're in the background. We manage communicable diseases every day, but it's typically a few cases of Hepatitis or STDs [sexually transmitted diseases]. But now people know what public health does."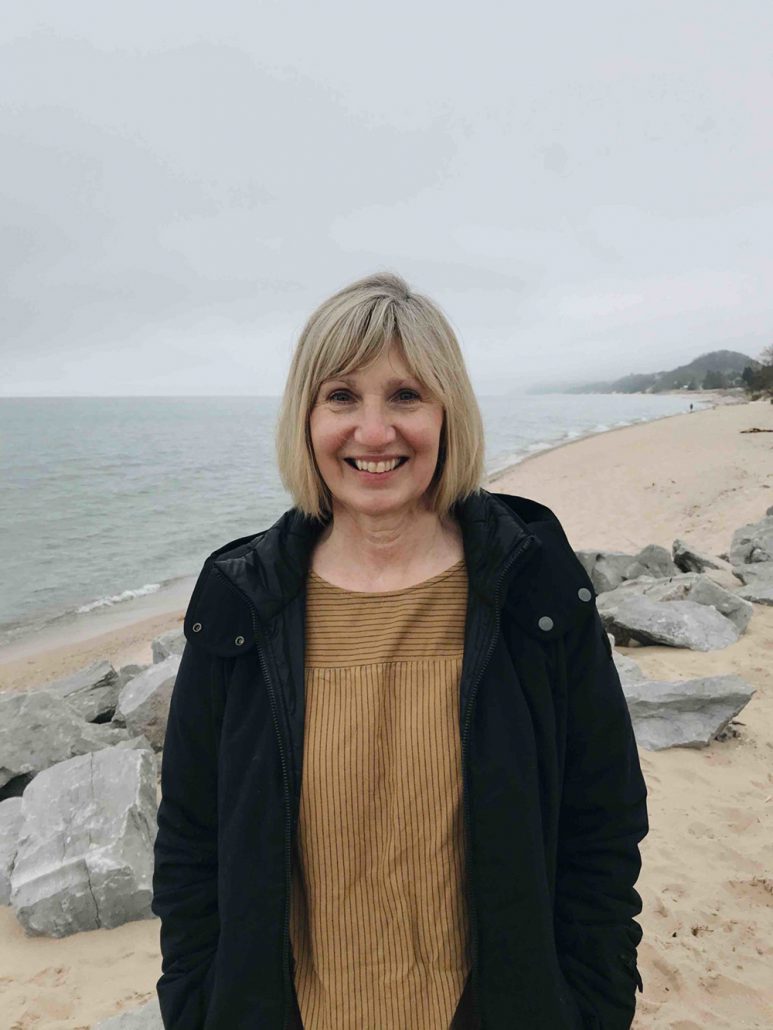 Diane Stier: nurse for BLDHD
In the early days of the pandemic, Diane Stier was tasked with contact tracing. When the caseload began to increase in August and September, the health department hired other nurses to perform that role, and Stier switched to the immunization clinics, once the Pfizer and Moderna vaccines arrived. She is now a pod manager at BLDHD's vaccine clinics—which have included Suttons Bay Middle School, the United Methodist Community Center in Lake Ann, as well as Frankfort and Benzie Central schools. Each clinic is run by the health department and the National Guard but is staffed by many volunteers, including everyone from veterinarians to retired surgeons.

"We use a lot of math and story problems at the clinics," Stier says. "How many stations? How many individuals to run through every five minutes? So we can meet the number of doses we have allocated to use."

The pandemic has pushed the health department to grow together as a team, Stier says. But hearing reports of people who are sick or who have died has weighed heavily on her.

"I had a couple at a clinic last week who lost their daughter to COVID last winter," she says. "It's hard to hear that from individuals."

A high point for Stier was when BLDHD administered its 10,000th dose in the Frankfort High School gymnasium on March 26, 2021, to 92-year-old Dorothy McDougall.

"Getting the vaccine helps protect us, and we should all do it," McDougall says.

Stier has also witnessed people show deep gratitude for, and bond with, the workers administering the vaccines. At the Lake Ann clinic recently, she observed a woman in her 90s approach a National Guardsman who bore a Polish last name on his uniform.

"I was born in Germany, but I want you to know that I hated Hitler and hated the Nazis," she apologized to the soldier, who was in his early 20s and who came from the Lansing area. He shrugged it off, for the Second World War was distant history to him.

"To think what people carry through their lives," Stier reflects. "We've seen people more than 100 years old who survived the 1918 'Spanish Flu' pandemic."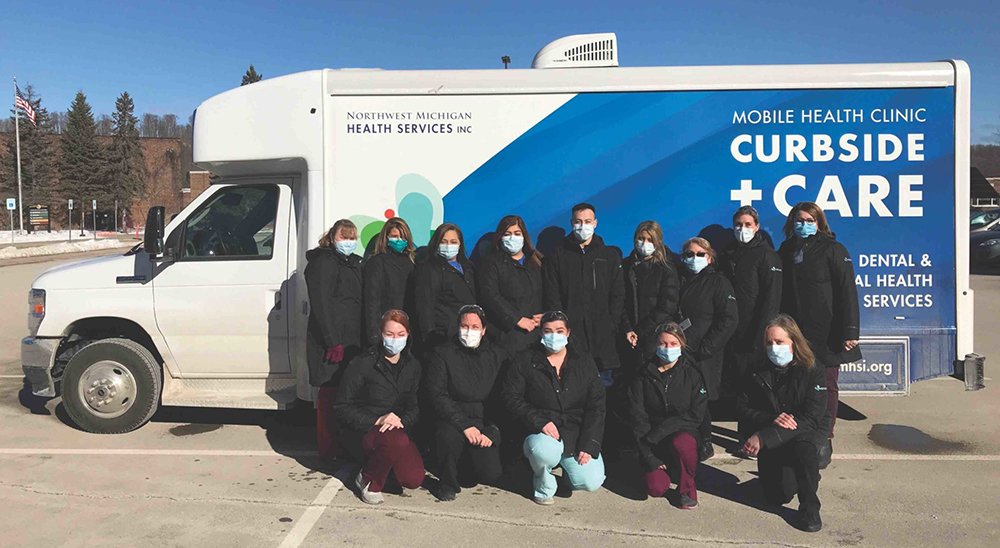 Tammy Sorensen: director of community for Northwest Michigan Health Services
Tammy Sorensen, who has a nursing background, says that she realized the true importance of public health when she watched her father deal with a serious health event in 2017.

"Though he's a privileged white man with access to insurance, watching him try to navigate our healthcare system was sad," she explains. "There were so many barriers, so many confusing things. It made me think about what it's like for someone who doesn't have access to healthcare."

Sorensen started at Northwest Michigan Health Services (NWMHS) in January 2020, just weeks before COVID hit. She and a colleague developed a plan for curbside drive-through testing for migrant farmworkers, which started in Benzonia and later moved to Shelby in Oceana County.

"With my history of bloodbanking and mobile operations, it was an easy fit," Sorensen says.

Between August 11 and early October, 2020, NWMHS had administered 1,529 COVID tests for migrant farmworkers in seven counties, from Antrim down to Oceana, along Michigan's west coast fruit belt. Thirty of those tests came back positive. Sixty percent of the tests were conducted in Leelanau County. In order to pool resources, as many as five farms would sometimes come to one testing location.

NWMHS has now shifted to vaccinate farmworkers, who are integral to our food supply and our economy here in Northern Michigan. Before it was pulled, Sorensen had hopes that they can use the Johnson & Johnson one-shot vaccine for farmworkers, whose busy work schedules may prevent them from returning for a second shot, and some of whom follow the crops and move across the state.

A low point for Sorensen has been the distance she has had to keep from her parents, who live in the Grand Rapids area and who have health issues; she has only seen them three times over the past year, each time while wearing a mask.

"Other frustrations include watching people act careless," she says. "Kindness and grace are important during this pandemic. We're fighting the good fight, but there are people out there who just don't care. That's disheartening."

A high point came when Sorensen was working a vaccination clinic in Mason County, where they only had a small number of shots to give. A kind and graceful older woman approached Sorensen and confessed that she did not make it in time for an appointment but her lifelong partner was dying of cancer.

"I'd like to get a vaccine today, so I can travel together with my partner," she told Sorensen, who found a seat and an extra Moderna shot for her.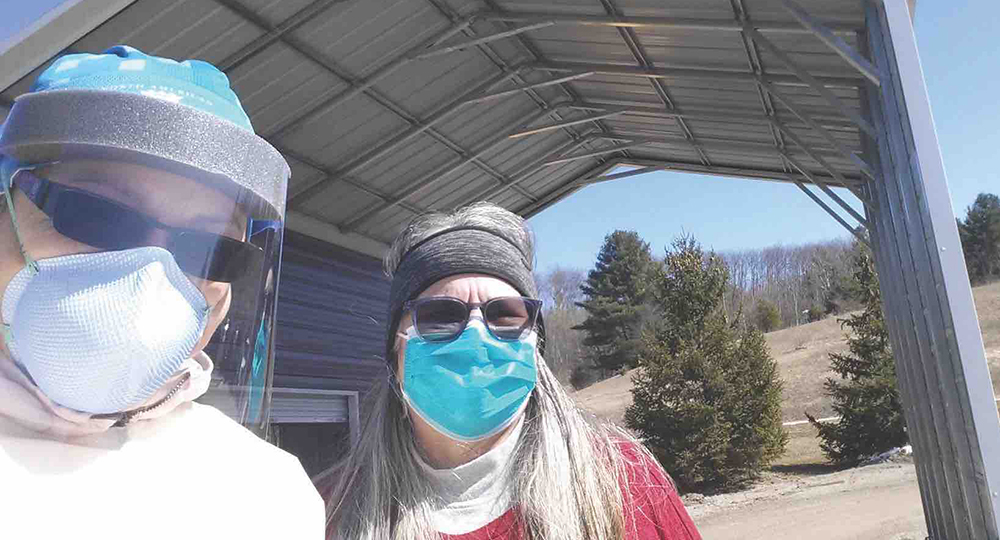 Mari Raphael: registered nurse for the family health clinic of the Grand Traverse Band of Ottawa and Chippewa Indians (GTB)
Mari Raphael's first real job was working as an aid at a nursing home in Grand Rapids when she was 17. Elders there felt so isolated that they would stop her and grab her shirt, just because they were lonely.

"It opened a whole new world for me on how important it is to take care of each other," she says. "They just wanted to have human touch for a minute or two. As a 17-year-old, it was huge to learn that. Nursing is transformative: we're trying to help people."

Since the pandemic arrived, Raphael jokes that she has worn many different hats at work. Since June, the Grand Traverse Band of Ottawa and Chippewa Indians has offered rapid testing at a drive-thru structure in Peshawbestown in Leelanau County. People remain in their car, while Raphael and others collect nasal swabs.

"We've worked in everything from 80-degree weather to windstorms," she says, noting that hot summer days proved particularly difficult. "We were mentally exhausted. I would look down and see drips of my sweat on the ground below me. When we were wearing masks, we couldn't drink water. It was just exhausting."

The sense of loss was palpable, as well. The Tribe lost 32-year-old Maryan Petoskey to COVID on November 23, 2020, and she remains the youngest person to die of the disease in Leelanau County; tribal elder Phyllis Wanageshik, age 76, died of COVID on December 5, 2020. To some, she was considered "the queen of Peshawbestown." The following day, church bells in the community rang 76 times in her honor.

Vaccines are now offered a couple of days a week at the Strongheart Center, the Tribe's civic center. Raphael and her crew have been able to vaccinate 70 percent of tribal elders.

"That is what's going to lead us out of pandemic," she says. "We got the vaccine early through the Indian Health Service, and those couple weeks could be the difference between life and death for some."

Nevertheless, Raphael has met tribal members who are afraid to get the second vaccine, because they have heard it made them feel ill.

"You can see the frightened looks in their eyes," Raphael says. "We've all become experts at reading people's eyes. But I need to hand it to them: they didn't bail."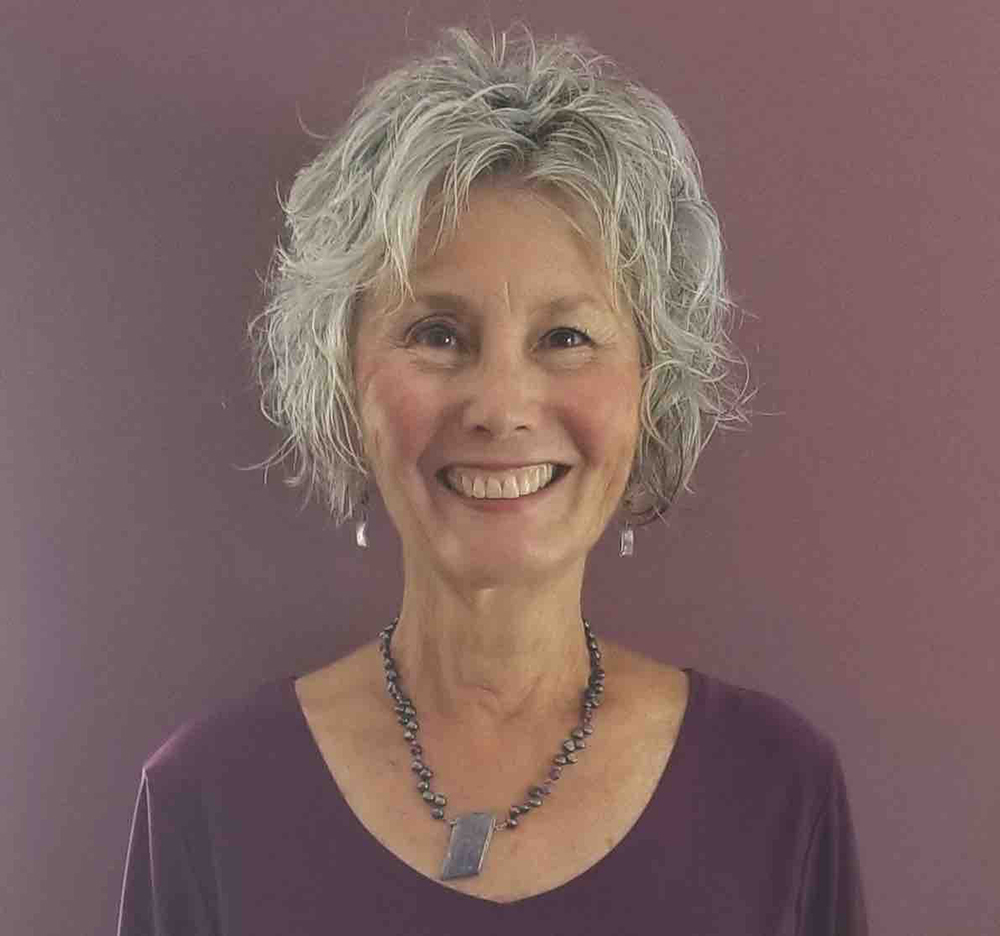 Jan Frazee: retired nurse and volunteer for BLDHD
Jan Frazee retired three years ago after working for the Benzie-Leelanau District Health Department for more than a decade, following stints as a nurse practitioner in Grand Traverse County and managing the region's Planned Parenthood clinic when it opened in 1987.

"My whole nursing practice has been directed at preventative healthcare," Frazee says. "Public health deals with people across their whole lifespan. It looks at the community, not just the individual, and tries to protect all of our population."

Though retired, she could not stay away. BLDHD kept asking her to come back and train nurses or relieve someone on vacation or maternity leave. Once COVID hit, she did not feel comfortable returning to the office, but by October, she saw all her colleagues "putting their lives on the line," so she contacted Michelle Klein and offered to help as a contract tracer from her home.

A low point for Frazee was watching the "unnecessary" death of more than half a million Americans.

"If we had accurate information about how to protect ourselves, and how serious this pandemic was, if we had access to testing earlier, it wouldn't have been quite as devastating," Frazee laments. "The science wasn't being followed."

Her role as a contact tracer meant calling and talking with people—often the elderly—who felt lonely in their home. She coached them on how to stay safe and on the need to isolate themselves, and she gathered information on their recent contacts. But she also listened to them.

"They're so grateful to have someone to talk to and tell their story," Frazee says. "It's that human contact. Everyone has a story."

Once she received her shots, Frazee began volunteering in the vaccination clinic at the Suttons Bay Middle School gymnasium.

"I said to one of my colleagues, 'This is the most people I've been around in more than a year.' I got choked up. I missed human contact," she says, noting that she witnessed outpourings of joy and gratitude at the clinic. "People were grateful. They'd cry. They'd bring us treats, like ginger snap cookies… That's what I love about being a nurse: touching people, looking people in their eyes, and sitting with them. It's different than calling them on the phone."

Frazee hopes that COVID is teaching Americans that dealing with a pandemic requires all of us to work together.

"This pandemic has divided people in political ways. But public health is a nonpartisan issue," she says. "This virus doesn't care what your political affiliation is. We have to come together and know that we're connected."

Tina Plamondon: nurse at Grand Traverse Women's Clinic, part-owner of Dick's Pour House, volunteer for BLDHD
Tina Plamondon protects public health in several capacities. She is a registered nurse and midwife at the Grand Traverse Women's Clinic, which is part of Munson Medical Center. She is also part-owner of Dick's Pour House in Lake Leelanau, which has remained open during COVID and which required masks and other safety measures to protect customers. Starting in January, she began volunteering at the BLDHD.

"When the pandemic hit, I knew the health department would be hard-pressed to get everyone vaccinated," she says. "I wanted to make myself available to help the community."

Early this year, when vaccines were scarce and only those 65 and older were eligible to receive shots, Plamondon observed that the few people coming to the clinics were navigating new waters.

"They were brave leaders in the community, stewards of what we needed to do to get through this," she explains.

As eligibility expanded, and as word got out, the clinics hosted scenes that were sometimes celebratory, sometimes emotional.

"There was a great atmosphere. Some people cried as you administered the shots. It's a moving moment. They're just so thankful, " Plamondon says. "In healthcare, I normally see people when they're in pain. This has been different. My role has been to allay their fears, to encourage people to encourage others. 'When it's your turn, get vaccinated.' …Lately, we've begun to see more hesitant people show up at the clinics."

Still, naysayers remain. At Dick's Pour House, Plamondon has encountered customers who still refuse to wear masks and who yell at her servers for asking them to do so.

"They don't believe it's out there, making people sick," she says. "They think the medical community is propagating a big lie."

Plamondon has also faced criticism from others who say that Dick's Pour House should not be open at all.

"Why am I serving people in the restaurant when it could be killing people?, they say." She laments how entrenched both sides are. "Let's just work in the middle, and make things as safe as possible."

Plamondon has received plenty of gratitude, too—whether it is from a restaurant customer who thanks the staff at Dick's for remaining open and safe, or from a COVID-positive woman in labor who is so afraid of the disease that she has not left her house in months.

"It's important to keep things as normal as possible, despite the pandemic," she says.

At a vaccine clinic in Benzonia recently, Plamondon received a pregnant young woman who was afraid of what the Moderna shot might do to her baby.

"I explained my background as a midwife, and I told her about vertical transmission [of the antibodies] to the baby" Plamondon recalls. "That was a powerful moment for me, to be able to relate to her specifically. She was terrified."

Plamondon hopes that, in the long run, Americans will fully embrace and understand public health workers, just as they honored healthcare workers in hospitals a year ago and first responders during previous climactic episodes in our history, such as 9/11. She described being moved to tears when she would leave the Women's Clinic on the Munson campus last spring, and encountered Traverse City residents serenading her with honking horns and roadside signs of "thanks".

"The population recognized how valuable healthcare workers are," she says." That hasn't happened yet with public health. But as we continue to administer vaccines and make the experience as personal as possible, people will realize what an endeavor it's been. How committed we are as public health workers."

When 92 year-old Dorothy McDougall received the 10,000th vaccine shot administered by BLDHD, on March 26, 2021 in the Frankfort gymnasium, it was Tina Plamondon who put the needle in her right arm.

"I'm just so anxious to help stop this pandemic," McDougall said. "If they at the Health Department are doing whatever they can do, I think we ought to do what we can do. I'm glad if it will help anybody."

The celebratory moment turned humorous when McDougall's son Robert, who was also there for his vaccine, joked: "Well, what do I get?"

"You're important, too," replied Plamondon. "You'll get the first of the next 10,000 doses."

A version of this article first published in the Glen Arbor Sun, a Leelanau County-based semi-sister publication to The Betsie Current.

Featured Photo Caption: On March 26, 2021, 92-year-old Dorothy McDougall of Frankfort received the 10,000th dose of the COVID-19 vaccine that had been given out by the Benzie-Leelanau District Health Department. On April 23, 2021, 16-year-old Josephine Gorman, a high school student attending St. Francis in Traverse City, received the 15,000th dose of COVID-19 vaccine administered by the Benzie-Leelanau District Health Department; she was accompanied by her mother, Jennifer. Photos courtesy of BLDHD.