Elberta's phoenix from the ashes
The Elberta Solstice Festival, a community mainstay since 2002, returns to Waterfront Park this year on Saturday, June 20—the longest day of 2015. The sun will rise at 6:03 a.m. and set at 9:25 p.m., marking the pinnacle of summer.
This day has been celebrated since ancient times by Celts and Slavs with dancing and bonfires to give the sun energy and to ward off evil spirits.
The future of the Elberta Solstice Festival, however, was cast in doubt last year when the Village declined to run the festival.
But determined citizens wouldn't let the popular tradition die. Recent transplants Frederik Stig-Nielsen and Betsy Mas [a young couple who were featured in The Betsie Current last year] were approached by Bill Soper and Josh Herren, locals who have run Solstice for many years, for support in reviving the festival.
"I care about this tiny community, and it seemed as though people were truly disappointed when it appeared Solstice was not going to be held," Mas says. "Solstice is hands down the largest event held in Elberta. It attracts nearly 800 people each year. This is good for local business. More importantly, I see the festival as a forum to gather as a community. We live in such a hectic time, there are not many opportunities to relax and hang out with our neighbors."
The Solstice Festival celebrates the longest day of the year with events and entertainment for the whole family beginning at noon and ending at 2 a.m. Local restaurants and caterers will offer a variety of foods and also serve local craft beer, wine, and mead. Activities for children include horse and pony rides, bounce houses, and kids' games until 5 p.m.
A stellar line-up of musicians and bands will play blues, indie, rock, funk, and techno, along with sideshows going on all over the park. The line-up includes Medicinal Groove, Platte Plains Wolf Pack, Blue Dirt, Alfredo, the Standing Hamptons, Cousin Curtiss, the G-Snacks, and the Jimmy Olson Band. Stick around for fireworks at dusk, which can typically be seen from across the bay in Frankfort, also.
The details of this year's festival are almost identical to those of prior years, and that's purely intentional.
"It has been such a success in the past that we didn't feel the need to change a good thing," Mas says.
In addition, Benzie Bus will run a free shuttle from the Frankfort Craft Fair, going on from 10am-4pm, to the Solstice Festival, as well as a late-night shuttle back to Frankfort.
"It's a way for everyone to have a great time celebrating the solstice and get home safely," Stig-Nielsen says. "It is a community event, so we wanted to give people the chance to enjoy each other and the summertime festivities without endangering our community."
Elberta's relaxed, genuine, and creative vibe attracted the couple—both of whom recently passed the law school bar exam—to move here from Portland, Oregon.
"Our beach is generally free of crowds," Mas explains. "There is less traffic, fewer storefronts, just more space, in general, to breathe."
Is there something uniquely "Elberta" about the Solstice Festival?
"Maybe it's a combination of our laidback, welcoming vibe, coupled with the physical beauty of Waterfront Park, Betsie Bay, and Frankfort as a backdrop, not to mention music on the deck of the historic Life Saving Station," she replies. "When I think about Solstice now, I think about how lucky I am to be part of a community that is willing to step up, support each other, donate time and money, extend trust and faith in a very new organization, all so that we, as a community, can spend the longest day of the year together, celebrating the beauty around us and each other. It's a beautiful thing."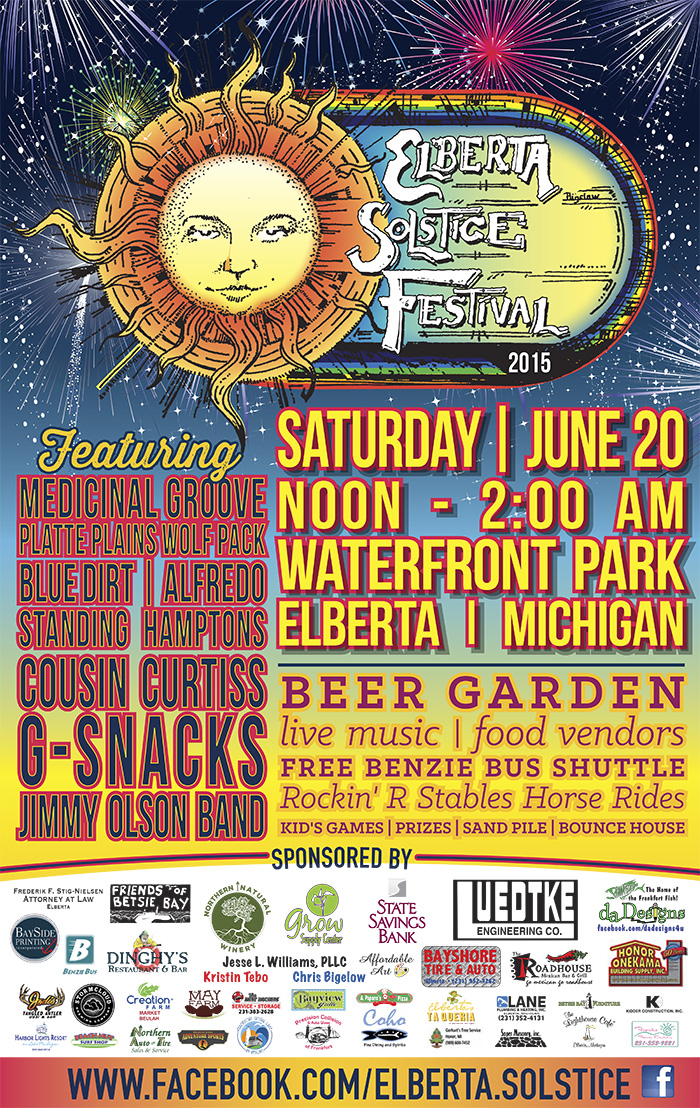 Feature photo: Audrey Gollan takes a break from "sledding" down the Elberta hill on cardboard to eat some candy at the Elberta Solstice Festival. Photo by Aubrey Ann Parker.