Electrifying the county, one roof at a time
By Jim Dulzo
Current Contributor
Seemingly strange, but definitely true: Rooftop solar power works well in Northern Michigan. It is not too cloudy, or too northerly, or even too expensive, thanks to sharply falling prices. In fact, it now makes good financial sense to invest in solar. It earns very safe, increasingly respectable returns.
For the price of a modest home addition or small new car, someone with a suitably sunny roof can install a rooftop system that can drastically cut or eliminate their electric bill, permanently add to their home's value, and earn a rock-solid 5 to 10 percent on their investment for at least 25 years, and quite likely longer than that.
But knowing where to start, whom to call and hire, and how to finance this slightly exotic thing remains challenging.
That is where the brand-new "Groundwork Shines" solar campaign comes in. Using Michigan-made panels, local installers, special state-backed financing, and guidance from the Traverse City-based non-profit Groundwork Center for Resilient Communities (formerly the Michigan Land Use Institute, which was founded and based in Beulah), the Shines program is all about making "solarization" easy for everyone, including homeowners, local building code departments, and our hearty band of local solar installers.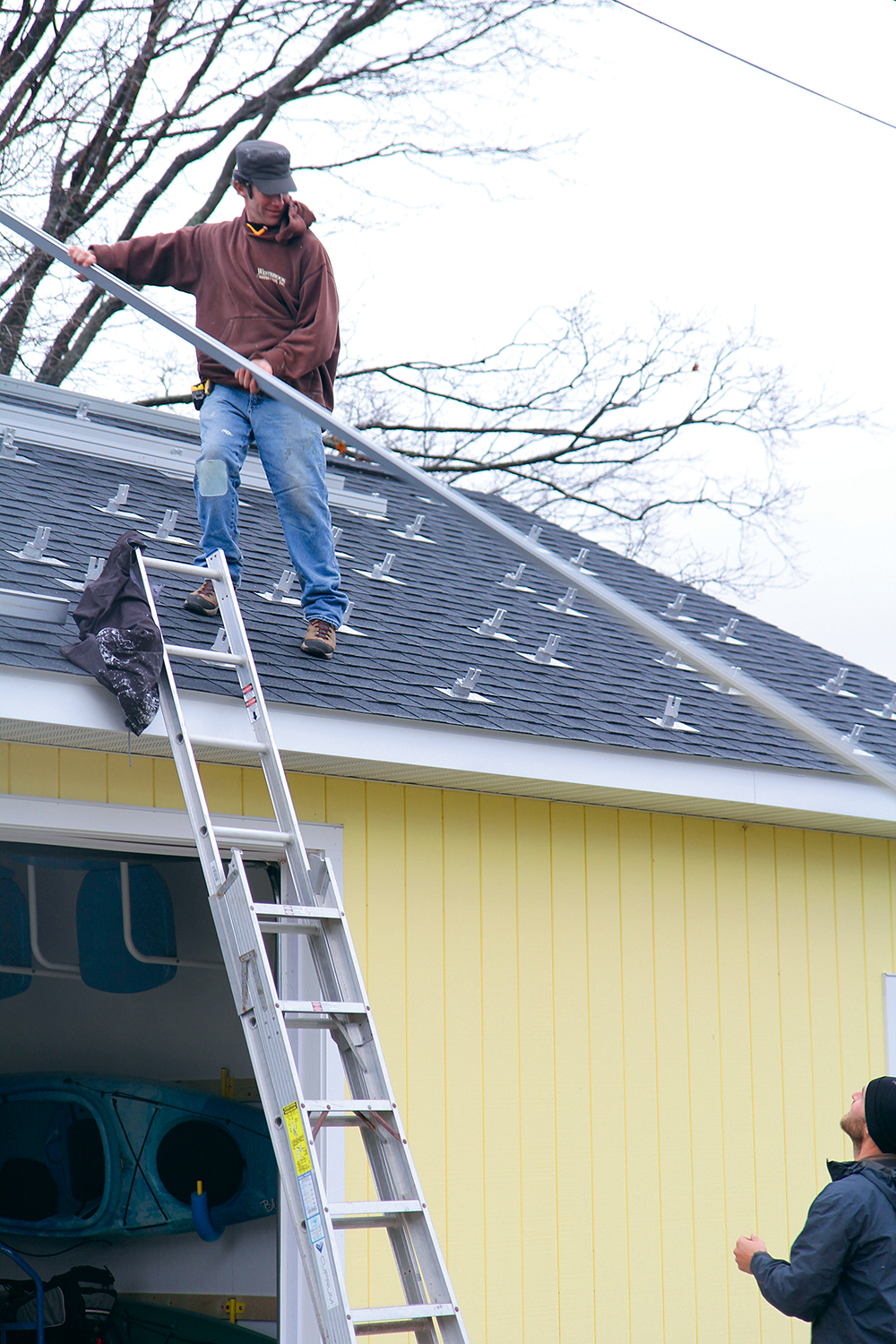 Groundwork Shines will start a pilot program in Grand Traverse, Leelanau, and—yes—Benzie counties. The target areas will be downtown Traverse City and Frankfort, but rural residents are also encouraged to participate. For now, the program is focusing on residential solar installations, with a goal of 200 installations before the end of the year, but the hope is to branch out to commercial businesses in the future.
Talk to folks like Frankfort's Ted and Marcia Curran, who installed solar on their home three summers ago, and they will tell you that a modest solar system is a very good idea. The Currans first put up 12 panels, and the following year, they decided to add eight more to charge their electric car.
"Ted and I are extremely pleased with our solar system," Marcia says. "It is relatively maintenance free, cranks out a lot of power, and I love charging my all-electric car, a Nissan Leaf, from the solar panels. We had saved some money, and it just seemed like the right way to use those funds. And now it is saving us on our electric bills."  
Marcia Curran added that a solar campaign is a good idea for Benzie—and for Michigan.
"We totally support the Groundwork Shines program and hope that Benzie residents will take advantage of it," she says.
How It Works
Groundwork Shines has been gaining steam for a few months. It sparked up this past winter, when half a dozen installers, some solar advocates, educators, and a few attorneys met every other week at the Groundwork office to figure out how to make it easier for folks in this part of the state to 'go solar.'
What we came up with is pretty cool—sign up with Shines online, and Groundwork's "solar scout" will provide an on-site assessment of how much solar power your home needs and the price tag for installing it. Then, if the customer wants to proceed, the scout will gather all the data for a complete, building-code-ready engineering design for a specific, properly sized, efficiency-minded solar package. The scout will also estimate the dividends that the system will earn; provide a local installer to build it and help with any financing; and follow up to make sure that everybody is happy.
One key to the Shines program is that it is aimed only at those who are truly serious about solar, which helps to make the process a lot more efficient. By doing a bunch of the behind-the-scenes work, the Shines scout is able to cut the workload of the installers, which also helps to cut the price for the homeowner.
The Shines scout spends three to four hours gathering all sorts of information about the home, the roof, energy use, layout, and many technical items. The resulting engineering plan is highly valuable—and permanently useful for that house. The service costs $600 and serves as an initial down payment on the full project. But even if the homeowner holds off, the plan is ready to go at a later time.
But why wait? Every incentive points to that now is the time to act.
Why Go Solar?
Solar power works really well, is now reasonably priced, and—for those with suitably sunny roofs—is the right thing to do for more independence, lower utility bills, cleaner air, and slower climate change.
1) The price of solar is at a record low. Three years ago, the U.S. Department of Energy launched its SunShot program. One of its goals was to get the cost of rooftop solar systems down, as close to $3 per watt as possible—a pretty big drop from the then-going rate of about twice that. That would mean a 5,000-watt (or 5-kW) system with about 20 panels, typical for many homes, should cost about $15,000 before any rebates. As this goes to press, it looks like Shines systems will range from a bit over that $3 rate for the smallest systems to a bit under it for the largest systems. This means that our program is doing its job of making solar power affordable for homes in Benzie County and beyond.
2) Substantial federal incentives have been extended. You can still get a 30 percent income tax rebate on the cost of installation, and that cost can actually include reshingling your roof. There is no guarantee those incentives will be extended, and every day that you do not take advantage of them is an opportunity lost for cutting your electric bill.
3) Quality financing is available for Michigan residents. Michigan Saves is a non-profit lender that specializes in backing energy-efficiency and clean-energy projects for homes, small businesses, and schools in Michigan. Michigan Saves maintains a list of vetted energy contractors who are allowed to participate in the special loan programs, and all of the installers who will be working with the Groundwork Shines program will have this certification. An added bonus: This means that your installer can help walk you through the process of getting a Michigan Saves loan. The loans are fairly easy to procure, with a process that is similar to a car dealership calling a bank for an auto loan, albeit with far more favorable terms—up to 10 years, often at rates below 5 percent. For our 5-kw model home mentioned above, this means that a household paying about $75 per month for their electric bill will pay $160 per month for a 10-year loan. However, at the end of that loan, the homeowner will not have to pay for electricity ever again, and they are now saving close to $1,000 per year on the electricity that they would have otherwise been buying. So, even with a loan, solar can make sense, thanks to a small monthly loan payback. And when the loan is paid off, you essentially have free power.
4) Electricity prices are going up. Consumers Energy, which serves Benzie County, raised its rates earlier this year and has applied for another increase with the Michigan Public Service Commission. Generally speaking, electricity rates go up 1 or 2 percent a year. The more that they go up, the more worthwhile your solar investment becomes, because you are effectively saving more money every year. So the return on your investment will almost certainly improve over the life of the panels—a minimum of 25 years.
5. Solar home-improvement projects have high real estate values. According to a recent study by the National Renewable Energy Laboratory, solar will add to a home's sale value significantly more, on a dollar-for-dollar basis, than many other kinds of home improvements. So even if you are not planning on being in your home long enough for the seven- to 10-year payoff, you should still be able to recoup your investment.
Clearly, solar is heating up in our neck of the woods. With little promotion beyond announcements at area meetings—including at Frankfort's City Hall earlier this month—the Shines program has garnered some good press, and people have already begun signing up on the website. Look for more solar events and workshops coming to Benzie County this summer.
Jim Dulzo, the senior energy policy specialist for the Groundwork Center for Resilient Communities, is a Beulah resident and plans to put solar on his own roof this summer using the Shines campaign. If you would like to learn more about Groundwork Shines, especially about how installers and other community folks conspired on this sunny-side-up opportunity, visit GroundworkCenter.org/Shines.
Photo caption: Jim Barnes sells solar panels, and he also has them installed on his garage in Frankfort. Mustache not included. Photo by Aubrey Ann Parker.