A pianist's life comes full circle
By Kelly Ottinger
Current Contributor
"Every time you perform, you never know who is in the audience. They may be sad about something going on in their life, and it's your responsibility to provide what they need through your music." —Nozomi Khudyev
At the age of four, Nozomi Khudyev began taking piano lessons in her native Japan after literally begging for them. But by age six, after a change to an instructor with whom she did not click, Khudyev had sworn off the instrument. As many children do, Khudyev told her mother that she hated the piano and would never touch it again.
That just simply was not the case.
Now she is a professional collaborative pianist—one who has performed at Carnegie Hall, The John F. Kennedy Center for the Performing Arts, and Alice Tully Hall at Lincoln Center. Fortunately for us here in Northern Michigan, Khudyev is a piano instructor at Interlochen Arts Academy and the accompanist for the Benzie County Community Chorus.
At the time when Khudyev swore off piano, she could not have cared less; she was ready to move on to sports. She had been swimming since age three, so she continued with that and also added competitive badminton to her sports platform.
"In Japan, children are encouraged to pick one extracurricular activity and work hard to perfect that," she explains. "It's not like in the [United] States, where kids are encouraged to try a variety of things that interest them."
But a big cultural shift would happen in Khudyev's life just a few years later. When she was 14, Khudyev's father accepted a job in the United States, moving the entire family (father, mother, brother, sister, and Nozomi Khudyev herself) to Chicago.
Finding Piano Again
Her first year was difficult—her English was poor, and she had to adjust to an entirely different culture in American public schools. In Japan, Khudyev explains, the culture of the classroom is quiet and respectful, with students bowing to teachers upon entering the room. During her first day of school in Chicago, however, the math teacher entered the classroom, hopped up onto his deck, and began the introduction to his class from there, with loud speech and wild gestures. (Picture Robin Williams in Dead Poets Society, a la "Captain, my captain.")
"He ended up being an excellent teacher, and I really liked him," Khudyev laughs. "But that day, it was a shock."
While living in Chicago, Khudyev became close with a neighboring lady who played the piano. She developed a pattern of visiting this neighbor, with whom she eventually grew close enough to call her "second mom," and—with this woman's encouragement—Khudyev began playing the piano again.
"It was completely different this time," she says. "We were just playing for fun and the love of music—there was no strictness and rigid practice schedule."
Before her junior year, Khudyev's father returned to work in Japan, along with the rest of the family. Learning that she would have to make up two years of academic study if she also returned, Khudyev decided to obtain a student visa and remain in the United States on her own. She researched and found a boarding school where she could study music and finish high school—Interlochen Arts Academy. Khudyev's 'second mom' knew of Interlochen and was astounded.
"You want to attend Interlochen?" she asked, somewhat incredulous. "Then you'd better start getting serious about your practicing!"
Even though Khudyev had less than three months to prepare her audition repertoire, she was able to secure a spot as an Interlochen student for her junior and senior years of high school. An early assignment from the school to perform in a trio with a clarinet and a cello led to meeting her future husband, Emil Khudyev, a clarinetist from Turkmenistan.
After graduating from Interlochen, the couple maintained a long-distance relationship while furthering their educations through undergraduate and graduate schools. She attended the University of Michigan on a full-tuition merit scholarship and then received her Master of Music degree in collaborative piano at Julliard. He completed his undergraduate work in clarinet performance at the Cleveland Institute of Music, received his Master of Music in clarinet performance from Yale, and then went on to obtain a postgraduate diploma from the Colburn School.
After graduate school, the couple married, and their combined employment opportunities led them all over the United States and overseas, allowing them to work with prestigious instrumentalists and vocalists in Tokyo, New York, Boston, Cleveland, Chicago, Los Angeles, Naples, and Paris. When the couple found out that they were expecting daughter Adelina (now two), Nozomi followed Emil to Missouri where he was playing with the Kansas City Orchestra. The plan was to put down roots very soon.
"My schedule has always been more flexible than Emil's, and it was important to me that—after all those years apart—we prioritize our family being together," she says.
Finding Northern Michigan Again
After Kansas City, he was offered a faculty position as a clarinet instructor at Interlochen. So the family moved back to Northern Michigan with Adelina, and now Nozomi Khudyev also works at Interlochen; she is a piano instructor and accompanist at the school where she once was a student.
"We are so happy to be back here and to have come full circle in this way," she says of their return.
Although she has perfect vocal pitch, Khudyev insists that she will never be a singer.
"It's just too hard, with so many things to remember," she says. "Tone, breathing, dynamics, notes, lyrics, pronunciation, pitch—too much!"
Although not familiar with much of today's radio music, Khudyev does admit to listening to some jazz and some Russian pop, in addition to the classics. However, when asked which composers and pieces influence her most, the classics definitely rise to the top as she quickly gives nod to Rachmaninoff's Cello Sonata and Ravel's Piano Trio. Although piano will always be her mainstay, she allows that one day she would not mind learning to play the cello.
"The sound that comes from a cello—the tone—is just so beautiful," she says.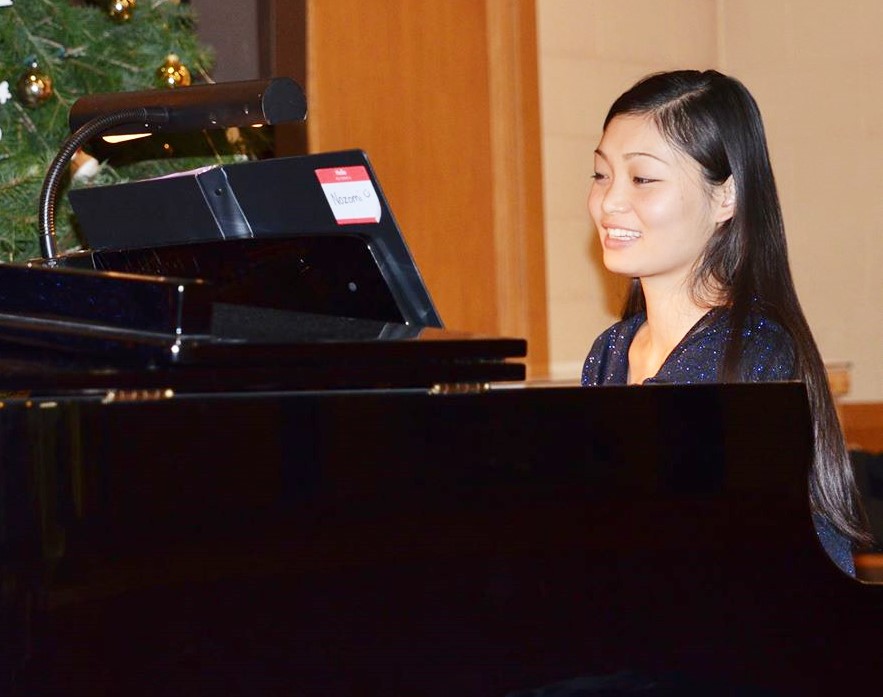 Khudyev is also happy to now be living relatively close to her mother, a visual artist—her painting of a cherubic Adelina adorns the wall of Khudyevs's family room—who has moved to a Japanese community in Chicago. Speaking of her family, Khudyev says that she is the only member who has musical ability.
"My siblings learned basic instruments during elementary school but did not stay with music," she says.
She notices, however, that Adelina seems to enjoy music; the toddler will fall asleep to her father humming Tchaikovsky's 1st Piano Concerto.
For a household full of such talent, there is also an easy-going atmosphere that is filled with fun and laughter. Asked if Adelina will be encouraged to follow the musical footsteps of her parents, Khudyev quickly says, "Sure, but only if she is interested. There will be no pressure from us."
In her spare time, Khudyev continues to enjoy participating in sports, and she also loves to bake.
"I love to bake, so—of course—I also love to eat," she laughs.
Beyond prioritizing her family, Khudyev's goal as a musician is relatively simple.
"I just want to keep sharing music with more people," she says. If the warm, enthusiastic endorsements from members of the Benzie County Community Chorus are any indication, she is doing just that—and doing so in a way that will charm audiences for years to come.
Nozomi Khudyev is currently on tour, prior to the start of Interlochen Arts Academy this fall. To hear her accompany the Benzie County Community Chorus, watch for the announcement of the 2016 holiday concert series later this year.
Feature photo: Nozomi Khudyev (left) is the piano accompanist for the Benzie County Community Chorus. Dinah Haag (right) is director.