The little toy store that could
Frankfort's Corner Toy Store is a wonderland for kids of all ages. There are Bruder trucks, Janod wooden toys, Carolle Baby Dolls (tres French), Calico Critters, Playmobil (an old favorite), and LEGOS (the most popular), and an entire aisle of Breyer brand's horse and farm-themed creations. There is even a "pet section," where dog and cat owners can spoil their furry friends. Throughout the store, the shelves are packed but still easy to peruse. Owners Ben and Amy McRae are the proud parents of three children — ages four months, three years, and seven years — which certainly qualifies them as discerning toy buyers.
"We're not going to compete with Walmart," says Ben. "We like to carry what the big-box stores don't. Our inventory is a little more education-oriented, and we choose our own lines and styles."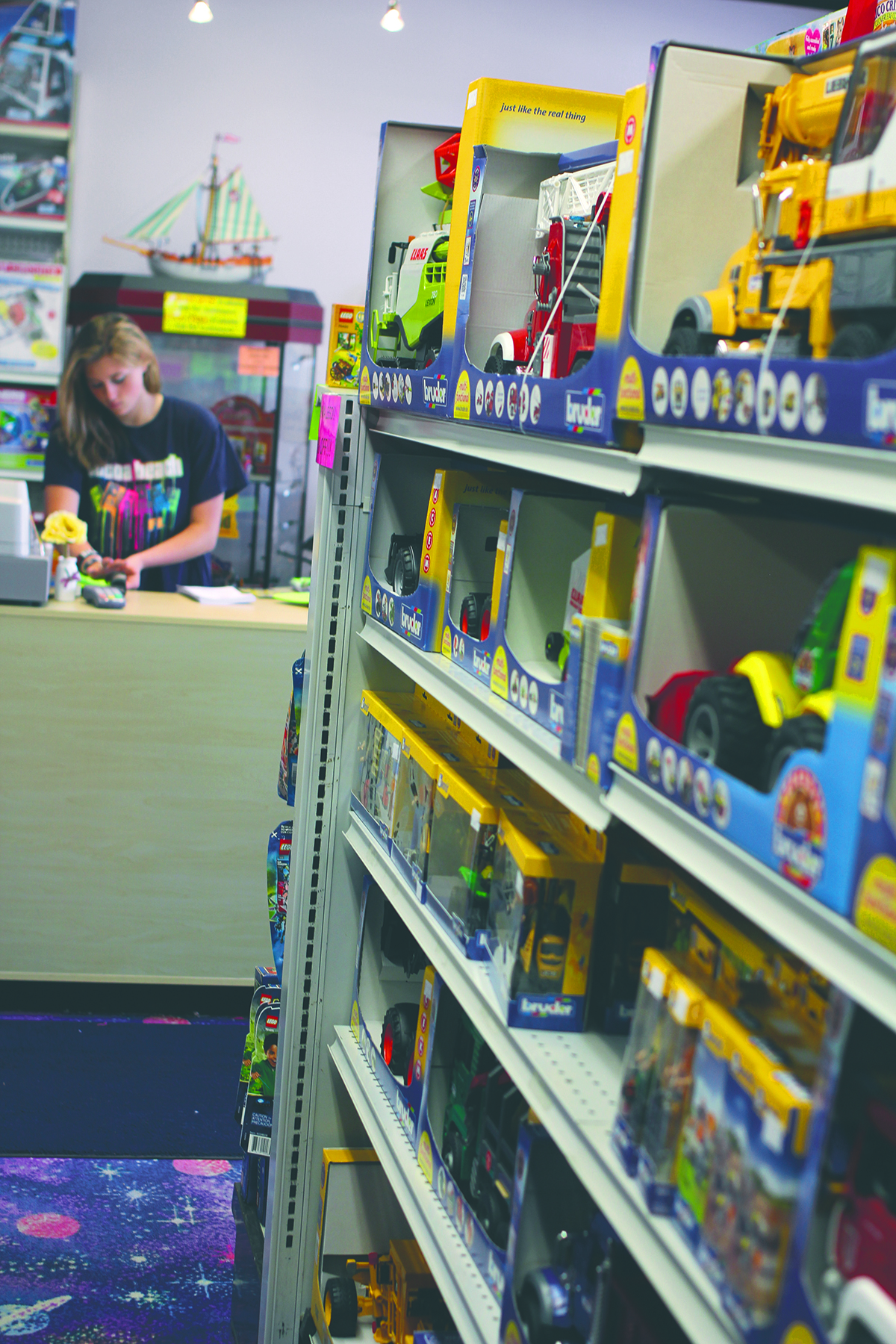 Ben, who received his management degree from Northern Michigan University, is the son of Corner Drug owner Richard MacRae. Ben began to sell the pharmacy's overstocked toys online, and he would choose unused old and discontinued brands. A lively Internet business ensued, so Ben and Amy decided to open for retail sales. In addition to the storefront, they still sell online Ebay, Amazon, and through their own site TheCornerToyStore.com directly. The toys are housed in the former storage rooms that were previously occupied by two popular area physicians, Dr. Thacker and Dr. DeGuia.
"We've changed and adapted to the times with the eCommerce website," Ben says. "We use these tools to allow us to stay open year-round, providing employment for locals who would otherwise struggle to find work in the winter."
Tired of hearing people say, "Oh, I didn't know you were back here," (this is their fifth anniversary), the store now displays flags and other colorful signs of occupancy outside for all to see.
Next door, Corner Drug has been in operation under various owners for more than 100 years. Richard MacCrae bought it in 1998. When Walenta's Variety Store closed last fall, the MacCraes saw a need to offer some of those goods to their customers, so they re-vamped the entire drug store and started carrying some houseware items, party supplies, a dollar department, and then expanded their beach toys, school supplies, and summer items (fireworks, too!).
"We've had an overwhelming response to the revamp," Ben says. "And while people are very sad that Dan Walenta retired, they're happy that we are carrying so much of what he used to have."
Visit the online store at TheCornerToyStore.com or visit in person at the Corner Toy Store, 401 Main Street, Frankfort, and wish them a happy anniversary.
The Corner Toy Store is open seven days a week: Monday through Friday from 10 a.m. to 5 p.m., Saturday 9 a.m. to 3 p.m., Sunday 11 a.m. to 2 p.m.
Featured photo © Aubrey Ann Parker