Questions & Answers with community faces
Rory O'Grady (18)—the eldest child of Krista (Karasinski) and Kelly O'Grady, along with his younger sister, Darby (14)—was born in 2005 in Fredericksburg, Virginia. The family lived in King George for a while; while living there, the O'Gradys' kitchen caught fire after a Superbowl Sunday fried chicken feast went wrong. Though Rory was barely old enough to remember it, he has been told that the firefighters were very quick in their response to save the home, and the family patriarch, Kelly, theorizes that this life experience is what led to his son wanting to become a firefighter himself, but that is getting ahead of ourselves…

In 2010, the O'Gradys moved to Luray, a small Virginia town with around 5,000 residents. At that time, Krista was working for Shenandoah National Park in the Blue Ridge Mountains; the O'Gradys moved to Michigan in 2016 when Krista took a job with Sleeping Bear Dunes National Lakeshore. Moving to Northern Michigan was definitely a big change—for instance, the climate—but living in the Frankfort-Elberta area felt very similar to the small town where Rory O'Grady had spent most of his childhood, until age 11. 

O'Grady, an Eagle Scout, will graduate from Frankfort-Elberta Area Schools this spring. For the past two years, he has spent half of his school day at the Northwest Education Intermediate School District's Career Tech Center (CTC) in Traverse City in the public safety/protective services program.

Like the average teenager, O'Grady has had summer jobs—like cashier at Corner Drug in Frankfort, A/V tech at Saint Andrews Presbyterian Church of Beulah—but where he stands out is in his dedication to this community. 

For instance, during the summer of 2020, at the age of only 15, O'Grady created a Facebook group dedicated to emergencies in Benzie County. His parents had given him a police scanner two years earlier, and O'Grady listens to it pretty much every day and then posts in the Facebook group whenever something of interest happens—car accidents, road closings, down power lines, etc. The Facebook group has grown to more than 7,000 members and counting. 

Additionally, O'Grady spent the past year volunteering his time to update the City of Frankfort Fire Department's social media platforms, and he was recently hired by the fire department as the official public relations manager, as well as being the first student to become an official cadet.

"Public relations and social media were recognized as our number-one weak spot in an analysis of our operations. We didn't really have public relations. We needed to get out there," Mike Cederholm, the full-time fire chief in Frankfort, recently told the Benzie County Record Patriot. 

O'Grady plans to stay in Frankfort over the summer, before shipping off to San Antonio, Texas, in the fall for basic training with the U.S. Air Force. Though he has not decided which path he will pursue in the Air Force, his ultimate goal is to receive firefighter training while in the service, and then to come back to serve the Northern Michigan community in the future. 

Continuing with our interview series on impactful Benzie County characters, The Betsie Current caught up with O'Grady as he was preparing for life after graduation.

The Betsie Current: Why did you start the "Emergency Calls – Benzie County" Facebook group? Why is this important for the community? How does the work now compare to what you expected when you first started? How have you evolved your process? For instance, we believe that you were posting daily summaries of the times of the calls and what was called in; are you still doing that or not really? 

Rory O'Grady: I started the group during the summer of 2020, as just a small little project/experiment to feed into my growing interests in the public safety career field. I never, ever expected it to grow to what it is today—7,200 members!—and I've begun experiencing that odd situation where people will recognize me around town and approach to ask if I'm Rory. It really is a cool thing to have that kind of impact on your community. I believe the Facebook group is important, because of the lack of information that is out there currently. Because of the "small town" environment that Benzie County carries, rumors and misinformation can spread like wildfire, and there needed to be a reliable and accurate source of relatively real-time information. When I started, I got the feel of what was and wasn't okay to share publicly, based on community and first-responder inputs. Since then, it's been really cool to see how much the group has grown into something more than just an information center. The output of support for victims and family members on each and every post is tremendous and something that I feel is just as important as the information itself.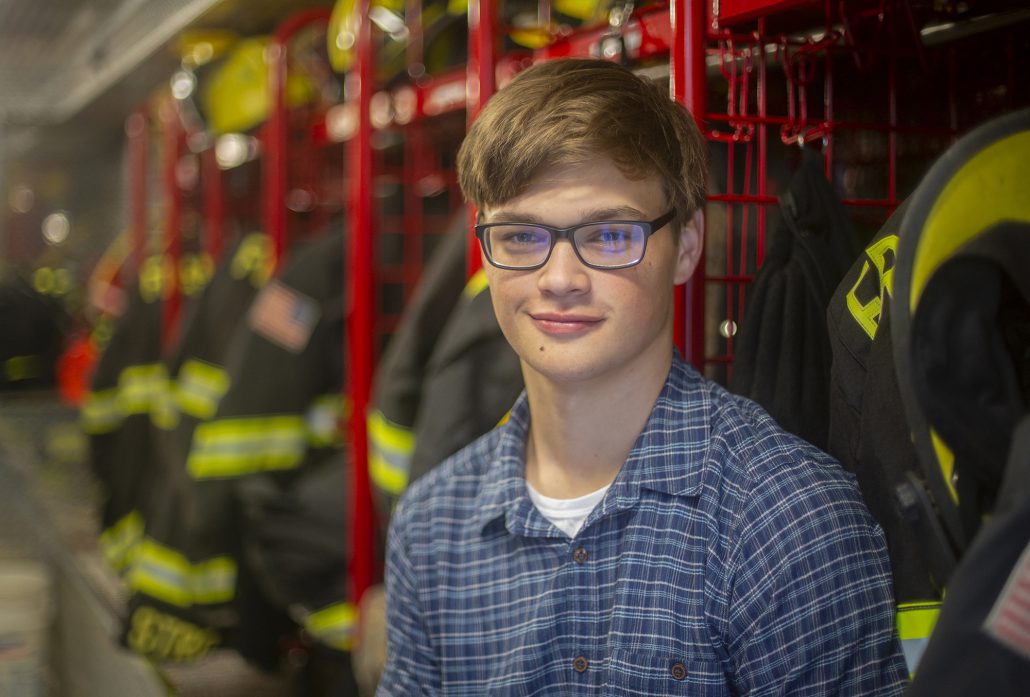 Current: Why did you get involved with the Frankfort Fire Department? What made you want to help out there? What do you enjoy about this line of work? 

O'Grady: When my parents got me my own little Uniden radio scanner five or so years ago, I would have my dad drive me around to all the calls in the area, where I started taking pictures and videos of all the firefighters and such. Eventually, I caught the attention of then-Chief Aaron Garrett, who met with me and gave me a Station 4 t-shirt and his contact info, so I could talk with him and send pictures for him to post online. This continued until April of 2022, when I was brought onboard as the department's "official public relations guru," as current-Fire Chief Mike Cederholm described it. I was just trying to bring awareness to what we do; it's not always saving cats out of trees or putting out fires, it is a lot more than that. There was a learning curve; I had to figure out what I could publicly put out there, like obviously you can't take pictures of patients or anything like that. Even though there are slow days, there is never a dull moment; there's always something to do. As I began showing up to more calls, I realized how much I enjoy being around and working with the small family that is the fire department. I also truly love interacting with the community, whether inside or outside of a firefighting function. On April 14 of this year, I was hired by the fire department and am now being paid on-call as a fire cadet and as the public relations manager—I will lovingly hold this position until my departure for the Air Force later this year.

Current: What did a typical school day look like for you this past year?

O'Grady: Currently, in early May, my weeks are pretty packed full of things to do, both fun and not so fun. My mornings are spent at Frankfort High School, where I take Personal Finance/Life Skills, Digital Photography [an online class through Michigan Virtual], and Wood Shop. After lunch—I usually take advantage of off-campus lunch, either at home, A&W, or somewhere yummy in town—I spend my afternoons in Traverse City at the NorthwestEd Career Tech Center [CTC], where I'm enrolled in my second year of the Public Safety/Protective Services program with my awesome instructor Mr. Lennox. Most of the time, I ride the bus to CTC from Frankfort, just to save on gas money, but sometimes I like to break up the routine and I'll drive myself up there and stop for lunch at one of the many restaurants that Traverse City has to offer. On Thursdays, I'm able to take the day off and spend my afternoon at the fire station here in Frankfort, where I do schoolwork or work on various projects or jobs that need to be done, because of the "internship" portion of my CTC program. After my school day is over, I usually get back to the high school around 3:30 p.m. or so, and I go to varsity baseball practice. Unfortunately, I'm only a manager this year, due to a previous injury, but I still love the team atmosphere that it provides! I spend my evenings with family and preparing for my Eagle Scout rank and for high school graduation.

Current: What kinds of things do you do for fun, when you are not working or at school? What other things are you involved with? How did you get involved with them, and why are you passionate about these causes?  

O'Grady: I love going out for drives and exploring new places. Despite living in a small area, I feel like there's always new places and adventures to seek out. My current favorite activity is being able to walk the Frankfort pier at sunset without seeing a single person; I always think of this time of year as the "calm before the storm" of our seasonal folks and visitors, however you may feel about them. 

Current: How have you seen Benzie County/Northern Michigan change since you first moved here? What are your hopes for the area in the future?

O'Grady: I have lived here with my family since 2016, so I haven't been around long enough to experience any significant changes, in my opinion. I do think it's really cool how the community and infrastructure is bouncing back from the pandemic, and I'm excited to see how this summer plays out.

Current: What are the biggest challenges and rewards of living/working in Benzie County and in Northern Michigan, in general? What are the best or most rewarding parts about being here? 

O'Grady: Something that I've always adored about small towns is that everyone knows everyone. Working in two different jobs where I'm out interacting with the community really enhances that, especially in the off-season, when the only people around are the die-hard, snow-loving locals. The only thing that I had a tough time adjusting to was that Michigan only has a three- or four-month period when it's comfortable enough to take off the jackets and hoodies, but I guess that's just the trade-off for living in such a beautiful area. 

Current: What are your favorite local events and activities? Any favorite dining, recreation, hiking spots?

O'Grady: I personally love the life that the 4th of July celebrations bring to our area. Not so much last year, when everything got rained out, but every other year that I've been here, the energy has been unmatched. On days when downtown is particularly packed—the kind of days when you're forced to resort to parallel parking on Main Street, ugh—I will set up a large American Flag in the bed of my truck and drive around the area with it flying proudly. The reactions from the locals and tourists alike always make my day.

Current: Speaking of flags, please tell our readers about your Eagle Scout project.

O'Grady: Before a Scout can be awarded his "Eagle," he must create a leadership service project; the average project is over 100 hours of work, unofficially. My Eagle Scout project was creating two flag retirement boxes for people to put their tattered flags into to be properly retired. We found the idea online and thought it would be a great thing to have in our area. We installed one at the fire station and one in City Hall earlier this year.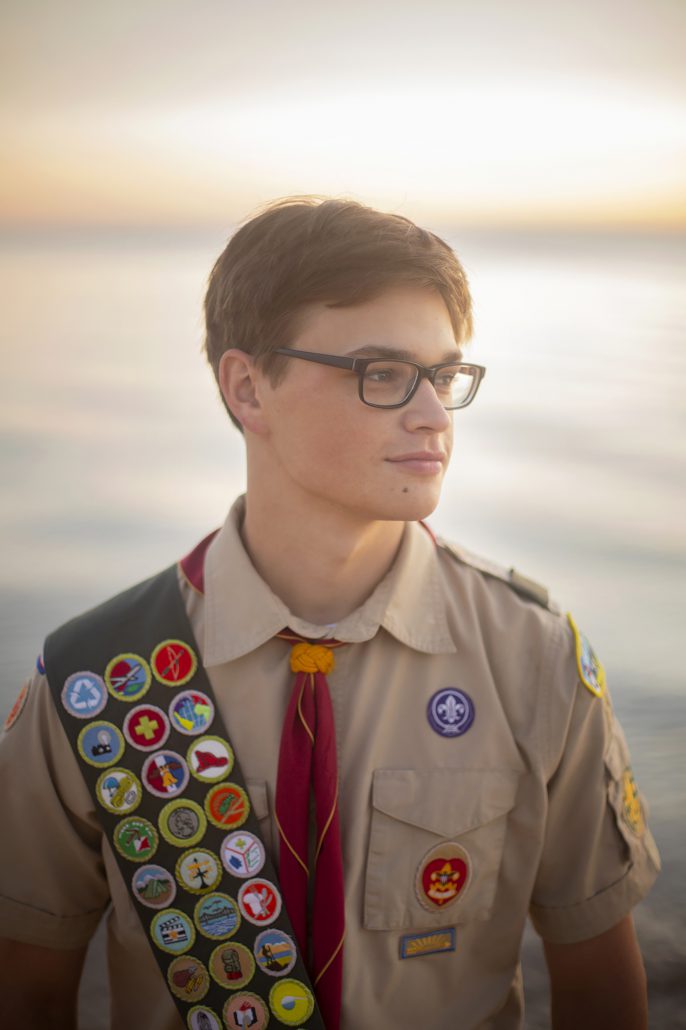 Current: What advice would you offer to other young people in our area who might want to get involved in their local community and/or with the fire department, and/or getting a (paid) job running social media for a local nonprofit or business? 

O'Grady: Reach out to people! If there is a field that you are interested in working or getting involved in, the best thing you can do is reach out to someone involved and introduce yourself! Get involved in any way you can, whether it's just volunteering or working there part-time. My Life Skills teacher, Mr. Zimmerman, described it as "getting your foot in the door," and I think that's a good way of putting it. At the fire department, we are more than happy to give tours and answer questions for anyone who might be interested in the field or even just has never been in our fire station—we recently showed the whole Frankfort Rotary Club around the department, simply because most of them had never been in it!

Current: What does your perfect spring day look like in Benzie County? How would you spend it?

O'Grady: I didn't get around to swimming much or at all last summer, so I'd love to get out and explore more of our beautiful coastline that we've been blessed with. 

Join the "Emergency Calls – Benzie County" Facebook group to learn more. If you have something to share with Rory O'Grady and/or the Frankfort Fire Department, email 4FireChief@gmail.com to reach Chief Mike Cederholm and/or TheFlyingPilot499@gmail.com to reach Rory O'Grady, or call/text Rory at 231-651-9077. You can also follow @RoryMikeOGrady499 on Instagram or @benziefirephotography on Instagram and "City of Frankfort Fire & Rescue" on Facebook. For information on volunteering with the Frankfort Fire Department, call 231-352-9005 or contact the station via Facebook.

Featured Photo Caption: Rory O'Grady (18) will be graduating from Frankfort-Elberta Area Schools this spring and joining the U.S. Air Force this fall. But O'Grady already has extensive experience serving his community: for instance, he created the  "Emergency Calls – Benzie County" Facebook group three summers ago, at the age of 15. Listening to his police scanner nearly every day, O'Grady posts in the Facebook group whenever something of interest happens—car accidents, road closings, down power lines, etc.—and the Facebook group has grown to more than 7,000 members who have come to rely on this service. Additionally, O'Grady spent the past year volunteering his time to update the City of Frankfort Fire Department's social media platforms, and he was recently hired by the fire department as the official public relations manager, as well as being the first student to become an official cadet. Photo by Aubrey Ann Parker.