Traffic on M-22 over the Platte River in northern Benzie County will slow to a crawl this spring and summer as the Michigan Department of Transportation (MDOT) rebuilds a 58-year-old bridge. The bridge sits next to Riverside Canoe Trips, a popular canoe, kayak, and tube livery for summertime floats down the Platte.
"We're all very concerned that they're going to keep traffic moving and keep congestion down," Kyle Orr, owner of Riverside Canoe Trips, told the Traverse City Record Eagle last month.
MDOT is working on one road lane at a time, leaving the other open to traffic. Construction is expected to last until September.
"It'll be a brand new bridge," David Pax, assistant construction engineer at MDOT who is working on the project, told the Record-Eagle. "The overall effect will be there will not be any bridge supporting structure, or no piers, in the river, so it will effectively open the flow area of the river up."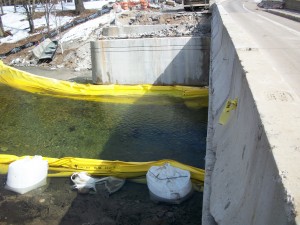 "It's an important area. Fish are passing through to get to Platte Lake and to get upstream to spawn," added Heather Hettinger, a fisheries biologist at the Department of Natural Resources who is working with MDOT.
Tom Mountz with the Sleeping Bear Dunes National Lakeshore took these photographs of the bridge construction.