The "Wooden Bike Guy" is back in business, after quite a ride
By Greta Bolger
Current Contributor
Kurt Swanson and his fine woodworking business, Always August Designs, are now humming along nicely on the north shore of Crystal Lake. But it has been quite a ride for the former tool-and-die professional.
Within the span of three years, Swanson went from working a 9-to-5 Grand Rapids office job, where he used a computer to draw thin metal parts that would be used in cars and microwaves, to starting his own lakeside furniture business.
"I was working eight- and ten-hour days on a computer, being pulled in 20 different directions," Swanson says. "Every job was a hot job, a rush job, as in, 'We need it yesterday.' There just wasn't any reward or satisfaction at the end of the day—I was doing the job because it needed to be done, not because I enjoyed it."
Swanson knew that there had to be more out there for him. He wanted to find a career that spoke to his soul. And on happenstance, he found just that, after dabbling in woodworking for an art competition. Now Swanson is his own boss, he sets his own hours, and he can walk about 50 paces from his kitchen to his shop.
Sure, this all may sound like a luxurious change, but there was a time when Swanson thought to himself, "What was I thinking?"
From Dabbling to Full-Time
Swanson, age 52, has always enjoyed woodworking as a hobby, continually striving to create bigger and more challenging projects. When he entered ArtPrize in 2012 with a bike that he had made entirely of different types of wood, he got the nickname "Wooden Bike Guy," as well as his first exposure to the international competition.
ArtPrize is an open, independently organized art competition that takes place for 19 days each fall in Grand Rapids. The idea came from Grand Rapids entrepreneur Rick DeVos, who wanted to create an art competition that was open to anyone who wanted to submit work and in which the public voted for the winner online. The first ArtPrize took place in 2009 with 150 venues displaying works by 1,262 artists from more than 40 states and a dozen countries, and that first year, ArtPrize awarded the world's largest monetary art prize.
Now, more than $500,000 in prizes are awarded each year, which includes a $200,000 prize awarded entirely by the public vote and another $200,000 prize awarded by a jury of experts.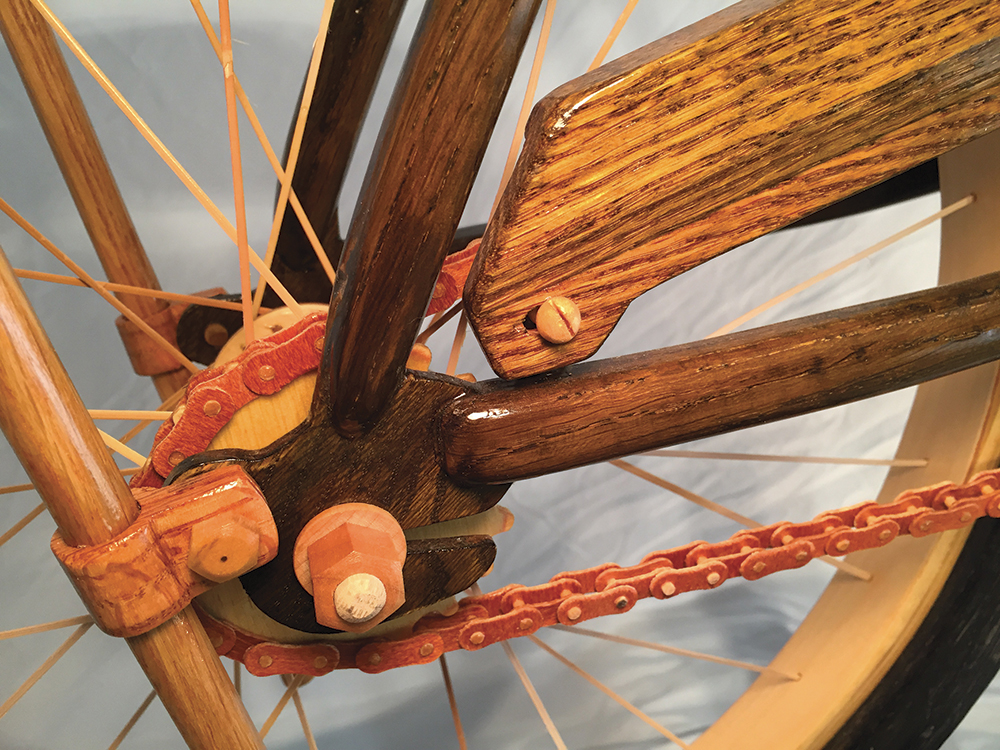 ArtPrize's website states, "Any artist working in any medium from anywhere in the world can participate. Art is exhibited throughout downtown Grand Rapids—museums, bars, public parks, restaurants, theaters, hotels, bridges, laundromats, auto-body shops, vacant storefronts, and office spaces. Artists and venues register for the competition, then find each other through an online connections process in late spring… From the beginning, ArtPrize [has been] a totally new type of city-wide event, intended to disrupt typically highly curated art prizes. And from the beginning, it has provoked discussion, on the streets and online."
Since ArtPrize is free and open to the public, it attracts more than 500,000 annual visitors who walk the city to check out the art displays at the various venues. Thus, getting a good location can be a big part in securing votes.
"The venue we were at in 2012 wasn't high traffic, so we didn't get a lot of visitors, but the venue was really supportive, and we had a great time," Swanson says. The experience was so enjoyable that Swanson once again entered Art Prize in 2015—this time with an even more challenging project.
"When we were growing up, my brothers and I all had Schwinn Stingray bikes. We loved those bikes. So when I thought about creating another Art Prize entry, the vintage Stingray seemed perfect. But making just one didn't seem hard enough—so I made three," Swanson says.
Whereas he had been working on the 2012 bike on and off for two years, the 2015 set of three bikes took a total of 450 hours within one year. The bikes were again constructed of wood and stained so that the wood grain shows through. This time around, Swanson was fortunate enough to land at a high-traffic venue, and his work was voted into the Top 20 by the public. The extra confidence he gained from that recognition convinced Swanson that it was time to devote himself full time to the creative life. He left his 30-year career in the tool-and-die industry and moved to Benzie County, where he and his wife, Sue, had purchased a cottage near Crystal Lake three years earlier.
That is when things got a little more interesting.
Up In Flames
ArtPrize concluded in October 2015, and the couple had moved Up North before the new year. Long before Swanson's success at ArtPrize, the couple had been trying to figure out how they could make a living up here. Sue had been working in IT for the Catholic Diocese, and she was able to secure a job up here in cyber security.
For those first few months, Sue was the breadwinner, until her husband's business could get off the ground. Over that winter, Swanson worked for his brother-in-law, Rick Horton who owns Frankfort-based Horton Quality Carpentry.
"He was giving me work for the first winter up here," says Swanson, who was working out of a converted garage at the time. "I also did some tables for Stormcloud [Brewing Company], and had a few other projects via word of mouth. Enough to keep me busy."
Then in April 2016, just four months after moving to Benzie County, Swanson was eating lunch at home when he heard crackling coming from the garage shop. Upon going to investigate, he saw that the whole building was in flames. There was nothing to do but call the fire department. His shop, his tools, his works-in-progress—all of it was lost, thanks to improperly disposing of some oily rags.
Fortunately, the shop was well insured, and Swanson—with the help of his brother-in-law—was able to rebuild and re-equip a bigger workshop with better tools starting in June. But then, just before the new shop was to re-open last October, a 3,000-pound tree fell on the new metal roof. Luckily, the damage was minor this time, and Swanson was able to re-open his business on schedule, and he has been happily creating custom furniture pieces for clients in his new woodworking shop for the past six months.
What The Future Holds
The business name, Always August Designs, is Swanson's way of communicating his love of summer in Benzie County. His works capture the feel of cottage life and the beautiful days spent outdoors, with furniture that fits perfectly into that lifestyle.
"Always August Designs will specialize in custom, hand-built furniture that is a step up from what you can buy in stores," Swanson says. "A customer may need a piece that fits into a specific space, or that meets other special requirements. I want to make beautiful, useful pieces in a price range that most people can afford."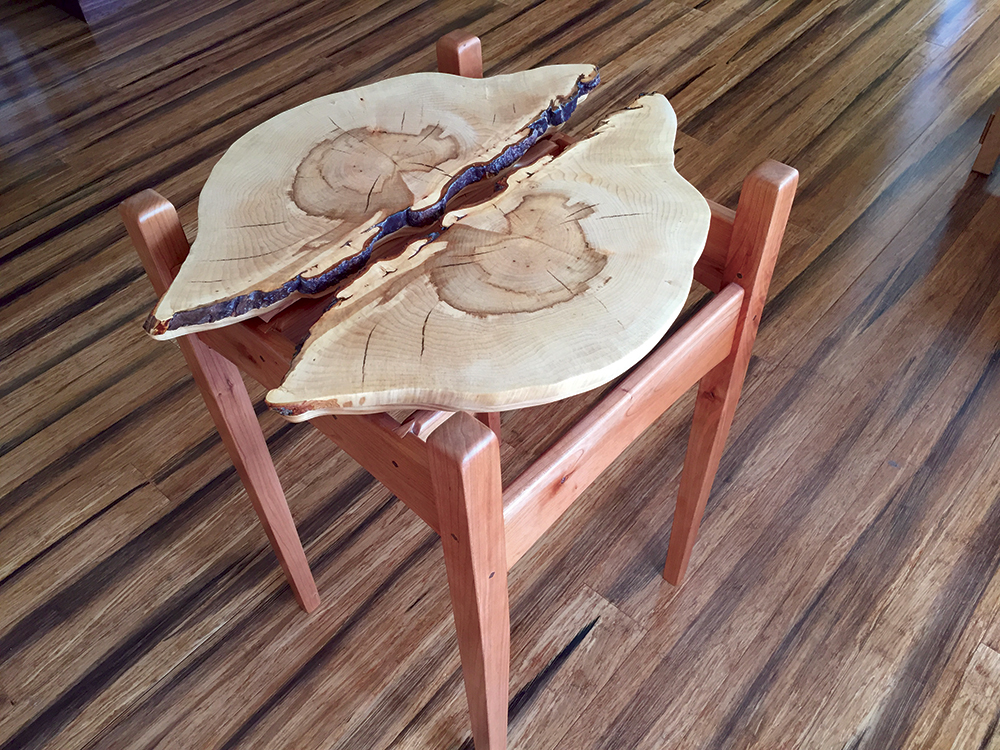 When asked about his business plan, Swanson says that he will stay flexible and respond to the needs of the market.
"There are not a lot of others doing what I'm doing in this area," he says. "I want to make things I like and see if customers want them."
He has made mahogany table tops for Stormcloud Brewing Company in downtown Frankfort, and a custom dresser that he made for a local customer has been featured in a recent exhibit at the Oliver Art Center.
Current projects in Swanson's workshop include mahogany tables, designed to resemble the hull of a Chris Craft boat—these can be personalized with the customer's boat name. He is also working on a hickory bench and other custom projects. He is confident that he can respond to growing demand for his work.
"I'm used to being under the gun," he says, remembering the demanding 9-to-5 office job. "I'm good at planning ahead and being very organized, so I welcome requests for new projects."
In between designing and building furniture, Swanson is loving his new life in Benzie. He and his wife take advantage of the year-round recreational options, including biking, skiing, snowboarding, and just enjoying life in general.
"I love this place," he says. "I love the people here, and I want to do good work for them."
You can see samples Swanson's work at the Frankfort Craft Show on Saturday, June 17, along Main Street from 10 a.m. to 4 p.m. And by the way, the Stingray bikes are still for sale.
Greta Bolger is president of the board for the Oliver Art Center. Contact Swanson by emailing kurt@alwaysaugustdesigns.com.