Popular new sport crests a wave
If you've visited the beach in the last few summers, you've likely seen stand-up paddle boarders. With unique silhouettes reminiscent of walking on water, the sport is adding to the already beautiful lake views.
But what's the trend all about?
"I like to look down into the water," says Kate Easlick, a Benzonia resident who has been stand-up paddle boarding for several years. She got into it as an alternative to kayaking. "This was a thing you could stand up on and use your whole body with."
While Easlick enjoys the sport at least once a week during the summer, there are also many who are just learning it for the first time now. According to the Outdoor Industry Association, last year, stand-up paddle boarding had the most first-time participants of any sport.
However, that wasn't always the case.
Nancy and Larry Bordine have been crafting, renting, and selling stand-up paddle boards for years at the Beach Nut Surf Shop in downtown Frankfort.
Larry moved to Michigan in the 1980s from Southern California, where he spent his time surfing and skateboarding. He had a hunch that he could create a board to stand up and row on in Lake Michigan, and after spending some time putting his degree from the Maritime Academy to use by working to craft something of his own design, Larry found a community that was already making them. Larry made his first board in 2006, and the couple opened the store in 2010.
Now, for nearly a decade, the Bordines have watched the sport steadily take off in the region.
"When we first started, we'd go all over the Traverse Bay area," Nancy says. "Everywhere we went, people would ask us, 'What is that!?'"
In fact, it was such a novelty in years past that, during the Governor's Convention in Traverse City in 2007, the Bordines attracted some unwanted attention for their hobby. The couple was paddle boarding on West Bay, well away from where governors from all over the country were lining up at the bay. However, soon, police boats were motoring their way.
"The officer got to us, and the first thing he said was 'What are those unique boards?" Nancy remembers. The police were aware that the couple wasn't a threat, but they were simply curious about the novelty of stand-up paddle boarding.
The sport initially became popular out of surfing. However, the Bordines attribute the new popularity of the sport to its versatility.
"Give someone five minutes to learn, then the rest of their life to get better," says Larry, who still crafts many of the boards that the couple sell in the shop.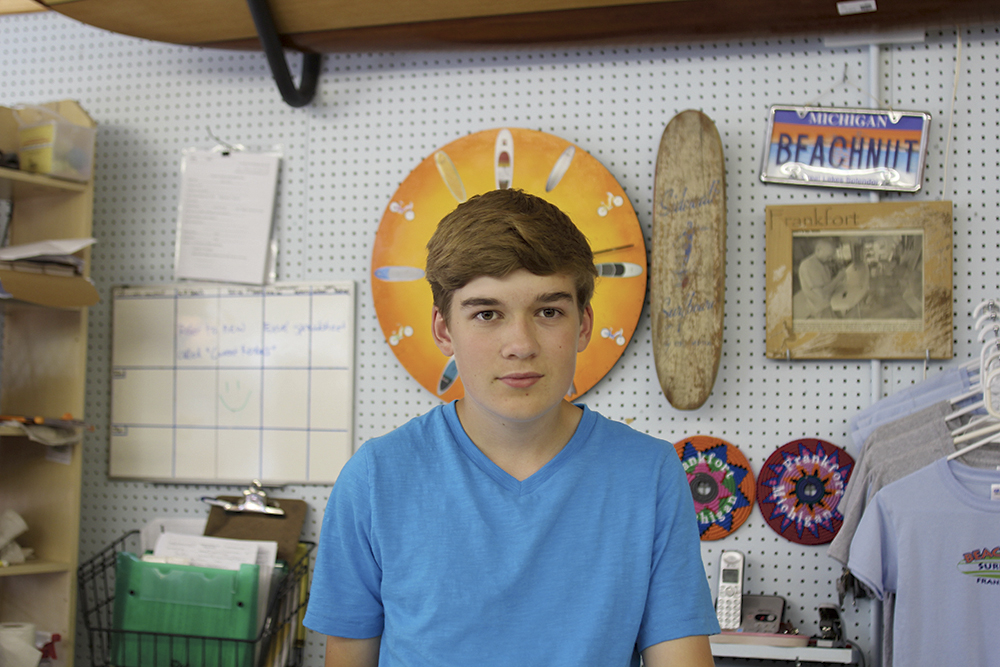 Kate Easlick echoed this sentiment. "You can stand on it, you can sit on it, you can swim off it. I've taken it down rivers. You can take it surfing. You can fish off it."
The Bordines have seen people of all ages take to the sport, which has helped it to branched out significantly.
"There are your standard, family-ready boards. There is a board designed for doing yoga. There is also a board designed for going fast and long distances."
It's this last board that has attracted some of the most avid enthusiasts to the sport. Next week, many of these enthusiasts will gather in Traverse City for the TC Waterman Challenge and Expo. The race is the Midwest's largest stand-up paddle board event, attracting participants to the Grand Traverse Bay area to race 11 miles through the water.
The race will be held on August 16. In addition to the 11-mile, 3.5-mile, and 100-meter-dash races, an expo event offers attendees the opportunity to meet 60 stand-up paddle board retailers from all over the Midwest.
So what's the future of stand-up paddle boarding — should we expect to continue to see the beautiful silhouettes on our lakes or is it just a fad?
If Marcia Laisure, a Frankfort vacationer from downstate is any indication, the answer is that it's here to stay. After trying the board once, she says "It's more difficult than it looks, but I like it. I may even buy one!"
If you are interested in trying stand-up paddle boarding for yourself, the Beach Nut Surf Shop hosts free demos every Wednesday night at Frankfort beach around 7 p.m. through the end of August. You can also rent boards from the Beach Nut Surf Shop seven days a week, although big groups are encouraged to make advanced reservations.
Banner photo: David Kadlec shows advanced stand-up paddle boarding skills. Photo by Keenan May.