New faces in Frankfort's business district
Victoria and Chris Mekas love to cook. Think traditional Americana food, but with a culinary twist. Their ideal evening — at home in Beulah — might feature Chris's cheeseburgers, marinated with vinegar and herb-filled oils before they sizzle on the grill.
Luckily for us, Victoria and Chris are willing to share their favorite ingredients and recipes.
Mainstreet Musical Chairs
L'Chayim has moved across the street, into the space previously occupied by the kite shop.
FrankZ, a gourmet hotdog eatery, has taken L'Chayim's former spot.
Classen's Shoes has closed, and Lynn & Perin Mercantile Co. has moved into that space.
Maxwell's on Main has closed, and Sunbeams of Promise – formerly above the Frankfort Deli – has moved into that space.
The Frankfort Deli has closed, and the building is currently undergoing renovations.
Wingz & Thingz is Frankfort's first food truck, located in the parking lot between Big Bob's Up North Outfitters and the Frankfort Laundromat.
Leaving its location next to Big Bob's on the east side, Posh Beauty Bar has moved downtown into the space formerly occupied by Glenwood Market.
Crescent Bakery is expanding into the space that was Augusta's Salon.
Lynn & Perin Mercantile Co. is the couple's new gourmet food store, which just opened next to their café, Petals & Perks, on Frankfort's bustling Main Street. Lynn & Perin —Victoria and Chris's middle names — opened on May 15 to celebrate Petals & Perks' two-year anniversary.
The gourmet food store marks the couple's fourth business in Benzie County. They opened Victoria's Floral Design 15 years ago and the Hill Top Soda Shoppe 11 years ago. (Both are now located in Benzonia, on the hill between the putt-putt golf course and Shop & Save.)
Flowers, ice cream, coffee, and now gourmet oils, herbs, and spices — four of the most important summer food groups.
"Our inspiration for opening the new store is that we love food," Chris says. "The stuff that we'll carry here you can't get elsewhere in town. Instead of driving an hour to Traverse City, just stop here. Our goal is to be gourmet and to source local foods that reduce our carbon footprint."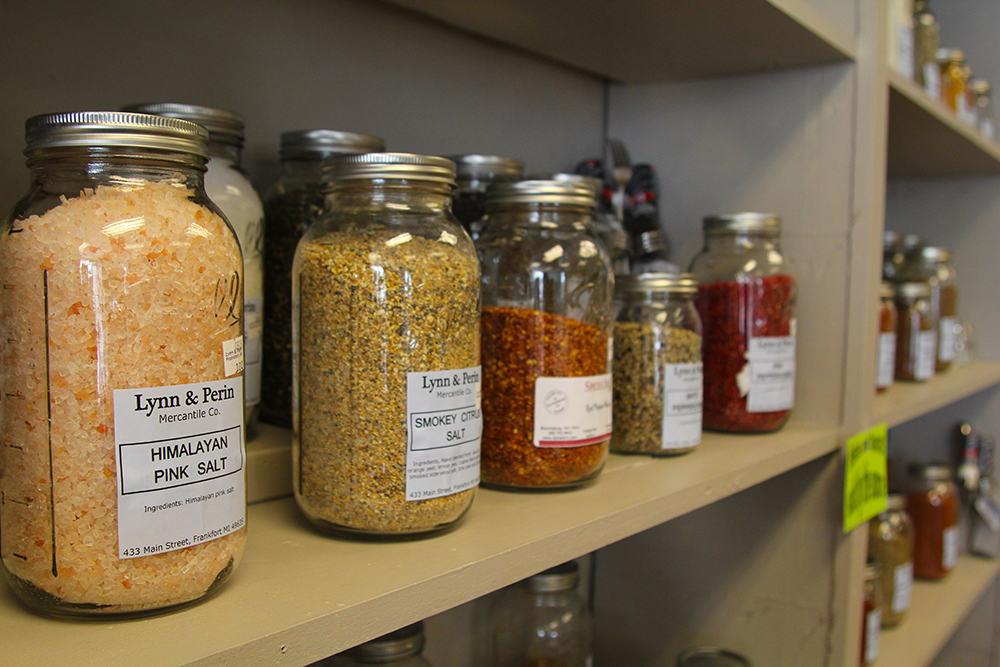 Lynn & Perin offers herbs and spices, olive oils, flavored vinegars, and other great foods with an emphasis on Michigan-made products, both from Northwest Lower Michigan and bigger downstate cities like Grand Rapids and Detroit. Peruse the aisles and you'll find oils made with rapeseed grown in Manistee County, culinary flours grown on French Road in Leelanau County, coffee roasted at Higher Grounds Trading Co. in Traverse City, Boss Mouse Cheese made in Kingsley, preserves from Food For Thought near Esch Road Beach, and cheese puffs made with real cheese and real bacon. Bacon makes everything better!
Carrying through with the Michigan theme, they also have fun gift ideas and kitchen utensils. Greeting customers when they step into the checkout line, the outline of Michigan's upper and lower peninsulas have been carved out of the plaster on the wall to reveal the brick beneath. Lining the shelves that run all along the store's high ceilings are vintage shoes that the couple found in the basement — a throwback to the building's former occupant of more than six decades, Classen's Shoes.
The cat's meow, according to Chris, are the cardboard coolers that are made in Detroit out of recycled paper products. Use them like a tote bag, and take your picnic to the beach. Tourists can walk next door to Petals & Perks to order soups, sandwiches, and salads that are made using Lynn & Perin's products. The café will feature recipe cards so that when you discover a sandwich that hits the spot, you can buy the ingredients next door.
Lynn & Perin will stay open seven days a week throughout the summer. It may close in the winter, or it may not —  Victoria and Chris had originally planned to close Petals & Perks during the cold months, but the year-round community embraced the café, and it has closed only two days over the last two years.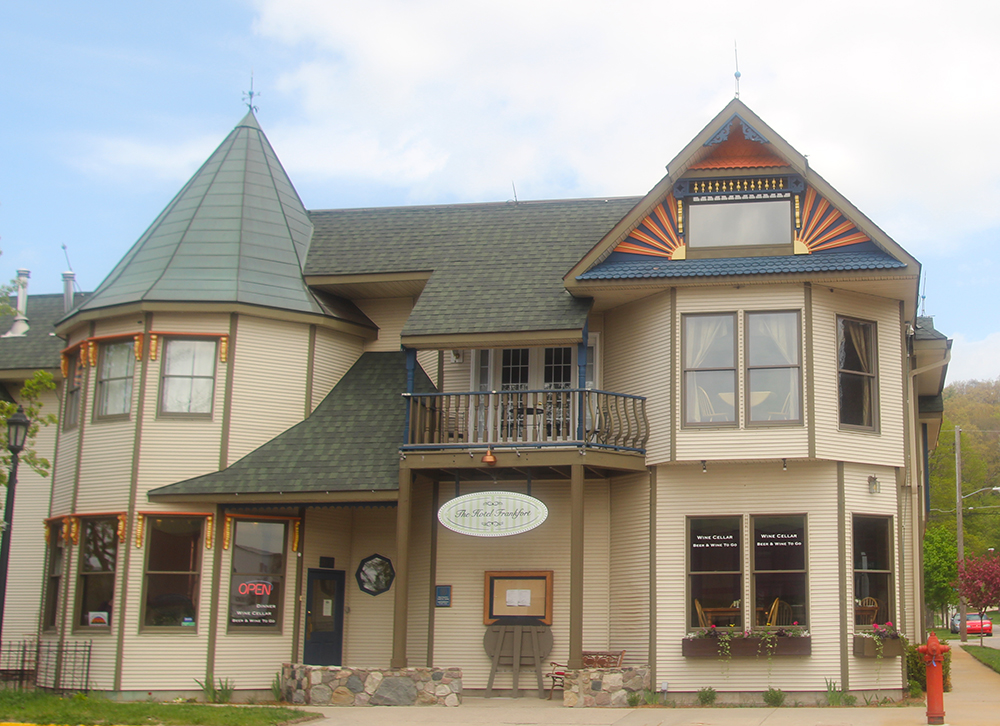 Welcome to The Hotel Frankfort
The Hotel Frankfort — formerly the Sleeping Bear Inn and the Betsie Bay Inn before that — once again retains its original name. The hotel re-opened last August, but will celebrate its official grand opening on May 29. The public is invited.
"We want to give people a 'wow factor' when they come through the doors," says manager Tami Smith. "Our tagline is 'Come as a guest, leave as a friend.'"
Guests who want a sneak preview before the grand opening can take part in a "Sip 'n Dab" the previous day. They can show up, drink wine, and help apply a fresh coat of paint.
The historic hotel was originally built in 1890 and suffered two fires, in 1905 and 1922. According to Smith, The Hotel Frankfort was rebuilt in 1933 — reportedly one of the few hotels nationwide that were built during the Great Depression. More recently, The Hotel Frankfort has hosted statesmen, senators, and congressmen. This year, it will host the Michigan Republicans' Lincoln Day Dinner and Lt. Governor Brian Calley. Just a week ago, the entire hotel was rented out for a wedding, and there are three additional weddings planned for the summer.
The hotel's renovations over the past couple years have included a remodeled downstairs banquet room which now seats 100 guests, a new roof, new carpet in some rooms, a fresh coat of paint, and a new exhaust system. Next up on the renovation checklist is a front deck that will hold 60 patrons and serve drinks and light appetizers.
Matt Videki is the hotel's new executive chef. He has been cooking for 35 years, having served as a chef at the Whistler Hilton in British Columbia and at the Grand Traverse Resort outside Traverse City. Videki specializes in American Bistro and buttresses his cuisine with a vino from a rich wine cellar that is accessible via a spiral staircase near the bar. On his menu, you'll find freshwater fish including Sturgeon, Lake Trout, and Walleye. Grass-fed beef and local fresh vegetables may also find their way onto your plate. Videki hopes to introduce 5- and 10-course wine pairings this summer.
Though Videki plans to serve upscale meals, the atmosphere need not feel pretentious. The restaurant's big tables can seat the entire family — bring Grandma and Grandpa, too, he says.
The Hotel Frankfort features 17 guest rooms that range from standard queen-sized rooms to luxury suites equipped with a hot tub or a sauna. The dining room is open 7 days a week from 8 a.m. until midnight. The public is welcome and need not make reservations.