Questions & Answers with Community Faces
Ann Loveless is well known for having won the coveted Grand Rapids Art Prize in 2013 for Sleeping Bear Dune Lakeshore, a 20 foot-long, four-panel quilt that depicted a panoramic beach scene in our National Lakeshore. But long before she won first prize in Grand Rapids, Loveless and her husband, Steve, have been staples of the Benzie County art scene.
For 10 years, they have operated State of Art Framing & Gallery in downtown Beulah. That's where Ann sells her photograph-inspired "landscape art quilts" and Steve, a Traverse City native, sells his photographs. Ann and Steve Loveless will exhibit their work at Frankfort's Oliver Art Center until the end of 2014, with the opening reception on November 14 from 5-7 p.m.
Betsie Current: How do you describe your art? What's unique about it?
Ann: Traditional quilts are made for function. My quilts are made to hang on the wall. I am inspired by nature and Northern Michigan, and I capture the beauty of the outdoors in my art quilts. I use cotton batik and printed landscape fabrics, which have a "painterly" quality. I also use linen, silk, yarns, netting, and many other interesting fibers to achieve wonderful texture and realistic scenes. My work is unique in that I do not use patterns; I have all original designs, and I work directly from photographs, cutting and placing fabrics directly onto cotton batting.
Steve: Some people say they can tell when they hold one of my photographs because of my style. I'm a landscape photographer. I photograph Benzie County and some of Leelanau. We're fortunate to have two cool lighthouses here in Benzie. I get to feature those structures, explore them, and work them. I might go to a place multiple times a year to the photograph it under different circumstances.

Betsie Current: How did winning the Grand Rapids 2013 Art Prize change your life? Did it change your outlook on art? Did it boost sales at your Beulah gallery?
Ann: Winning first place in Art Prize has changed my career and life. I now have wonderful opportunities coming my way and have to be selective in what I say "yes" to. I have a quilting book titled Landscape Art Quilts, Step by Step to be published in March 2015 on my "collage" quilting technique. I have had numerous commissions this past year. The largest was a seven-foot quilt for the Michigan State University Secchia Center medical building in Grand Rapids. It is an autumn woodland scene in my "impressionistic" technique called Virtues and Responsibilities. Sales at our gallery in Beulah and on my website (QuiltsbyAnn.com) have been up about 30 percent since my win. I am also getting numerous requests for lecturers and classes throughout the United States.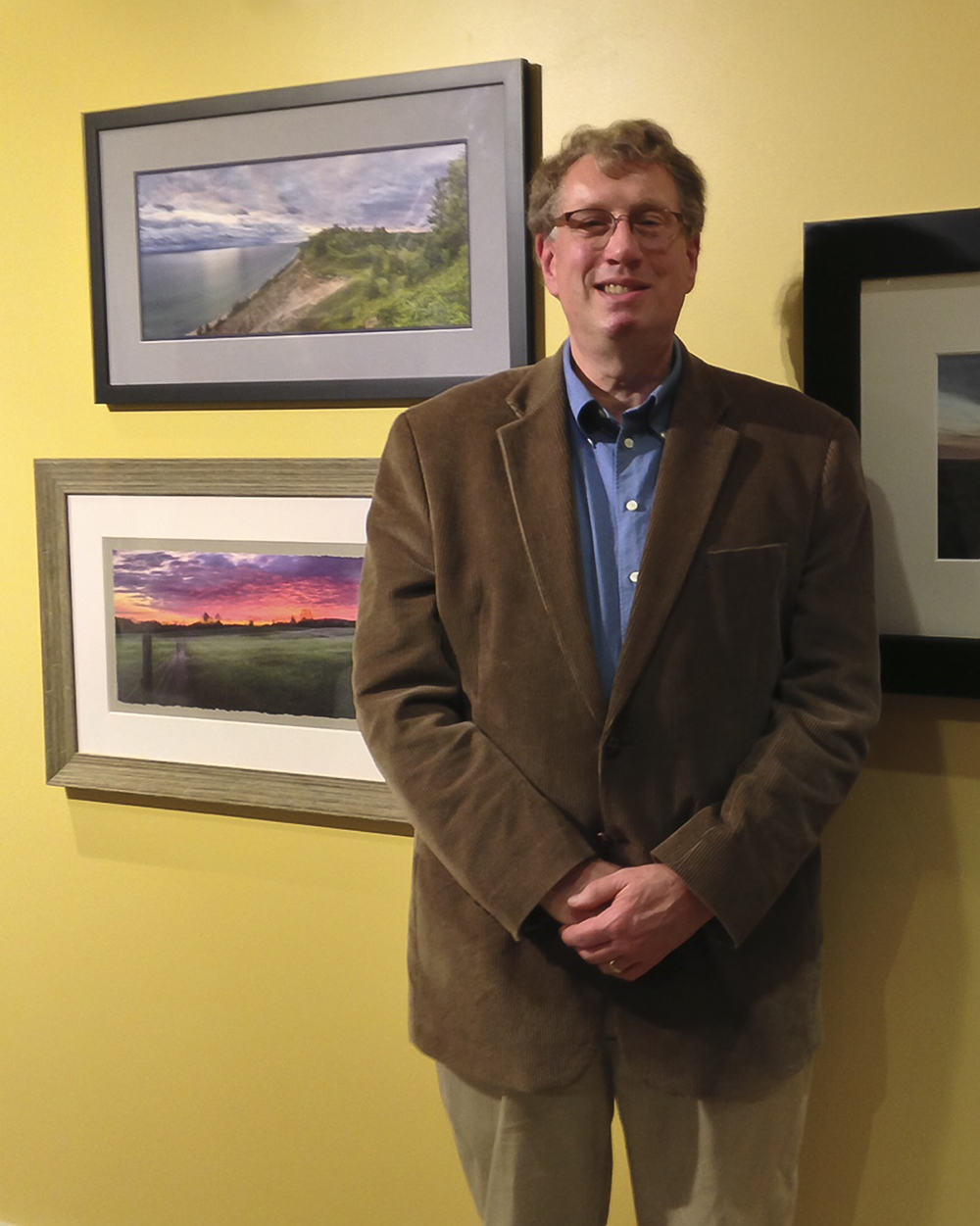 Steve: Winning last year was the pinnacle, but even during the two years that Ann participated in Art Prize prior to that—2011 and 2012—the attention always drove traffic to Benzie County and the gallery. It's a lot of exposure in a venue where 30-40,000 people are seeing your work. A lot of people recognized her. So now business is doing tremendously well. We've talked with other Beulah merchants who have noticed an increase in their sales as well.
Betsie Current: What should a visitor (or a local) know about the local Benzie County art scene? What's unique about art around the shores of Crystal Lake?
Ann: A visitor to Beulah should know that my 2013 winning piece Sleeping Bear Dune Lakeshore is NOT on display at our gallery but is owned by Art Prize.
Steve: We have a very strong art scene here, and it has longevity. We have one hell of an art center in Frankfort. Other galleries have been around for decades, so it's a great place to be. I joke with customers about doing photography around here; it's like shooting fish in a barrel! We're surrounded by so much natural beauty, and it's my job to capture that and pass it on to other people. After Ann won Art Prize, one of their directors came here. He had never been here before, and he was amazed that a community of this size could have such a great art center that was so embracing of Ann. The amount of art and galleries here is amazing.
Betsie Current: What are you working on right now? What's your muse?
Ann: I am just trying to catch my breath from the busy summer sales and the fall lectures and teaching schedule. I will be slowing down for the winter months to work on my inventory and will have time to create new designs. I will be working on something large (16 feet) to display in our gallery for 2015.
Steve: I'm getting off a fantastic autumn color season. It was actually frustrating for me last year that—after Ann's win and all the attention that followed—I wasn't able to get out last fall and do much photography. Otherwise, I've been working on panoramic compositions and working in multiple role panoramas; I'll have one piece at the Oliver Art Center show from that.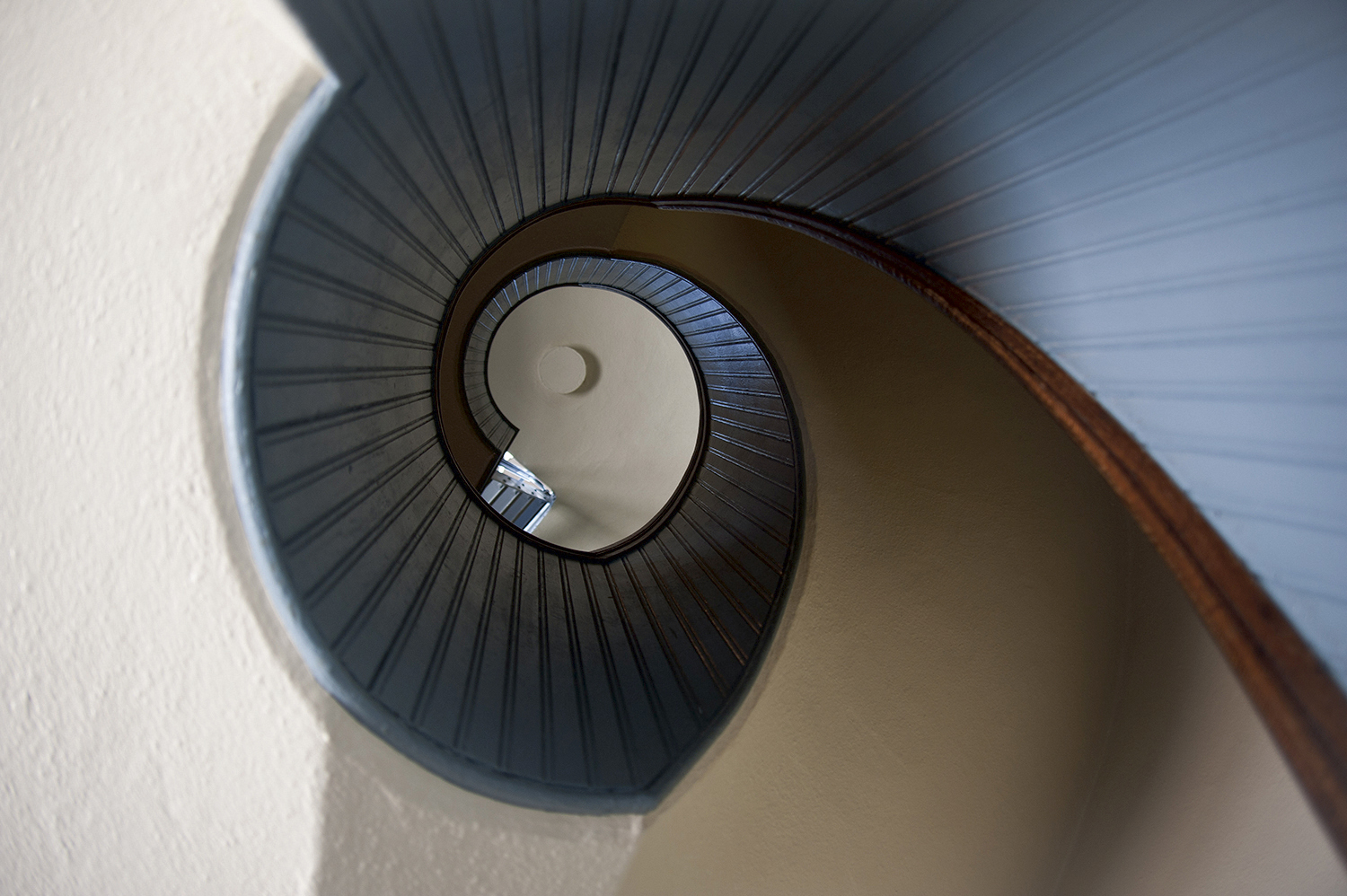 Betsie Current: We know that writers get writer's block. Is that true for artists, as well? How do you overcome artist's block?
Ann: I get artist's block at times, especially when working on large pieces. I usually hang them on the wall and come back in another day or week. I will work on something else and then come back when I have it all figured out.
Steve: Sometimes you [get artist's block]. Out at Point Betsie, you think, "How can I possibly get a photograph here that I haven't gotten before?" But any location I've been to multiple times. I have to go there and alter my vision, my perspective. Play with grayscale. Go out and just work a location. I try to look at things from a different frame of mind than before.
Betsie Current: What are your plans for the winter? Sticking around Benzie County? Heading south? What are you excited about this coming winter season?
Ann: My winter plans are to create new quilts in December, January, and February. In March, I am traveling to Colorado and California to give lecturers and classes. I am also taking my skis to Colorado for six days of skiing, and I plan to hang by the pool in San Diego!
Steve: I hope to go along with Ann on her ski trip. I hope to keep myself occupied by taking photos in the Rockies. I also hope to complete a Historic Route 66 road trip through California, maybe Arizona, New Mexico, too, in March.