How the Grand Traverse Band makes a difference Up North
By Greta Bolger
Current Contributor

With the nation about to celebrate Independence Day—a federal holiday commemorating the Declaration of Independence of the United States on July 4, 1776, from British rule—it is important to also recognize that there were people here before the colonization of the Americas. Moreover, it is just as important to recognize that, despite a harrowing history, these First People are still here today, as vital members of our businesses, communities, and schools.
 
There are 6.79 million Native American people in this country, and Michigan—which has the largest population of Native Americans east of the Mississippi—is among the 10 states with the largest indigenous population: there are more than 80,000 Native Americans in Michigan, and our state is home to 12 federally recognized tribes.

Though they are a sovereign nation, and one of 574 tribes to be granted such status by the U.S. federal government, the Grand Traverse Band of Ottawa and Chippewa Indians (GTB) are an integral part of "Up North" life. The GTB's many investments and other involvements provide economic benefits and growth opportunities within their six-county service area of Antrim, Benzie, Charlevoix, Grand Traverse, Leelanau, and Manistee counties, and beyond. 

The Grand Traverse Band refer to themselves as Anishinaabek or People from the Three Fires; they primarily speak the eastern dialect of Anishinaabemowin.  

Sovereignty
Federally recognized tribes are nations, meaning that they have sovereignty; in other words, like foreign nations, they have a nation-to-nation relationship with the U.S. federal government. Additionally, the State of Michigan website says that it interacts with the 12 tribes on a "government-to-government basis" and that "the state generally does not have legal authority over tribal governments and tribal members when they are inside the tribe's territory." Rather, tribes have their own governments that manage their land and resources, provide education and other services for their citizens, and have control over legal matters within their territory. 

 Within the Grand Traverse Band, all tribal operations are overseen by a seven-member Tribal Council, which has broad executive and legislative responsibilities for managing the tribe's businesses and serving and governing its 4,200 members. David Arroyo became chair of the Grand Traverse Band in August 2020, after having served as a member of the Tribal Council for the previous 16 years. He and his fellow council members work full time in roles that require a broad base of skills and experience. 

"You have to hit the ground running when you're elected to the Council," Arroyo says. "And especially when you are elected during a pandemic." (See sidebar.) 

Considering the wide-ranging responsibilities of the Tribal Council, Arroyo's remark seems a major understatement.

Economic and Quality of Life Impact
The business operations of the GTB include gaming and hospitality operations at Leelanau Sands Casino and Lodge in Peshawbestown (Leelanau County) and at Turtle Creek Casino and Hotel and the Grand Traverse Resort in Traverse City, as well as Bay Shore Steel Works (Charlevoix County), Grand Traverse Engineering and Construction, and Grand Traverse Economic Development, the commercial investment entity of the GTB. 

Another project, now under development with the Anderson Group and developer Steven Smith, is focused on bringing more retail commerce to the Village at Grand Traverse (VGT), near Meijer in Acme. The planned development is being designed to have a pedestrian-friendly "downtown look" and is slated to break ground in late 2022.

In addition, the GTB is taking an active role in expanding access to broadband by installing underground cables in Leelanau County and coordinating with local units of government to put in glass fiber.

Another major financial contribution to the region comes as a result of the GTB's "2 percent allocation," part of the 1994 Consent Decree, signed with the State of Michigan under Governor John Engler. This decree called for 2 percent of the GTB's video gaming revenue to be set aside to provide grants to local units of government, which may be requested for infrastructure, school funding, fire and rescue, or other local needs. The funds are allocated based on applications sent to the Tribal Council, with allocation amounts varying from tens of thousands to up to hundreds of thousands of dollars, depending upon the request and the performance of the tribe's casinos. 

For example, in January 2021, in the first of two annual allocations, the GTB distributed $742,059.95 of gaming revenue to 50 local units of government. Since the 2 percent allocation began in 1994, the GTB has allocated nearly $42.2 million to local organizations.  

As an example of how these funds benefit Benzie County, Arroyo shared some of the GTB allocations from 2018:  

• Benzie Conservation District: $2,435.21 for the purchase of two laptops and accessories to help complete the study of invasive species.  

• Benzie County Office of Emergency Management: $16,128.00 to purchase two positive pressure pneumatic ventilators.  

• Benzie County Sheriff's Department: $10,580.00 to purchase a fingerprinting system.  

• Benzie County Veteran's Affairs: $52,230.76 for construction of a pavilion.  

• Benzonia Township: $8,000 for Benzie Area Christian Neighbors (BACN) food pantry effort.  

Strong Leadership Paves the Way
Those still learning about the Grand Traverse Band may be surprised by the extensive nature of the tribe's internal operations. In addition to its wide-ranging business interests, the GTB has its own criminal justice system, including judges and police; its own healthcare system; and sizable environmental programs. 

In addition, the GTB provides educational services for its members, including Kitchi Minogining Tribal School, a state recognized non-public school that operates four classrooms in Benzonia, Charlevoix, Peshawbestown, and Traverse City. While the majority of GTB students attend public schools for K-12, the tribal schools offer an alternative to students and parents who desire one. The tribal schools' curriculum is in line with the public schools, and some students attend both options at various times during their academic careers.  

With all its many responsibilities, the Tribal Council is fortunate to be guided by a detailed Constitution, created four decades ago by former leaders who laid the groundwork for the future of the tribe. 

"We had outstanding leaders—including Ardith "Dodie" Chambers, the first interim chairperson and Joseph C. "Buddy" Raphael, first elected Chairman. Chambers and Raphael worked together to have the GTB reaffirmed by the federal government as a sovereign nation in 1980. After all the losses we had experienced up until then, their focus was on providing our members with a chance at life," Arroyo explains. 

The current leaders of the GTB do not take this legacy lightly.

"Those of us who are in leadership positions now have the opportunity to benefit from the wisdom and dedication of our past leaders," Arroyo says. "We follow the Niizhwaaswi Gmshoomsinaanig Kinoomaagewinan—the Seven Grandfather Teachings. The Seven Grandfather Teachings are a set of principles that guide and assist Anishinaabe through life. The teachings are Gwekaadiziwin (Honesty), Dibadendiziwin (Humility), Debwewin (Truth), Nbwaakaawin (Wisdom), Zaagidowin (Love), Mnaadenimowin (Respect), Aakade'ewin (Bravery)."

The Future Looks Bright
Arroyo feels optimistic about the positive direction of our current state and national leadership, for both the Grand Traverse Band and for Indian Country, in general. 

"Governor Whitmer is more willing to work with Michigan tribes than some of her predecessors have been, and we are very encouraged by what we are seeing from President Biden," Arroyo says. "His appointment of Deb Haaland [of Laguna Pueblo in New Mexico] as Secretary of the Interior is a great step forward in creating a Cabinet that looks more like America. I believe Secretary Haaland will do an outstanding job for all Americans." 

When asked what he wished that non-Native people better understood about Native American lives, Arroyo did not hesitate to respond:

"We have faced a lot of challenges as a people. There are many things in the past that were never addressed properly. Though some may believe otherwise, we have been here for all of history, and understanding our history is crucial to understanding who we are. We have had so much taken from us. Our treaties—which are legal contracts—were overlooked, changed at the last minute without our knowledge, or simply not honored. If you read our Constitution and look at our treaties, you'll gain a much better understanding of what we are all about."

As with any relationship, communication is the key.

"We are so fortunate to have had strong leaders who fought for our right to self-determination, but there is still so much to be done," Arroyo says. "If you reach out to us, and have a willingness to know the truth, we are more than willing to share. It means a lot to have people that are willing to stand alongside us."

Learn more about the tribe at GTBIndians.org online. All endorsed local units of government are eligible to apply for 2% funding, and the application form can be found at the tribe's website, as well.  

Featured Photo Caption: Within the Grand Traverse Band of Ottawa and Chippewa Indians, all tribal operations are overseen by a seven-member Tribal Council, which has broad executive and legislative responsibilities for managing the tribe's businesses and serving and governing its 4,200 members. From left to right: Associate Judge Michael Cory, Teresa Marshall, Mark Wilson, Robert Kewaygoshkum, Donna Swallows, Chair David Arroyo, Chief Judge Ken Acini. Photo courtesy of the Grand Traverse Band.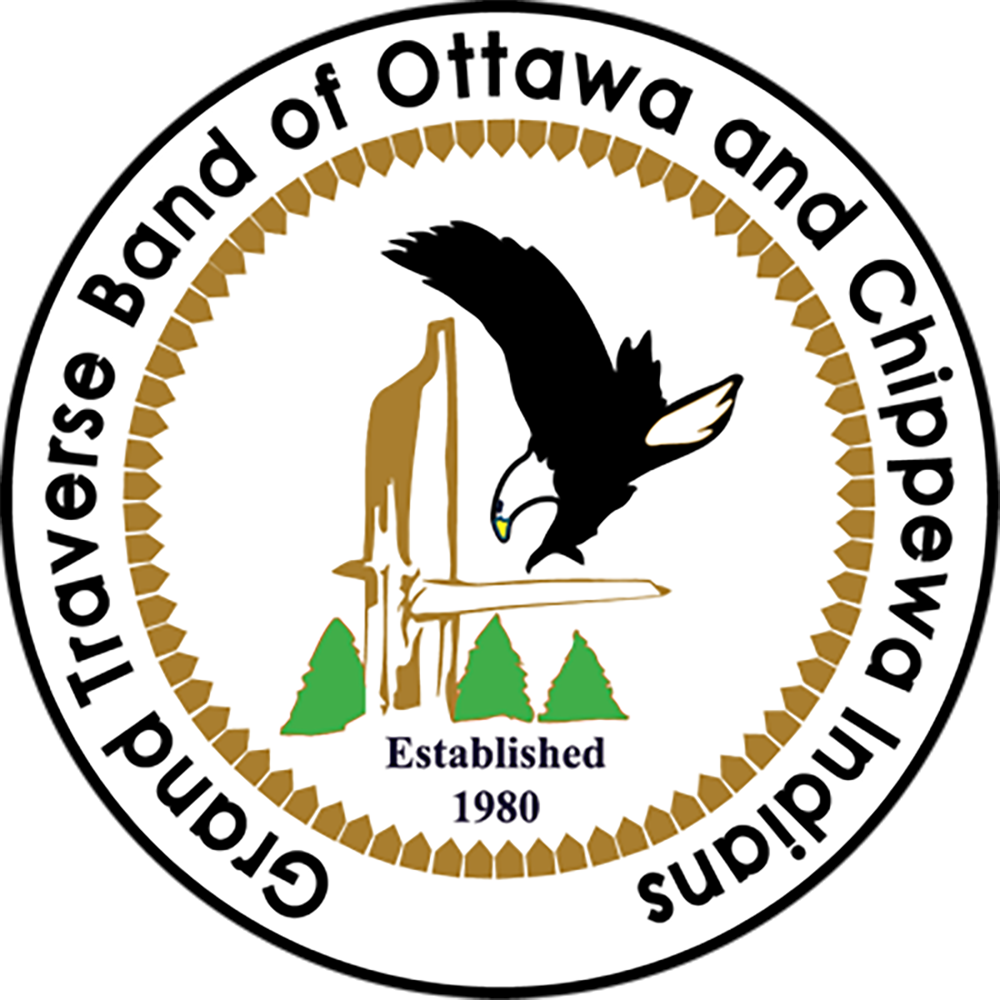 SIDEBAR
Tribe's Swift Response to Pandemic
When the pandemic first hit back in March 2020, the Grand Traverse Band acted quickly to close both their casino operations in Leelanau and Grand Traverse counties, as well as all their tribal government offices. The casinos remained closed for two and a half months, and the government offices are still closed to the public, although staff has returned to the office.

Moreover, the tribe—which employs both tribal members and non-members in their multiple business and other operations—offered employees more support than many other workers saw during the first difficult weeks of the pandemic.

"We paid our casino, hotel, and government employees wages and health benefits from March through the beginning of June, though our operations were closed and those that were working at all were working from home," says David Arroyo, chair of the Tribal Council. "We also kept COVID-testing going during this period, so that employees were tested on a regular schedule. This helped us mitigate the spread."

During the early weeks of the pandemic, the tribe also provided members with "care packages," which included over-the-counter medicines, sanitation supplies, and simple foods for those with COVID symptoms and their caregivers.

In June 2020, the casinos reopened at 25 percent capacity. They have now returned to their regular business hours and are operating at 100 percent capacity, with all machines back in place. Masks are optional for vaccinated patrons and smoking is still not allowed.

"We have followed CDC and State of Michigan guidelines throughout the pandemic, and as a result, our numbers are much better than they would have been otherwise," Arroyo says. "Our cases skewed younger than those in the general population, with more than 60 percent of cases occurring with members aged 39 and under. As of mid-June 2021, we've had 162 cumulative positive cases as tested at the Grand Traverse Band Health Clinic, 158 recovered cases, and one death."

The GTB is also making strong progress in getting members vaccinated.

"As of late June, we had administered 3,681 doses to tribal members over 16, their households, and Grand Traverse Band employees and their households," Arroyo says. "There are those who, for whatever reason, don't want to be vaccinated, but we are working to share information and answer their questions, so that they may reconsider. We are also offering vaccination clinics at several of our locations."

The GTB does a good job of communicating with its members and employees about the pandemic and other issues of concern via its website and other communication platforms. For instance, a virtual public forum, held virtually on April 28, 2021, was presented by Mary J. Owen, MD, (Tlingit), University of Minnesota Medical School's director of the Center of American Indian and Minority Health. The forum was designed to answer questions about the vaccine and educate participants about the importance of being vaccinated.

In addition, the GTB is conducting a follow-up survey among members and employees to better understand what respondents experienced during the pandemic and to modify their response to future health crises accordingly.

During the challenges of 2020, the GTB was able to enhance its ability to respond to future emergencies through a $900,000 federal grant from the U.S. Department of Housing and Urban Development (HUD). The grant was received in late August 2020, and it provided funding to install generators in five of the tribe's facilities—the Community Center, the Strongheart Recreational Center, the Medicine Lodge, and its satellite offices in Benzonia and Charlevoix. These facilities can now be used as emergency shelters during a natural disaster caused by weather, power outages, or other emergency conditions.

"We learned so much from dealing with this pandemic," Arroyo says. "I believe we were pretty effective in limiting the spread. I am so grateful for our health director and other leaders who took action quickly. Thanks to the foundation they created, we will be much better prepared in the future."