Teenage runner starts nonprofit to help area athletes
By Aubrey Ann Parker
Current Editor

Year after year, the Benzie Central High School boys and girls cross country teams are at the front of the pack, winning race after race, and often making it to the coveted State Finals by early November. Similarly, in the spring, the school's track and field teams and individual athletes excel. The Huskies of Benzie are known state-wide by running coaches and fans of the sport.

Now, a soon-to-graduating senior has started a new nonprofit program to ensure that even more athletes will be able to compete at their highest level, and she hopes to take the program state- and nation-wide, as well.

For decades, studies have shown that iron deficiencies can plague female athletes, especially, and even more so endurance athletes, like runners. But blood tests to check iron levels can cost up to $200 each, which means the majority of athletes are not tested, unless a problem begins to persist.

"Without a blood test, I would have never known why I was so tired and so slow," says Maya Musgrave (17), who—until a year ago—suffered from undiagnosed low iron levels. "Most athletes only have a yearly sports physical that doesn't routinely test blood markers."

Now, thanks to a partnership with Athlete Blood Test laboratory and an initial $14,000 in funding from the nonprofit 100 Women Who Care of Benzie County, tests can be performed for a fraction of the typical cost. At $40 each, this means that there are around 350 tests available for Benzie County—and since there are currently 118 female athletes at both Benzie Central and Frankfort high schools, this translates to three years of testing for all Husky and Panther girls' sports teams.

Running Is In Her Blood
Maya Musgrave began running competitively in 5th grade as part of the "Girls On the Run" group at her school. But you could say that running "is in her blood," since she comes from a running lineage; her mother—Dr. Lisa Musgrave, a Beulah-based dentist—ran track at Depauw University under Coach Wilma Rudolph, a three-time Olympic gold medalist. Additionally, both of Maya's younger brothers, Michael (16) and Quinten (14), are among the top athletes on Benzie's running teams in the spring and the fall.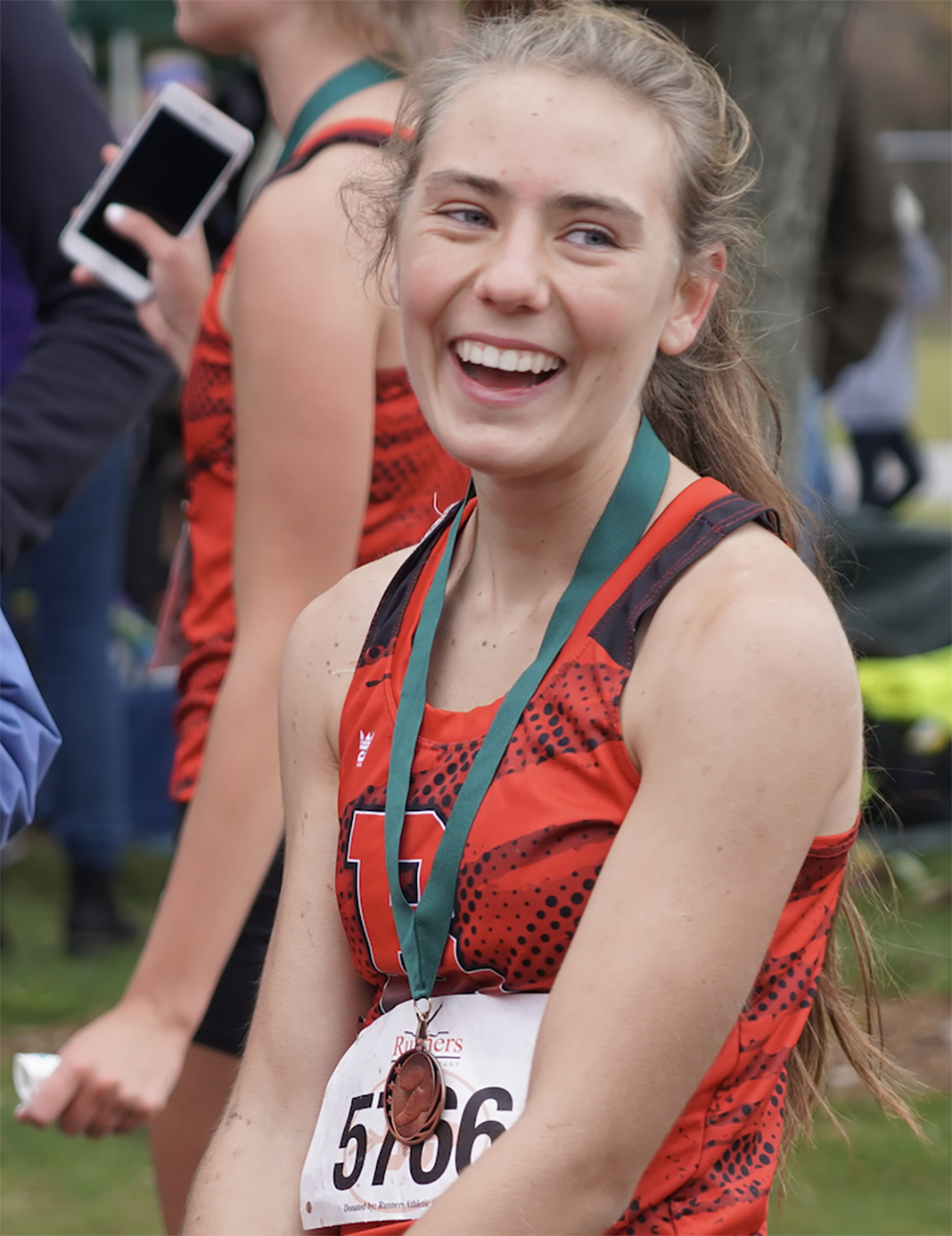 As for Maya, she was not a consistent runner on the varsity cross country team until this past fall of 2021, during her senior year, after her iron issues had been found out and cleared up. Just a year prior, Musgrave had run her fastest time ever during the first race of the year, and she got her hopes up—but then her times got worse and worse throughout the rest of the season.

During the summer of 2020, when Musgrave was entering her junior year of high school, she had started to not feel well—including difficulty breathing and feeling like she had low energy. This continued to progress through the fall cross country season.

"I just kept getting slower," she recently told the Traverse City Record Eagle. "I felt like something was wrong, but I couldn't figure out what."

Musgrave credits her coaches, Traci and Asa Kelly, with noticing the symptoms of low iron; they had seen it before in former athletes—and Traci herself has suffered with low iron since her high school running days.

"I am one of those athletes that has dealt with that her entire life from high school," Traci Kelly told 9&10 News. "I was in the lucky position that my parents could deal with that and could get me the blood test when I needed it, but not every kid has the means to do that."

Female athletes tend to have more problems with iron deficiencies than their male counterparts, unsurprisingly given that monthly menstruation is part of that picture.

The Centers for Disease Control and Prevention (CDC) found in a 1997 study that 9 to 11 percent of teenage girls were iron deficient, compared to 1 percent of teenage men. Almost a decade earlier, a 1989 study in the Journal of Pediatrics found that the stats were worse for female cross country runners in high school: 34 percent had ferritin levels that were below the levels of the general population, while only 8 percent of male runners suffered the same fate. Moreover, in 2015, the Journal of International Society of Sports and Nutrition cited endurance sports—like running—as a risk factor for low iron in female athletes.

So, Musgrave's coaches recommended that she get tested for anemia, which tests the levels of hemoglobin, a protein with four iron atoms which allows red blood cells to carry up to four oxygen molecules from the lungs to the body's muscles. The body stores most of its reserves of iron in a protein called serum ferritin, and when serum ferritin levels are low, the body slows the production of hemoglobin, which in turn means that the body produces fewer red blood cells.

In Musgrave's case, her hemoglobin levels came back as "normal," but her ferritin levels were very low, about 10 percent of what they should have been. This meant that she needed two blood infusions to begin feeling better, plus a steady dose of supplements ever since.

Musgrave says that her doctor told her that anything below 12 percent can be trouble, but a runner should have at least 40.

"You are breaking down blood cells every single day by running," Asa Kelly explained to the Benzie County Record Patriot. "And so many kids out there are never going to get tested and will never know. They might just think: 'I'm just not fast,' but maybe it's not that. Maybe if you got that tested, you could get that fixed. We've had kids with low iron every year. How many of them? We don't know."

He added that a number of Benzie's former all-state runners have gone on to run in college, and only then—with big school athletic budgets and a team of dedicated training staff—were they diagnosed with low iron problems.

"It was quite a shock, as a parent, to find out that, even when you are doing everything right—helping your kid with great nutrition, great sleep—there are invisible factors that go undetected," Musgrave's mother, Lisa, told the Benzie County Record Patriot.

Giving Back to Others
Not content with just bettering her own performance, Maya Musgrave is now working to make sure that no Benzie girl will ever have to go through what she went through.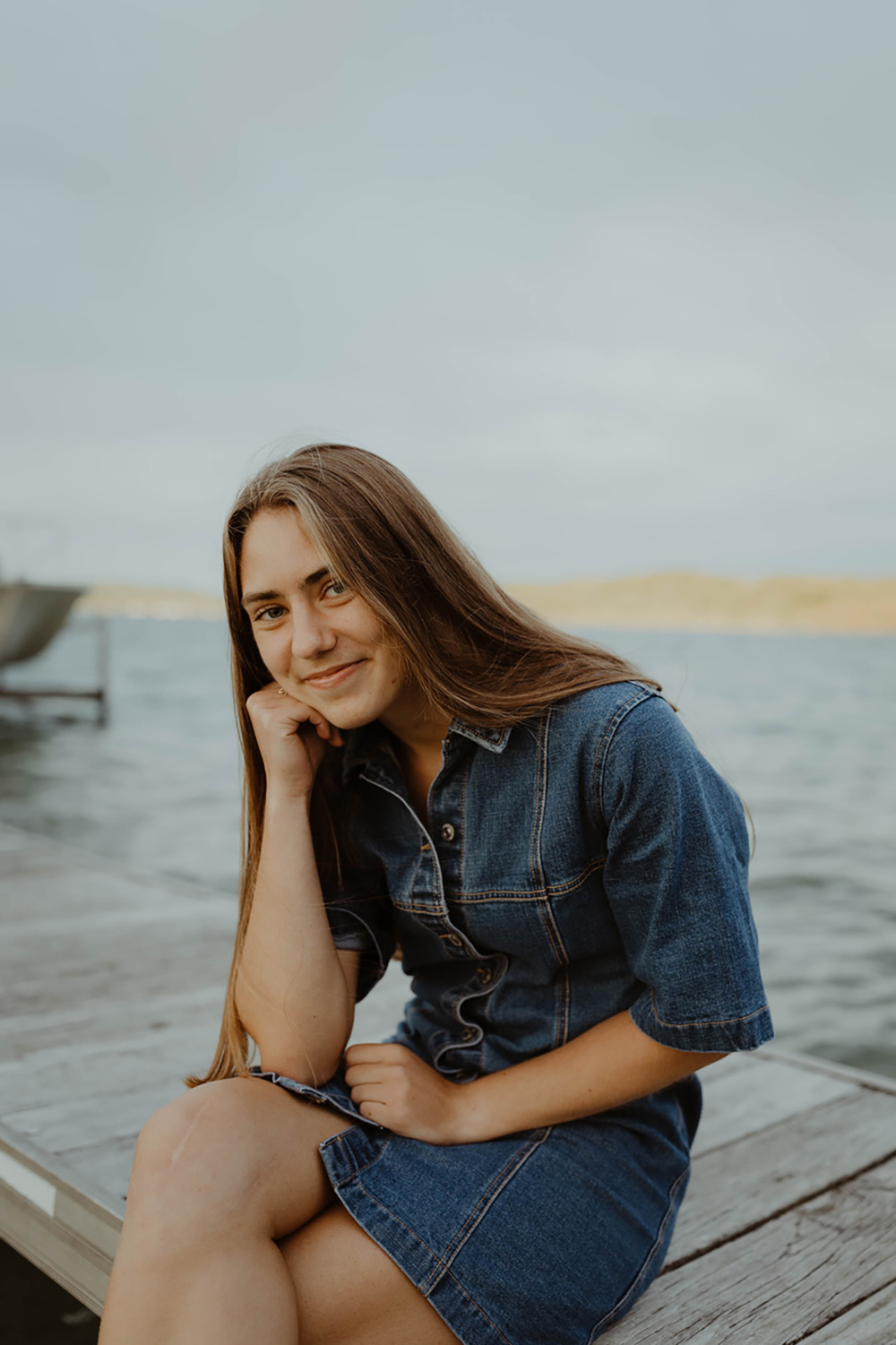 Earlier this fall, Musgrave used her own money from working a summer job at L'Chayim Deli so that the entire Benzie Central girls cross country team could be tested. And as it turned out, half of the girls on the team had low iron levels, though none were low enough to need a transfusion, as Musgrave had undergone; those girls were able to start taking iron supplements to get them back to normal. (Editor's Note: It can be harmful to take iron supplements if you do not have low iron levels, so a test and a follow-up with your primary care physician are necessary steps to determine if supplements are right for you.)

From August through November, Musgrave worked with an attorney to solidify 501c3 nonprofit status for a program she dubbed "Know If You're Low," in hopes of expanding the testing capabilities to even more athletes. 

Last month, her mother, Lisa, pitched the idea to the 100 Women Who Care of Benzie County nonprofit group, in which 100-plus women each donate $100 at quarterly meetings (in January, April, July, and October), and then each woman gets a vote for where the lump sum is donated, after hearing three pitches from members of the group. Now, more than $14,000 is available for Benzie County's female athletes to take advantage of iron testing and education on an annual basis for the next three  years; this money must be spent in Benzie County, as a stipulation of the grant-givers.

But Musgrave is hopeful that the Know If You're Low project can soon grow to other schools around the state and the nation, if more funds can be raised. 

Maya Musgrave is hoping to study biology in college, though she has not yet decided where she wants to attend next fall. Interested in supporting Musgrave's "Know If You're Low" program? Check out KnowIfYoureLow.com online, "Know If You're Low" on Facebook, and/or mail a donation by check to PO Box 378, Beulah, MI, 49617. Additionally, Musgrave is looking for student ambassadors from other high schools to bring this program to their student body. Use the KnowIfYoureLow.com website's "Please Reach Out" form to sign up for more information.

Featured Photo Caption: Members of the Benzie Central High School girls cross country team pose for a photo after a race this past fall. Thanks to the dedicated work and financial donation of senior Maya Musgrave (third from left), the entire team was tested for low iron levels, which often plague female athletes, especially those in endurance sports like running. Half of the team's results indicated low iron. Photo courtesy of the Musgrave family.