North Channel Brewing Company opens in downtown Manistee
By Aubrey Ann Parker
Current Editor
A new attraction opened up last month in Manistee: North Channel Brewing Company, located across the Manistee River from the downtown area and next to the drawbridge. The brewery is originally the brain child of Ron and Dawn Ford of Grand Rapids, and many in the community are hoping that the brewery will breathe some new life into downtown Manistee, just as Stormcloud Brewing Company has done for downtown Frankfort over the past four years.
There are many reasons that locals are getting excited, and it is not just about the beer — the Texas-style food is different than anything else around; the brewery will feature live entertainment several nights of the week; and the project has rehabilitated a 100-year-old building in a derelict part of town. Additionally, 14 new housing units will soon be available above the brewery in the same building.
So, to review: jobs, homes, and beer, oh my!
Why Manistee?
The Fords first came to Manistee in 2002, when they were driving the Lake Michigan coastline looking to find a summer place. At the time, Manistee had a microbrewery on River Street, and the Fords considered this a perk of choosing to vacation there, according to the brewery's website. By 2012, the brewery had long-since closed, and the town was suffering the effects of the housing bust and the Great Recession. However, over this same decade, the craft-brewery scene had exploded.
Ron Ford and his son had been home-brewing for about two years at this point, and they thought that Manistee was the perfect place to open a craft brewery since, at the time, there were no breweries between Ludington and Traverse City. Then Stormcloud opened in June 2013 in Frankfort and was very successful, so the idea for a Manistee brewery continued to gather momentum in the Ford household. With a 29-page business plan, they secured partners: Aaron and Erik May (brothers) and Phil Johnson.
The concept for the brewery was — and still is — to mix creativity and science. They wanted to produce high-quality beverages and gastro-pub food at a reasonable price, using as many locally sourced ingredients as possible.
A Dozen Taps
Bill Joslyn is the head brewer, and there are 12 taps that are made on-site. Josylyn moved back to Northern Michigan from North Carolina specifically for the position with North Channel Brewing Company. Joslyn first began home-brewing in 1990, when he was living in Northern Michigan and working as an artist. In 2000, he was accepted into the Master Brewers Program at the University of California-Davis, and later that year, he began working at Boulder Beer in Boulder, Colorado. By 2003, Joslyn had moved to The Saint Louis Brewery (Schafly Brand) in St. Louis, Missouri; he later spent a few years at Oskar Blues Brewery in Longmont, Colorado, and in Brevard, North Carolina.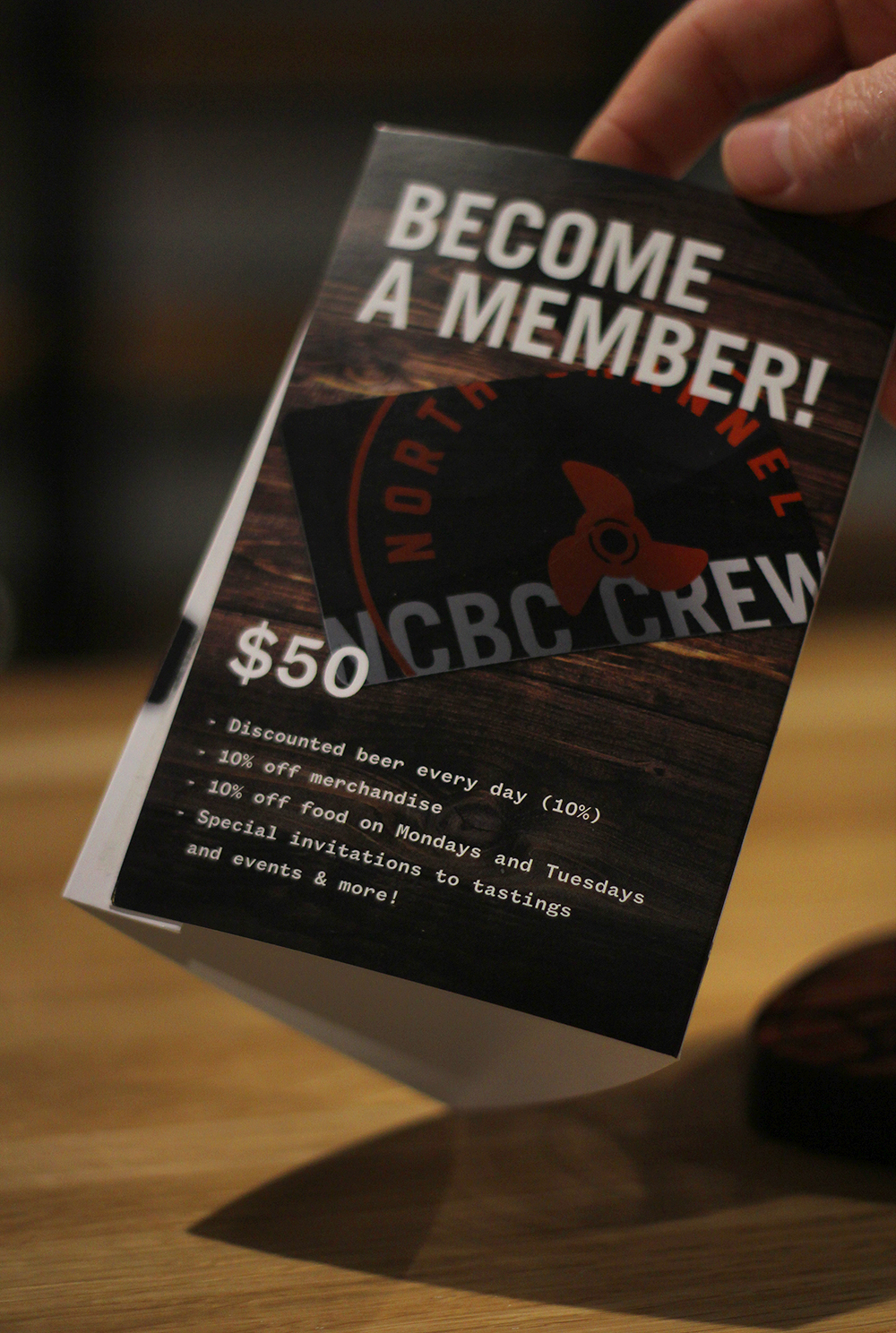 Joslyn's plan is to make "classic-style beer with locally sourced ingredients," according to the Manistee News Advocate. He expects to make 400 to 500 barrels in the first year.
The beers currently on tap consist of:
Salt City Blonde (5.9% ABV): "Designed to be an easy-drinking, balanced beer with a simple grain bill — 2-row along with Pilot Malt House malted white wheat and malted oats."
Cap'n Piles Pilsner (5% ABV): "Pilot Malt House Pilsner malt, along with Saaz hops, create North Channel Brewing Co.'s first lager."
Pier Michigan American Pale Ale (5.3% ABV): "Our second beer ever produced, with a vast majority of Michigan ingredeints, including malt from Pilot Malt House and Michigan Copper Hops from Mi Local Hops in Traverse City."
Manistee's IPA (6.4% ABV): "2-row malt forms the backbone of this beer, along with some rye malt, added for complexity and a bit of spiciness. Michigan Copper Hops were added during the boil, and Citra was used to dry-hop, making it a balanced, yet hop-forward IPA."
Drawbridge DIPA (8% ABV): "2-row and CaraPils lead the grain bill, and Azacca and El Dorado hops provide aroma and bittering, respectively." (Editor's Note: We noticed that both the IPA and the DIPA were not too heavily bitter, which we liked.)
Dockside Bock (6.2% ABV): 2-row malt along with several varieties of roasted malt (some from Pilot Malt House) for color and flavor, combined with Michigan-sourced Saaz (Michigan Hop Alliance) and Copper Hops (MI Local Hops)."
Sawmill Stout (7.7% ABV): "Our first stout — 2-row, malted and flaked oats, and a host of dark malts lay the groundwork for this big, malty beer."
Nitro Chainsaw Stout (7.7% ABV): "Our first stout, but this version is on Nitro; 2-row, malted and flaked oats, and a host of dark malts that lay the groundwork for this big malty beer."
High-Bluff Porter (6.5% ABV): "Our first porter. Slightly sweet, slightly bitter, nicely balanced. Pilot Malt House 2-row, PB Toast, Toasted Brown Malt, Caramel Malt, along with Black Malt from the U.K., lay the groundwork for this malty beer."
Every beer on the menu lists what percentage of malt and hops are Michigan-sourced ingredients. There are also two ciders: a hard cider and a blueberry cider. Jacob Walsh, the bar manager, says that they will be selling liquor shortly, with creative cocktails.
Southern-inspired Food
As for the food side of things, Carl Eskridge is the general manager and executive chef. His idea was to serve Texas-style barbecue and Southern-inspired cuisine. For instance, they have alligator bites on the menu all the time, and sometimes some rattlesnake. They have fried pickles, Southwestern shrimp, jalapeno cornbread, and pork carnitas tacos. The restaurant is currently going through 40 briskets per week, in addition to the baby back ribs and chopped barbecue pork that comes out of the smoker.
Bobby Elkins is the sous chef. He is originally from Fort Wayne, Indiana, but has lived in Manistee for quite awhile now; he worked for seven years at Manistee's Little River Casino and two years before that at Battle Creek's Firekeeper's Casino, which Elkins says is a completely from-scratch kitchen. This was good preparation, he says, since 98 percent of what comes out of the North Channel kitchen is made from scratch, too — the potato chips, the tortilla chips, the sauces, the dressings, almost everything.
Elkins says that Eskridge wrote the menu, and Elkins helped to tweak it.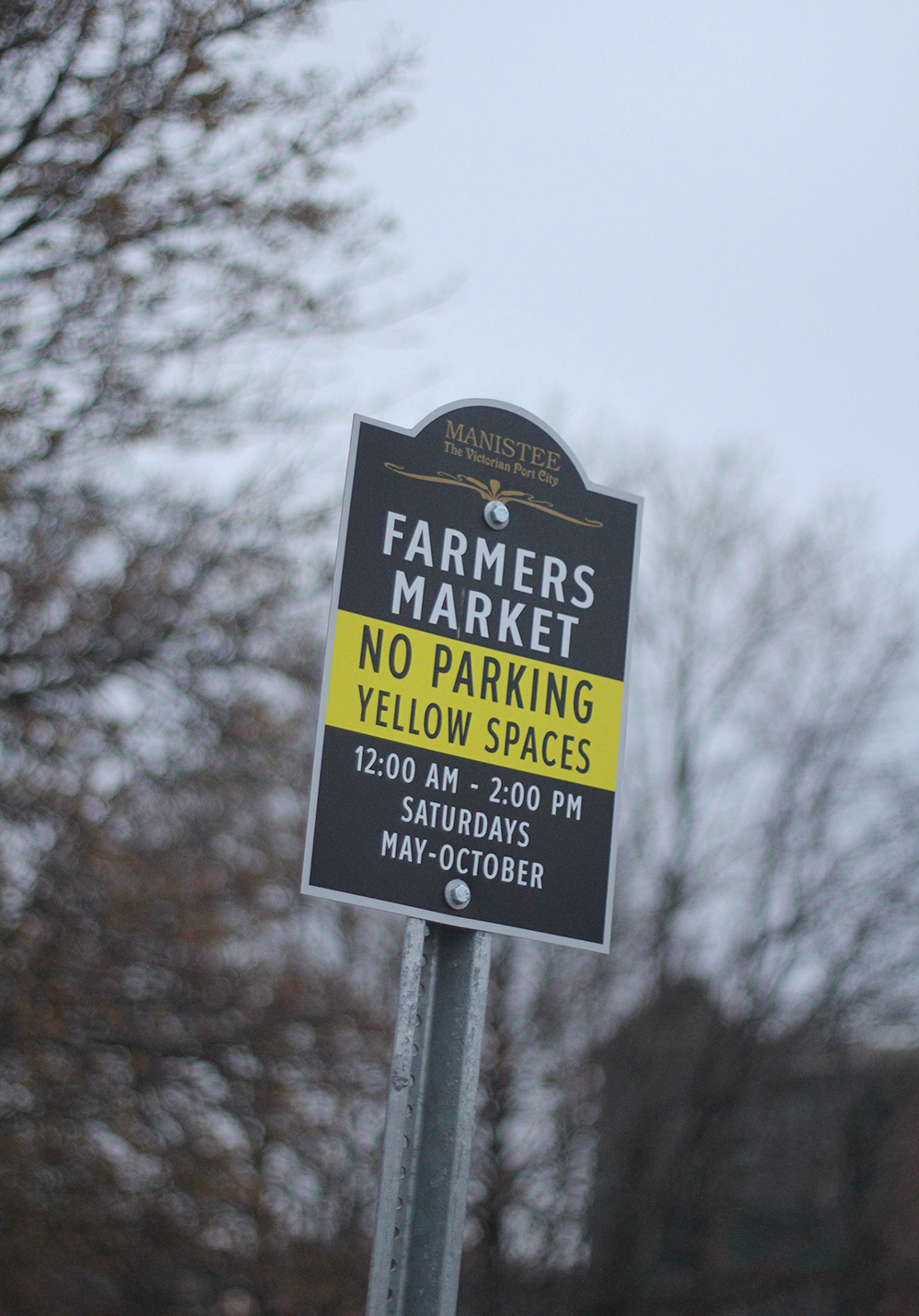 "We've been fine-tuning it together," Elkins says. "For instance, we wanted the brisket to be absolutely perfect before opening."
Every benchmark that they have set so far has been surpassed, Elkins says, and so their benchmarks are going up every week, as their food has been in high demand. And there is no wondering why— it is good. And it is different from what most others in the area are serving.
"There are a couple of places nearby, like Ludington, that are doing Memphis-style barbcue," Elkins says. "But we are doing Texas- or Louisiana-style, with a heavy dry rub. I call it 'mop barbecue sauce,' because it's thin. And coffee is the main ingredient."
The burgers are ground in-house, and they contain 50 percent chuck and 50 percent brisket.
"Most places you go, the blend is 70-30," Elkins explains. "And we use a heavy grind — some would call it a 'rough grind.' You know how typically a beef patty at a restaurant is like a meatloaf-like consistency? Well, ours is heavier in texture, more like a steak."
When you go, make sure to order the Bacon Slaw Burger, which comes with homemade bacon jam, creamy Southern coleslaw, crispy-fried shaved onion, and white cheddar, served on a brioche bun with lettuce, tomato, and onion. Just make sure to grab a napkin or two, as the huge, super-tasty treat takes two hands to grip and oozes with each bite. Seriously: the colesaw is the creamiest slaw that this writer has ever tasted, and the bacon jam is delightful — to make one quart, it takes two bounds of bacon, seven jalapenos, and one red pepper. But the result is "all sweet, no heat," Elkins says. (The jam has been so popular that they are thinking of bottling it and selling it.)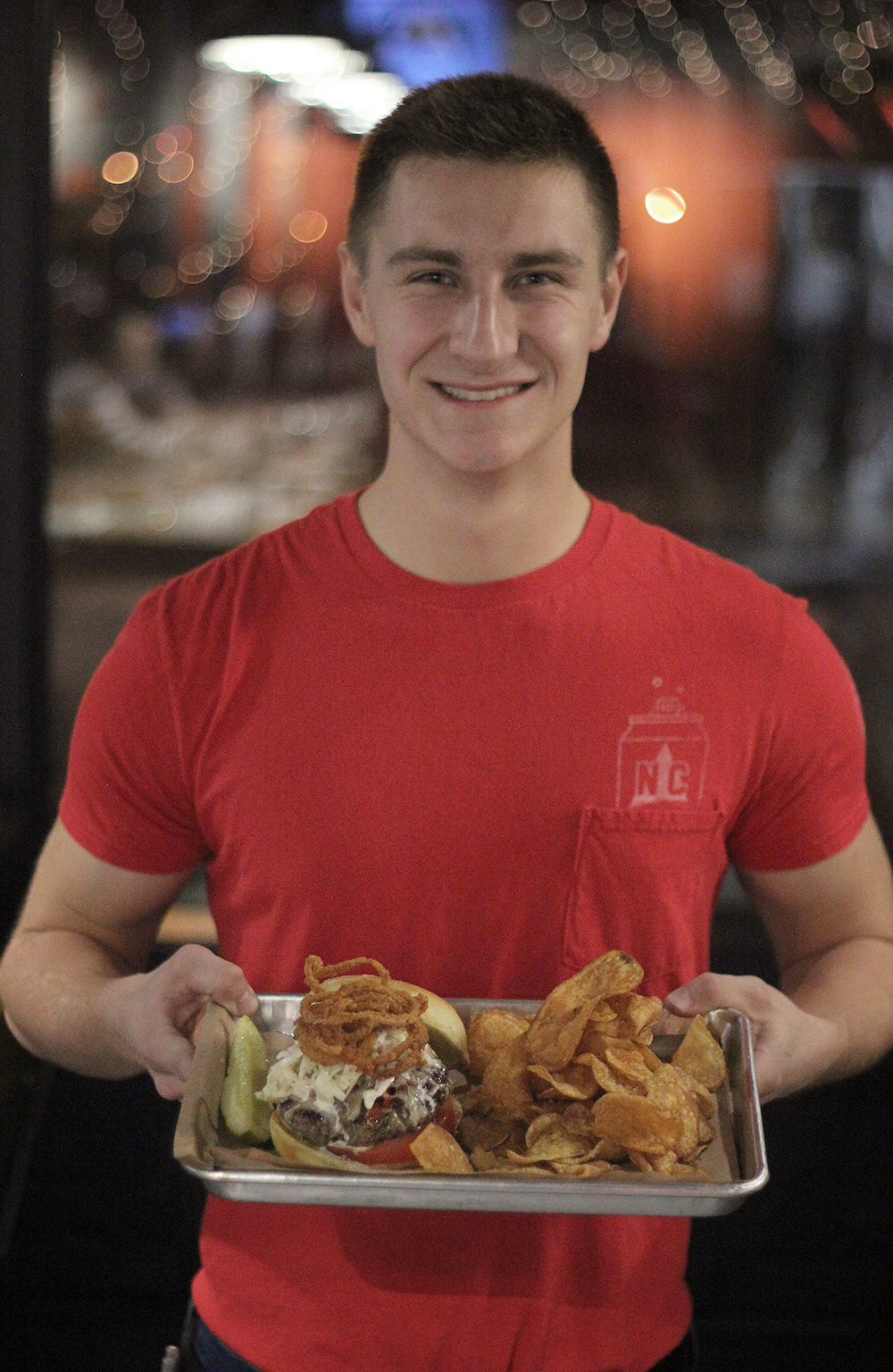 Elkins says that he has been wanting to do a barbque place in downtown Manistee for quite some time now.
"Funny story, but I actually almost bought this same building before they did," he laughs.
Ultimately, Elkins credits his friends for persuading him to apply for the position at North Channel.
"I'm the beer junkie; I'm the barbecue guy," he says. "So my friends pushed me to apply for this job — and man, they were right."
Live Entertainment
The brewery can hold about 150 people at capacity — about 75 in the front room with the bar and a dozen tables, and another 75 or so in the back room that is filled mainly with booths.
Jacob Walsh, the bar manager, has been working for North Channel for the past few months, preparing for the big opening. Raised in New York and having lived for a decade in southern Florida where he managed restaurants, Walsh moved to Manistee two years ago and has been working in the restaurant industry just across the river.
"I love food and beverage management," he says. "I love good food. I love good beer. I take lots of pride in the local community."
What is his favorite North Channel beer? The Bock.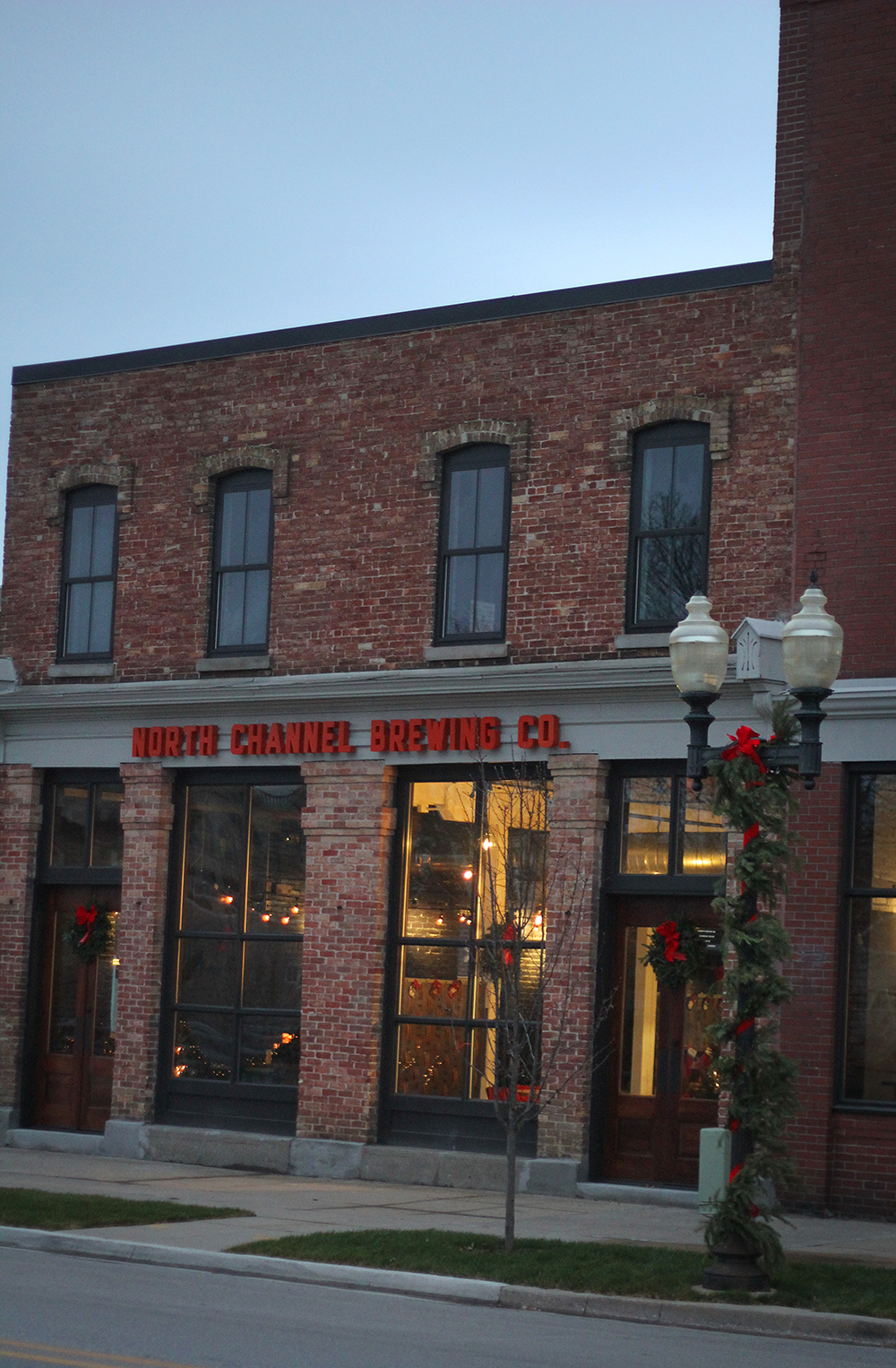 Walsh is excited about the upcoming entertainment schedule. Throughout the winter, he says, they plan to have live shows, such as music and stand-up comedy. They are also planning a New Year's Eve party, with details still in the works. (Check their Facebook page for updates.)
Old Building Gets New Life
North Channel Brewing Company is located in a 21,000-square-foot, three-story, 100-year-old building that sits on just over half an acre. The building was once Manistee Manufacturing, a furniture company that began in the 1890s. At one time, the building encompassed the whole block, according to the brewery's website, but it had several large fires that eventually led to the company's shuttering. The building has had several uses since — all manufacturing through the early 2000s, though it was most recently used as a resale store until 2010. Then the dilapidated building sat vacant for many years.
The structure was in worse shape than the business partners originally thought, so it took eight months of construction to get the brewery ready. But there are further plans for the building: the brewery and restaurant are located in 8,000 square feet on the first floor, and there are 13,000 square feet comprising 14 apartments upstairs, though those will not be ready until 2018.
The brewery's soft opening was Friday, November 10, and this event — complete with a formal ribbon-cutting ceremony — was geared toward the many contractors, vendors, and city officials who had helped along the way. Saturday, November 11, marked the official grand opening to the general public.
More good news came at the end of November, when MLive reported that North Channel will receive $970,000 from the state to complete the $5.4 million building restoration, turning it into both a commercial and retail development. The Michigan Community Revitalization Program award is dependent upon the project creating at least 20 jobs that pay an average of $18 per hour, which it already is doing at the brewery. Additional funds for the project are coming from a loan from Shelby State Bank, historic tax credits, and 13 percent of the project's costs are coming from the City of Manistee.
North Channel Brewing Company is located at 86 Washington Street, across the street from the Farmers' Market and next to the Manistee River at the drawbridge. You might even look out the window to see a pile of cars lined up at the lifted bridge as the occasional freighter goes by. Learn more at NorthChannelBrewing.com.