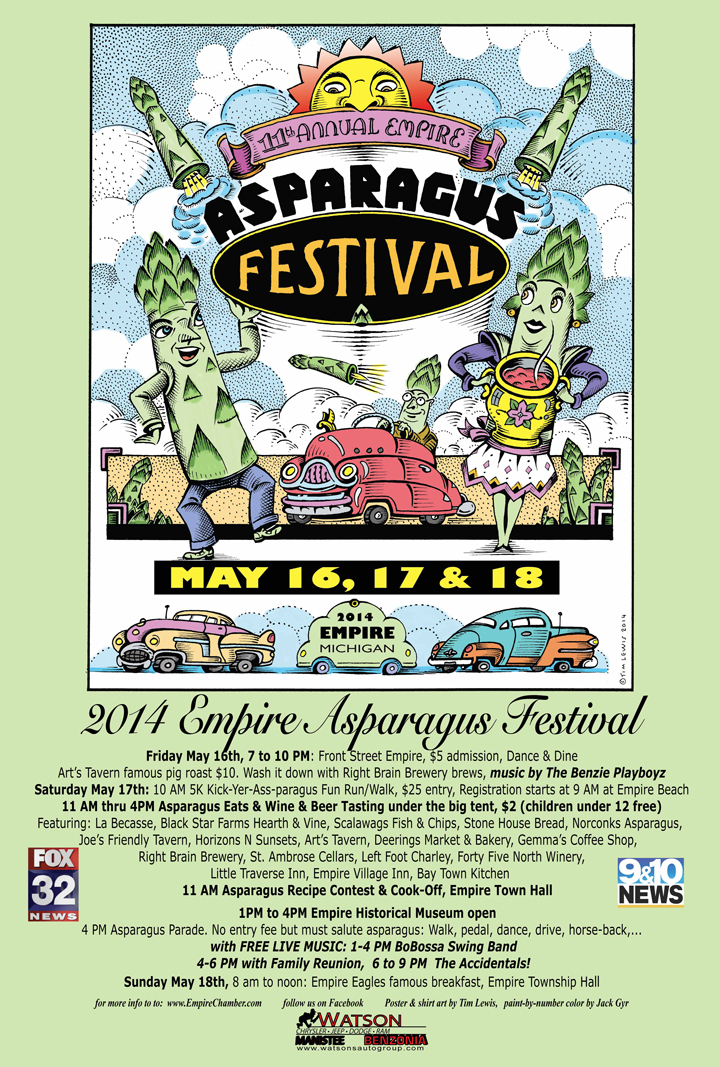 Yes, we love a cheesy title as much as the next person.
From Staff Reports
It's spring — at least according to the calendar book, and to the tourism arrival schedule (Memorial Day weekend is just a week away!). And yet, Leelanau County today knows only rain and a chilly 40 degrees (and tomorrow could yield snow!). The Norconk Asparagus farm south of Empire on M-22 has yet to welcome those delicious green asparagus stalks.
Nevertheless, Empire's 11th annual Asparagus Festival commences tomorrow, May 16, with a dance and pig roast from 7-10 p.m. Eat fresh pork supplied by Art's Tavern and wash it down with asparagus beer from Right Brain Brewery in Traverse City. Then stomp your feet to music from the Benzie Playboys.
The Asparagus this year won't come from Leelanau County, but it also won't come from outside Michigan. Oceana County and Benton Harbor are bailing us out.
As per tradition, Saturday includes a 5K Kick Ass-paragus Fun Run/Walk at 10 a.m., an Asparagus Recipe Contest Asparagas Cook-Off at 11, and the Asparagus Parade at 4 p.m. No Entry Fee required to walk, pedal, dance or ride horseback in the parade, but you MUST salute the Asparagus stalk. Music during the day includes the BoBossa Swing Band from 1-4 p.m. and the Northern Michigan favorite, The Accidentals, from 6-9 p.m.
Eat your heart out all day long (11 a.m.-9 p.m.) at the food tent, which will feature grub from Scalawags Fish & Chips, Stone House Bread, Norconks Asparagus/Fresh & Pickled Asparagus, Empire Village Inn, Gemmas Coffee Shop & Baked Goods, Joes Friendly Tavern, Bay Town Kitchen, Horizons N Sunsets, Black Star Farms Hearth & Vine, La Becasse, Arts Tavern, Deerings Market and Bakery/Asparagus Brats. Wash it all down with beer or wine from Black Star Farms, Right Brain Brewery/Asparagus Beer, Left Foot Charley, Little Traverse Inn, St Ambrose Cellars and Forty-Five North Winery
Round out the weekend on Sunday with breakfast supplied by the Empire Eagles Eagles from 8 a.m. until noon. at the Empire Township Hall.
For more information, visit the Empire Chamber of Commerce webpage.
Get 'yer Asparagus on!
http://betsiecurrent.com/wp-content/uploads/2014/05/2014-poster.jpg
1067
720
Jacob Wheeler
http://betsiecurrent.com/wp-content/uploads/betsie-current-text-banner-2014.png
Jacob Wheeler
2014-05-16 12:31:24
2014-05-16 12:32:58
Empire Asparagus Festival Pops out of the Ground