Questions & Answers with community faces
Emily (Cline) Pangborn (37) grew up in northern Indiana with two older brothers and a younger sister. In 2001, she graduated from Wawasee High School, where she had played volleyball and basketball, ran track, and sung in the choir, in addition to dancing for 16 years and being an active 4H member. After high school, she attended the English Nanny and Governess School in Chagrin Falls, Ohio, which led her to a nanny position in Plymouth, Michigan.

In 2002, she met her future husband, Matt Pangborn (now 42), who was originally from Corunna, Michigan; Matt lived with her two older brothers at Central Michigan University. The couple were married in July 2003 and bought their first house in Traverse City during the same year. Their first child, Landen, was born in 2005, with Rowan and Fallon following in 2007 and 2009, respectively.

Matt is a licensed builder, which allowed Pangborn to work part-time as a property manager and eventually to stay home with the kids full time. The Pangborn family moved to Interlochen in 2011, and all three of their children attended Lake Ann Elementary and have since moved to Benzie Central Middle and High School. The family keeps very busy with Landen (15), a straight-A honors student who participates in soccer, wrestling, and track; Rowan (13) attending Northern Michigan Virtual through Benzie, which allows him to still participate in football and wrestling while learning from home; Fallon (11) singing in the choir and taking horseback lessons at Valley Creek Farm.

Pangborn got her Associate's degree in Science and Arts from Northwestern Michigan College (NMC) in 2018 and thought that she would follow that up with a Certified Public Accountant (CPA) license and pursue a career in accounting, now that her kids are older and do not need as much of her time and attention. However, something more creative was in store for her.

She began pouring candles in her kitchen in 2014, as a hobby. After introducing her creations to family, they encouraged her to start selling them in stores. Since starting her company, Pangborn has seen dramatic growth—in addition to local craft and art shows, 5:14 Candles can now be found in more than a dozen stores, and she is now on the brink of hiring help and expansion out of the family home.

Continuing with our interview series on impactful Benzie County characters, The Betsie Current caught up with Pangborn preparing for the upcoming holiday season.

The Betsie Current: What made you want to pursue this as a career? How did you get started?

Emily Pangborn: I wanted to pursue a career that I could do from home, one that would allow me to stay involved and available to our children. I recently earned an Associate's degree from NMC and had intended to pursue a Bachelor's degree in accounting, until my candle company took off and I could no longer do both. I will always have my associates degree to fall back on, but for now I am enjoying the creativity of being a chandler. Besides, that's always something that I can come back to if I want, but right now I'm really enjoying being in a creative pursuit. For as long as I can remember, I have loved candles. After realizing that many expensive candles were giving me headaches—as well as not burning properly—I decided to try making my own candles, and that is how 5:14 Candles was born. After much trial and error, I believe that I have found the perfect combination of jar, wick, wax, and fragrance; a combination that allows my candles to burn clean all the way down.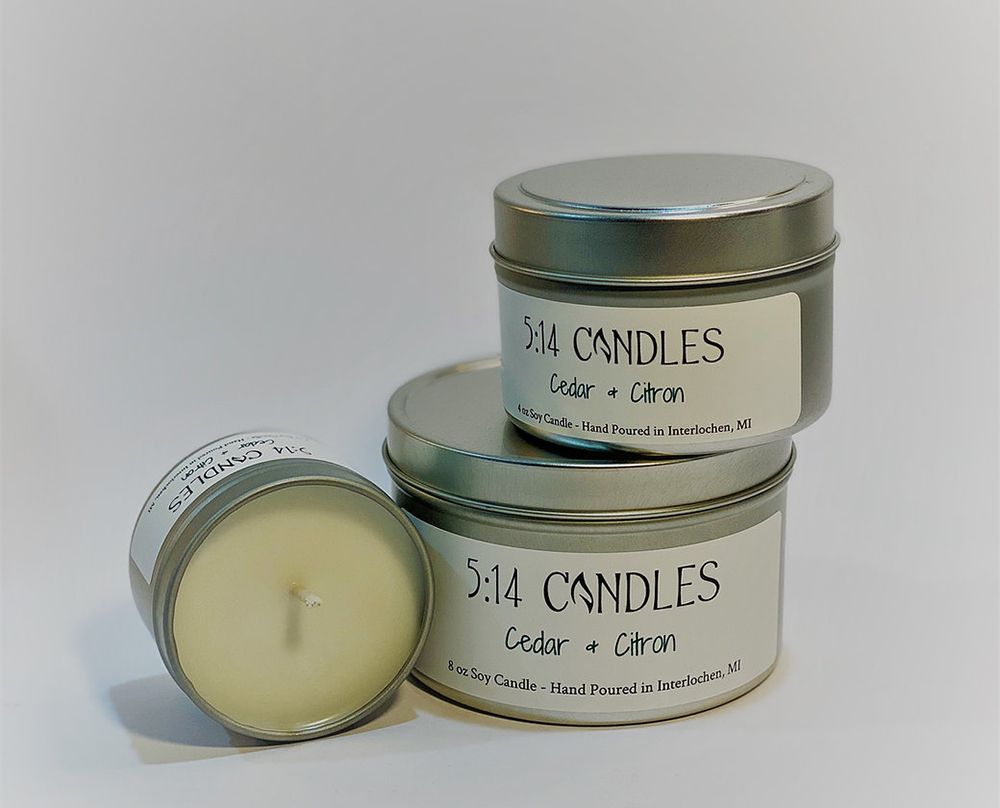 Current: What does a typical day of work look like for you?

Pangborn: I currently pour candles two to three days per week, and the other two days are filled with making deliveries, accounting, website maintenance, social media, photography, and running all other aspects of the business. I can hand pour up to 200 candles per day in my studio.

Current: How has that changed since the COVID-19 pandemic hit Northern Michigan in March?

Pangborn: While 2020 has proven to be a slow year for many, I have had an influx of online orders. Thankfully, there are many people in our area that are loyal to shopping local—this has allowed me to remain in business and, in fact, during the shut down, when my husband was unemployed, it is what put food on our table. This is a huge deal for me, as I have only ever claimed this to be a hobby. I cannot stress enough how grateful I am to each of my customers for their support. Choosing to shop local is a huge deal and truly provides not only for small families like mine but also cycles right back into our community.

Current: Where does the name 5:14 Candles come from? How does your company give back to the community?

Pangborn: I never thought naming a company would be so difficult, and each time that I thought I found something clever, I would research the name and find an existing company had already taken it! In frustration, I turned to my Bible and there was the answer. "You are the light of the world. A town built on a hill cannot be hidden. Neither do people light a lamp and put it under a bowl. Instead, they put it on its stand, and it gives light to everyone in the house. In the same way, let your light shine before others, that they may see your good deeds and glorify your Father in heaven." Matthew 5:14-16. For me, this company name is two-fold—not only do my candles provide light, but I also strive to be a light in the world, by donating a portion of proceeds to various charities, churches, and sports teams. I also have given monetary donations and gift baskets to local fundraisers, scholarship programs, and sports teams to auction off.

Current: How have you seen your work grow and change? How do you hope that it will continue to grow? What is next? Have you had any collaborations? Where can people find your candles, besides online?

Pangborn: I am busy every day filling candle orders, but I especially love creating custom candles and doing collaborations with other businesses throughout the area. I've made custom candles for Crystal Crate & Cargo, The Red Door Coffee House, The Hair and Beauty Lounge, HNM Wellness, Crystal Mountain, The Bread Lady, multiple social media influencers, subscription boxes, and Darker Mfg in Owosso. I've also made custom candles for weddings, showers, and memorials. I recently added an artisan collection to my product line, which includes hand-built pottery from Bechler Pottery, which is then filled in the fragrance of choice. Cory Bechler is a teacher and a coach at Benzie Central, and he has his own ceramics business when he's not at school. When customers burn their candles down, they are left with his beautiful pottery to reuse as wine tumblers, pencil cups, succulent planters, or anything they desire. My candles can be found in Benzie County at Crystal Crate & Cargo in Beulah, at The Hotel Frankfort, at Crystal Mountain Resort in Thompsonville, at The Red Door Coffee House and The Bread Lady in Lake Ann, at Bud's in Interlochen, and numerous others in our region. Typically, I am also selling at various craft markets, especially through the upcoming holiday season, but those have all been canceled, due to COVID-19.

Current: What is your favorite fragrance that you sell? Or, top three favorites?

Pangborn: Pinning down a few favorites is hard for me, as I tend to burn candles that go with the season. However, if I had to choose, it would probably be Cedar & Lavender, Cranberry Marmalade, and Cinnamon Pine. Many of my fragrances have stories that go along with them, and that is certainly one aspect that I love. There is such nostalgia that comes with a candle that smells like your grandfather's pipe or your grandma's kitchen, for instance.
Current: What makes your candles special?

Pangborn: 5:14 Candles are hand poured using soy wax that is sourced from the United States; they are vegan and free of lead, dye, parabens, and phthalates. They come in different sizes and various vessels, all of which are reusable and/or recyclable, and they burn for approximately six hours per ounce of wax. If you really get me going, you will find that there is a lot of science to the art of my candle creations. Overall, soy wax provides a cleaner, healthier, and more eco-friendly candle. I choose to use 100 percent soy wax, because it provides a carbon-neutral burn. Soy is also a renewable resource. Soybeans are husked and dried into flake form, then the oil is extracted from the flakes and hydrogenated. The hydrogenation alters the chemical compound, so that soybean oil is a solid at room temperature, this gives you soy wax! Many other candle companies choose to use paraffin wax, because it provides a strong fragrance, however after much research, it has also been determined that paraffin wax burns hotter and faster and emits toxic soot, because it is a derivative of petroleum. Palm oil wax and coconut oil wax are also popular candle waxes but are very controversial in their farming and harvesting practices. 5:14 Candles are vegan, meaning that there are no animal products, such as beeswax or stearic acid. My soy candles are made with high-quality fragrance oils that contain components of essential oils, but I do not use straight essential oils. While I love essential oils, fragrance oils are better suited for use in candles, as the "scent throw" is stronger. The other problem with using essential oils in candles is that they are volatile, meaning they vaporize very easily, which is great when diffusing. However, this also means that they are not as stable as fragrance oils, and when burned in a candle, the essential oil loses its aromatherapy properties, making it useless for that purpose. Some essential oils can even become toxic when burned. The fragrance oils that I use are also free from phthalates, which cause allergic reactions and headaches for many people.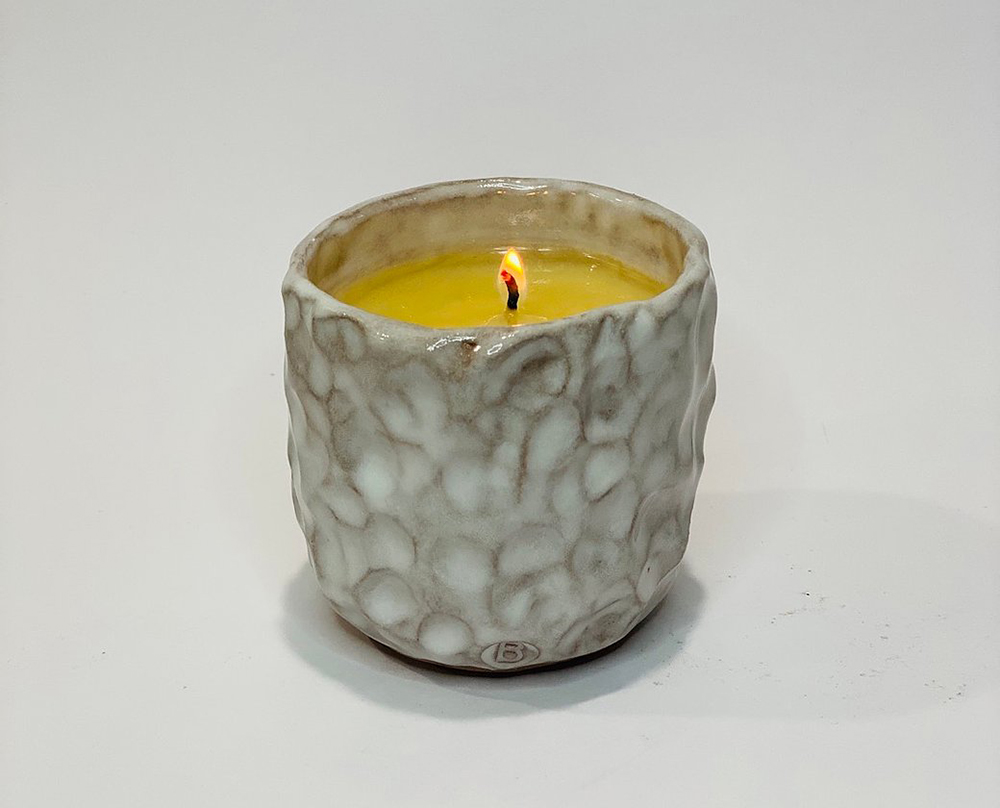 Current: What kinds of things do you do for fun, when you are not working? What other things are you involved with? How did you get involved with them, and why are you passionate about these causes?

Pangborn: My family and I love to spend time together, we often go camping, hiking, rock collecting, sightseeing. When I actually get time to myself—not often, ha—I love to bake, garden, and read. In the past, I've participated in the parent advisory council and the building improvement committee, championing the bond for Benzie County Central Schools and the Yes For BC Kids campaign. I believe strongly in our local schools, because schools are the backbone of a community. They are the place in which our children grow and learn to be kind and responsible citizens. Children learn social skills and diversity in schools that they may not otherwise learn from home or in a virtual environment. School, athletics, and extra curricular activities also create a sense of belonging for many children.

Current: How have you seen Benzie County/Northern Michigan change since you first came up here? What are your hopes for the area in the future? What are the biggest challenges and rewards of living/working in Benzie County and in Northern Michigan, in general? What is the best or most rewarding part of your job? What could Northern Michigan do to attract more talented young people to this area?

Pangborn: This area has so many beautiful things to do and see and is perfect to raise children, while also offering rural and attractive housing to young families. Since moving to the area in 2002, I have seen huge growth and population increase. We absolutely love living in Benzie County and look forward to watching our kids graduate from Benzie Schools. For us, one of the biggest challenges is that our school district is currently under tremendous pressure. If this bond does not pass, there is the potential to be placed under state oversight. My concern is that the state will choose to shut down our schools completely, and we will have to either teach our children virtually or transport them to a school district that is already overfilled. If we are forced to close our doors, people will choose not to move into our area and our local economy will suffer.

Current: What are your favorite local events and activities? Any favorite dining, recreation, hiking spots?

Pangborn: We don't get to eat out much, because Rowan has severe food allergies, but when we do go out, we love to go to the Roadhouse or get pizza from Papa J's. We also enjoy getting ice cream at JoMo's, and my guilty pleasure is getting coffee at Red Door Coffee House in Lake Ann or Bud's in Interlochen. We enjoy supporting local businesses, such as Crystal Crate & Cargo, as well as frequenting the Frankfort Farmers' Market and spending time hiking within the Sleeping Bear Dunes or at many of the area beaches.

Current: What does your perfect November day look like in Benzie County? How would you spend it?

Pangborn: November for us is a time to prepare for winter. We can typically be found cutting wood to heat our home, tending our chickens, or readying our gardens for winter. Once that is done, we usually find time to hit an apple orchard, hike Pyramid Point, or find some rocks. If the weather is not so great we will usually stay home and bake something or watch a family movie.

Visit 514Candles.com, "5:14 Candles LLC" on Facebook, or @514_candles on Instagram to learn more and see inventory. Candles can be shipped within five to seven days via U.S. Postal Service delivery with $5 shipping on all orders. Bulk and/or custom orders are also available for weddings, baby showers, memorial services, and much more. Call 231-944-9585 or email 514CandleCo@gmail.com for more information.

Featured Photo Caption: Emily Pangborn typically sells her hand-poured soy wax candles at art and craft fairs, but most have been canceled, due to COVID-19. However, despite the pandemic, business is booming for Pangborn, who sells at a dozen local retailers, as well as online. Photo courtesy of 5:14 Candles, LLC.