Successful partnership with Bay Area Recycling for Charities
There is a lot of excitement surrounding a partnership between Crystal Mountain, one of Northern Michigan's premier ski and recreational resorts (and Benzie County's largest employer), and Bay Area Recycling for Charities (BARC).
Based out of Traverse City, BARC is a unique nonprofit that was founded six years ago by Andy Gale. Enamored by Northern Michigan's natural beauty and many opportunities for outdoor recreation, he began wondering how the waste that was generated by the area's businesses and tourism industry could not only be recycled but bring financial gain to the region's many nonprofits.
"We are a social enterprise," Gale says. "We combine a 501(c)3 nonprofit entity with for-profit business and work within the frame of a mission."
BARC gives 100 percent of profits that are gleaned from recycling waste materials to local nonprofits. Many local groups such as the Boy Scouts and area school sports teams benefit from working with BARC to collect redemption-value returnables.
The partnership between Crystal Mountain and BARC began four years ago, when BARC was one of the resort's contracted service providers. Back then, BARC traveled to the site daily to dispose of waste. Now they have a dedicated on-site team.
"Crystal Mountain is unique in that they have this micro-economy happening. It's like its own little city," Gale says. "There is not only the skiing and golf, but there is a hotel, restaurants, spa services, gift shops, convention and meeting areas—just so many facets, and each creates their own challenges in terms of what to do with the waste."
What began as a consultation and contract to remove daily waste has evolved over the past four years into a strategy for reducing the overall waste impact from such a large enterprise.
"This has been an incremental process," says Chris Cargill, on-site supervisor for Crystal Mountain's waste stream management program. "Our first year, we were showing that we could handle the day-to-day volume of such a large business, and from there we have moved forward implementing best practices from our own experiences and within the industry to increase the amount of 'no-waste' business practice."
"No-waste" is a term used when 100 percent of the by-products of conducting business are negated—either returned to their natural state or repurposed for other use. Very few businesses attain the 100 percent no-waste level. Gale estimates that when the partnership between BARC and Crystal Mountain began, the resort was operating at approximately 10 percent no-waste.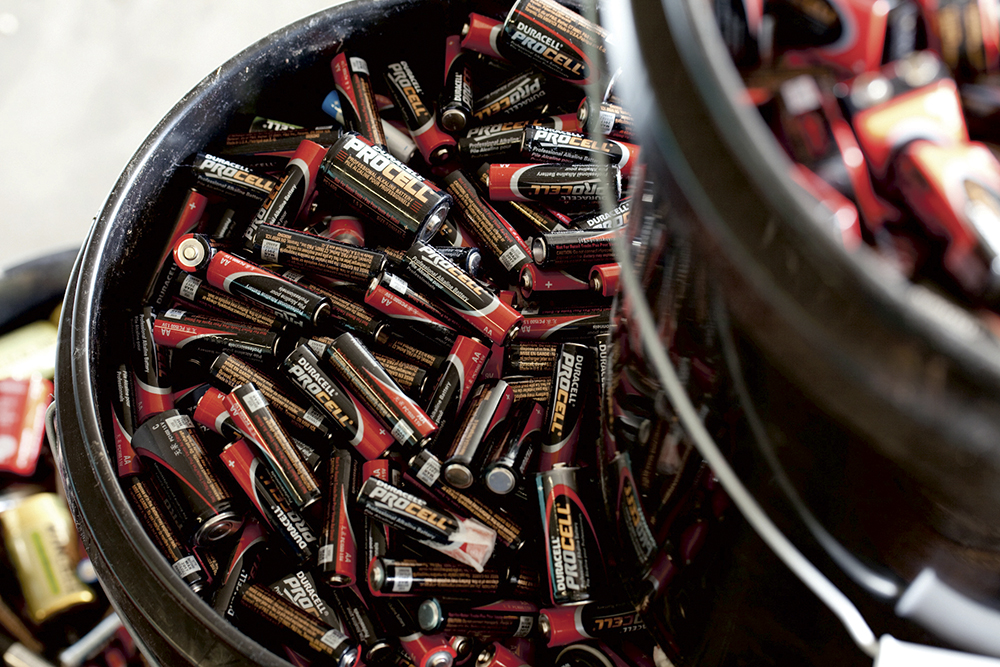 "They had a good foundation to build on," he says. "Presently they are at about 60 percent, and I think realistically they can go consistently as high as 75 to 80 percent, although I'd love to get them to 90 percent."
Gale explains that businesses with high client turnover—such as hotels and restaurants—will always struggle to reach 100 percent no-waste. There will always be issues that are difficult to control, like when families bring young children with disposable diapers. But a huge part is education.
"At the end of the day, education and training are some of the most important factors," Cargill says. "How do we make it as easy as possible to achieve the highest success rate of material recovery?"
Cargill makes note that Crystal Mountain is going green wherever it can, not just for minimizing its waste.
"Crystal Mountain has always been very up front about their initiatives for environmental impact," Cargill says. "For example, wherever possible they use environmentally safe cleaning products such as vinegar instead of harsh chemicals, and wherever possible the restaurants use compostable servicewear."
Cargill is at Crystal Mountain each day, and he has spent good portions of his time there getting to know the facets of each job before making recommendations on how to reduce waste in that particular area. He states that he would not be qualified to offer suggestions to a chef or to kitchen assistants without first having gained an understanding of kitchen operations.
"I do a lot of talking to staff, trying to learn about the details and stressors of each job, and think of ways to work around those," he says.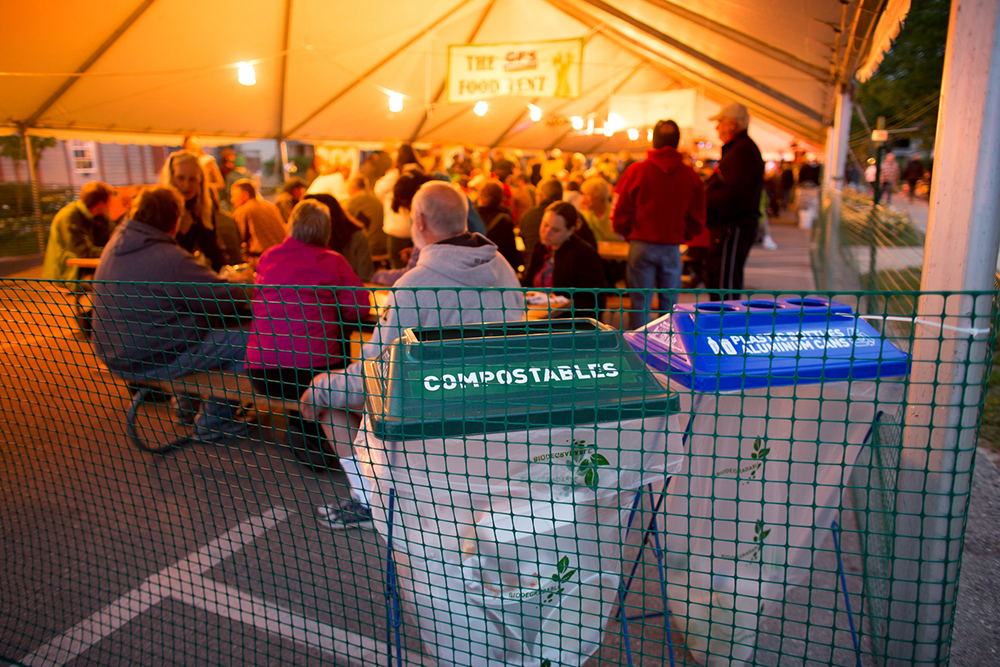 For example, the housekeeping staff recently said that if they had access to extra carts while cleaning—one strictly for recycling—they could more easily recycle as they go about their daily routine.
"The easier we make recycling for both staff and guests—and sometimes that effort is as simple as putting the proper signage in place—the more likely we are to be successful," Cargill says.
Raising awareness of practical waste management is an ongoing effort for BARC.
"You have to make this as easy as possible for people, so it becomes second nature. Simple things such as having a recycling bin next to every trash can," Gale says. With community recycling bins becoming "single stream"—all materials going into one bin instead of being sorted—the community effort is certainly becoming more user friendly.
Winter skiing is Crystal Mountain's busiest time, and the season presents its own set of challenges. The large composting field, what Cargill refers to as "the back 40," is less easily accessible due to the snow, and the composting process itself slows considerably in cold weather.
"The focus does not change, but the season can definitely change the pace and way we go about the work," he explains.
Gale is hopeful that the success of Crystal Mountain's no-waste effort is scalable for BARC. He would love for the organization to be able to take the same strategies used there to bring the no-waste movement to other resort areas outside the greater Traverse City area.
The no-waste movement continues to grow rapidly, not just in Northern Michigan, but across the United States. Almost no component of everyday life is without the possibility of recycling or repurposing. For instance, BARC has recently become one of the largest recyclers of mattresses in the Midwest. However, electronic waste presents one of the most challenging current recycling opportunities, from both the standpoint of sheer volume—think how many phones and computers are being upgraded every day—to the potential for profit. For a nonprofit like BARC, one of the positive aspects of this challenge is that the very generation producing such heavy electronic consumption is also the one most motivated to find ways to negate the related environmental impact.
"Sometimes when you are feeling good about being able to process hundreds of cubic yards of waste one day, then turn around and see a much greater amount the next, it can make you wonder if you are making a difference at all," Gale says. "But in the end, you have to trust that every single bit makes a difference. All you can really do is fix your own little corner of the world and move on."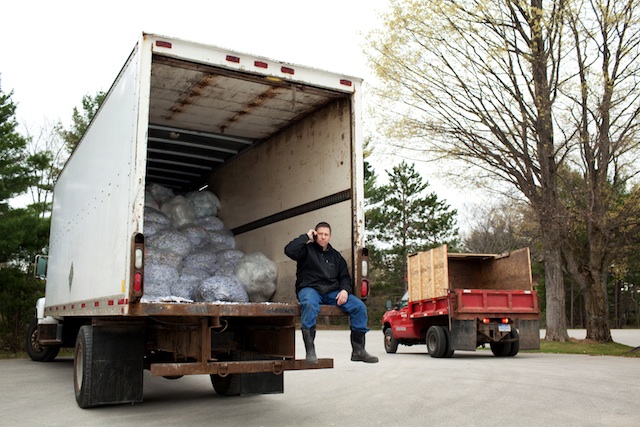 With businesses like Crystal Mountain taking a public stance for no-waste, Northern Michigan residents are certainly doing their part to fix our own little corner of the world.
"The people here are very aware and connected to their environment," Gale says. "Most often, all it takes is a gentle nudge in the right direction."