Benzie Bus offering Nite Owl rides on Saturday, October 27, 2018
By Aubrey Ann Parker
Current Editor
Do you know any young people who are in a hurry to grow up? If so, warn them—adult life does not have nearly enough costume parties.
Children get to dress up for Halloween, for school plays, even for an afternoon "tea party" when their friends are over. This begins to peter out some during the teenage years, though there are still plenty of football games and the occasional toga party to attend during college.
But somewhere along the line, theme parties begin to dwindle, and pretty much all that us grown-ups are left with is one night of the year to show off all of our creative prowess and costume genius. Therefore, it is no wonder that Halloween weekend—Saturday, October 27, this year—always ranks as one of the largest party nights of the year for adults in our community.
For 2018, The Betsie Current is aware of nine Benzie County establishments that will be throwing parties on the Saturday before Halloween: east-side destinations include Crystal Mountain Resort, Geno's Sports Bar, the Laughing Horse Saloon, and the Roadhouse; all three of Beulah's bars are participating—Cold Creek Inn, Corner Pub, and Lucky Dog Bar & Grille; and, of course, there is Stormcloud Brewing Company in Frankfort and The Cabbage Shed in Elberta.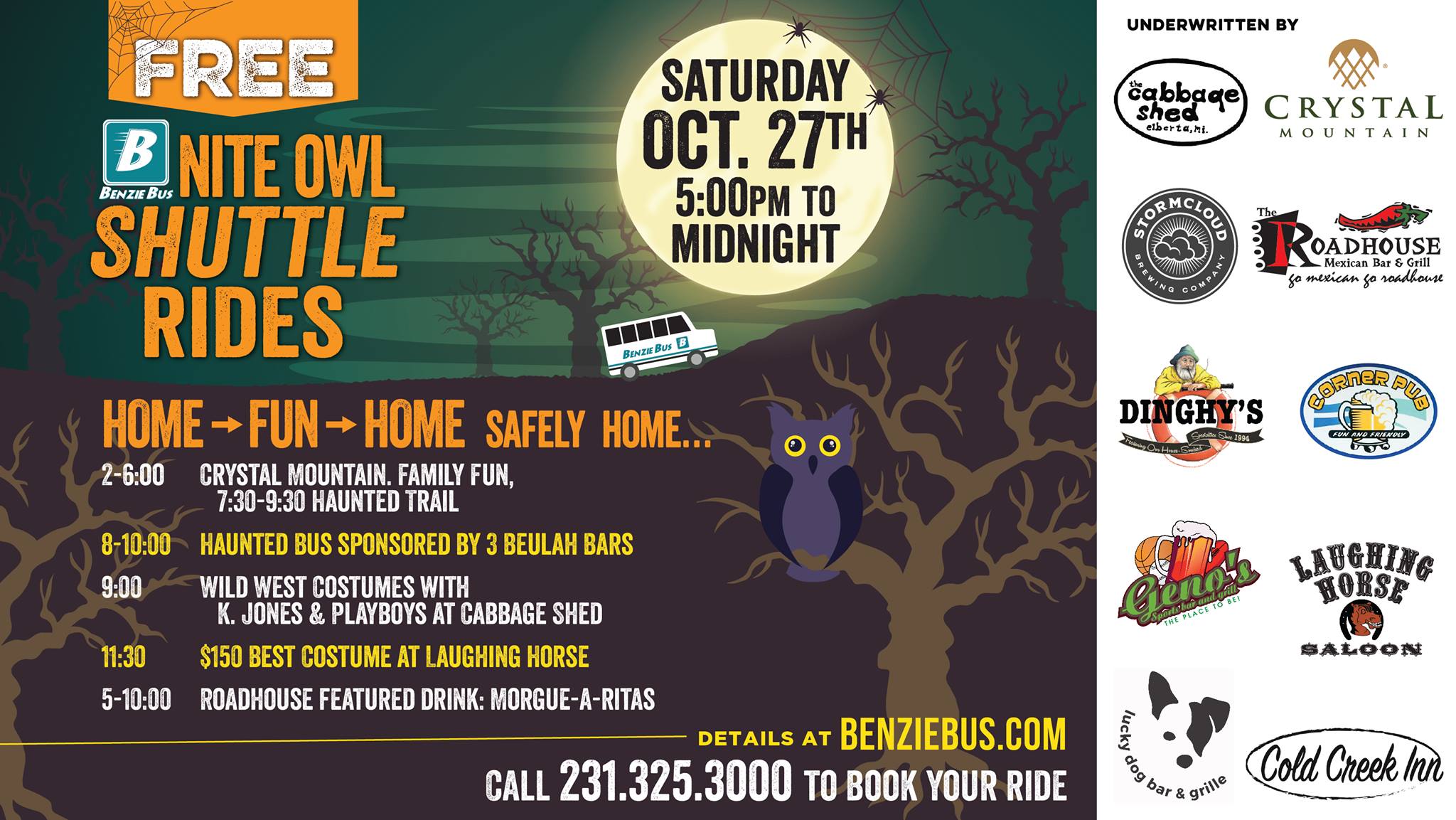 So what is a Cinderella to do when she wants to visit multiple locations to show off her bouffant hair-do and beautiful gown? What if she could travel from town to town safely and comfortably—as in, not in an over-sized pumpkin, because we all know how unsafe that sounds!
Fortunately for Cinderella and her pals, Benzie Bus is once again offering free "Nite Owl" rides to and from the aforementioned nine establishments throughout the night, from 5 p.m. to midnight. This year, however, they are adding to the service—in addition to driving you from bar to bar, the bus will even pick you up from your home and take you back to your home afterward, so that your evil step-mother and those pesky step-sisters will never suspect you of leaving your chores unattended.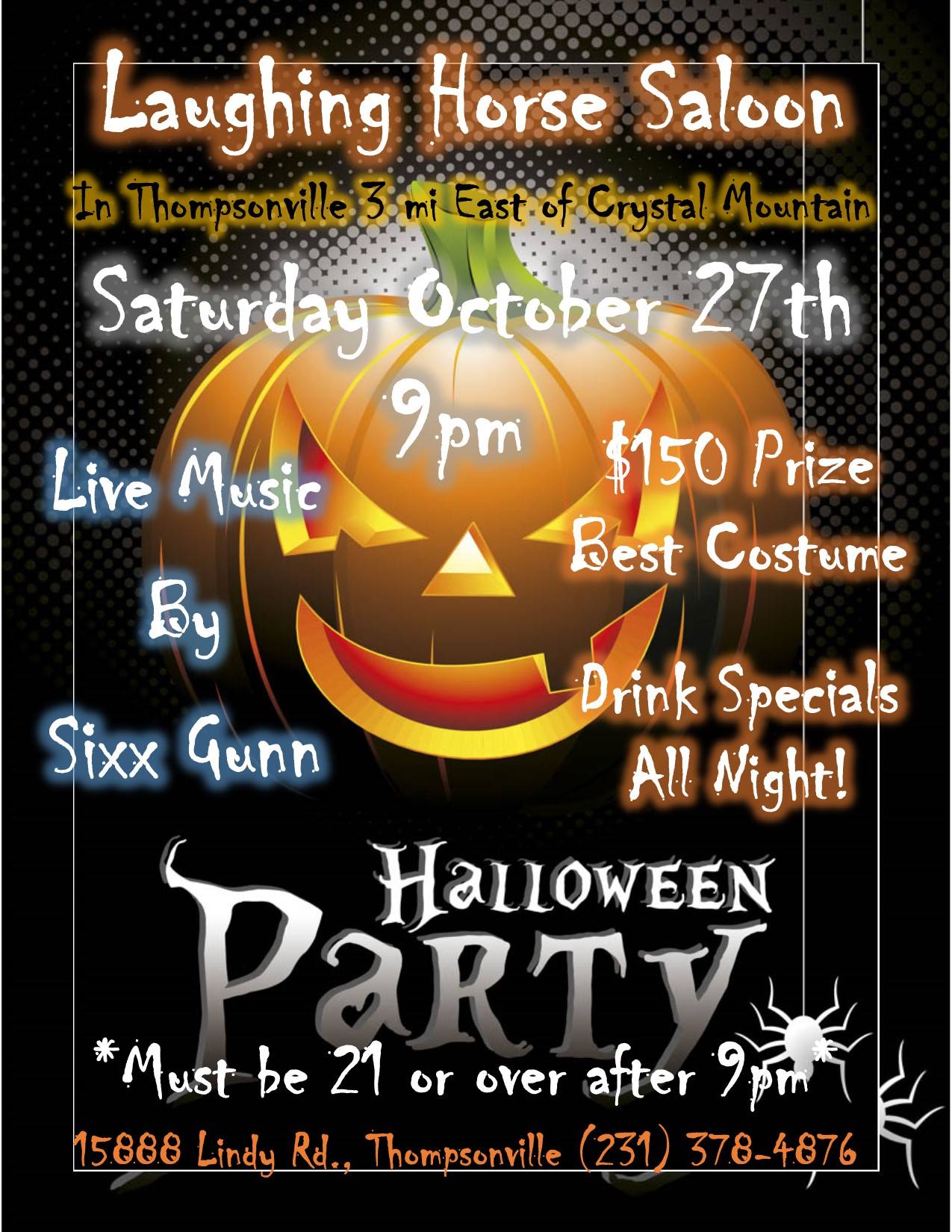 There are great things to do along the route, like the "morgue-a-ritas" being served at the Roadhouse; the Haunted Trail at Crystal Mountain from 7:30-9:30 p.m.; the Wild West costume and mustache contests at The Cabbage Shed, with K. Jones and the Benzie Playboys taking the stage at 9 p.m.; Laughing Horse Saloon is awarding a $150 costume prize at 11:30 p.m.; and all three downtown Beulah pubs will be decorated and offering fun activities. In addition, the Benzie Bus will have a free "haunted bus" featuring an insane asylum theme from 8-10 p.m. in downtown Beulah.
"Offering safe and free rides just makes sense," says Bill Kennis, executive director of Benzie Bus. "It's certainly safer to have a professional driver taking costume-wearing patrons around town, and it's more fun, too, traveling as a group."
Benzie Bus is asking that riders phone ahead by noon on Saturday, October 27, so that they can plan ahead and confirm bus capacity. However, dispatchers will assist riders throughout the night at any locations on first-come, first-serve basis.
"Benzie Bus is able to offer programs like this, because the business community pays for all of the advertising and marketing costs," Kennis says. "Beyond Nite Owl, other services are available because Chad Hollenbeck, our operations manager, has worked hard to ensure that our supply meets demand, and therefore saves thousands of hours annually. For instance, the 4th of July parking shuttles in Elberta served 527 riders this year. Operating efficiently means that saved hours can be used for the [Cherry Capitol] Airport service, festival parking shuttles, and Nite Owl for Halloween and New Year's Eve."
Benzie Bus recently boasted a record-setting year—more than 95,000 rides in 2017, which eclipsed the previous mark of 89,932 in 2013. This is the 12th year of operations for Benzie Bus, which hopes to have its one-millionth passenger in 2019.
Trick-or-Treaters in Beulah will get to enjoy the Haunted Bus featuring the Insane Asylum theme on Halloween, in addition to the hours on Saturday, October 27. Book rides by emailing Dispatch@BenzieBus.com or call 231-325-3000, extension 1.