Questions & Answers with community faces
Having grown up downstate, Carrie [Arnold] Rains (37) graduated in 2002 from Paw Paw High School, while also dual-enrolling in the local technology center with a focus in phlebotomy. After high school, she stayed in the general area—working at a bagel shop—and would soon meet her future husband, Gabe Rains (41), in Kalamazoo, where he was the assistant teacher in a massage class that she was taking. The two hit it off as friends at first, but she says that she fell in love with him on their first "date" to see a friend's art show. After dating for six months, the couple decided that they would like to travel the country together, and so they moved to the small town of Salida, Colorado, where Carrie worked as a cook/baker in a cafe in which Gabe also worked as a barista. 

After about a year, the couple moved to Washington state for their next adventure but found that it was not for them; the only logical next move was across the country to Maine, where Gabe's parents live. Maine led them back to Michigan, this time to Boyne City, where they both worked at the Boyne Mountain spa—Carrie in reception, and Gabe as a massage therapist. It was then, in 2008, that Carrie decided to go to cosmetology school; she moved to Grand Rapids, with Gabe following shortly. The couple also tied the knot that same year.

Grand Rapids became home for the Rainses for several years—their first two children, Finnigan (10) and Mabel (8), were born there in 2011 and in 2013, respectively. However, in 2014, they made the decision to move back to the tiny Maine town, and their third child, Clover (6), was born in 2015. 

And while Maine was beautiful, the family decided that Michigan was where their hearts lived, and they made one last decision to move—this time, Northern Michigan felt like the right direction to head, and Benzie County just happened to be the perfect location to land. The couple's fourth child, Sage (2), was born in 2018, and they are now eagerly anticipating their fifth child, due later this month.

Nowadays, Gabe works at Rock's Landing, an independent restaurant located at Chimney Corners on the north shore of Crystal Lake; Carrie works as a cosmetologist at Sole Salon in Beulah and at the front desk for the Michigan Center for Holistic Medicine in Frankfort. On top of that, however, she also owns her own baking business, which she founded in 2017: Rains Grains & Sweets.

Continuing with our interview series on impactful Benzie County characters, The Betsie Current caught up with Carrie Rains on a rare "night off," while she was preparing to stock The Sweets Shed, a self-serve micro-bakery in her backyard—she is currently on maternity leave from all of her jobs, except for baking. 

The Betsie Current: What first interested you about baking? What do you enjoy about this line of work?

Carrie Rains: I've enjoyed cooking and baking since I was a child. My favorite books to check out from the library were always cookbooks, and still are. I enjoy the transformation of ingredients into something else. Feeding people has always been a part of my life. I began baking more passionately a few years ago, when I discovered how calming it is. When I'm reading a recipe and putting ingredients together, my mind is clear and calm. 

Current: What about your other jobs—what can you tell us about those?

Rains: I've worked off and on as a cosmetologist for nearly 13 years. Just as with baking, I really enjoy seeing a transformation. I enjoy being part of people's self-care routine. I like that I will always have the opportunity to work in salons and spas. It's a completely different experience than baking, as a typical salon is lively and full of energy. It's a great balance. As for working at the holistic healthcare office, I can call upon my past life as a phlebotomist and lab tech. I do front desk work, as well as blood draws and general labs. In the future, I plan to expand my work there as a holistic esthetician—I'm sort of one of those people who has done everything!

Current: What does a typical day of work look like for you?

Rains: I have no typical day of work. Every single day is different. I usually plan baking around my other jobs and my kids. Two days a week, I work at the healthcare office, and those are typically 9-to-5 days. I decided to pick up a day a week at the salon and just work Saturdays. It's a great way to chat with the community and exercise one of my skills. I am usually baking three to four nights per week, and it usually takes me about three hours each of those nights, depending on what special requests I may have or what I decide to put in The Sweets Shed. Right now also happens to be baseball season, and two of my kids are participating this year. It's definitely a busy time for us. 

Current: How has your workday changed since the COVID-19 pandemic hit Northern Michigan last March?

Rains: Since the pandemic began, I've actually done more baking. This year, it morphed into the opening of The Sweets Shed—we turned our little gardening shed into a self-serve bakery pop-up. The Sweets Shed is located at our home in Benzonia. It's a little yellow shed that I fill with treats three days a week, Thursday through Saturday. I never know what I'll bake until the night before, when I typically do most of my baking. I try to have something for everyone! I make gluten-free options, vegan treats, brownies, cupcakes, breads, a large variety. I also really enjoy feedback about what people enjoy seeing in there. We decided to go this route when I had lots of people wondering where they could find my baked goods, outside of the farmers' market. With COVID, the self-serve option made a lot of sense. I can't say the idea was entirely mine; there are quite a few micro-bakeries in bigger cities doing very similar things. 

Current: How have you seen your work grow and change? How do you hope that it will continue to grow? What is next? Have you had any collaborations?

Rains: In the past few months, business has blossomed far more than I expected. Having just sold my baked goods at farmers' markets and craft fairs in the past, opening up a home base has given way to far more possibilities. People have always asked me where they can find my baked goods, and now there is finally a location. I would like to continue to have a presence at farmers' markets, but this year poses a different challenge with the birth of our newest family member just around the corner. I'm hoping to have an amazing baker friend of mine take over for a bit of time this summer by filling The Sweets Shed with her own treats, while I take a maternity leave.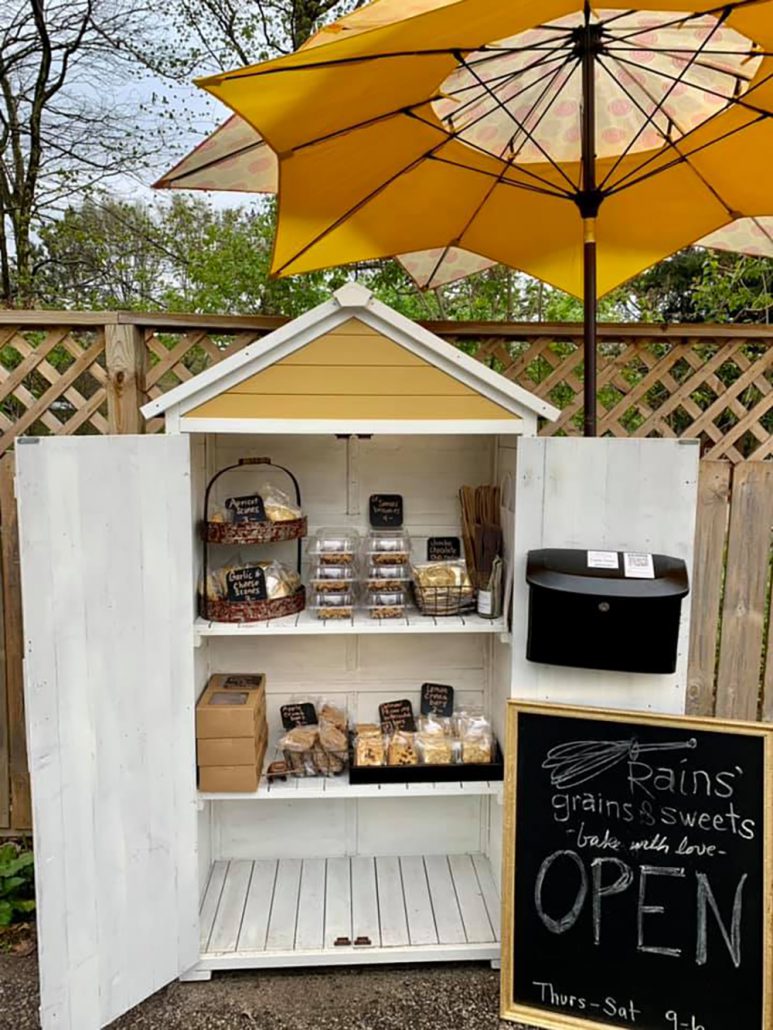 Current: What are some of your favorite projects? What are your top three best sellers?

Rains: Special requests can be a lot of fun to work on, especially if I've never done what the customer is requesting. The best way to reach out to me for special orders is usually on Facebook messenger. I also check my email extremely often. Top three out of the Shed would be Samoas brownies, Buckeye brownies, and lemon cream bars; top three at farmers' markets would be fig bars, garlic cheese scones, and oatmeal cream pies. It's actually really interesting that the top three at the market don't do as well in the Shed—I wonder if the same would happen vice versa!?

Current: What kinds of things do you do for fun, when you are not working? What other things are you involved with? How did you get involved with them, and why are you passionate about these causes?
 
Rains: My family really enjoys being in nature. Hikes on the many trails around the area, trips to Lake Michigan, camping when we can, kayak trips down the river—we like to get outdoors. We are lucky that all of these things can happen without going far from home. I've been on the school board for the Crystal Lake Cooperative Preschool for coming up on five years. The program is an absolute gem in our area, and we are so lucky to be part of it. Having Miss Bianca [McLaren] teach all of our kids has been a wonderful experience, and taking a role in the school board has given me an opportunity to work even further with our community and my kids. 

Current: On that note, we know that you have four kids, with another on the way! What is it like to be a young family in Benzie County, with kids in the local school systems? 

Rains: It seems like there are more and more young families moving to this area. We find that there are lots of activities popping up all around, especially at COGNiTiON and with Amalia Fernand at Nature Explorers.  Having kids in the Benzie school system has not come without challenges—it's difficult to understand why a large part of the community doesn't want to show support for our school systems. It was really hard seeing the bond proposals for a new school fail three times before it finally passed. Our kids are the future. They deserve schools without leaking roofs and grossly outdated equipment and supplies. 

Current: How have you seen Benzie County/Northern Michigan change since you first moved here? What are your hopes for the area in the future?

Rains: I've only lived in Benzie for six years. In that short time, I've seen the number of families with young children grow. It feels like the community is growing for the better in many areas but is still stuck in the past in a lot of other areas. My hopes are that the community sees the value of our young people and continues to help them grow and learn to the best of their abilities. 

Current: What are the biggest challenges and rewards of living/working in Benzie County and in Northern Michigan, in general? What is the best or most rewarding part of your job?

Rains: One of the first things I discovered about living in this area is how much of a seasonal place it can be for work. Living here means being in one of the most beautiful areas around, but having to work most of the summer—when the work is available. Starting my own business has definitely changed that, in a way, where year-round work is more available, but still extremely busy during the summer months.

Current: What could Northern Michigan do to attract more talented young people to this area?

Rains: Obviously, housing is a big issue. When we decided to move to the area, we felt essentially homeless for months. Living in summer rentals during the winter, having to move out of those and staying in our camper during the summer, and then staying with friends at the times that the other options weren't available—those were the only options for us. We were lucky to find the house that we eventually did. 

Current: What else does Northern Michigan/Benzie County need?

Rains:  Housing and more open-mindedness for all walks of life.

Current: What are your favorite local events and activities? Any favorite dining, recreation, hiking spots?

Rains: As I said, we enjoy taking the kids to COGNiTiON and to Nature Explorers. Hilltop Soda Shoppe is definitely our favorite ice cream spot. Old Baldy trail is probably our favorite hike/walk. 

Current: What does your perfect summer day look like in Benzie County? How would you spend it?

Rains: Having a day off together as a family feels like a rare moment in the summer, and we try to soak up every minute of a Northern Michigan summer day. 

Visit "Rains Grains & Sweets" on Facebook to learn more. Email RainsGrainsSweets@gmail.com for more information, or contact via Facebook messenger for a fast answer. Bulk and custom orders are almost always welcome. For this summer, however, Carrie Rains has put a temporary hold on any special orders outside of The Sweets Shed; she will also be taking some time off once her baby is born in June. To visit The Sweets Shed, head to the blue house at 850 Michigan Avenue in Benzonia; the Sweets Shed is located on the driveway off of Walker Street, to the back of the house. Rains Grains & Sweets accepts Venmo, Paypal, Apple Pay, and local checks.

Featured Photo Caption: Gabe and Carrie Rains enjoy home-baked Nutella cupcakes alongside their four children (left to right): Sage, Mabel, Clover, and Finnigan. Not only that, but the family is expecting a seventh member later this month—Carrie may have been busy baking sweets before this photo shoot, but she also has a bun in the oven. Photo by Aubrey Ann Parker.

————————-

SIDEBAR

What is Michigan's Cottage Food Law?

Michigan's Cottage Food Law allows Carrie Rains to sell goods that have been baked to order from her home. 

"Non-hazardous foods that do not require time and/or temperature control for safety can be produced in the kitchen of a person's primary domestic residence for direct sale to customers at farmers' markets, roadside stands, or other direct markets." (Michigan.gov)

What types of foods are considered cottage foods?

In general, these include baked goods; fruit jellies, jams, and pies; cakes, breads, cookies, and pastries; candies, confections, dried fruits, herb seasoning, cereals, trail mixes, granola, nuts, fruits, vinegars, popcorn, and cotton candy. (FarmToConsumer.org)