Local ships bring maritime history alive
By Sandra Serra Bradshaw
Current Contributor

The interest in traditional sailing ships—both here in the Grand Traverse region and throughout much of the world—fascinates many. This enthusiasm for both reconstructing and maintaining these boats visually connects maritime history with current times. Schooners would grace the waterways not only out of need in the early days of our area being settled by those of European descent, but again today, bringing a deep recreational satisfaction to many.

Being aboard—skimming over the water, feeling the wooden planks underneath one's feet, winds whipping one's face—is sheer exhilaration for the adventurous.

To see these boats with their billowing sails on Grand Traverse Bay is spellbinding. They provide a modern-day vision of an era when schooners were the work boats of the Great Lakes, opening up the country before the great forests were cut and roads were made. By some luck, hard work, and right circumstances, many of these extraordinary, well-loved boats make their home in Northern Michigan waters; Arcturos, Champion, the little Gracie L., Inland Seas, Madeline, Manitou, Perception, Utopia, and Welcome.

A passion for classic wooden boats brought together the founders of the Maritime Heritage Alliance (MHA) in the early 1980s. The group's primary interest was to preserve the maritime history of the area. A quote from the late Bill Livingston, a renowned boat builder from Northport, typifies the Alliance's attitude:

"The real joys in life consist of making something with our hands, not making money, but making something."

MHA has done just that in the ensuing years.

Rich Brauer—filmmaker and president of Brauer Productions in Traverse City—was among a small handful of persons in the then-newly-forming MHA, originally formed as an alliance of organizations and individuals who had interests in sharing and preserving Great Lakes maritime history which evolved into the present-day, Traverse City-based organization [of the same name] that focuses on building replica boats, preserving historic vessels and traditional boat-building skills. In 1982, Brauer co-founded MHA, where he currently serves as president. Brauer also co-founded the Inland Seas Education Association (ISEA) of Suttons Bay in 1989 (see sidebar).

Gracie L.
The first wooden boat constructed by MHA was in 1983 in the form of the 20-foot Mackinaw boat, Gracie L, named after Brauer's daughter. Mackinaw boats were light and open sailboats that were used for fishing and transportation on the Upper Great Lakes during the fur-trading era. They were noted for their cargo capacity and speed, an upgrade of sorts of the Native American canoe, and they more suited to the often rough waters of the inland seas. Mackinaw-type boats were used as early as 1804-1806 in the Lewis and Clark expedition.

Besides plying on the Great Lakes, fur traders put them to good use on the upper Missouri River and its principal tributaries and, to a lesser extent, elsewhere in the then-growing new country. Today, the reconstructed Mackinaw boat Gracie L can often be seen at boat shows and festivals throughout the region. Shortly after the successful building of the Gracie L, persons within MHA decided to move forward with a more massive project.

Madeline
The 56-foot replica of the Madeline, made almost entirely by an all-volunteer force, came as the next project for the industrious MHA. The original Madeline—built in 1845 in Fairport, Ohio—sailed the waters of the Great Lakes more than 165 years ago. In the winter of 1851-52, Madeline served as the first non-Native American school in the region for five aspiring young men. They, along with their captain and crew, realized that they needed some book-learning in order to succeed in their careers. So, before the lakes were frozen, they sailed Madeline into the quiet and secluded Bowers Harbor, off the Old Mission Peninsula in Traverse City.

There they spent their time devoted to their education; time was well spent as each went on to successful careers on the Great Lakes. One of the grandchildren of the clan headed an insurance company which named and owned another famous boat: the SS Edmund Fitzgerald, the American Great Lakes bulk carrier that sank in Lake Superior during a storm on November 10, 1975, sadly with the loss of the entire crew of 29 men.

Today's Madeline re-creation, built of oak and pine, was designed by noted local shipbuilder Bob Core to duplicate the original Madeline. The Madeline carries the title of "Ambassador to Traverse City" and serves as an official envoy for Grand Traverse County. It has also received state recognition as a historic vessel.

"MHA was incredibly confident that we could raise the dollars needed to build the boat," Brauer says. "We green-lighted the project, which was pretty unique to MHA; without having any money from anywhere, we moved ahead with our project."

He continues:

"When MHA board member and historian Steve Harold had discovered the Madeline was instrumental in being the first organized school north of Grand Rapids… it became clear to all of us that that would be the boat we would reconstruct. Madeline represents education. So we moved forward with plans to build Madeline, and five years later she was finished. Early on, Jerry Oleson [of Oleson Food Stores in Traverse City] thought from the get-go we were doing an amazing thing in building the Madeline. He has supported us 100 percent in our efforts ever since then."

Ed Brown, MHA co-founder and first president who died at the age of 98 back in 2012, recruited a lot of people to help build the Madeline.

"We went from two to three workers a day to 10 to 15 a day;" reminisces Bob Core, Madeline builder. "And visitors swelled from a curious few to over 300 stopping by in just one day. We are really grateful to the Great Lakes Maritime Academy at Northwestern Michigan College for giving us their entire dock space on West [Grand Traverse] Bay to do our projects. We could not have built the Madeline without their support."

The Madeline was launched in July 1990 in Traverse City with several thousand onlookers on hand. Today, Madeline and her crew travel to ports of call throughout the Great Lakes each summer representing the region. While in home port, Madeline is available to residents—at no charge—for weekly community sails. During the off-season, Madeline is used as a platform for both basic and advanced crew trainings. MHA volunteers can learn how to sail a tall ship and venture forth as dedicated crew to destinations around the Great Lakes.

Welcome
Meanwhile, MHA took ownership of the historically relevant replica Welcome in 2006. The original Welcome was built in 1774 by fur trader John Askin, whose trading outpost is now a popular attraction for tourists at Fort Michilimackinac on Mackinac Island. The original Welcome sailed the Great Lakes between 1774 to 1781. Originally intended to be a fur-trading vessel, the ship was requisitioned as an armed sloop by the British military before being launched.

Its stature as a royal ship is echoed in the penned words of King George III in 1776:

"I do hereby Certify, That the crew and owners of the sloop Welcome have, in my Preference, voluntarily taken an Oath to bear Faith and true Allegiance to his Majesty… and to defend to the utmost of his power, His sacred person, Crown and Government, against all persons […]"

Welcome also had the distinction of taking over the first house from the mainland fort at Mackinaw to the new fort on Mackinac Island during the Revolutionary War. During that time, there were 12 seamen and 12 soldiers aboard, taking the side of Britain.

Today, history buffs will find at the MHA library the fascinating 1779 log of Major Arent Schuyler DePeyster, commander at Fort Michilimackinac. It accurately portrays sailing on the Great Lakes during that time period and of the many voyages between the fort at the Straits and the port at Detroit. With the Revolutionary War in full-speed ahead, Americans were putting British authority in serious jeopardy.

DePeyster feared an American attack on Detroit, and subsequently one on Fort Michilimackinac. In an effort to secure intelligence of the Americans' plans, DePeyster purchased the sloop Welcome from his close friend John Askin. He sent the sloop up Lake Huron and dispatched 20 soldiers and 200 Native Americans to rally the First People tribes at Fort St. Joseph (Niles, Michigan). A major council was held on July 4 in the Ottawa settlement L'Arbre Croche (now Cross Village, Michigan). Two days later, DePeyster welcomed the prestigious Sioux chief Wahpasha—or his son, the history is splotchy—to Michilimackinac. Due to the truce of 1775, DePeyster was able to secure the temporary cooperation of the Sioux and Ojibwas in defending Michilimackinac. The original Welcome was lost at sea during a violent storm in 1781 on Lake Huron; the exact spot where the ship sank is unknown.

The reconstructed Welcome enjoyed a colorful career as a participant in historical reenactments of famous naval battles that took place on the Great Lakes. MHA gifted the sloop to Emmet County in 2015 for $1.00. According to the Petoskey News-Review, the county then sold Welcome to businessman Joe Lieghio of Mackinaw City for $10,111.

Arcturos and Champion
Never to sit still on past laurels, MHA began restoration in 2006 on the H-28 Arcturos, designed by noted yacht builder L. Francis Herreshoff (1890-1972) and built in 1947 by Joel Johnson. This carvel-planked, cedar-over-oak-framed vessel is a beautiful boat to sail and a wonderful addition to MHA's fleet. Arcturos was donated to MHA by Suttons Bay residents Don Coe and Jim Wall.

Then there is the cutter Champion, a 39-foot classic wooden sailboat, that was built in 1968 and donated to MHA in 2008 by Henry Barkhausen of Harbor Springs. The cutter is available for charter sails on West Grand Traverse Bay; when it is not in use for one of its educational youth programs, this is the boat's primary focus.

Perception
The Perception—a 68-foot, two-masted schooner—was custom built in KeriKeri, New Zealand, in 1985 from plans designed by illustrious naval architect L. Francis Herreshoff in 1924. Although Perception's hull looks like wood, it actually has a steel hull. On the voyage from New Zealand to its new home port at Martha's Vineyard, Massachusetts, the ship sailed to Australia, the Galapagos, Brazil, and the Caribbean.

In 2001, the architect Jamie Weisman purchased the Perception. It is estimated that the schooner has logged more than 60,000 nautical miles, including several Chicago-Mackinac races. The schooner is now owned by Michigan Challenge, a sail-based community organization. The Michigan Challenge board traveled to Martha's Vineyard, Massachusetts, during the summer of 2017 to purchase Perception from Jamie Weisman's widow, who agreed to sell the group the boat, knowing it was going to a beneficial group. From there, it was de-rigged and trucked to Traverse City, and work began on restoration and upgrades.

The Michigan Challenge group's worthy aim is to help children—who have lost one or both parents while they were serving in the United States military—try to heal while onboard Perception. The boat is moored every summer at the Northport marina, where its stunning looks command attention, and plenty of photos, by visitors there. Besides sailing for the children, the organization also hosts a number of goodwill sails for our veterans.

Utopia
The historic 77-foot schooner Utopia is owned by the Inland Seas Association Education (ISEA) of Suttons Bay. Utopia was designed and built by the late Fred Peterson and his company, Peterson Builders of Sturgeon Bay, Wisconsin, in 1946. He was a noted industrialist and philanthropist and sailed the Utopia the world over.

"The boat was uniquely designed and constructed," says local maritime historian Jed Jaworski.

Peterson sailed Utopia to the North Atlantic, the Mediterranean Sea, and throughout the Caribbean islands. In November 1956, he and his crewmates embarked on a three-year cruise, stopping at ports that included the Azores, Tangiers, Gibraltar, Canary Island, Trinidad, Havana, Tonga, Galapagos, the Solomons, New Guinea, and many more exotic destinations. It is estimated that Utopia has logged more than 60,000 nautical miles, including several Chicago-Mackinac races.

Fred Peterson's son, Ellsworth, and his wife, Carla, donated the schooner to the ISEA in 2016, the same year as the death of the organization's founder Tom Kelly. The Utopia is moored each summer at the Discovery Pier on West Grand Traverse Bay in Traverse City. The addition of the boat to ISEA has given the organization the ability to reach more individuals, with ISEA's mission of "inspiring to persons a Great Lakes curiosity, stewardship, and passion." And most of all, to protect the Great Lakes for future generations.

Manitou
Sailing out of Traverse City, Michigan, the tall ship Manitou is a replica of an 1800s "coasting" cargo schooner, similar to those that sailed the Great Lakes and the Atlantic Ocean. The ship is considered as one of the largest sailing vessels on the Great Lakes. The Manitou is a traditionally rigged, two-masted schooner that is 114 feet in length, with a beam of 21 feet and more than 3,000 square feet of billowing sails.

Specifically designed for passenger service, the hull was constructed in Portsmouth, New Hampshire, in 1983. The tall ship was finished by Vermont carpenters on Lake Champlain. With a 59-passenger capacity, there is plenty of space for sitting and moving around the decks while under sail. Manitou has a displacement of nearly 100 tons, which ensures a comfortable, relaxing motion, soothing for both "landlubbers" and "old salts" alike.

Owned and operated by Traverse Tall Ship Co., LLC, Manitou is available for summer day sails, windjammer cruises, and private charters. In addition, there are Moomers ice cream day sails, peaceful evening sails, and a music cruise, featuring local nautical musicians, Song of the Lakes. The Fall 2021 windjammer schedule is especially enticing; pure fun for the entire family, whichever cruise you pick.

All of these boats are indeed an enrichment to our knowledge of both past and current local maritime history.

Contact the MHA office at 231-946-2647 or visit MaritimeHeritageAlliance.org online for more information. Visit MichiganChallenge.org online, as well.

A version of this article first published in the Glen Arbor Sun, a Leelanau County-based semi-sister publication to The Betsie Current.

Featured Photo Caption: The schooner Utopia sails on the Great Lakes. Photo courtesy of Inland Seas Education Association.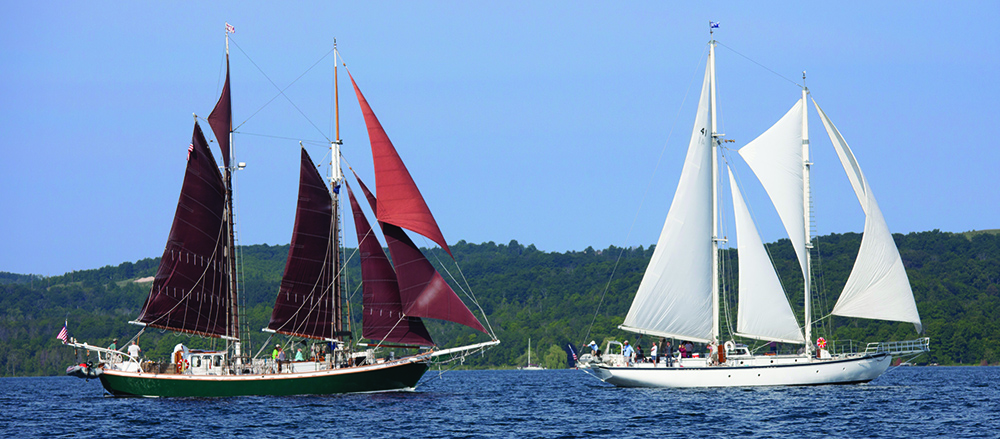 SIDEBAR
Inland Seas
Just about everyone has noticed the quite distinct red-sailed, emerald-hulled schooner traversing the waters around Northern Michigan. This is the 77-foot schoolship Inland Seas. A beloved ship to many, she has been around for more than 28 years now. Thomas Michael Kelly, the ship's first captain, would be filled with joy to know that his original visions are being carried on well beyond his passing back in January 2016.

Kelly was a marine biologist and known affectionately as "Captain Tom" to thousands of students. His monumental vision was to teach children and adults to know, protect, and love the Great Lakes' important ecosystem. He directed that passion into educating people far and wide with the singular goal of protecting these waters.

The idea to start an educational science program was rooted during his early research career on the University of Michigan's Water Center ships, notably the Inland Seas and the Laurentian. The university's long and prominent history in Great Lakes research stretches back more than a century and touches nearly every discipline relating to our world-unique Inland Seas.

The U-M Great Lakes research originally focused on fish and fisheries, but the emphasis began to shift after the 1920s to basic limnology, as in the scientific study of bodies of fresh water. That became Kelly's focus, as well. When he moved to Traverse City, he began the University of Michigan Water Lab, created to study the ecology of Grand Traverse Bay.
 
Kelly had spent a month out east aboard the Clearwater, a sailing sloop whose group was working to clean up the then-heavily polluted Hudson River through advocacy and education. The Hudson River sloop Clearwater was founded in 1966 by well-known folk singer/songwriter Pete Seeger and his wife, Toshi. The Hudson River, America's first "superhighway," was being destroyed by deposits of waste.

The well-traveled river had become "rank with raw sewage, toxic chemicals, oil pollution, and bacteria too anoxic to support fish life," according to today's Clearwater.org website. Seeger's aim was to save the Hudson by raising awareness and halting the tragic pollution. Kelly's experience, coupled with the group's obvious positive impact on the Hudson River being cleaned up, caused him to realize that such a program was sorely needed here on the Great Lakes.

Providence seemed to pave the way for such a new venture; Grand Traverse Bay was just about to have a new tall ship grace its waters, reviving the sailing days of yesteryear—the schooner Malabar, owned at the time by Traverse Tall Ship Company, was a double-masted ship that provided the perfect platform for introducing the unique learning experience that Kelly had envisioned. 

Kelly chartered the Malabar for students between 1989 to 1994, and its presence impacted thousands of school children to become aware of the need to protect our fragile inland seas; thus began the Inland Seas Education Association (ISEA), founded by Kelly and John Elder, then of the Traverse Tall Ship Company.

The newly formed ISEA began planning for its own vessel sometime around 1991. Kelly's clear vision stipulated that this new vessel had to be a schooner, and it must be named Inland Seas, to honor both the endearing surname of the Great Lakes and the ship Inland Seas that Kelly had formerly worked on. Another requirement was that this ship have "tanbark" sails to make it both distinctive and memorable for everyone watching from onshore or onboard the decking.  

These dark burgundy "tanbark" sails are no longer necessary in today's modern synthetic sail cloths. Yet, in more traditional boat design, with correspondingly traditional sail plans, many owners of these vessels—including Kelly—preferred the traditional appearance. On today's synthetic sail fabric, this process actually shortens the sails' life-span, a disadvantage that is being accepted just for the looks.

The Inland Seas was built by Treworgy Yachts in Palm Coast, Florida. Launched on May 18, 1994, Kelly hung a brass plaque in the pilot house that reads "Many Great Works Are Yet To Be Done."  

"This statement succinctly communicates the dreams of the Inland Seas founder Tom Kelly," reads the ISEA website, "and is the reason we work today to ensure his legacy continues long into the future."

During this time, Kelly contributed an essay for the book, Seasons of the Leelanau. He wrote: 

"Leelanau is a special place for me, because of the water. We are everywhere close to the water: marshes and bogs, constant cold-streams, lakes, and Lake Michigan, and Grand Traverse Bay. Even the hills and valleys that give the county its character and climate were shaped by water [frozen water, that is, and the glacial meltdown that followed]."
His passaged continues:

"Being almost surrounded by water makes for a pleasant isolation. You can only get here on purpose, We are not on the way to any other place. Unless you are traveling by boat, the water is a connecting medium. It appeals to me that we are connected nautically with Boston, Bombay, and Buenos Aires.

"There is a freedom in knowing that our horizon is not confined by an inland lake, and with the right boat, you could sail away… There is something special here about the people. I don't know if it's the landscape, the waters, or the climate that makes it this way. I only know that there are a lot of unique people in Leelanau. Some have family names that have been here over a hundred years. Some have just moved here. But these are a friendly, creative, preserving folk, and I am proud to be among them."

Kelly's vision also involved inspiring students to consider careers in the sciences. 

Keenly aware of the future problems that the Great Lakes would face, Kelly realized that ultimately many of the solutions to those problems will come from scientists who could develop this yearning as young students. His schoolship program was designed in such a way that each assumed the role of a "Great Lakes scientist for the day." These students use cutting edge scientific equipment and learn firsthand what a job as a Great Lakes scientist actually looks and feels like in an exciting and fun manner. Today, five years after his passing, ISEA continues with his vision to inspire the next generation of Great Lakes scientists, ensuring that his vital vision for protecting the Great Lakes lives on.

Live on it does at the ISEA's headquarters in Suttons Bay. Since 2013, it has been run by executive director Fred Sitkins. He has been involved with ISEA since the beginnings in the '90s and crewed aboard the Malabar. After receiving his Bachelor's degree in elementary education from Western Michigan and his Master's degree in educational administration at Central Michigan University, Sitkins went on to become a teacher and later the principal at Boyne City Elementary.

"Today, it's true to say that my early experiences with Inland Seas played a large role in my desire to pursue education as a career," Sitkins says. "It would also be safe to state that my teaching philosophy of student engagement above all else was also developed through my early experiences with ISEA. It was an honor for me to have the opportunity to pick up the lantern from Tom."

He continues:

"I admired and respected Tom immensely and strive to lead the organization in a manner that I believe Tom would approve of. I've thought often how thankful I am to the groundwork that Tom built with ISEA. "The wonderful reputation and partnerships we enjoy today are the fruits of many years of hard work by Tom, and they are what have made ISEA a truly sustainable organization which can gain strength even during a pandemic. I'm thankful for all that Tom built and am pleased to have the opportunity to continue this great legacy."

Kelly was successful in inspiring more than 100,000 Great Lakes stewards in his lifetime, and now the organization keeps the way open for many more. 

The Inland Seas Education Association offers a variety of options for schools to introduce their students to hands-on learning on and around the Great Lakes Region. There is a host of professional staff and seasoned volunteer instructors who help with the collection and analysis of Great Lakes samples during classes. Beyond onboard experiences, students also learn onshore. There are also adult programs and sailing adventures. The ship has come down to Benzie County's port of Frankfort multiple times per summer via partnerships with the Benzie Conservation District, the Benzie Community Water Council/Benzie County Water Festival, the Friends of Betsie Bay, and others. For more info, visit ISEA's website at Schoolship.org or call 231-271-3077.