Buoyed by citizen support, community newspaper reemerges after eight-year hiatus
Spring has returned to Benzie County and not a moment too soon. That record-breaking winter we just survived was long and trying. Sure, the avid skiers, snowboarders, and ice frolickers among us reveled in the encore that Jack Frost dealt us. For others, the snowy season was a time of hibernation, reading books, cooking slow meals, and keeping the wood stove ablaze.
Now it's time for birdsong, green grass, morel mushrooms, and asparagus (check out Aubrey Ann Parker's "Spring Transitions" photo essay on the back page). Soon we'll wear t-shirts and swim trunks and jump in our great lake. As we do every year, we Michiganders celebrate the change of seasons. For up here in the north woods, we're lucky enough to be chameleons who camouflage ourselves in whatever garb and emotions fit the moment. Spring, the season of rebirth, is the favorite for many.
This newspaper you hold in your hands also represents a rebirth. The Betsie Current, which will chronicle Benzie County, its news and events, commerce, characters, and culture, returns this spring after an eight-year hiatus. The Current enjoyed a brief run in 2005-06, and we're bringing it back by popular demand — and with the sincere belief that a community needs local media to rally its citizens and tell its stories. Journalism's depression in recent years is well documented. Corporate media consolidations, declining revenues, and online news have killed many papers,and forced others, such as The Detroit News, Free Press, and Ann Arbor News to scale back their print frequency or go exclusively online. But we think this model of hyper-local, community-driven, and community-supported news has staying power.

This is the first of 12 editions that we'll publish between now and January 2015. We hope you'll pick up a copy and read it at the beach or the brewery, on the boat or in your backyard. Use our stories, events calendar, and websites (BetsieCurrent.com and Benzie-Calendar.com) as community resources. Please send us story ideas, missives, and constructive criticism, too. Email us at editor@betsiecurrent.com or send us a letter at PO Box 90, Frankfort, MI 49635. If you're a business who would like to advertise with us, check out our rates at BetsieCurrent.com/index.php/advertise-current/. During peak summer season, we'll distribute thousands of copies of this free, full-color, advertisement-funded paper to businesses throughout Benzie County. Similarly, our story coverage area will stretch from the beaches of Elberta to the slopes of Crystal Mountain and include the vibrant communities surrounding Crystal Lake — Frankfort, Beulah, and Benzonia.
We'll cover upcoming events including art, music, and film festivals. You'll also find feature stories about favorite local businesses and the devoted characters who make these towns thrive, both as summer boom towns and as tight-knit communities in the fall and winter. We'll also run in-depth stories that analyze larger trends in our towns and in the region at large: what's happening with the charter fishing industry; what's happening in the Sleeping Bear Dunes National Lakeshore; what direction the Benzie Bus is taking and how it will impact riders; how Stormcloud brewery and the Oliver Art Center have become new community anchors in downtown Frankfort; and what ideas might take hold in Beulah and Honor to help revive those communities.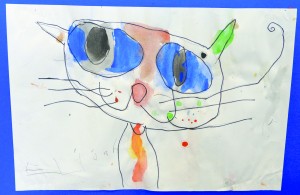 The Betsie Current will publish its next edition on May 22, just before Memorial Day weekend, the unofficial kickoff to the summer tourism season. In mid-June, we'll preview the Frankfort Craft Fair and reel in a story about marina fishing. By high summer, we'll print approximately every two weeks and preview all the action: Fourth of July fireworks, art fairs, street sales, barbecues and car shows. Keep current with The Current.
Who's Pushing The Current?
The Betsie Current is edited and published by two local journalists and entrepreneurs.
Jordan Bates is a Frankfort native and web editor at Circle of Blue, a dynamic online publication that reports on global water issues and its relationship to food, energy, and health. Bates holds a BGS from the University of Michigan. For 29 years, he has lived in Benzie County, hiking its trails, swimming its lakes, exploring its forests, and most recently learning to fish its waters. For the past 12 years, Bates has built, optimized, and fixed websites, sold eco-building products online, laid a few brick-paver sidewalks, and auctioned off the odd antique or two. He's also a summer fixture on the Frankfort beach volleyball courts. Contact him at Jordan@BetsieCurrent.com.
Jacob Wheeler, who grew up in nearby Glen Arbor, has published the Glen Arbor Sun (GlenArborSun.com), a similar community newspaper in nearby Leelanau County, since graduating from high school in 1996 (together with Bates). He is a 35-year-old independent journalist, editor, and teacher who recently returned to Northern Michigan after stints in Minneapolis and Chicago, together with his wife, Sarah Eichberger, a Beulah native and Benzie Central alum. In addition to The Betsie Current and the Glen Arbor Sun, Wheeler teaches journalism at Northwestern Michigan College in Traverse City. He holds an MFA in Creative Nonfiction from Goucher College and a BA from the University of Michigan. Wheeler's book Between Light and Shadow, a narrative investigation of the Guatemalan baby adoption industry, was published by the University of Nebraska Press in 2011. Wheeler loves to bike, swim, travel, and promote all things Northern Michigan through the written word. Contact him at editor@BetsieCurrent.com.
Thanks for your readership, and have a great spring!
Featured photo at the top of the page: Jacob Wheeler and Jordan Bates co-editors of The Betsie Current. Photo by Aubrey Ann Parker. A reader pointed out some striking similarities between this photo and another photo.