Longevity of the ephemeral ice rink
By Aubrey Ann Parker
Current Editor

It was Christmas Eve 2014 when the Musgraves, a family of five, had moved to the south shore of Crystal Lake from Indianapolis so that mother Lisa could take over a dental practice in downtown Beulah. The three Musgrave children—Maya, Michael, and Quinten—had not yet been enrolled in school, and they did not really know much of anyone in Northern Michigan. But on that first full day in Benzie County, the family headed to the Benzonia Ice Rink with brand new skates that the children had found under the Yule tree.

"It was like the agora, the central, public space in ancient Greek city-states. This idea about the local community meeting place—that was the ice rink," Dr. Lisa Musgrave says. "We met some new friends there immediately. We have good memories of going there."

Now, six years later and deeply ingrained in this place, Musgrave is giving back to the community by starting a free skate-check-out program in conjunction with the Benzonia Public Library, located right next to the ice rink at Academy Park, at the corner of Traverse Avenue and US-31. Benzie's long-standing outdoor rink is one of only a handful in Northern Michigan, and though it has changed locations at least twice, it has been around for decades—in the writing of this article, we actually had a hard time tracking down just how long, exactly.

"I skated on the rink as a kid," says 70-year-old Jack Rineer, who grew up in both Dayton, Ohio, and Beulah, Michigan. Rineer went on to maintain the ice rink at Beulah beach and later at Academy Park for close to five decades, until just a few years ago. "There was a guy, Graydon Shively, who did it before me [in the 1950s at the Benzonia school]… I'm glad to hear that someone's picked up the job; that's always good news."

That someone is Chris Howard (49), who moved to Northern Michigan five years ago to start The Cottage Pros, located on the US-31 hill between Honor and Beulah. Typically, his 35 year-round employees can be found building houses and deck additions, putting in docks, working on lawn maintenance, or "just about every odd job" that home- and cottage-owners could need done, Howard says. But since late December 2020, The Cottage Pros has had five employees who have been taking turns maintaining the Benzonia Ice Rink. Every morning, someone arrives at 5 a.m. to plow and/or flood the rink; they are usually finished before 9 a.m.

Though a mid-January thaw meant that The Cottage Pros team had to restart from scratch at building the ice base, the rink was initially ready for skaters by the first of the year. By the following weekend, Rachele Sargent Boylan (40) had baked dozens of cookies and made gallons of hot cocoa to give to skaters from 11 a.m. to 3 p.m. on Saturday, January 9, 2021.

"I had the cocoa, and Chris [Howard] brought cups and lids," says Boylan, whose husband owns Xpert Fulfillment, a Benzonia-based company. "It was all free of charge. Just a couple of local business owners coming together and letting people know that they don't have to have a lot of money to have fun."

Between the library and the Musgraves, Shively and Rineer and The Cottage Pros, Boylan's treats, and the herculean fundraising efforts of the late Dennis Pace and now others—if it sounds like it takes a village to make the ice rink a success, that is because it does.

Maybe not a literal village—though it kicks in money and resources, too—but definitely a community of hard-working and caring people. The Benzonia Ice Rink is, in fact, a testament to the heart of this community to create something that is so ephemeral, yet has held more than half a century of joy for hundreds of young and old each year.

New Era
Chris Howard, who has a cottage on Platte Lake and lives in Traverse City, remembers skating on the outdoor rink in Benzie County when he was younger.

"My grandparents lived here all their lives, so I grew up in downtown Beulah in the summers, and we visited in the winter. And we would skate every chance we got—even played a little hockey."

Now, Howard sees this as his chance to give back to the same community who helped to raise him. He first contacted government officials more than a year ago, in hopes of helping with the rink during the 2019-20 winter, but the weather did not cooperate. This year, however, his team has been able to get the rink up and running twice now: at the end of December and again in the middle of January, after a brief thaw.

Howard says it takes 24 hours of nonstop flooding the park to get it started. It requires his workers to stay out all night long on the coldest nights to get a solid base of ice. Some have noticed that the rink seems larger than usual: a quick, likely inaccurate measurement done by this writer puts the rink at about 150 feet by 350 feet.

"It's pretty much the size of a football field," Howard says. "We thought we were doing the community a neat little favor. We bought six new hockey nets, too. But we had no idea that everyone missed the rink as much as they did. We've had people coming out of the woodwork to thank us every time that we're there working on it: they wave, stop by and thank us, honk their horns. It's an awesome feeling. I knew that it was missed, but not as much as people are showing."

Howard says that he has been on the ice himself once this year, along with his wife and their two teenage daughters. In the future, he hopes that they can keep adding to the ambiance.

"I feel like we're just getting our feet wet this year, pun intended," he says. "Adding a warming station for next year, maybe concessions, or food trucks on the weekends."

He also commends Musgrave on her efforts with the new skate-check-out program.

"I was trying to think of a way to do something like that, and it's brilliant."

The idea to partner with the library to provide skates to the public, free of charge, came to Dr. Lisa Musgrave (50) when she was asking patients if they had heard about the ice rink being back after a three-year hiatus. She was dismayed with two back-to-back answers that she heard within about 10 minutes.

"They said to me, 'Awesome, but we don't skate, because it's too expensive,' or 'We have three kids, and they grow too fast to buy skates'," Musgrave recalls. "It made me pause and think."

With COVID-19 looming, hosting a "skate swap" seemed too daunting. There had to be a better way, Musgrave thought to herself. Then she drove over to the rink and parked her car.

"And there was the answer, right in front of me—the library is right next door," says Musgrave, who adds that her mother was an elementary school librarian. "But it wasn't just about the books for my mom. She would always find a way to send other things home: a board game, a puppet, whatever. So, why couldn't we send home skates?"

She adds: "I grew up with a lot of mentors who believed in the power of 'the ask.' Everything is possible, and it never hurts to ask."

So, Musgrave did just that. She says that her two sons love to skate, but they are picky about what skates they like to wear. Bauer are among the favorite hockey skates on many "best of" lists, including those of the Musgrave boys. So she called to see if they might be willing to sponsor a program like the one that she had in mind.

"I must have gotten the right person on the phone," Musgrave says. "Next thing you know, she's emailing me back that they would sell us the skates at cost—we're getting these for 10 percent of the retail price."

As for partnering with the library, Musgrave says that one of her favorite quotes about libraries is from R. David Lankes: "Bad libraries only build collections. Good libraries build services… Great libraries build communities."

"It is so much more than a place that holds books," she says. She adds that her husband has teased her about being a dentist who is sponsoring hockey skates, but she has done her research. "Ninety-three percent of all hockey injuries to the mouth are from the sticks, so I'm encouraging people to wear mouthguards while they skate. But we can't rent those out from the library. Especially during a pandemic."

Meanwhile, Boylan's family moved to Benzie County in 1989, and she remembers using the ice rink when it was at the Beulah beach, and also after Rineer moved the rink back to Benzonia.

"My dad played hockey in high school, so he's always been a skater, and he taught us girls," says Boylan, who now lives behind Champion Hill Golf Course and takes her four-year-old son and 10-year-old daughter to the rink. So far, they have been skating three times this year, including when she brought goodies to the park—something that she plans to do again in the near future..

"It's been great. The kids love it. Families have come from all over," she says, noting that she met people from Chum's Corners, from Suttons Bay, and from Manistee one afternoon. "People are hearing about it being back up and running. People are on Facebook looking for skates. It really brought this community together, right at the right time, when everybody's had to stay indoors for so long. This gives people, especially young kids, a care-free moment of getting to be themselves. We've had lots of giggles, lots of laughs. It's been great to have that."

This article would be remiss to not mention how this community asset is funded.

Beginning in the 2010-11 winter, Dr. Dennis Pace—a local optometrist, community activist, and philanthrope—took it upon himself to raise funds for the Benzonia Ice Rink. Pace had already helped thousands of Benzie kids to play soccer over the course of two decades; he had found the funds and cut through the red tape of creating Benzie County's first dog park; and this selfless, 6-foot-four gentle giant was not daunted at the idea of trying to raise $5,000 to $7,000 per year for the rink. (We profiled Pace back in September 2015, and we also broke our own rule and ran his obituary in November 2017; you can find both in our online archives.)

For instance, during the 2013 and 2014 winters, Pace convinced Jonathan Clark to have L'Chayim Deli in Beulah host a "Skate Swap and Sale" that benefited the Benzonia Ice Rink. A fee of $5 per pair was suggested for swapping; a minimum suggested donation for those who wanted to sell, not swap, was $15. Leftover skates were then donated to Benzie Area Christian Neighbors (BACN). All skate shoppers and swappers were given coupons for 10 percent off at L'Chayim during the event.

"This event was Dennis Pace, all the way," says 62-year-old Clark, who grew up in Beulah. "Dennis needed a place to do it, so I volunteered our front window. We stacked them up in the window. And it was dirt cheap: a pair of skates for $15!"

Clark adds that, not only did the event raise money, it also helped to get people out onto the ice.

"We're big supporters of the rink," Clark adds. "Hell, I skated on the rink, for crying out loud, and that was 50 years ago! It's a great little treasure."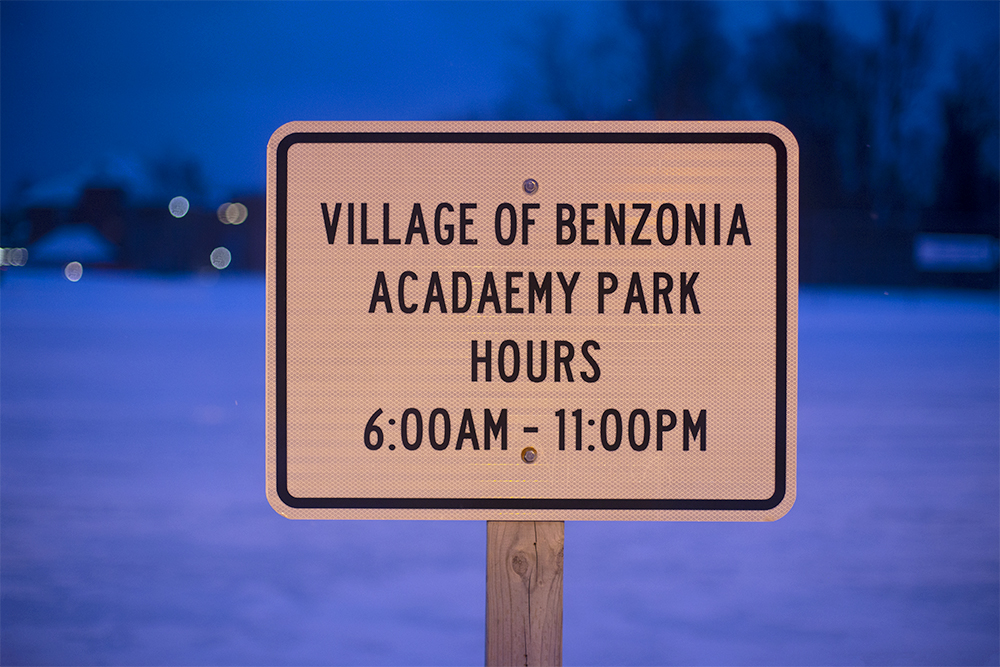 Now, that fundraising mantle has been taken up by Barb Skurdall (68), who has been on the Benzie County Parks & Recreation Committee for more than a decade. It was almost a year ago when Skurdall first expressed an interest in fundraising, networking, and making connections to get the rink back up and running. 

Skurdall has been a member of the Benzie Sunrise Rotary Club for more than 10 years, and she remembers when Dennis would come in annually to ask for $500 for the rink. Looking at county treasury records, Skurdall says that the Village of Benzonia and/or Benzonia Township would normally throw in up to a few thousand dollars, plus electricity for the lights, plus water, plus liability insurance, and a couple of porta-potties. There were also donations from businesses and individuals: some were for bigger amounts—$100, $200—but the majority were smaller donations of $20 or $25.

This year, she says, The Cottage Pros are covering all of the expenses of their own equipment and employee time, just as Rineer's team did for decades.

"But if something breaks down—like the water pump from the village, or something—we want to have a fund to just jump in and cover it, not have to wait for the funds to come in," Skurdall says. So they have created a special account where people can send donations.
Howard adds: "There's a pump down underneath, and if that goes bad, they're not cheap. I know that Jack Rineer bought one and maintained it. So to have some donations saved up for major repairs in the future is important for keeping this going."

Skurdall emphasizes that this community asset is used by so many people.

"I haven't been by there when there hasn't been someone on it [besides those days that it thawed]," she says. "The last time that I drove by, it was so cold, but there were three little hockey net courts set up."

Hockey Puckers
"I have been using the ice rink since before it was in its current location," says 34-year-old Emery Gyr, who claims to have been on the rink about 75 times each winter when he was growing up.

Now a busy new father and a young business owner (see our June 2020 Q&A with him in our online archives), Gyr has still been able to find four occasions to get on the ice over the past month. This is the third winter since Gyr and his wife, Liz, moved home to Northern Michigan after living out West—but this is the first year that the rink has been open.

Gyr mostly uses the rink to play hockey, and he works hard to get others to join in pick-up games.

"But I would go and just skate, if I had the freetime and nobody wanted to play hockey," he says.

People of all ages and abilities show up to the Benzonia Ice Rink to play.

"A few of my friends from growing up; people who have played there as long as I have. A few from our parents' generation," Gyr says. "And one time this winter, [middle-aged] DeeDee Gorno showed up with friends… She plays on an actual team up in Traverse City. We had eight women, all padded up, full helmet, full gear, ready to play."

Even after moving out West, Gyr continued to play hockey—and it was actually during this time that he came to realize what a distinctive experience he had had at the Benzonia Ice Rink.

"It's uniquely large for a community ice rink. That makes it so that we can have multiple hockey games, like last weekend, we had two separate games going, while people are learning to skate, or figure skaters are also on the ice," Gyr explains. "Everyone who I've ever told about this rink, nobody has this same type of story. Everybody either played on real hockey rinks—with refs, it costs lots of money—or they're like my dad, who grew up on a little lake."

Gyr says that it was his father, Jack (also profiled in our Q&A archives, back in 2014), who recently made him aware of another nearby hockey game that he is hoping to be invited to.

Scott Barker (46), his wife, and their four children moved to Benzie County from Wisconsin in 2012. Upon leaving for Michigan, Barker had to strike a deal with his kids.
"I'd built an ice rink at our house in Wisconsin, and we'd had it for six years," Barker explains. "One of the stipulations of moving here was that the kids told me that we needed to build our own ice rink again."

But when they arrived and heard about the Benzonia Ice Rink, Barker thought to himself, 'Why build something that's just a few miles down the road?' So, for the first three years, the Barkers used the public ice rink, but only a couple of times each year. Barker chalks this up to various reasons: weather, the lights not being super bright at Academy Park.

"Ultimately, I wanted to do more skating with my kids, and I knew that would happen if it was just in our backyard," says Barker, who built a 105-foot-by-75-foot hockey rink—complete with boards that he had hauled from their Wisconsin home—five years ago. He had to cut trees down, plus pay someone to take out the stumps and level the ground.

Barker's technique is different from that employed at the Benzonia Ice Rink: he has a plastic base that he fills up with two to five inches of water and then allows to freeze. In the past, this process was a little harder than it is now, because he had essentially two sections of ice that he had to merge, but last year, he asked the "regulars" who showed up for game nights if they would pitch in on buying a $700 plastic sheet to create one freezable section, rather than two. Because of the expensive plastic, this means that, if there is a thaw, Barker is not starting from scratch, like what happens at the Benzonia Ice Rink, because the water doesn't run off.

"I end up with a little pond, but it might freeze over again by the next night," Barker explains. He adds that he has since purchased a lot of equipment to maintain the rink: a big snowblower to clear the ice, as well as a big brush sweeper to keep it really clean. He also has his own "little zamboni" set-up: a 250-gallon agricultural sprayer that he has modified with PVC tubing that has holes in it. "I pull it out and drag it behind my four-wheeler. It creates a very smooth surface."

Barker says that it takes him about an hour or so to clean the rink after each use, and right now, during the pandemic, it is getting used five days a week, "since there isn't anything else to do."

Who shows up to these games? The first couple of years, it was mostly people that Barker had met at the Benzonia Ice Rink, or people that he knew from when he coached the Benzie Central Boys Varsity Soccer team, or from substitute teaching at the high school.

"We already have six of us in our family, so we only needed a couple more to make a game of it," Barker laughs. In the past, he has had about 20 people on his text invite list; that list is now up to 40. He says that they average 12 to 20 people per night, though that is pushing the limits on the rink size. Some are a few years older than Barker, several high schoolers show up, and even a few small kids who come with their dad to play. Barker has been playing hockey for 25 years, and some who show up to play have been playing just as long; some are beginners.

"If I get into a conversation in the grocery store with someone about hockey, I'll invite them," Barker says. "Or sometimes a friend brings a friend. Or somebody sees a picture that I've posted on Facebook, and they ask, 'Where is that?'"

Pictures of the homemade rink are quite impressive, not only because of the boards, but because of the bright lights, too.

Scott Kubit (53) moved to Northern Michigan in 1998, and he has been skating at the Benzonia Ice Rink until just a couple of years ago, when he transitioned to the dedicated hockey rink at Barker's home.

"The Benzonia rink is a great shared access: an area for hockey, an area for figure skating—though you were always a bit worried that you would potentially have a puck fly over to where someone was skating," says Kubit, who retired from coaching soccer and teaching at Benzie County Central Schools in 2019. "When the ice was good, I was playing up there two to four times per week after school. Kids from the high school would come, and other community people would come. Sometimes, though, some of the lights didn't work, so you'd try to set up the hockey area under the better lighting. Or if it snowed, you were having to take breaks from playing to re-clear it yourself. It was a hoot."

Kubit also mentions how meaningful it was to connect with students outside of the classroom.

"It was fun, over the years, as a teacher, to play hockey with different students—I remember when Morgan Feger [BCHS class of 2002] was there for the first time on skates," he says. "Or Jack Corwin, who just graduated in 2019, the same year that I retired, and has turned into a really good hockey player. It was a fun way to see kids in a different environment, and I enjoyed it a ton. And I still am able to enjoy that over at Barker's."

Check Me Out
As for the skate-check-out program and how it is going to work, Musgrave did some digging and found that two other libraries in Michigan were already providing this service to their communities: the Mason County District Library in Ludington and the Howard Miller Public Library of Zeeland. Musgrave sent a message to Amanda McLaren, director of the Benzonia Public Library, to find out what was possible for our area.

"I loved the idea immediately, but funding is always an issue," McLaren says. "But she offered to fund the entire thing: to buy the skates, to make sure there was no cost to the library, besides our time to catalog and get the skates ready for check out."

With that kind of backing, there was no reason to say 'no.' After checking with the library board, McLaren says she was able to give Musgrave a quick and enthusiastic 'yes.'

"We've been doing the prep-work, since the skates haven't arrived yet," McLaren says. "Pretty much as soon as they're here, it'll take us a couple of days to get things in order and be ready to go."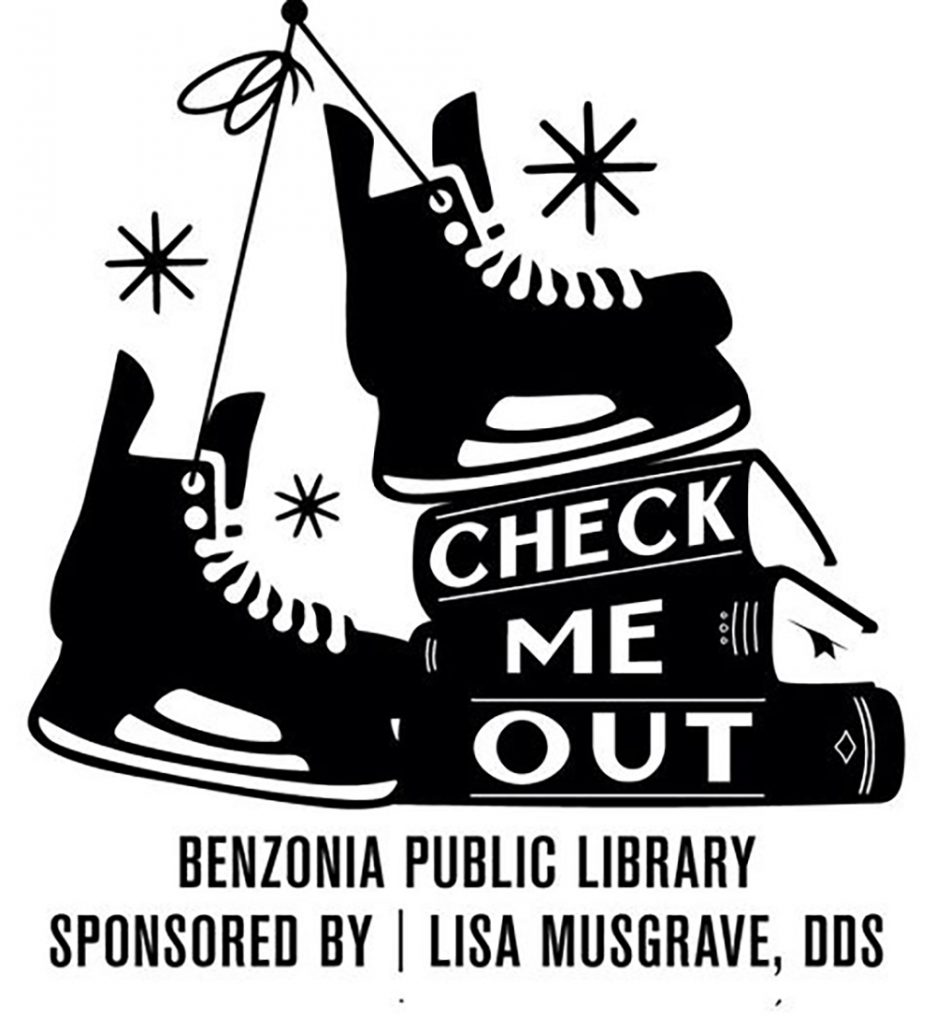 But she believes that, with the skates arriving on Thursday, January 28, to Northern Michigan, they will be ready for the public to check out by the first week of February. On Monday, February 1, the library will go from curbside services only to providing appointments during regularly scheduled hours.

If you want to skate, McLaren recommends planning ahead.

You must have a library card to check out skates, but McLaren says that even visitors to the area can do this. Only ages 18 and older can check out skates, so adults will have to do this for children and sign a waiver. There will be a size-conversion chart on the library's website—since hockey skates run different from shoe sizes—and skaters can call to reserve their size, or they can click on the online catalogue, as long as they already have a library card.

Due to the pandemic, skaters will not be allowed inside the library to try on skates, though McLaren sees this as a service that could be offered next year. Rather, for now, skaters can schedule an appointment to pick up their skates, or the library will continue offering curbside services, as well. Skates will come with blade covers and will be put in a bag, so they will be easy to transport. (Note: Skate check-out is good for 48 hours, but they must be returned while the library is open, since the skates will not fit in the dropbox.)

McLaren says that the Mason County District Library and the Howard Miller Public Library, especially, made the process very easy to replicate, since they already had a check-out system that was simple and organized. She adds that this is a nice way to pilot the program here in Benzie County, to be able to adjust and change things that need to be changed, making next year even simpler, once the pandemic is over.

"We are so excited and thrilled and grateful to Dr. Musgrave for what she's doing, and I think it's gonna be huge and that the community will really appreciate it, and I am so happy to be a part of it," says McLaren, who has worked at the Benzonia Public Library for six years. Every winter, she has been able to look out the window at the Benzonia Ice Rink.

"I have seen it more in use this year than in previous years, and I feel like it's bigger than it's ever been—I don't remember it ever stretching the full length of the park," she says. "This last Saturday, that whole parking area was full, there were people everywhere. In addition to skating, kids were building snowmen. When you think of the ideal, picturesque, small American town—that is what was happening right outside the window! It was so lovely."

McLaren adds that her 13-year-old daughter is excited to use the program, as she has not had her own pair of skates in a few years, since she grew out of them. This is exactly the kind of thing that Musgrave had envisioned for this program. She adds that if the program is a success, she is hopeful that they can add figure skates next year. (Hockey skates were chosen because anyone can wear a hockey skate, but figure skates are harder to master.)

As for having her name associated with the program, she was originally hesitant, and thought about just making an anonymous donation.

"But sometimes, when we put our names to things, it motivates others to do things, too," Musgrave says. "My ultimate goal is that someone says, 'Hey, that's so cool that she did that. I have an idea of how I can help my community, too.' I think of it like, have you ever seen those videos of when they set up all those dominoes in big patterns on a gym floor and they release them? It's like watching one of those videos in reverse: if one person does just one thing, it makes someone else stand up, and then the next person."

I think Jack Rineer, All-father of the outdoor Benzie ice rink, would agree with that.

Academy Park, where the Benzonia Ice Rink is located, is open to the public from 6 a.m. to 11 p.m. every day of the week. Those who are interested in donating to the ice rink's maintenance can mail a check to Benzie County Treasurer, 448 Court Pl, Beulah, MI, 49617, and put "ice rink" in the memo. Those wishing to check out skates can go online or call the Benzonia Public Library. Skates can be picked up/dropped off during library hours: Mondays 11 a.m. to 2 p.m.; Tuesdays 2 to 5 p.m.; Wednesdays 4 to 7 p.m.; Thursdays 2 to 5 p.m.; and Fridays 11 a.m. to 2 p.m. Anyone interested in playing hockey at Scott Barker's Benzonia home can text 231-383-2760; games are being played Tuesday, Wednesday, Friday, and Saturday nights at 7 p.m. or on Sundays at 4 p.m.

Featured Photo Caption: Quinten (left) and Michael Musgrave moved to Benzie County from Indianapolis on Christmas Eve 2014, and the very first thing that they did was go to the Benzonia Ice Rink to make new friends. Now, six years later, their mother, Dr. Lisa Musgrave, is giving back to the community by starting a free skate-check-out program in conjunction with the Benzonia Public Library, located right next to the ice rink. Photo by Aubrey Ann Parker.