Questions & Answers with community faces
Anna (Whitney) Luther (41) is originally from Jackson, in southwest Michigan. She graduated from Northwest High School in 1998 and then attended Miami University in Oxford, Ohio, where she graduated with a Bachelor of Arts degree in technical writing. Though she can write a "mean instruction manual," she quickly realized that technical writing is excruciatingly boring. "Why this didn't register during my four years of college is still a mystery," Luther admits, though the skill did come in handy many years later, when she unexpectedly started her own business from home.  

She met her husband, Matt Luther (43), in October of her freshman year. He was wearing duck boots, and she knew she had met the one. "No. Seriously. I called my mom at 3 a.m. on October 17, 1998, to tell her that I had met the man I was going to marry," Luther says. "My mom's response, 'I hope not. You're only 18!'" The couple were married three weeks after Anna graduated in 2002, and they moved to Richmond, Virginia, where Matt worked in logistics for Philip Morris and Anna worked as a fundraiser and event planner for the National Multiple Sclerosis Society. Two years later, they moved to Cincinnati, Matt's hometown, in 2004; this time, Matt was working for Procter and Gamble and Anna was working as a fundraiser and event planner for Cincinnati Children's Hospital. Their first child (Miles, now 14) was born in 2007, his younger sister (Alice, now 12) was born 14 months later, and their younger brother (Simon, now 10) was born two years after that. 

During this time, Anna was a stay-at-home mom with three kids who were under the age of three, and she felt like she needed to do something to stimulate her adult brain a little. So she started "My Life and Kids," a parenting blog, in 2011. This is when her technical writing skills came in handy, as a tongue-in-cheek, often self-deprecating "instruction manual" on how to parent—and sometimes, how not to. Not long after, her blog blew up, with more than 8 million people visiting her site every month.  

Fast-forward to 2020, when the Luther family came to Crystal Mountain to ride out the pandemic—and they never left. The Luthers became full-time Benzie County residents, and now Anna Luther's blog is beginning to include things about rural life, too.

Continuing with our interview series on impactful Benzie County characters, The Betsie Current caught up with Luther as she was trying to find the perfect Instagram filter that would make her look as young as she did before the pandemic. "Spoiler: it doesn't exist," she says. 

The Betsie Current: What made you want to start blogging professionally? What do you enjoy about this line of work? What successes have you had? 

Anna Luther: When my youngest was born, I already had a three-year-old and a two-year-old. I had never planned on being a stay-at-home-mom, but it happened by default when we couldn't afford daycare for three kids at the same time. There were parts that I absolutely loved about being home with my kids. And then there were parts that made me think I was going to lose my mind. Every single day. I had always loved writing little essays, so I started my blog in May of 2011 as a way to use my brain for something other than changing diapers and doing art projects with messy toddlers. In the beginning, I wrote every single day during naptime—primarily for myself and my mom. She lived four hours away, in Jackson, and she was still working full time, so it was a great way for her to hear about what was going on in our lives. She would read it and call me on her way to or from work, and we would laugh about what had happened. She would usually share a story about something similar that had happened when my brother and I were little. I wasn't writing amazing, profound stories. I was using my blog as a way to put a happy lens on my daily life; like when my three-year-old tossed a dirty diaper down the laundry chute, and I, of course, washed it and ended up with diaper goo everywhere. I didn't know what to do, and the toddlers denied any and all involvement, so I put all three kids, even the baby, in "time out." It was just for a few minutes, and they all thought it was hilarious that their tiny little brother, who couldn't even sit up on his own, had to go to "time out." We all laughed, and it didn't really matter that I had diaper goo all over a load of laundry. Or when I kept accidentally locking my husband in the basement. We had a deadbolt lock on the door to prevent toddlers from falling down the stairs. He would head down to do laundry, I would load everyone in the car and deadbolt the basement door out of habit. And then we'd get to the park or the store or wherever, and he would call to yell at me for locking him in the basement. Again. I mean: it's not funny. But by the third time, you just have to laugh, or you'll have to get divorced, you know? Back then, there were not a lot of bloggers. And the blogs that did exist were pretty focused on DIY projects or cooking. So I was one of a few dozen women that were writing about their real lives with small kids. This was before people were including pictures on their websites, so we weren't sharing beautiful, curated photographs. We were sharing the real, raw, ridiculous things that we never thought we'd be experiencing, like when I had to clean apple juice off my ceiling. Or when I hated my yellow linoleum kitchen floor, and one of the kids cut a giant hole in it, so I thought it meant we would have to get a new floor—but instead, my husband fixed it with duct tape. I developed a fairly large following from other women who were looking to connect with someone that was experiencing the same things in their lives. It went from just my mom reading to thousands of people every day. Instead of calling to talk about what had been written, my mom would call to read me all of the comments people were leaving. And then she would leave comments and interact with people, and they would get so excited that my mom was talking to them. She was like a total internet star. I even did an entire series on all of the mistakes she made while she was raising me; like when she didn't want to take me to dance classes anymore, because I clearly had no rhythm and it was on the far side of town. Instead of just saying "no," she told me that I had an extra vertebrae in my spine, and if I did any kind of organized dancing after 1st grade, I could become paralyzed. School dances and dancing at home was fine, but organized dance was just too risky. Not only did I not care about not getting to take dance anymore, I also felt special; I was way older than I'd like to admit when I figured out the lie. There was also the time when I wanted to sing "I Believe the Children Are Our Future" by Whitney Houston for the 5th grade talent show. She listened to me practice singing it at home and then told me how amazing my voice was. And then she proceeded to tell me that, unfortunately, we had a rare gene that made it so that our voices sounded bad on microphones. She assured me that she was staying up to date on the "science," and that she hoped that technology would work with our voice gene by the time the 8th grade talent show came around. By then, I had figured out that I just couldn't sing, so it was a non-issue. Again, though, I felt special that I couldn't sing in the 5th grade talent show, because of my rare voice gene. I feel like I should mention at this point that my mom was a school counselor, which is both amazing and terrifying. She was a fantastic parent; she was just a little on the "creative" side. Anyway, by 2012, I had started to make a little bit of money by partnering with a couple of brands to promote their products on my blog. And in 2013, I went all in. I hired someone to design a professional website, I started a Facebook page and Twitter account, and I hired a babysitter to watch the kids two afternoons a week. I made more money in 2013 than I had made when I was working full time at my other jobs. Everything really exploded in 2014. I had more than 13 million annual visitors to my website. Brands were paying me thousands of dollars to promote their products. I traveled to blog conferences—yes, there were actual blog conferences—to speak about my success and teach other women how to do the same thing. When Pinterest was created, I was one of the first people to join. Yes, I'm that old! I saw insane success, with millions of people visiting my website every single month. I launched an online course with a blogging friend to teach people how to use Pinterest to promote their websites. We taught the course for eight years and had more than 5,000 students. (The course just closed this month). I also started working as a consultant to help brands to hire bloggers. Now there are agencies that do this, but back then, brands were trying to do it on their own, and there's so much to think about and so much that goes into it, both from the brand side and the influencer side. I still do this for a few clients. At one point in 2015, my website was the 16th most-visited website in the United States. The internet was a completely different place back then, so it's not as big of a deal as it would be now—I mean that would be impossible now—but it was still pretty cool back then. My mom and I started doing Facebook "Live Streams" every week to talk about her "unique" parenting choices. She was such a good sport about all of it. She even showed up "late" one time wearing a bathrobe and her hair in a towel, because she forgot we were going live. A brand hired us to do a Mother's Day Facebook Live special. It was pretty cool. I was working 40 hours a week, at one point I had six people working for me, and I had a lot of success. I loved it. I was able to be funny and creative and connect with women all over the world. It was a great creative outlet for me, and it allowed our family to build our savings and do things we never thought we would be able to do. In 2019, my husband and I were even considering having him quit his job to come on board with me full time. Luckily, we didn't do that. When the pandemic hit, all brands paused their marketing spend. My income was cut in half practically overnight. My initial plan had been to write a series of high-impact blog posts and social videos about the pandemic and kids, basing my content off of the most-searched terms on Google. But with my kids doing virtual school, my husband working from home, and the world falling apart, I didn't feel like I had any time to work. And I certainly didn't feel like working when I did have the time. It was really nice knowing that my husband had a stable job with health insurance, so I could take the time that our family needed to help with virtual schooling and all the other things that came with life during a pandemic. It was never lost on me how truly lucky we were.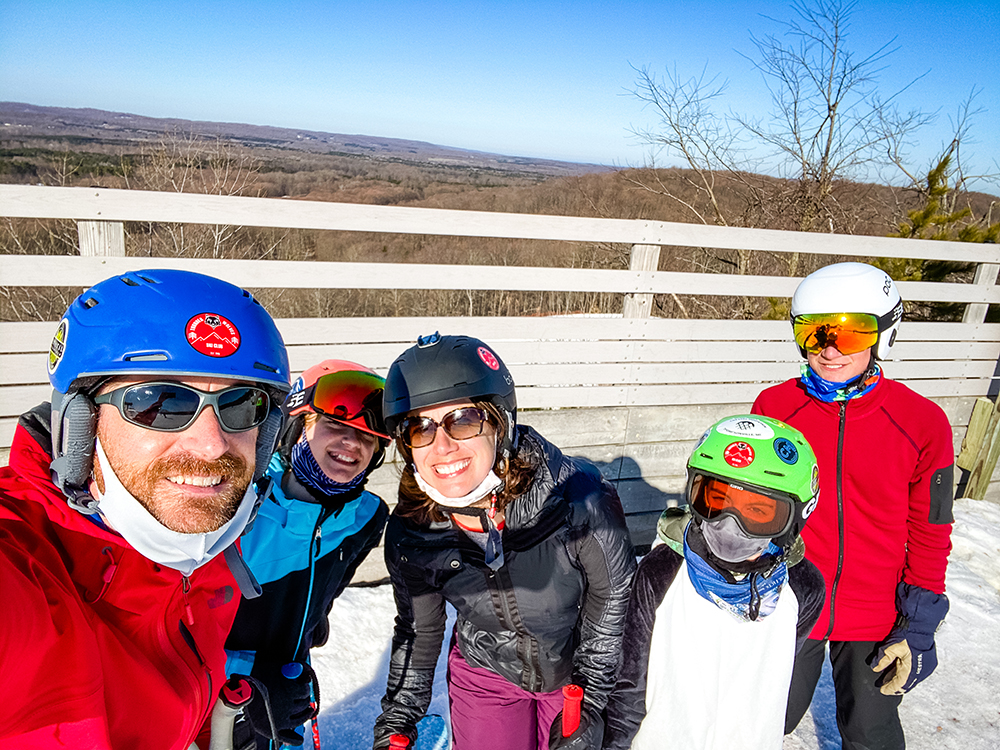 Current: What does a typical day of work look like for you?

Luther: I used to have a pretty structured week. I'd respond to emails, send invoices, and communicate with brands daily. Each week, I'd do a day of cooking and photographing recipes, a day of photographing the latest Amazon fashion finds for $30 or less, a day of creating and scheduling the week's social media posts, and at least a day of photographing, recording, and writing brand content. Any leftover time was spent actually writing the content that had been photographed or recorded. I had a team helping me to create and make the recipes, write initial drafts of content, find the Amazon fashion pieces—and model them with me—and keep me up to date on trending topics and interests. Now, I primarily work on updating older content, occasionally posting on social media, and thinking about what the next decade of my work-life will look like.

Current: How has your work changed since the COVID-19 pandemic hit Northern Michigan in March 2020?

Luther: My entire life is so different. I think there will always be a pre-2020 and post-2020 version of life—for my entire family. As with a lot of people. Pre-March 2020, we were living in Cincinnati. Our kids were attending one of the best schools in the nation. They were participating in several sports and after-school activities. I was working a full workweek and trying to help with school activities and parties. We were happy, for sure. But we were busy. So busy. We had a cottage share at Crystal Mountain, and we would go for several weeks throughout the year to ski or hike or just get away from everything. We had decided to spend more time there whenever we could and pulled the trigger on purchasing a house within the resort. We closed on March 13, 2020. Yep, right as everything was just starting to get crazy. Our plan had been to visit as often as possible and rent it when we couldn't be there. And then the world shut down, and we panicked. Naturally. When Governor Gretchen Whitmer started allowing people to travel to Michigan again, we drove up in May of 2020 and stayed in our new vacation house for the first time. We had a family of bears camp out in our yard for a full day. We hiked the Mountain and the dunes and spent our days exploring the hiking trails and beaches and all of the beauty of Northern Michigan. When it came time to go home to Ohio, none of us wanted to leave Michigan. Our Cincinnati school was still deciding what school would look like in the fall. We knew that no matter where our kids went to school, it was going to be a weird year. So we talked to the kids, and they unanimously agreed that they wanted to stay up here for one year. We enrolled them in Frankfort-Elberta Area Schools, and by October 2020, all three kids were insisting that they would never go back to Ohio. They were 9, 11, and 12 at the time, so it's pretty amazing that they were so open to trying something new. We love the school—it's so small and so welcoming. The teachers are incredible, and our kids have made really, really good friends. The families have been so welcoming to us, and we love the "small town" feel. The kids participated in the downhill ski teams and the nordic ski teams last winter and absolutely loved it. Never did I ever think that we would leave Cincinnati to raise our kids here, but it's the best decision we ever made. We sold our Cincinnati house in April of 2021. It was really hard to leave our family in Cincinnati. My mother-in-law lived in our neighborhood, and we'd get to see her almost every day. My brother-in-law and his family lived just a few houses down around the corner. And my brother and his family lived three minutes away. It was hard to leave them, and if the pandemic hadn't happened, we never would have. But it's still the best decision that we've made. And luckily, our families are more than happy to come visit us, and we Facetime regularly!

Current: How have you seen your work grow and change? How do you hope that it will continue to grow? What is next? Have you had any collaborations?

Luther: My business has changed almost as much as our lives have changed. In 2018 and 2019, there was a definite shift online from reading blogs to interacting primarily on social media. I had really built my business on Facebook and Pinterest, but I was slower to start on Instagram. I worked to build my following there, and it was all going well and looking promising until the pandemic hit. So much of my time shifted to being with my kids, setting some structure, meeting their emotional needs, and keeping the household running that I really lost my drive and desire to succeed on Instagram, And also the time! Added to that: I really hate Instagram. I think it's so unhealthy for so many people. I hate how curated and perfect everything has to be in order to get brand attention, and I really don't like playing the algorithm game. Just when one thing starts to work, Instagram wants you to do something else. You manage to finally perfect your photography skills, and now they want you to focus on video. You start focusing on video, and now they want videos with you in them. It's a never-ending carousel ride that may or may not work out. And after 10 years of creating content, I'm sort of over playing the game to continue building my business. Add to that: my kids are now 14, 12, and 10. They don't want me to write about them. They don't necessarily want their photos posted online. I completely respect all of that, and I had already started shifting them out of my content years ago. I also went through and deleted all of my blog posts about them as kids; when I would share funny stories about their lives. It was all perfectly appropriate, and I was always careful to never cross the line in terms of sharing things that would harm them in any way. But when you're a teenager and starting at a brand new school, you don't really want anyone to know that, for instance, when you were two years old, you would get a chocolate chip when you pooped on the potty. You know? And don't even get me started on TikTok. I enjoy a good TikTok . I do not want to create them. Just the thought makes me feel old and tired. I now work about five hours a week on my blog and social media channels. I still have some brand partnerships; I just wrapped up a big campaign with Citi and Meijer, and I have an ongoing collaboration with Florida's Natural. I've slowly been shifting my website to be more recipes and lifestyle content versus parenting content, and I don't write very often. As for Instagram and Facebook, I share when something feels relevant or when I really want to. But I'm no longer sharing just to keep the algorithm in my favor. It just isn't where I'm at in life right now. I've thought about selling my website, and I was very close a few times last year. But in the end, it was such a huge part of my life as a new mom. It opened opportunities for our family that never would have been possible otherwise. I had a curated collection on Zulily! I worked for Big Lots and Meijer and Target and Amazon. I was hired by Olay and Crest and Kellogg's and Nestle. I took sponsored "press" trips and got to fly in a helicopter and go ziplining. I've had my work published in books, I've been written about in Parents magazine, and I used to have my kids' wardrobes provided by Carter's. It was crazy, that whole world of blogging. I met lifelong friends, and it brought such a fun and exciting element to my relationship with my mom. I'm still trying to figure out what comes next. Sometimes, I miss those old days of blogging before social media, and I think to myself that I should go "all in" again and build everything back up. But then I remind myself of how many opportunities "My Life and Kids" provided for our family—and how we were able to do things like buy a house in Northern Michigan that we then ended up moving to full time. And then I'm able to be thankful for what it was, while giving myself a break on not continuing to grow and build it. It pretty much runs itself at this point, and it still generates ad revenue from posts that I published years ago. So I'll let it keep doing its thing until it doesn't anymore, and I'll share all of those original posts that I removed from the blog with my family, privately, as sort of a record of our crazy lives when they were all babies. Basically, I guess this is a story about how I used to be successful. I'm not as much anymore. I'm trying to be okay with that.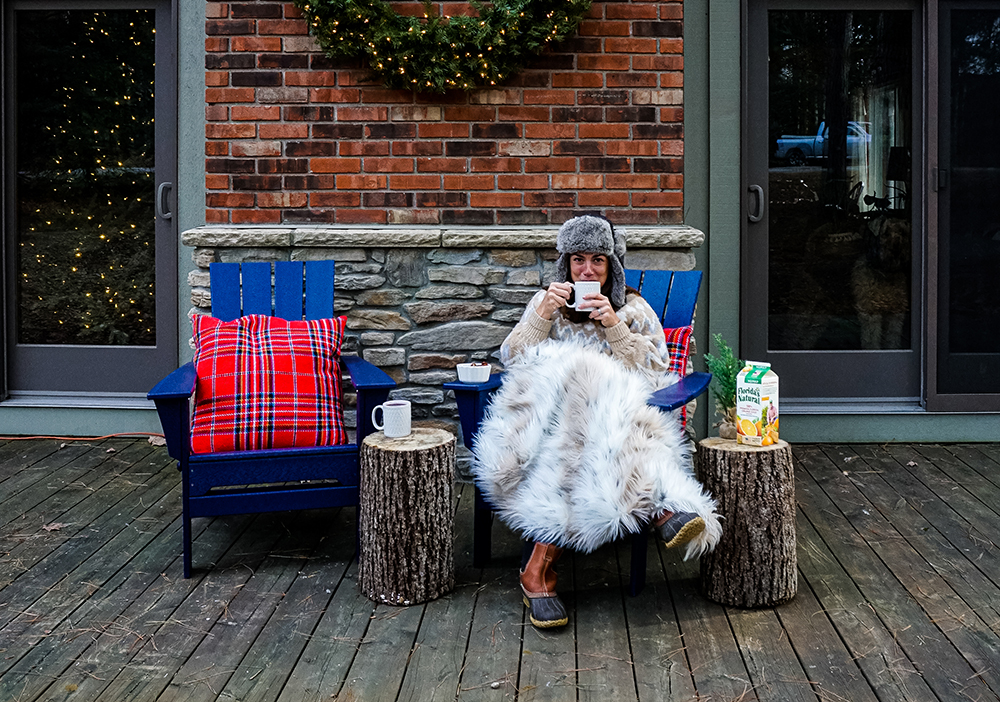 Current: What kinds of things do you do for fun, when you are not working? What other things are you involved with? How did you get involved with them, and why are you passionate about these causes?
 
Luther: I love taking hikes, downhill and nordic skiing, paddleboarding, kayaking, and exploring. I like making my house feel like a home by painting and rearranging the furniture, much to the dismay of my family. I read a lot, and I try to push myself out of my comfort zone to meet new people and make new friends. It's funny: when our kids first started school up here, we would force them to do things to meet people and tell them it was important to put themselves out there and to have an open mind. Now, my kids are the ones telling me that I need to go do things and meet new people, or get out of the car and talk to the group of moms at sports practices, instead of waiting in the car by myself. They totally call me—and my husband—out when we don't feel like doing hard things. It's good for us. Last year, I was always the last one to pick my son up from 4th grade. I thought I was showing up at my allotted time; turns out, I was wrong. I also thought that the teacher came out to talk to all of the parents as they picked their kids up. Nope: she was talking to me because I was always so late. Anyway, one day my son was waiting with his teacher, and she said, "I think your mom picks you up late every day because she likes talking to me." And my son said, "She's really working on her friends." That cracked me up, especially when I found out that I had been the delinquent parent all year long without knowing it. I've gotten really involved with the Nordic and Downhill Ski Programs through the Crystal Community Ski Club at Crystal Mountain. I love that they're in the schools and community trying to get kids out on skis and teach them a really fun sport that they can enjoy their entire lives. The winters have been one of the biggest adjustments to living here, and we love how people just embrace the cold and snow and get outside. CCSC is full of passionate leaders and coaches that care so much about the kids in our community, and their goal is to remove all barriers so that everyone has an opportunity to ski—even if they otherwise wouldn't be able to afford something like this. 

Current: How have you seen Northern Michigan change since you started coming here? What are your hopes for the area in the future?

Luther: I've been coming to Northern Michigan my entire life. We'd spend time over the 4th of July staying with friends in Suttons Bay, and my parents would take us camping for a week or two in the Upper Peninsula every summer. My mom insisted on a camper, and my dad insisted on no electricity. So much has grown since then. I remember when Suttons Bay was just a sleepy little town, and now there are so many shops and restaurants. Even coming to Crystal Mountain—we visited for the first time seven years ago—and so much has changed: The Inn was built, the Mountain Market, the Bru Bar, the Nordic Ski Program. It's incredible to see how they've grown and also stayed true to who they are. We love it. 

Current:  What are the biggest challenges and rewards of living/working in Benzie County and in Northern Michigan, in general? What is the best or most rewarding part of your job?

Luther: I think the lack of convenience has been a huge adjustment for us. Moving from a large city—where every store you can imagine was five to 10 minutes from our house and we could get same-day Amazon Prime delivery and could also have all of our groceries delivered—it was a rude awakening at first. But everything we need really can be found in Benzie County. And if not, then it can usually wait until our next trip to Traverse City. The slower pace of life is worth every bit of "inconvenience." I will also say that I feel like we're technically Benzie County's worst nightmare: the city people that came up to ride out the pandemic and then never left. But we have always felt welcomed. We have always felt included. Everyone has been more than kind to us. There was only one time that we felt less than welcome, and even that was really mild and minor.

Current: What could Northern Michigan do to attract more talented young people to this area?

Luther: I think developing a good networking system for people to meet people who are new to the area would be great. I also think educating people on all of the things there are to do in the winter is huge. So many people say they'd never live here because of the winters. But that's one of the best parts about living up here—there are so many things to do all winter long!

Current: What else does Northern Michigan/Benzie County need?

Luther: Obviously affordable housing is a huge issue. I don't know what the answer is to that. My daughter is desperate for an indoor roller skating rink. She has written up a business plan and everything—several pages are dedicated to the size of the disco ball needed and playlists for specific events. I also think that some type of a community rec center could be a huge win for the community. It could be used as meeting spaces for organizations, and it could help meet the needs of kids in the area. I would love to see free swim lessons available for all area kids—it makes sense that families aren't spending their summers at community pools with their kids on swim teams and in swim lessons, but with so many area lakes, it is surprising how few kids in the area actually know how to swim. I would also love to see some type of free or subsidized camp program for local kids during the summers. It seems like a lot of kids are spending their summers inside while their parents are working. It makes total sense, and I understand why that is happening, but an all-day camp option would be great for the community. As we learn more about the area and meet more people, I'm hoping to help make some of these things happen.

Current: What are your favorite local events and activities? Any favorite dining, recreation, hiking spots?

Luther: I think we're still experiencing things—and there's so much that we have yet to do. We love competing in the nordic biathlon every Valentine's Weekend at Crystal Mountain and, obviously, downhill skiing at Crystal. The Frankfort festivals have been so fun. We loved the 4th of July parade in Beulah. We hosted a rest stop at the Triathlon in Frankfort, and it was a great experience. We love the Baldy Dunes trail and exploring the Michigan Legacy Art Park. We always take our visiting friends and family to Gravity Hill. We like the Thistle, Geno's, Roadhouse, Iron Fish Distillery, and The Cabbage Shed. And of course we love Petals & Perks, Vita Bella, and Papano's.

Current: What does your perfect winter day look like in Benzie County? How would you spend it?

Luther: Hit the slopes with my entire family for the first chairlift of the day at 9 a.m. Ski Northface for a couple hours. Grab a coffee and a Rice Krispie treat at the base of the Mountain and head home. Build a fire to warm up. Spend the afternoon on the nordic trails with the family. Dinner at Geno's or Roadhouse. Leave the kids at home and walk up to grab a drink at a firepit at the Mountain with my husband and friends or head into the Vista for some live music. Walk home. In bed by 10:30. Do it all again the next day. My husband is totally making fun of me for this answer, because this could be my life any Saturday, but it rarely happens all in one day. But that's okay—bits and pieces happen every weekend, and I'll take what I can get.

Visit MyLifeAndKids.com online and "My Life and Kids" on Facebook. You can also find Anna Luther at @MyLifeandKidsBlog on Instagram, even though she hates Instagram. You will not find her on TikTok. Email Anna@MyLifeAndKids.com for more information.

Featured Photo Caption: In 2020, Ann Luther and her family came up to their "vacation" home at Crystal Mountain to ride out the pandemic—and they never left. The Luthers became full-time Benzie County residents, and now Anna Luther's blog, "My Life and Kids," is beginning to include things about rural life, too. Photo courtesy of the Luther family.