Last fall, Kurt and Samantha Dellicker scored their own piece of Northern Michigan heaven, right here in Benzie County.
The couple, in their twenties, relocated from their native West Virginia in January 2015 after finding work at North Flight EMS in Traverse City. But the lack of affordable homes or reasonable rentals in our region's metropolis sent them searching.
Enter Benzie realtor Kathy Neveu, who matched the Dellickers with a split-level house with a remodeled kitchen and three acres of land off Eastman Road, just outside the village of Beulah. The couple closed on November 3 and paid in the $200,000 range.
Buying in Benzie County gave the Dellickers much more space than they ever would have found within the city limits of Traverse City, where the couple was paying $950 per month for a 750-square-foot apartment, plus high utility bills and little privacy from their neighbors. Their mortgage, on the other hand, is slightly higher than what they were paying in rent, but the young family is now building equity on their home. The 30- to 40-minute commute to Traverse City, where they now work as mechanics for TC Helicopters, does not faze the Dellickers; they find the drive relaxing.
"At first, we were hesitant with this home, but now we're in love with it," Kurt says. "It's back down a road, and the neighbors are friendly."
Banner Year
The Dellickers' home purchase helped punctuate a banner year for Neveu, who made 42 sales in 2015, matching her record from 2014. All told, her Real Estate One office, based in Beulah, posted revenues of $43 million in sales, an increase of 37 percent over 2014.
In fact, 2015 was a record-setting year for many Benzie County brokers, measured both by units sold and total revenues. According to the Traverse Area Association of Realtors (TAAR), 372 single-family homes were sold in Benzie in 2015, compared to 318 the year before.
Topping that list was Christine Stapleton of Stapleton Realty, who made 63 sales in 2015 with a volume of $11.5 million. In second place was Suzy Volz, of Century 21 Sleeping Bear Realty, whose volume topped $8.5 million and averaged $682,000 per sale.
Nationally, the real estate market has rebounded after being flooded with bank foreclosures and rock-bottom deals following the 2009 economic recession. The hard times following the recession have also made sellers more cooperative, by convincing them that their properties are not worth as much as they had originally priced them, before the bubble burst.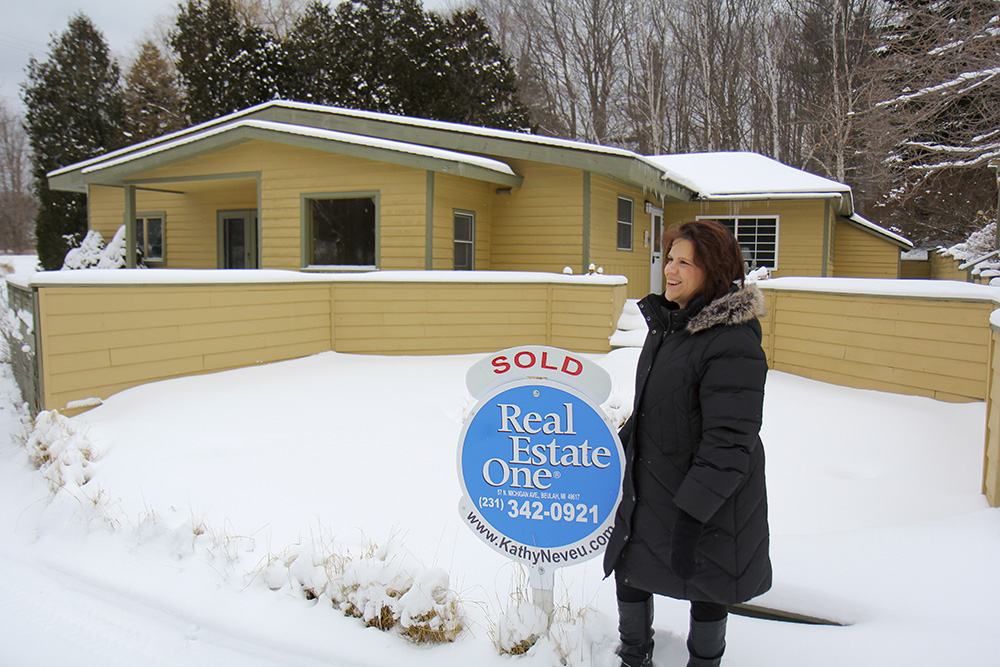 Meanwhile, a smaller inventory locally has prompted some potential buyers to consider acquiring land parcels and building their homes instead. Here in Benzie, land is still abundant and costs far less than it does in neighboring Leelanau or Grand Traverse counties.
Another reason for the real estate surge is that low interest rates have convinced buyers that now is the time to pounce. And though the Federal Reserve recently raised rates, many realtors do not think that will cool the hot market.
"This quarter percent increase in fed rates won't stop anyone from buying," says Sharon Black, of Coldwell Banker, who posted nearly $2 million in volume in each of the past two years. "The forecast for 2016 is more of the same. People are sitting on the fence. The market already hit bottom, and it will gradually increase."
Randy Dye, a broker with RE/MAX Bayshore Properties in Frankfort, believes that 2016 will be just as good as 2015 and might top it by 2 to 3 percent, particularly if interest rates remain low.
"Real estate buying can, in a small way, be compared with buying a new vehicle," says Dye, who posted $6.6 million in sales in 2015. "If you can't afford it this year, wait another year… but eventually, you will need to purchase one."
The Old and The Young
Julie Williams is a broker associate with Century 21 Sleeping Bear Realty in Frankfort, as is her husband, Burt, who became a licensed Michigan real estate broker a year ago. Like many other realtors in the area, the couple also enjoyed a banner year for sales. "When I got my license [in 2009], people were asking if I had lost my mind!" Julie recalls. Together, the couple sold $8.5 million worth of real estate in 2015, including an estimated $3 million in cash sales, compared to Julie's $2 million in 2010.
Julie says that most of the clients she and Burt serve are older buyers who are on the verge of retirement and desire a second home near Crystal Lake or Lake Michigan. Julie estimates that her customers are over the age of 50, on average, and have the resources and taste to enjoy the outdoors.
"People are getting to the age when they're ready to invest," she says. "They're in their 50's, and they've been coming up here their whole lives. Instead of renting a cottage, they're going to buy one."
Meanwhile, Kathy Neveu sees her clientele as retirees and millenials alike. Two of her home sales late in 2015 were to first-time home-buying millennials—a healthy sign that home ownership does not just reflect the American dream for baby boomers.
"They're starting to marry, they're tired of renting, and they can afford to buy," Neveu says. "They represent the largest national demographic forecast for 2016."
In the five-county area last year, nearly 20 percent of homes sales fell between $150,000 and $199,000—an ideal middle-income price for first-time-buying millennials. That is up from 14.4 percent in 2012.
Benzie Boom
Working for a helicopter company gave the Dellickers a unique way to check out their property before closing on the purchase. On a rare day off from work, they spent their date in a chopper, hovering over their future home. Before returning to Traverse City, Kurt flew them over the Sleeping Bear Dunes. Below them lay our National Park, ablaze in autumnal colors.
The spotlight on Northern Michigan as a beautiful tourism destination and an idyllic place to own a home shows no signs of dimming. Since the television show Good Morning America crowned the Sleeping Bear Dunes National Lakeshore as the "most beautiful place in America" in 2011, tourists have flocked here in increasing numbers. On the strength of the National Park's nationwide #FindYourPark social media campaign in 2015, the Sleeping Bear Dunes last year shattered its annual visitation record, despite that many of the Park's key attractions were closed for nearly a week following the August 2 mega-storm that brought the region to its knees.
Moreover, the relative proximity to Traverse City, its food, wine, commerce, and festival attractions, doesn't hurt.
Coldwell Banker's Doug Taylor calls Benzie a niche area that attracts people. His sales volume increased by approximately 40 percent last year. Every time that he drives around Crystal Lake, Taylor sees building happening, and that is a good sign for the local economy.
In Frankfort, the hub of Benzie County commerce during the summertime, business is booming. Craft beers, sleek surfboards, fresh fish, classy furniture and fine wines all attract both the weekend visitor and the would-be-year-round resident. Oh, and don't forget that Lake Michigan beach at the end of Main Street with its sugary sand and romantic sunsets.
"Downtown Frankfort has exploded in the summertime," says Jon Zickert, a Real Estate One agent, whose sales in 2015 were up 35 percent over the previous year. He made more than 40 sales, to the tune of $6.5 million in volume. "The county has done a nice job of marketing and positioning itself as a place where people who are three to five years from retirement will want to live."
Home sales are big business for the real estate market. But behind each purchase is evidence that one more family, like Kurt and Samantha Dellicker, has fallen in love with the Benzie community and wants to call it home.
"You're not in the business of selling homes," Kathy Neveu says of her job in real estate. "You're in the business of helping people make transition. Everyone you meet—the buyer and the seller—has a story. The human interaction is what's most satisfying."
Feature photo: Julie and Burt Williams of Century 21 Sleeping Bear Realty recently closed on a Frankfort sale to a family of four from Farmington Hills, a Detroit suburb, who want to ski in the winter and walk to the beach in the summer. Photo by Aubrey Ann Parker.