The town in Florida that feels like home.
GULFPORT, Florida—Some of The Betsie Current's writers (well, at least this one) sneak away during the winter cold, taking refuge in a warmer climate. But we (I) always miss home, or at least its inhabitants, our friends and neighbors.
So imagine this: yours truly is at a beach bar, ordering a libation, and I meet a man who asks, as does everyone in Florida, "Where are you from?" Whereupon I reply, "Oh, a very small town in Northern Michigan; no one has ever heard of it." He says, "Try me."
That fellow turned out to be Phillip Bailey, son of John and Maren and nephew—one of many—of Chuck Bailey. The Baileys are members of a well-known tribal group, the Great Wolf Clan, who happen to have a very strong Benzie County connection.
Phillip was born in Traverse City. After the family moved to Flint, they continued to summer in Honor (about five miles from my house) on Phillip's great-grandfather Robert's original 80 acres, where John and Maren now reside. (Several Bailey relatives have recently passed on, at great loss to the family, including Vernon [Claudia Hermann], Charles [Sandy Pyle] and Patty [Bill] Hanrath Bailey.)
The family came to Benzie County in 1898 from Oceana County. The Baileys—originally from the French "Bailley," pronounced "Ba-yee"—were "unallotted Anishinaabec," meaning "first people," who left Oceana for Benzie to take advantage of the labor opportunities in the Traverse area. This was a period of time when many area Native Americans did not "officially exist," similar to today's undocumented workers, except of course that they were the original Americans. Nevertheless Robert, the Benzie Bailey patriarch and Phillip's great-grandfather, was able to accumulate land through deals with local lumbermen.
Hailing from the Grand River Band, Robert was only 12 when he began working on an Anishnaabec lumber crew. His son Clarence and grandson John—Phillip's grandfather and father, respectively—are the Baileys most familiar to Benzie, Leelanau, and Traverse residents, the former having served as Grand Marshal in festival parades, among other activities, and the latter an expert on Native American culture and history who lectures frequently in our tri-county area.
After World War II, when prosperity began to dwindle and lumber companies began their exodus from the region, Phillip's grandfather Clarence went to work for the car ferries out of Ludington, where he remained for decades. He worked 28 days on, and when off, headed home to the Honor farm to run his dogsled, hunt, and spend time with family.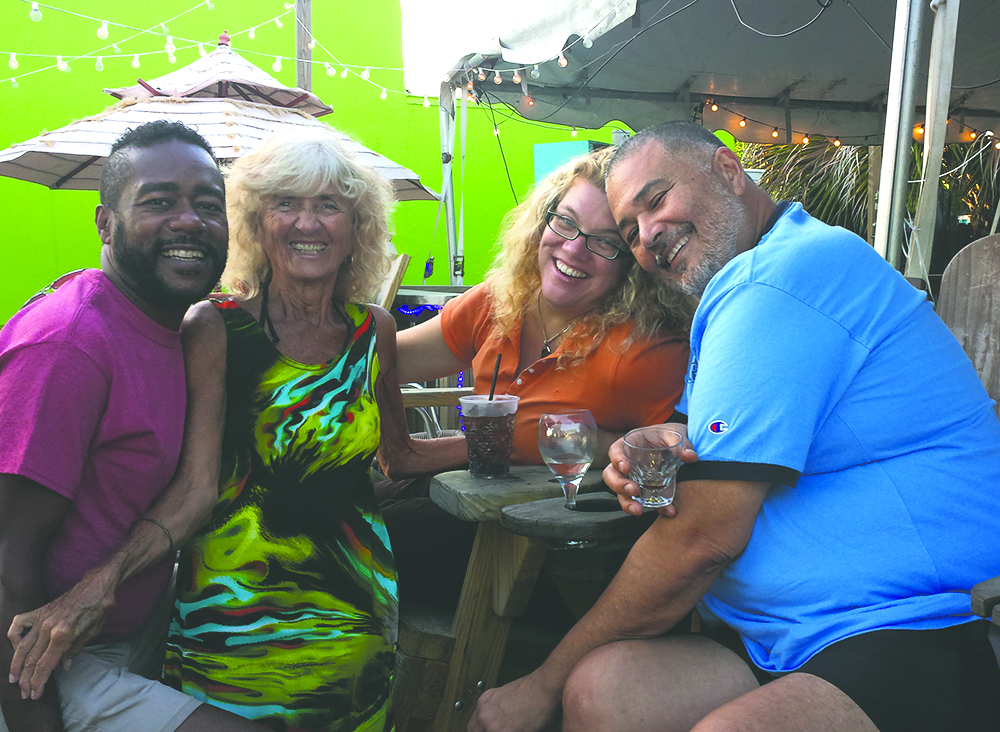 John and Maren, meanwhile, moved to Flint, where John worked for Buick until he was hired by a company called United South and Eastern Tribes, which managed 23 tribes. The family moved first to Sarasota, then to Tennessee, and finally back to Lansing, where he took a position for the Michigan Economic Development Corporation evaluating and developing small businesses, from which he is now retired.
Phillip, during this time, attended a tribal community college in Bay Mills Indian Community, west of Sault Ste. Marie, and eventually came back to the Leelanau/Benzie area, lured by the excitement of the new casino industry.
For the next 20 years he worked as a pit boss in Peshawbestown and, subsequently, in Florida, too. He was working in John's Pass, Madeira Beach, when he found his way to "his town" while visiting the village of Gulfport for a First Friday street fair. He tried one more stint Up North, but moved permanently to Florida in 2000 and now lives, with his partner Brian Liggins, a short walk from this Current writer in the cozy ambiance of an old Florida town. He works for Goodwill Industries as a case manager, teaching life skills and social development, and he imagines a life of dual residency between Benzie and Gulfport.
"It's like being in Benzie County. The way Gulfport pulls at my heartstrings is just like Northern Michigan, though not as cold," Phillip says of his relatively new home in Florida. "Yes, it's beautiful, but more importantly, I feel as at home here as I do there—a feeling of safety, with neighbors helping neighbors, and above all, of building Michigan and Florida community ties. The only major adjustment we have had to make living here is raking, as opposed to shoveling snow!"
Happy spring/summer transition to all from Pinellas County, Florida, to Benzie County, Michigan!
For more information on the Bailey family and Native American history, try some of the following suggested readings: Wolves Against the Moon by Julia Cooley Altrocchim, History of the Ottawa and Chippewa Indians of Michigan by Chief Mack-E-TE-BE Nessy (a.k.a A.J. Backbird), and The Indian Drum (fiction) by William MacHarg and Edwin Balmer.