Stormcloud, Cru Cellars celebrate one year in Frankfort
Six years before Stormcloud Brewing Company opened next to the Garden Theater in downtown Frankfort, Brian Confer realized that he wasn't going to retire as a photographer—making ends meet was too difficult.
His profession was quickly going digital, so Confer turned the film-processing dark room in his studio in Elberta into a room for home-brewing beer. He called it "Stormcloud". The brew room had everything Confer needed: good water, a huge sink, and space to make as much of a mess as he wanted. Three or four batches later, the artisan knew he wanted to focus on Belgian-style beers—primarily ales that emphasize malts and fruity, yeast flavors.
"I wanted to be different than what Traverse City offers," said Confer. "Our theory was that there are so many great (India Pale Ales) in TC, who would drive 45 minutes for another IPA? We could take a risk and do something completely different, and specialize in a niche-focused attraction."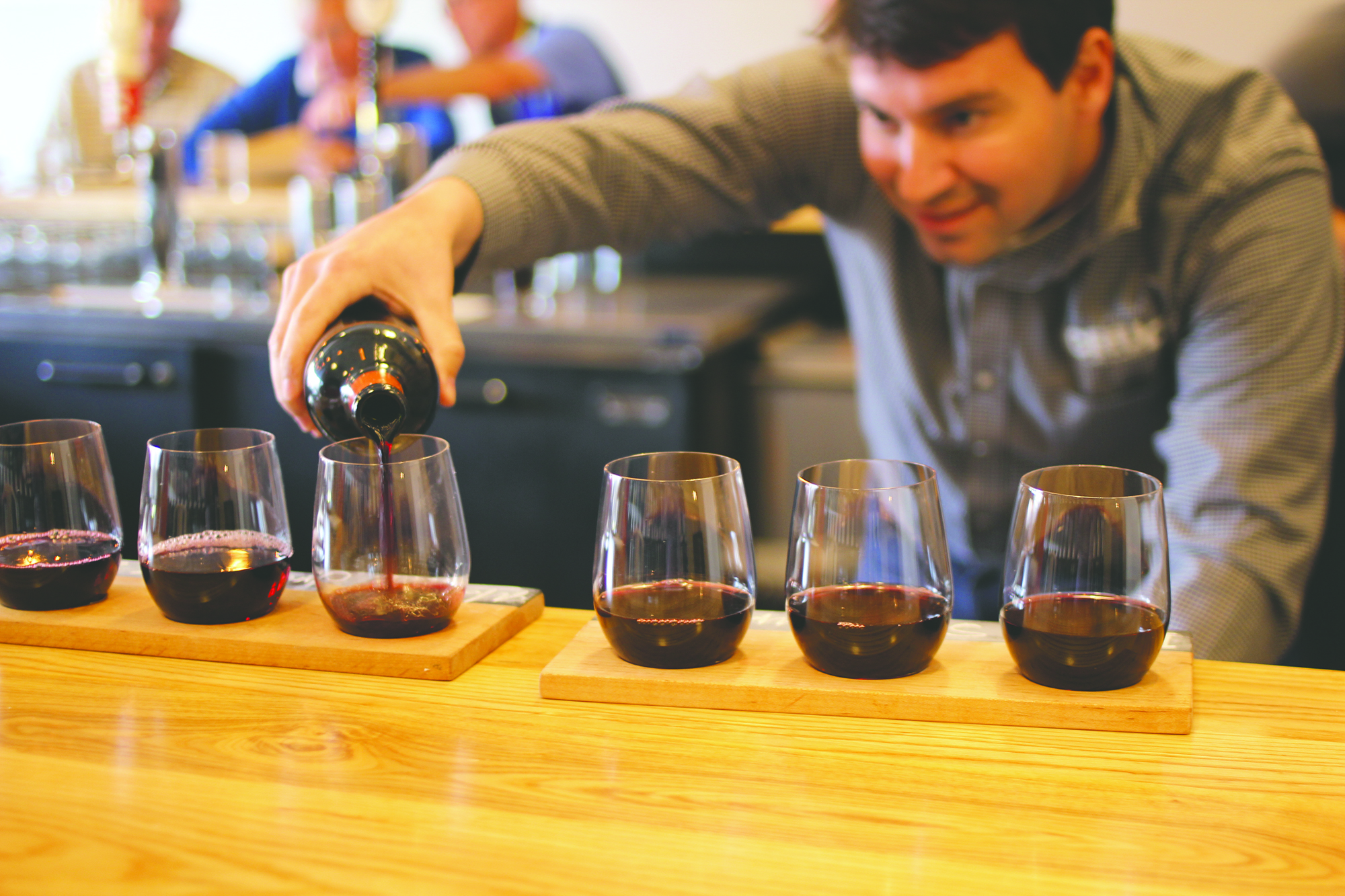 The risk paid off. Stormcloud the brewery opened last June 21, and quickly became one of Benzie County's favorite destinations. Even after Frankfort's typical tourism season subsided post Labor Day weekend, patrons kept returning to Stormcloud. Though Northern Michigan's long and arduous winter of 2014 encouraged hibernation, Stormcloud routinely packed the house during Wednesday "trivia nights". The brewery celebrated its first birthday in style on Friday, June 20, with beer can chicken and free birthday cake.
How well did Stormcloud fare during its first year? Confer and co-owner Rick Schmitt expected to brew 400 barrels of beer during their first 12 months of operation. Instead, they'll roll out barrel number 775 some time in June. (Revenues from the winter months were quadruple what they expected.) In addition to serving downtown Frankfort, Stormcloud's beer is poured in approximately 20 restaurants throughout Northern Michigan, from Pentwater to Antrim County. Those exports have the potential to broaden Frankfort's exposure and promote its brand. "Someone drinking our beer in Pentwater might see where it's brewed and say, 'let's go to Frankfort!'," offered Schmitt.
Schmitt also owns the Garden Theater next door, together with his wife Jennie, their partners, Marci and Blake Brooks (who is vice president and chief financial officer of State Savings Bank), silent partner Jim Kunz, and 13 other couples who together bought 26 percent of the company. "We bought and renovated the theater in 2009, and that led us to realize that Frankfort was ripe for a brew pub," said Schmitt. "The microbrewery was, at some level, the byproduct of an open and vibrant theater. It created an opportunity for synergies and partnerships," such as this winter's "Dark & Stormcloudy Film Series"—which paired dark comedies with Confer's handcrafted dark brew.
Stormcloud is much more than a bar; it's a place for the community to gather, and that's by design.
"Our idea was to create a destination that was truly a 'third place' for people," explained Schmitt. "The first is home, and the second is work. We wanted an inviting environment where you could come and drink beer, or read, work or play board games with your family. A century ago in Europe, every little town had a brewery, which was where you could go to hang out."
Stormcloud has just one television, and it's only on during special sporting events—not to provide the background that typifies many bars. "And we don't have a hostess to seat people because we want people to mingle and meet one another," said Schmitt. "That's why we have picnic tables out back where you can sit down and make friends." To further encourage interaction with neighbors and strangers alike, Stormcloud features live music on Mondays and Thursdays all summer long. Check out StormCloudBrewing.com for upcoming events.
Communal gathering is not new to this space. Longtime Frankfort residents will recall that a restaurant called "The 7 Spot" was here from the mid-1930s until the '50s. The clock on the wall behind the bar at Stormcloud is the original clock from "The 7 Spot". During the days of the car ferries, Schmitt was told, the venue was know for its steaks and chops. More than a dozen times, he estimates, Stormcloud patrons have told him "I had my first drink here." More recently, the space was occupied until 2012 by the Caddy Shack golf shop.
Today, Stormcloud's interior is unique and inviting. Six different types of chairs and tables adorn the space—from Adirondack chairs on the patio to bar stools and high top seats inside. Glance up and you'll see ceiling fans operated by a belt-driven pulley system. Rick and Jennie Schmitt discovered that design while dining two years ago at an historic Italian restaurant in Manhattan. They discovered that a company in North Carolina still made the belt-driven fans.
Stormcloud's cuisine is superior to that of typical bar food, in health and in taste; there is no fryer here. Try the flatbread pizzas, which are affordable and delicious. Or share a meat, cheese and pickle board with friends. The brewpub also offers daily specials on Mondays, Fridays, Saturdays and Sundays.
"The support from the community, not just Frankfort but Benzie County and the greater Northern Michigan community, has been overwhelming," reflected Schmitt. "It's multigenerational. Almost every day the age here varies from 2 year olds to 80 year olds. Everyone feels welcome and comfortable."
Schmitt admits that Stormcloud has impacted downtown, but he credits other dynamic local businesses that came first, took a risk and launched what he calls "Frankfort's culinary uprising". That list includes Fusion, the Coho Café and Crescent Bakery. "We're happy to be a part of it," he adds.
The business employed 35 people at the height of last summer (and as many as 15 during the winter), a tally that is expected to rise in 2014, as Stormcloud expands its distribution and brewing capacity. And the business generated here has a spillover effect on the community. Many a moviegoer will visit Stormcloud for a pint but then go elsewhere to eat or shop. "More than once I've talked to a guy at the bar who tells me 'this beer cost me $2,000'," Schmitt laughed. "His wife was at Betsie Bay Furniture buying a couch!"
Rick Schmitt, himself, is a driving force behind creating more business in downtown Frankfort and a key player in the community. In addition to his ownership stake in Stormcloud and the Garden Theater, he chairs the Downtown Development Authority, serves as vice president of the Frankfort-Elberta school board, and sits on the boards of the Traverse Bay Economic Development Corporation and the West Michigan Tourism Association.
Upscale wine, laid-back atmosphere
Cru Cellars also opened last June on Frankfort's Main Street. Owners Torrey and Jennifer Bingham are Tampa residents, where the family has owned a wine bar of the same name for five years. The Binghams have a second home on Crystal Lake, and Torrey and Jennifer were married at the Congregational Summer Assembly (she gave birth in January to their daughter "Ada").
But unlike the big city, Cru Cellars in Frankfort promotes a laid-back atmosphere where patrons can stop by, in flip-flops if they choose, on their way home from the beach. The wine bar also sells bottles to go, at reasonable prices, and boasts a unique and dynamic menu that puts a new spin on traditional Northern Michigan favorites. Torrey recommends the walleye with chorizo, for example, or the chicken prepared in a 36-hour brine, or the beer-battered whitefish sandwich (made with Brian Confer's "Rainmaker" from Stormcloud).
Cru Cellars features wines from around the world, but as you would expect, highlights locally made wines.
"If you're gonna be here, you gotta represent the Northern Michigan terroir," says Torrey. "I like introducing people to what this part of the country has to offer." Jennifer is a trained sommelier and was wine director at a popular wine bar on Michigan Ave. in Chicago before moving to Tampa.
The wine industry has surged on the nearby Leelanau and Old Mission peninsulas in the past decade. "We're contributing to that," says Torrey. "The spark was lit in Traverse City, but the glow is emanating outward."
If you dine in, enjoy Cru Cellars' comfortable, wooden décor. Gaze at the mural on the wall behind the bar, which features a photo of wine bottles that Jennifer took in Burgundy, France. Or take a guess as to what the "2068" on the giant sail represents (Torrey jokes that it's the year he'll retire).
Whatever you do, don't feel compelled to dress up. Wine experts, gents in suits and dames in summer dresses are welcome, but so are tourists leaving the beach.
Photos by Aubrey Ann Parker.